The inaugural event featured challenges such as rock-climbing, target shooting and futsal across four HomeTeamNS clubhouses.  
WRITER: DESIREE KOH
PHOTOS: HOMETEAMNS
Channeling skills from his National Service stint, a young man patiently showed his mother and sister how to handle airsoft rifles at a shooting range. Over at another activity station, costume-coordinated friends belted out lines of Kit Chan's hit song Home.
Those were among the scenes I witnessed at the HomeTeamNS Adventure Rally, which unfolded across the organisation's four clubhouses on Aug 13 as part of its National Day celebrations. The friendly competition drew 130 participants, who formed 28 teams to complete various challenges and amass points. After getting registered at HomeTeamNS Khatib in the morning, teams embarked on different routes, travelling across the island in their cars.
My cycling buddy Jane and I spent our Sunday putting our teamwork and stamina to the test. We started at HomeTeamNS Bedok Reservoir, where we dove into a relay race that brought out our competitive spirit. Jane's agility helped us to fire ahead in the rope-skipping segment, while I tapped on my motor skills to run while balancing an egg on a spoon. Post-race, we took in the spectacular view of the reservoir from the clubhouse terrace.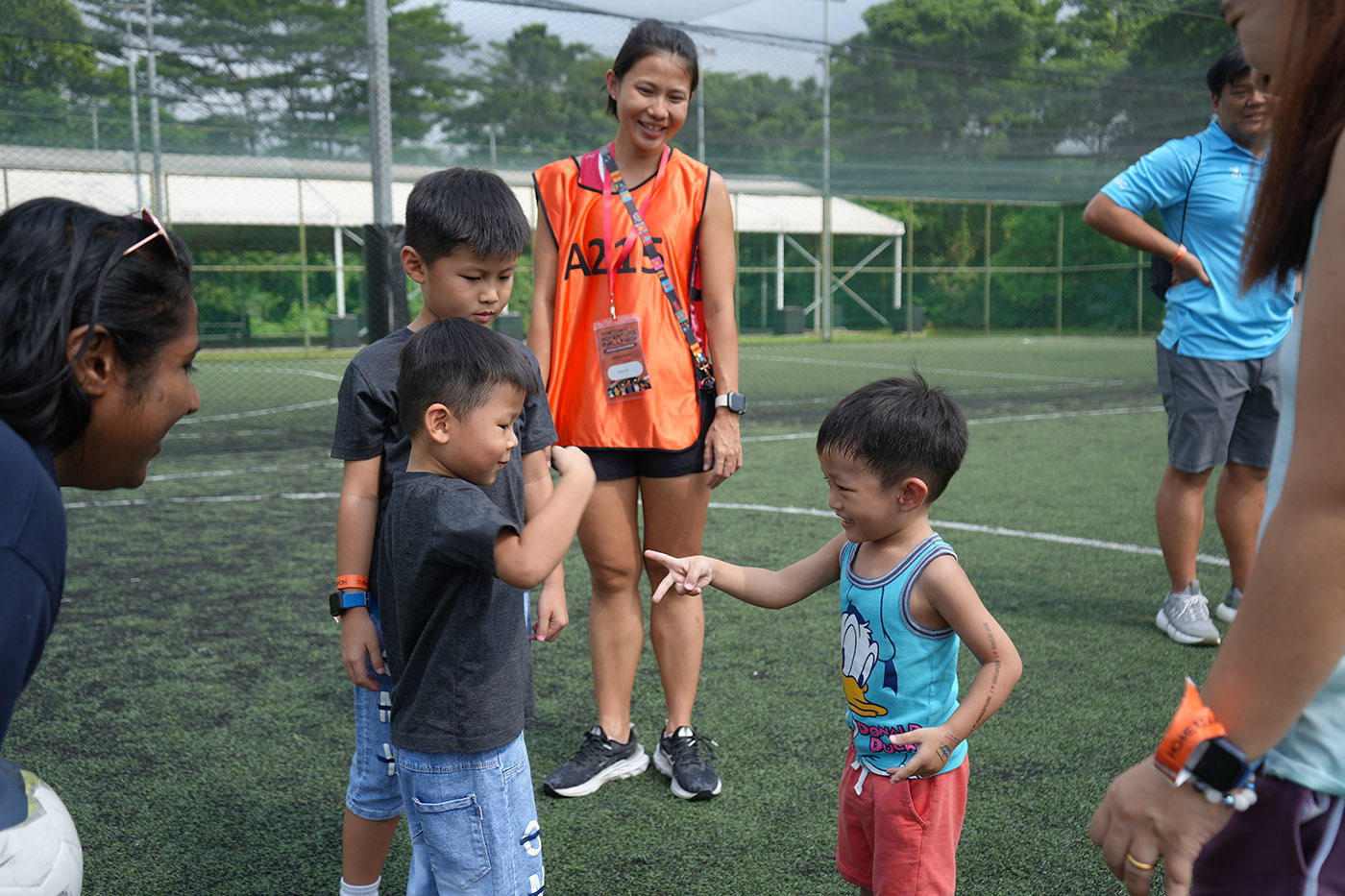 I met a diverse range of participants including a three-year-old and a sprightly team of sexagenarians.
Besides the more physically challenging activities such as futsal and rock-climbing offered at HomeTeamNS Bukit Batok and HomeTeamNS Khatib respectively, participants could also enjoy nostalgic games such as "zero point" and "five stones" at HomeTeamNS-JOM Balestier. My muscle memory from playing countless rounds of the latter as a child did not fail me, as I easily grasped the rice-filled pyramids at first toss. It evoked fond memories of playing with the fabric "stones" sewn by my mum.  
Teams could earn bonus points by completing challenges such as tent building and producing #ProudlySingaporean videos with their own fun renditions of the Great Singapore Workout and National Day songs.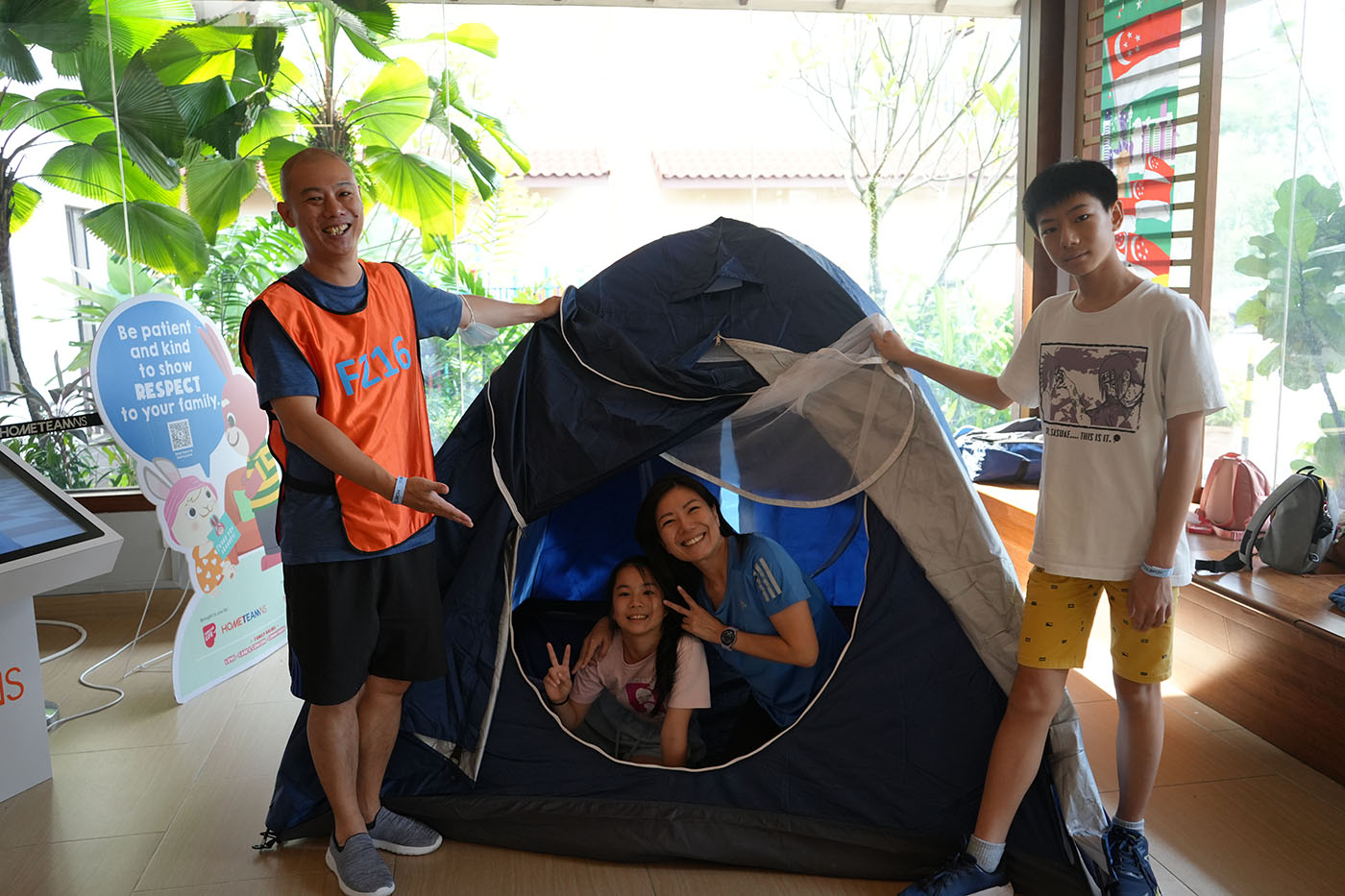 Other activities included archery at HomeTeamNS Bukit Batok and airsoft at TactSim, HomeTeamNS Khatib's indoor target shooting range. Jane and I explored facilities such as HomeTeamNS Bukit Batok's driving range and outdoor Adventure Centre that's rigged with a rope course and zip line. We also enjoyed HomeTeamNS Bedok Reservoir's Aqua Adventure that boasts an 85m-long slide, as well as various swimming pools. We weren't the only ones who were impressed by what we saw.
"It was an amazing experience to see what HomeTeamNS has done in the new Bedok Reservoir clubhouse. I explored all five levels of facilities, and they were just awesome," said Ms Sherry Pong, whose team won the second prize in the competition's Open category.
MAKING PRICELESS MEMORIES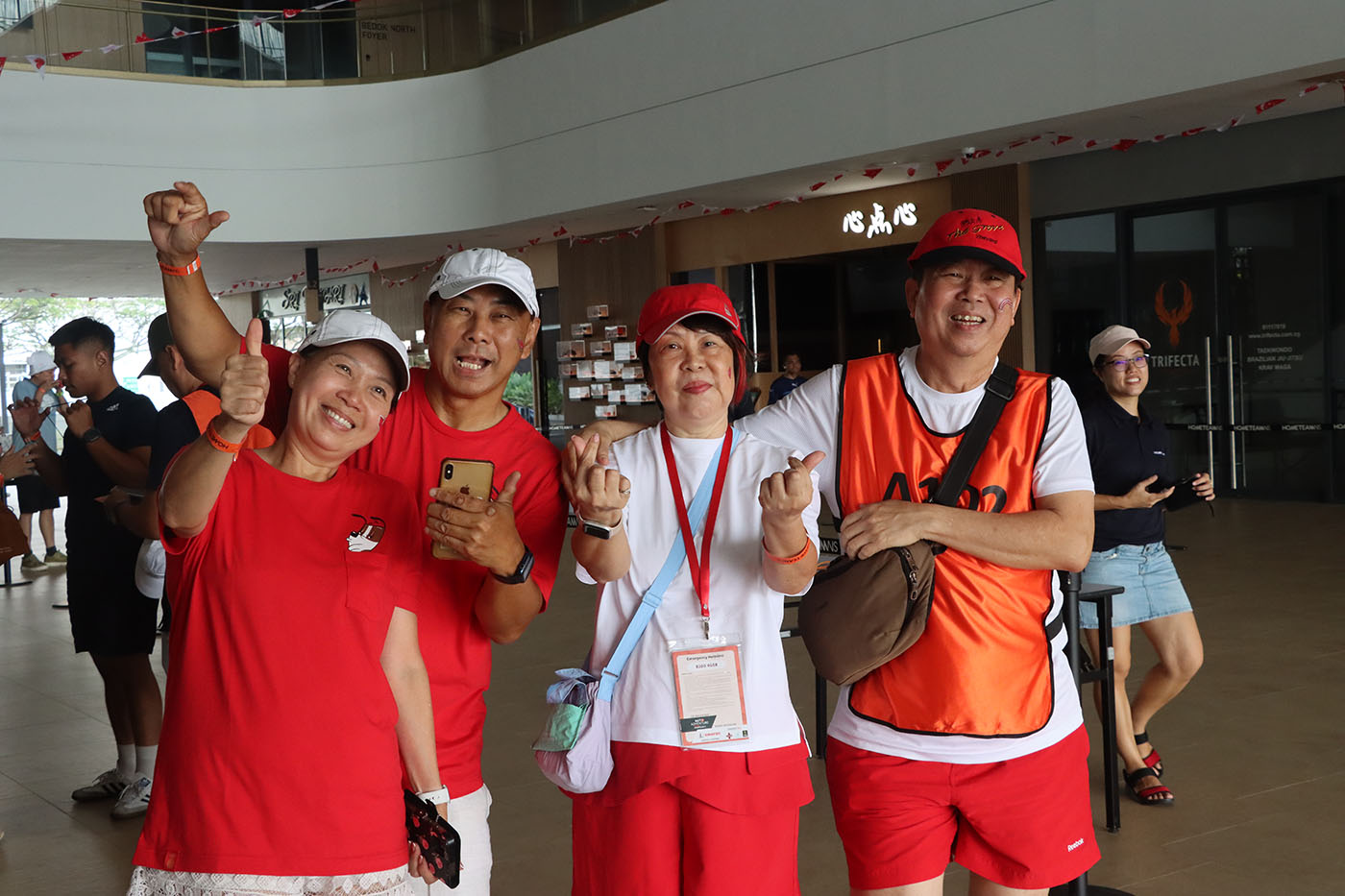 The winners were announced at an afternoon tea reception where participants noshed on local hawker fare such as mee siam, chwee kueh and chicken curry.
The Open category champions won S$500 in cash, a full tank of fuel from Sinopec and Passorex car accessories. There were also lucky draw prizes such as an Apple Watch SE and a two-day, one-night's stay at Amara Sanctuary Resort Sentosa.
While our score of 51 points didn't earn us a spot on the leaderboard, Jane and I were buoyed by the energy of the crowd, with participants cheering loudly for their teammates and competitors.
"We're all winners because the Adventure Rally brought all of you and your families together," said Assoc Prof Muhammad Faishal Ibrahim, Minister of State, Ministry of Home Affairs & Ministry of National Development and President of HomeTeamNS, at the prize presentation ceremony. "Today was extra meaningful because it was organised by a committee of NSmen, and special because you got to experience all our clubhouses and their best facilities in one day."
Ms Tan Su Anne, whose team notched 71 points to take home the first prize of S$300 in cash, a full tank of Sinopec fuel and Passorex car accessories in the Family Category, says that the win came as a surprise as the competition was strong. "It was a really good bonding session, and we discovered so many wonderful HomeTeamNS clubhouse facilities that we can't wait to try out. We also hope to come back next year as the defending champion!"
Like our stories? Subscribe to our Frontline Digital newsletters now! Simply download the HomeTeamNS Mobile App and update your communication preference to 'Receive Digital Frontline Magazine', through the app settings.