HomeTeamNS clubhouses commemorated the nation's 56th birthday with exciting festivities – celebrated from the comfort of home and at clubhouses.
TEXT: ADLINA ADAM
PHOTOS: HOMETEAMNS
REDISCOVER OUR KAMPUNG SPIRIT AT HOMETEAMNS KHATIB
WHEN 2 to 22 August 2021
HomeTeamNS Khatib kickstarted its National Day celebrations with fun activities that brought back the kampung spirit. Visitors dropped by the clubhouse over two weekends to meet and greet Singa, Singaporeans' favourite Courtesy Lion, and reminisced about old-school games like Chapteh, 5 Stones and pick-up sticks.
COMPLETE THE CENTREPIECE AT HOMETEAMNS BUKIT BATOK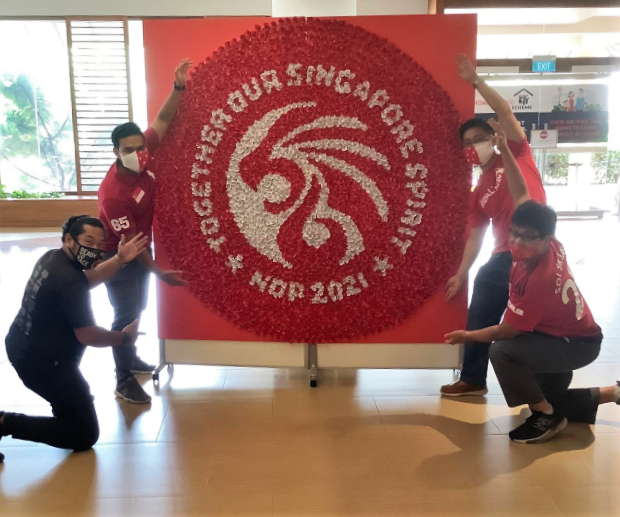 WHEN 20 July to 7 August 2021
Over 3,000 HomeTeamNS members and patrons collaborated to complete the National Day centrepiece at HomeTeamNS Bukit Batok. Made of DIY paper roses, the artwork was an expression of visitors' appreciation to the heroes at home – their families. Participants were guided by friendly Customer Experience Ambassadors on how to fold the paper roses.
LEARN TO DRAW MERLION WORKSHOP AT HOMETEAMNS-JOM
WHEN 10 August 2021
Over at HomeTeamNS-JOM, a group of participants took part in the 'Learn to draw Merlion' workshop. Using different drawing techniques to sketch the half-fish, half-lion statue, they brought the iconic Singapore landmark to life.
Don't miss the 'Learn to draw Merlion' workshop featured on Channel 8 News.
'BE SPOTTED IN RED & WHITE!' AT HOMETEAMNS-JOM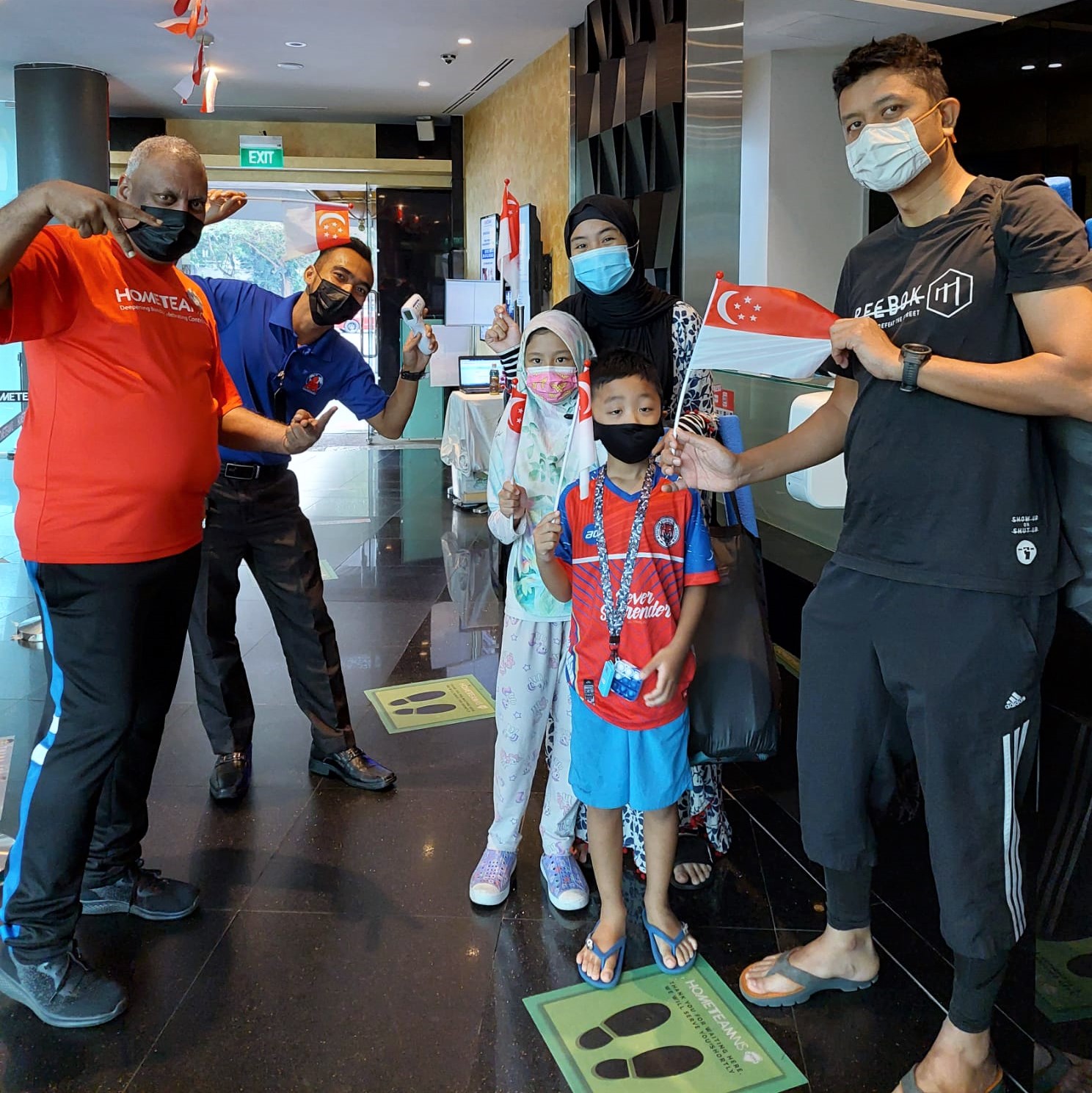 WHEN August 2021
For displaying their patriotism by dressing in red or white, more than 100 HomeTeamNS-JOM visitors were welcomed with Singapore flags and gifts.
VIRTUAL FUN WITH HOMETEAMNS
While some members and their families were having a blast at the clubhouses, others tuned in to live gameshows and workshops at the various HomeTeamNS Clubhouse Facebook pages.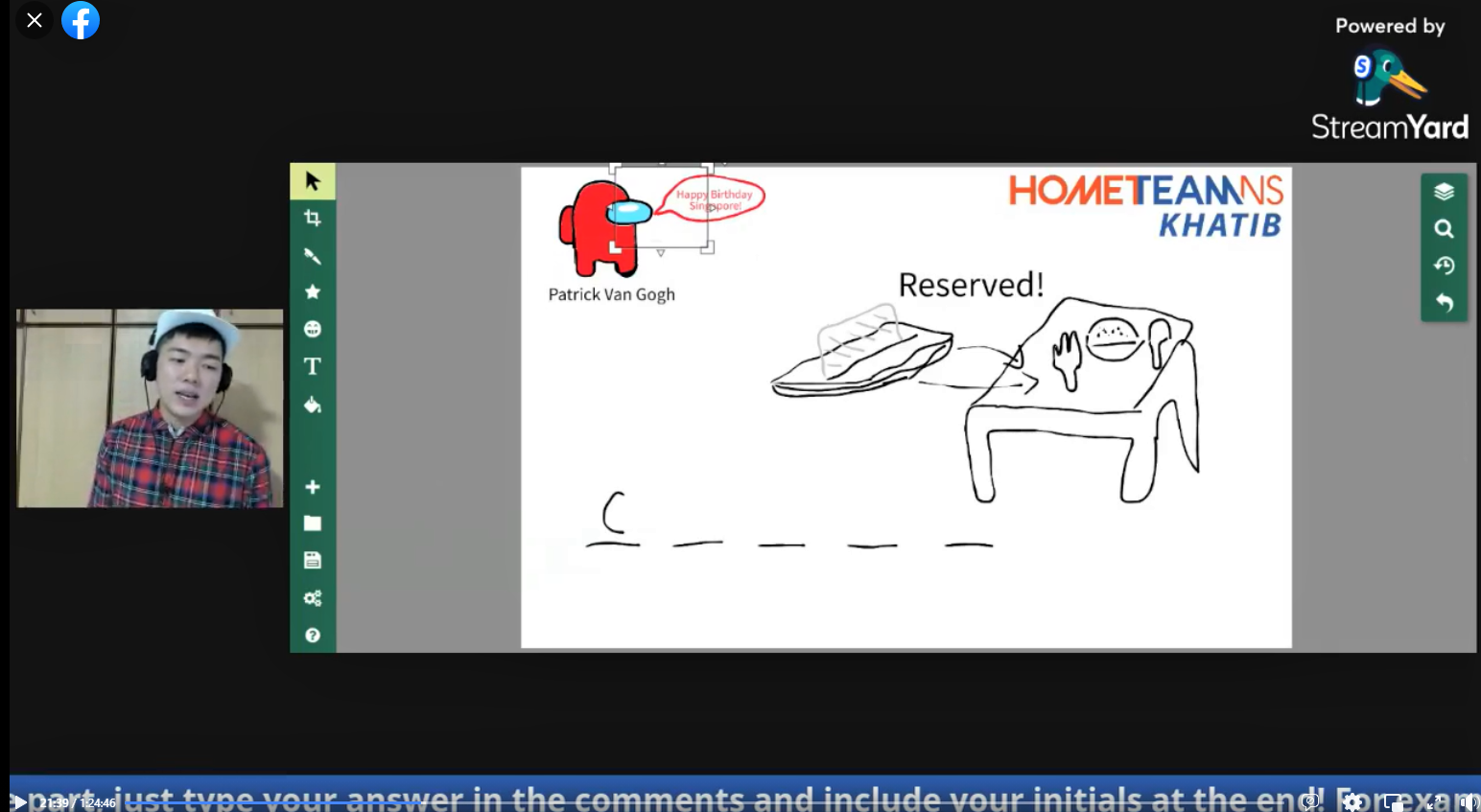 WHEN 4 August 2021
61 viewers put their game faces on during the 'How Singaporean Are You?' Pictionary live gameshow hosted on HomeTeamNS Khatib's Facebook Page. With up to S$300 worth of vouchers up for grabs, the participants battled it out and made guesses on drawings that represented all things Singaporean, while embracing the nation's lingo – Singlish.     
WHEN August 2021
Close to 60 HomeTeamNS members got their mystery fix in the Digital Scavenger Hunt on HomeTeamNS' Official Facebook Page. Prizes worth a total of S$1,700 were on the line, as participants solved three Singapore-themed riddles. The top three winners took home S$428 worth of HomeTeamNS facility passes, Cathay Cineplexes Digital Movie Passes and Swensen's food vouchers. Ten consolation winners bagged four Cathay Cineplexes Digital Movie Vouchers each, while another 10 won this year's NDP Funpack.
"Thank you for proactively arranging events for the members to participate and win prizes. Keep up the great work!" wrote Joey Lee, a Digital Scavenger Hunt participant.
FACEBOOK LIVE SHOWS & WORKSHOPS
WHEN 23 July to 5 August 2021
Together with their families, members connected virtually as they joined various live shows and workshops on HomeTeamNS Bukit Batok Facebook Page. From singing National Day songs with heartfelt gusto to striking a warrior pose for yoga, close to 100 viewers enjoyed a memorable National Day weekend.
The viewers tuned in for the 'Live' cooking show joined by a special guest from Minmed Group, as they whipped up healthy dishes such as Red Chicken Rice and Red Ruby Dessert for their families at home. 
Not forgetting to keep fit and healthy while staying home, members partook in the 'Live' exercise session with Yoga Instructor, Gina. Besides burning up the extra calories, they learned new short breathing practices as a way to de-stress.
Ending off the 'Live' Facebook shows on a high note, viewers flaunt their vocal prowess and patriotism by singing along National Day songs with acoustic duo, Choy and Ernest, from 二人世界  (Two of Us).
The clubhouse also hosted 2 virtual workshops 'I'm Proud to be Yorchid' and 'Thank You For Masking'. Participating families were taught how to fold origami orchids and sew face masks in the comfort of their own homes, with the sewing kits and materials delivered to their doorsteps.
STAY-HOME JOY WITH HOMETEAMNS-JOM
HomeTeamNS-JOM karaoke finals
WHEN 3 to 21 August 2021
HomeTeamNS-JOM celebrated the festive month with online quizzes, a karaoke contest and a durian giveaway.
171 fans participated in five quizzes about Singapore's history on HomeTeamNS-JOM's Facebook page. Winners took home Jom Makan BBQ Seafood dining vouchers worth up to S$600 in total.
"Thank you HomeTeamNS-JOM Clubhouse and Jom Makan BBQ Seafood for the thoughtful giveaway," expressed Irene Lim, a participant in the 'CAN or CANNOT?' quiz.
HOMETEAMNS-JOM KARAOKE CONTEST FINALS
The second online edition of the annual HomeTeamNS-JOM Karaoke Contest saw 55 submissions from 25 participants. Ten finalists across two categories were selected through online voting and judges' selection.
Finalists were announced by professional coaches from The Vocal Studio Singapore on 9 August. The finalists performed familiar National Day songs, including Home and We Will Get There on 21 August.
Professional vocal performers and coaches from The Vocal Studio Singapore — Nisha Mahtani, Hydir Idris, Harsha Channa, Hanna Ma, and Bojana Fabel — were guest judges. They also shared professional advice with the participants. Close to 720 viewers watched the show. Viewers were treated to goodies, including chances to win exclusive NDP fun packs and salad bowls from Indulge Teppanyaki & Grill House.
HomeTeamNS-JOM sweetened the festivities with an exclusive durian giveaway. Simply by registering their interest, members snagged a S$5 promo code to offset their online durian purchases from 99 Old Trees Durian.
Missed out on the National Day festivities with HomeTeamNS? Visit the HomeTeamNS website for upcoming activities and post-event coverage!