A new sport can not only spice up your fitness routine, it can also help you develop new interests and better all-round health.
TEXT: NICHOLAS JACOB
PHOTOS: HOMETEAMNS
Are you in desperate need of a change of pace? Or looking for new ways to relieve stress after a hard week at work? From new activities to try out on a weekend with friends, or unique ways of getting that much-needed adrenaline hit, here's a list of new and unusual sports that are sure to do the trick.
1. CHANNEL YOUR INNER IP MAN
More than a decade ago, the empty-hand fighting style of Wing Chun exploded in popularity thanks to Donnie Yen's compelling performances in the Ip Man series of martial arts films.
Wing Chun places an emphasis on close-quarter combat, featuring quick punches and a tight defence to overcome opponents. It is most notable for its iconic movements which "stick" to an adversary that allow you to control and destabilise your opponent, and redirect their energy to your advantage.
While Wing Chun may take years to master, it's also a practical form designed to be picked up more quickly relative to other Chinese martial arts. There is never a bad time to start, by gaining an understanding of its principles, theories and basic skills. After all, the journey of a thousand miles begins with a single step (into HomeTeamNS Bukit Batok).
For beginners looking to follow the footsteps of Grandmaster Ip Man, HomeTeamNS Bukit Batok offers Wing Chun classes on a term basis.
2. BRINGING FIRST-PERSON SHOOTERS TO REAL LIFE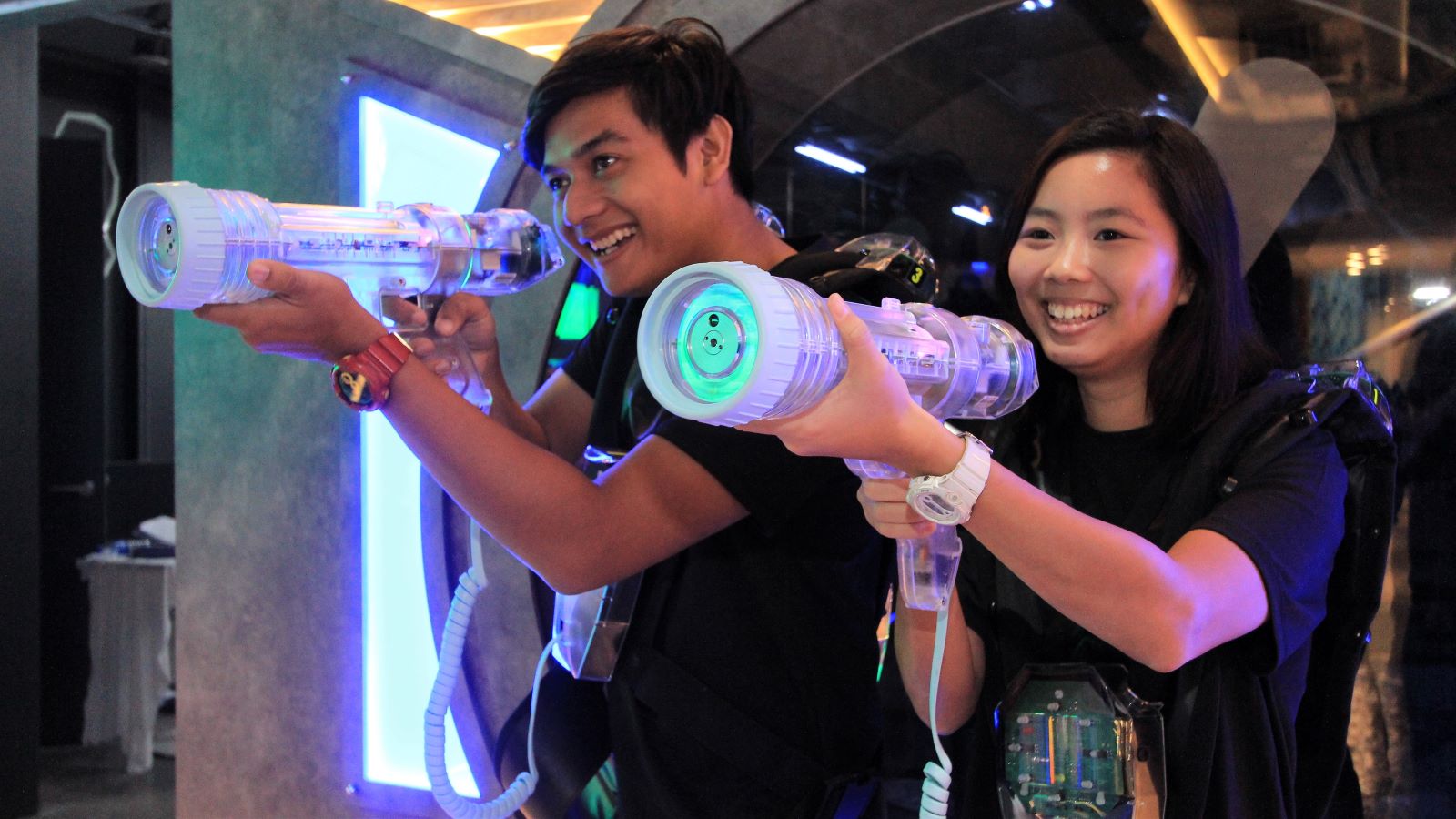 HomeTeamNS Bukit Batok is also a sanctuary for IRL (in-real-life) first-person shooter fans.
Laser Quest is a laser tag experience that combines Hide-and-Seek, Tag, and high-tech laser guns and vests – a heart-thumping experience that can accommodate up to 10 players per game. Paintball junkies can also frequent the Paintball Arena at the heart of HomeTeamNS Bukit Batok – which features state-of-the-art equipment including paintball guns and strategically-designed terrain to deliver adrenaline-packed sessions of wholesome fun.
Likewise, HomeTeamNS Khatib is home to TactSim, or Tactical Simulator – Singapore's first indoor Player-versus-Player (PvP) airsoft arena. Airsoft, is a team game where participants seek to eliminate opponents by tagging them out of play with air-powered guns which fire plastic pellets.
TactSim offers two PvP airsoft arenas for gameplay and a target shooting range to hone your skills. At the arenas, TactSim is played in short skirmishes for a heart-thumping experience with classic game modes like Capture the Flag and King of the Hill.
3. HANGING 10 IN A SWIMMING POOL
You may have heard of surfing on the beach, but have you heard of stand-up paddleboarding? A modern take on surfing, this new-age sport involves propelling oneself on a paddleboard (which looks similar to a surfboard) with the help of a paddle.
Aside from being a chill and fun sport, stand-up paddleboarding also offers several benefits that can help you to relax. Through the rhythmic flow of paddling and cruising through water and wildlife, it encourages you to ease your mind and relieve stress while soaking what nature has to offer.
HomeTeamNS members can try out the Stand-up Paddleboarding course at various PAssion WaVe outlets. HomeTeamNS-PAssion co-brand card holders can enjoy the course at PAssion member rates.
4. EXPLORING NATURE ON FOUR WHEELS
All-terrain-vehicle (ATV) riding is a fast-paced outdoor activity where you ride rugged four-wheeled bikes across rough terrain. Enter Singapore's first and only ATV facility at Gallop Kranji Farm Resort: Mud Krank. Rain or shine, Mud Krank offers action-packed ATV trail riding experiences for all ages.
No experience? No problem. The ride involves multiple segments, which first involves training and preparation for beginners and a practice run, before participants can take off for a high-octane joyride around the farm.
Get your gear on and head on over to Mud Krank today to get your much-needed dose of vehicular adrenaline.
Did you know that hooping has rapidly gained popularity among young adults as a sport? Hoop Fitness at HomeTeamNS-JOM Balestier and HomeTeamNS Khatib is a proprietary programme designed to help shave your belly fat and trim that waistline down to perfection. It features a fusion of traditional slimming principles with a hula hoop regime that seeks to achieve overall slimming, with a focus on the abdominal, thigh and buttock areas. Led by passionate, experienced instructors, this is definitely an activity to try – especially if you're on the hunt for fun ways to fulfil that new year slimming resolution!
Get hooping by signing up for a course with Hoop Fitness at HomeTeamNS-JOM Balestier and HomeTeamNS Khatib today, with sessions running twice weekly on Tuesday and Thursday, and Wednesday respectively.
6. SHOOTING YOUR ADRENALINE UP TO THE SKY
Feeling a little crazy? Or maybe you're on the prowl for that much sought-after adrenaline rush after a stressful week at work? Nothing gets quite as exhilarating as a reverse bungee experience at Slingshot. Visitors have their pick of two heart-dropping rides – the 70-metre Slingshot into the sky, or a 40-metre freefalling Extreme Swing over the Singapore River. Each Slingshot ride propels you over the city skyline at speeds of over 120kmh – 160kmh! How's that for living in the fast lane?
In urgent need of an adrenaline hit? Slingshot at Clarke Quay awaits!
For the latest updates on HomeTeamNS promotions and events, visit our website and Facebook page. Like our stories? Subscribe to our Frontline Digital newsletters now! Simply download the HomeTeamNS Mobile App, and update your communication preference to 'Receive Digital Frontline Magazine', through the App Settings.