Charge up your fitness regime with these apps, which offer training and wellness plans created by professionals.
1. Aaptiv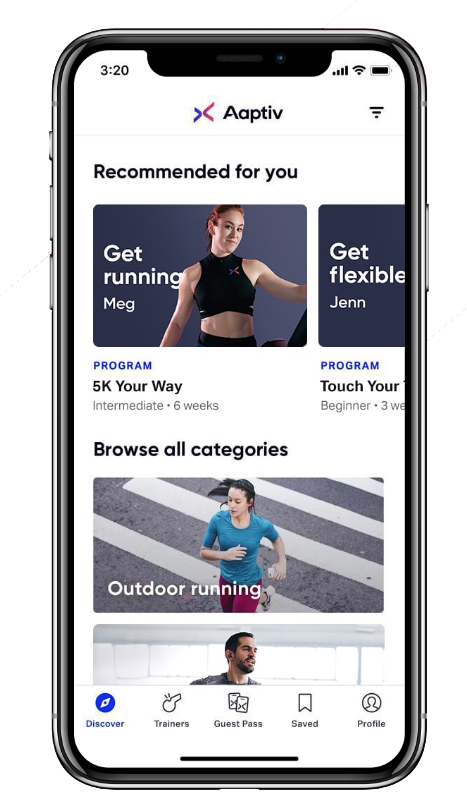 This app offers more than 2,500 on-demand workouts for people of different fitness levels. Create a profile of your fitness goals and choose from structured workouts based on duration, trainer (a diverse team specialising in everything from indoor cycling to boxing and maternity workouts) and even music. Pop on your headphones and let your favourite Aaptiv trainer guide and motivate you throughout the session.
Hits: More than 40 new classes are added weekly.
Premium access: $11.26 a month for exclusive classes.
With an endurance event happening almost every weekend, how do you stay on top of registration and training? Enter JustRunLah, the offshoot of South-east Asia's largest website dedicated to distance sports. Not only does it house up-to-date race calendars for the Asia-Pacific region, discount codes and race reviews, the app's top feature is the running portfolio for everything related to your races: finish times, photos, e-certificates, stats and diary. Unlock virtual medals celebrating new distance, pace and event milestones, then easily show off your accomplishments on Facebook.
Hits: The chance to nerd out over everything related to running.
Nutrition and activity go hand in hand in any wellness plan, and MyFitnessPal eschews fad diets for smart food tracking, with a database of more than five million food items and dishes – even restaurant items – in the world's largest calorie database. A digital food journal that's easy to log on and add recipes to, you can also set custom carb, fat and protein goals on top of daily calorie goals, and sync it with devices such as smartwatch trackers and fitness apps.
Hits: Find out how many calories that Krispy Kreme nets within seconds, and receive alerts for when you've gone over the day's sugar and fat intakes.
Premium access: $7.85 a month for a nutrient dashboard, food analysis and more.
Looking to tone up or nail that elusive asana? Daily Yoga features more than 100 guided yoga and meditation videos – all set to serene soundtracks – so that your body, mind and spirit can enjoy much-needed balance and relaxation.
Hits: Access to a worldwide yoga community to share moments, celebrate achievements, and have your questions answered.
Premium: $3.40 a month allows data tracking, more music, new classes and customised plans.
Now that you're off and running, why not do good with the distance you've covered? Track runs, cycles and walks on Charity Miles to see your hard work transformed into donations for selected organisations, including Habitat For Humanity, World Wildlife Fund and Special Olympics. Runners earn 25 cents per mile completed for their causes, while bikers earn 10 cents per mile. More than US$2.5 million has been raised to date.
Hits: Form or join a team for strength in numbers!
Now that you've properly powered up your endorphins, indulge in some recovery "me time" with Calm, because rest days are an important component of an active lifestyle. Focusing on more restful sleep, its Sleep Stories are relaxing tales that ease you into slumber, while video lessons guide you through mindful movement and gentle stretching when you're awake.
Hits: A specially tailored seven-day beginner's programme, and exclusive music for sleep and relaxation.
Premium access: $6.82 a month for 10-minute daily guided meditation sessions and masterclasses with renowned experts.