These Corporate Services Hub National Servicemen perform a crucial, if often overlooked, role in ensuring SCDF operations run like clockwork. Here's how.
TEXT: MELODY TAN
PHOTOS: THOMAS LIM
For every successful Singapore Civil Defence Force (SCDF) event or exercise, there is a team of dedicated National Servicemen working tirelessly in the background to provide essential support services.
Three Corporate Services Hub (CSH) National Servicemen share with us what their vocations mean to them, and how they support SCDF frontliners.
Meet SGT1 Lioh Yong Hao and LCP Raden Zulfiqkar Bin Zulkifri, who are both with CSH (West), and SGT1 Aloysius Ng who serves with CSH (East). Earlier in March, they supported Exercise Northstar XI in their capacities as a supply and operations assistant (SGT1 Lioh), an info-communications assistant (LCP Raden) and a provost officer (SGT1 Ng).
MAKING THE MISSION POSSIBLE
The massive exercise – which simulated a terrorist attack on Jurong Island – involved over 300 personnel from multiple agencies including the SCDF, Singapore Police Force, and Singapore Armed Forces, as well as other public and private stakeholders like the Maritime and Port Authority of Singapore, the Ministry of Health, ExxonMobil and Keppel Infrastructure.
"In addition to working closely with the other stakeholders, our SCDF colleagues needed to be on-site for long hours to prepare and execute the exercise," explains SGT1 Lioh. "Be it exercise equipment, refreshments or transportation needs, we support our frontliners behind the scenes so that they can focus on the mission."
ENSURING SMOOTH OPERATIONS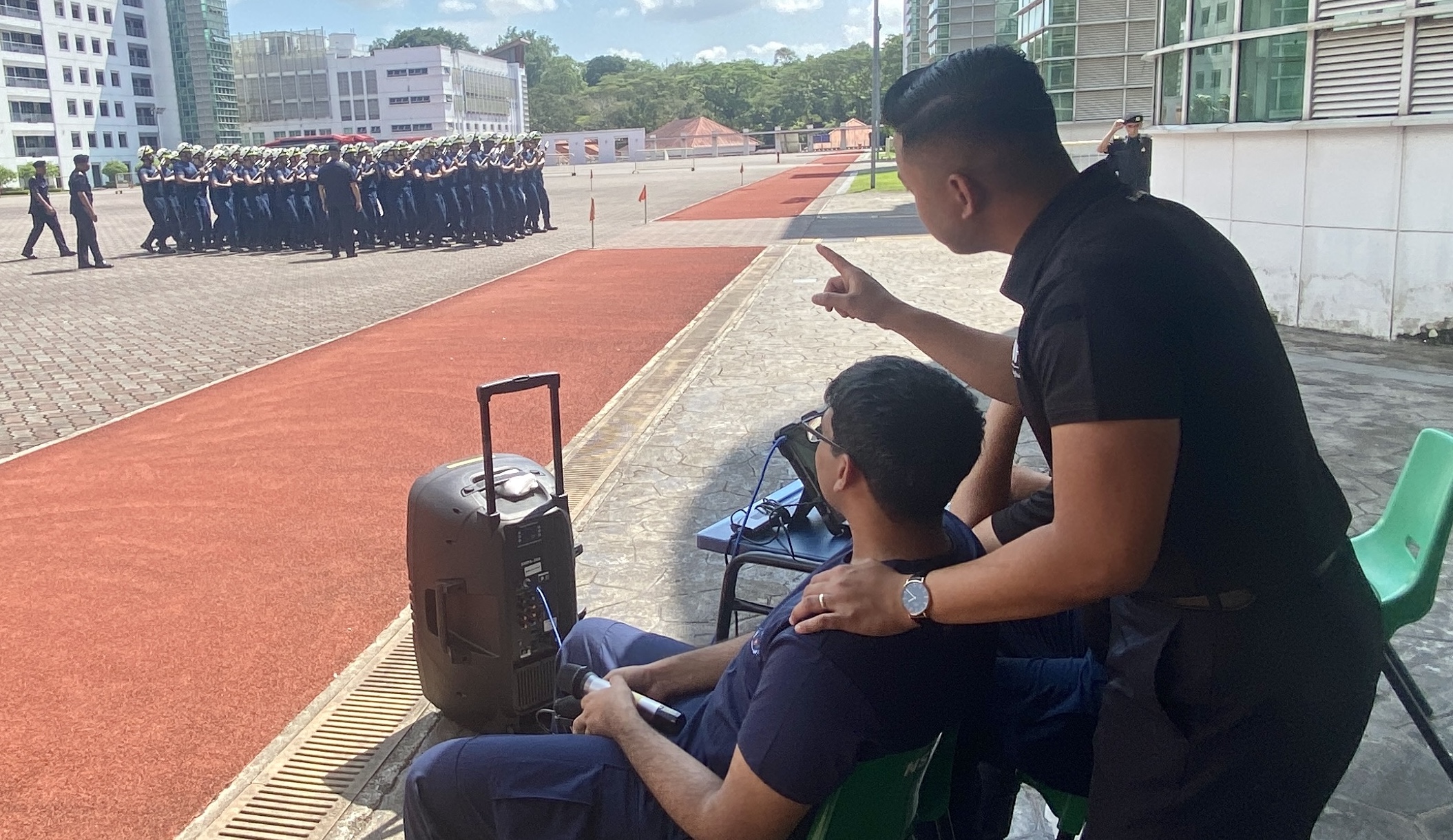 During Exercise Northstar XI, SGT1 Ng and his team were asked to simulate a Tactical HQ scenario where command vehicles were deployed. "We are responsible for safeguarding the command vehicles, which is of critical importance to overall command and control of SCDF's frontline operations during a major incident," he describes.
 LCP Raden, whose day-to-day tasks include routine checks, maintenance of info-comms equipment and attending to info-comm and technological issues, notes that such major exercises can require significant technical and communications support.
"During these major events, our team had to ensure that all communications channels between the event organisers and working party ran smoothly," he said.
Their support is not limited to large exercises. During recruit enlistments, graduation parades and the National Day Parade (NDP), LCP Raden and his team can be found setting up portable mixing consoles, speakers and other audio and visual equipment: "For events such as parades and ceremonies, we have to be very alert to visual and audio cues to ensure that the music is in sync with certain event sequences. This requires quite a fair bit of concentration and situational awareness," he says.
The 2022 NDP was also a busy occasion for SGT1 Ng: "During the NDP, my team and I were stationed at Kallang Fire Station to prepare the Command Vehicles for a Tactical HQ deployment, in case there was a major emergency. After securing a perimeter for the command post, we remained on high alert to safeguard all personnel and equipment on site."
Adds LCP Raden: "I always thought that CSH only handles routine logistics and communications services that are far removed from other SCDF operations. However, I soon realised that all departments really need to work closely together to conduct our mission — protecting lives and property — effectively."
This story is based on interviews originally published in Rescue995.
Like our stories? Subscribe to our Frontline Digital newsletters now! Simply download the HomeTeamNS Mobile App and update your communication preference to 'Receive Digital Frontline Magazine', through the app settings.