The idea of restarting your fitness journey to get back in shape now feels that much more appealing, yet intimidating all the same. A trainer from HomeTeamNS' Fitness Workz shares how even less-intense activities, spanning lifestyle changes to leisure sports, can help.
TEXT: NICHOLAS JACOB
IMAGES: FITNESS WORKZ
COVID-19 has disrupted our daily lives and diminished the feasibility of traditional routes to maintaining health and wellness – such as regular gym sessions. Even with Singapore now opening up, this means getting back into the swing of your old fitness routine may not be so easy after all. Of course, where there's a will, there's a way. After all, nobody wants to be the butt of another "pandemic physique" joke.
Unsure of what to do, now that access to that bench-press and rowing machine is limited? Our expert breaks down the types of lower-intensity exercises readily available in and about the neighbourhood to help you ease back into old habits.
WORK FROM HOME, WORKOUT AT HOME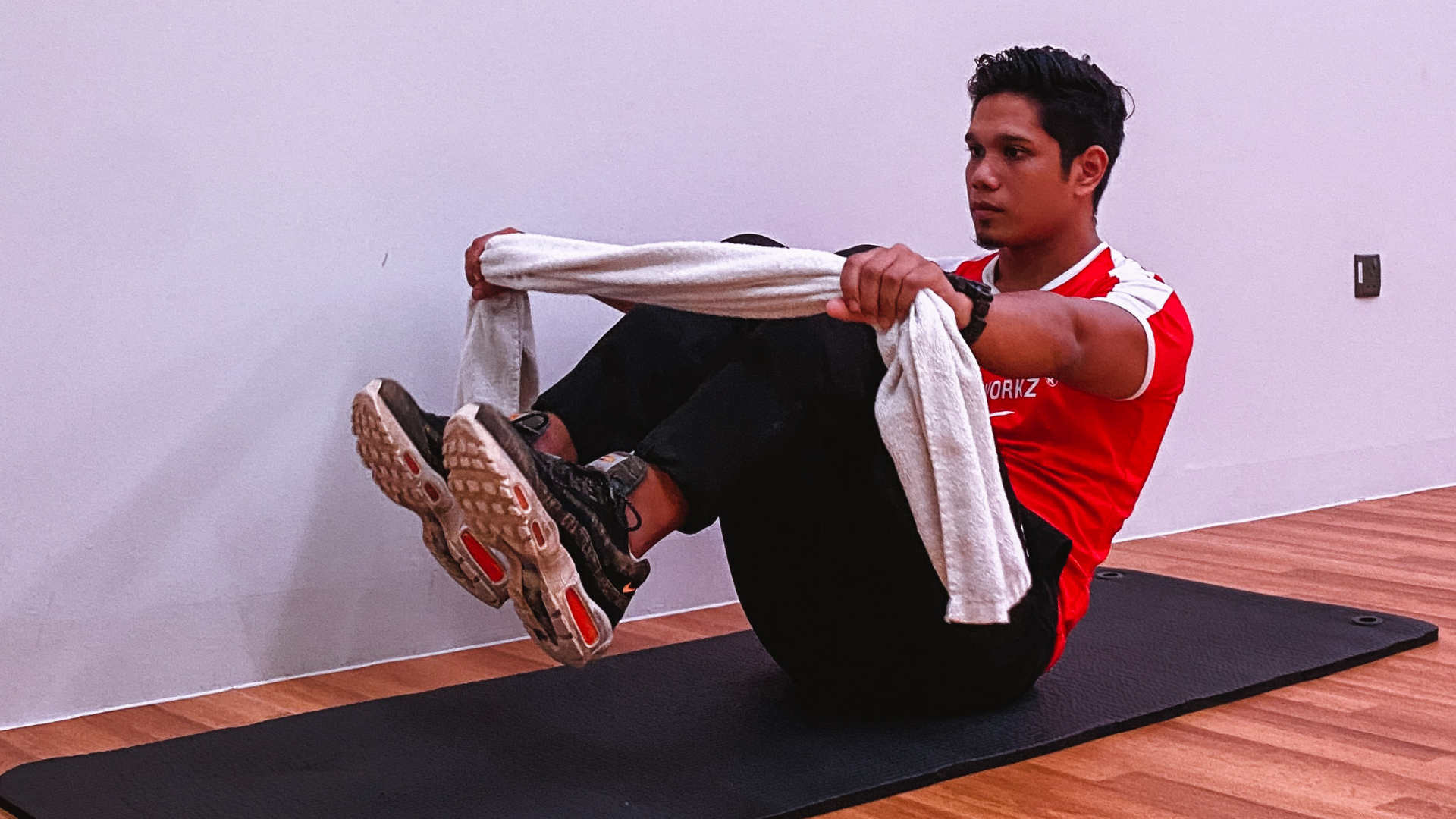 The prevalence of remote working arrangements has inevitably resulted in many of us being holed up at home in front of our desktops all day – and sometimes all night (cue related excuses for lack of exercise).
That being said, activities for keeping fit need not be confined to full-on sessions at the gym. As a starting point, Fitness Workz trainer Aidid Haidil Bin Mohamed Said puts forth stair-climbing as a solution that can be tailored for a range of fitness levels and goals.
Instead of taking the lift up to your home, one could use the stairs to improve cardiovascular strength and endurance. The descent, on the other hand, can build core muscles and improve balance.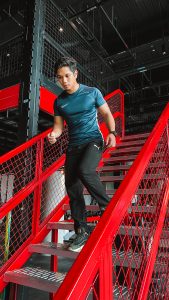 If that sounds a little too daunting, Mr Aidid notes that the intensity of a stair-climbing routine can be easily adjusted. "For example, the way to make it less intense is to climb up the stairs but use the lift to go back down instead and continue the same drill again!" he says.
Mr Aidid adds that a whole range of exercises can also be completed in the comfort of one's home, even without 'proper' equipment. For instance, a single towel is a flexible tool that can be used for bend-over rows, shoulder presses and the like.
"Apart from that, you could use a moveable chair to do your chest presses, a bag filled with books for some weights when you do your squats, or even as simple as a wall for you to use to do your wall push-ups." he shares.
TIME FLIES WHEN YOU'RE HAVING FUN TOGETHER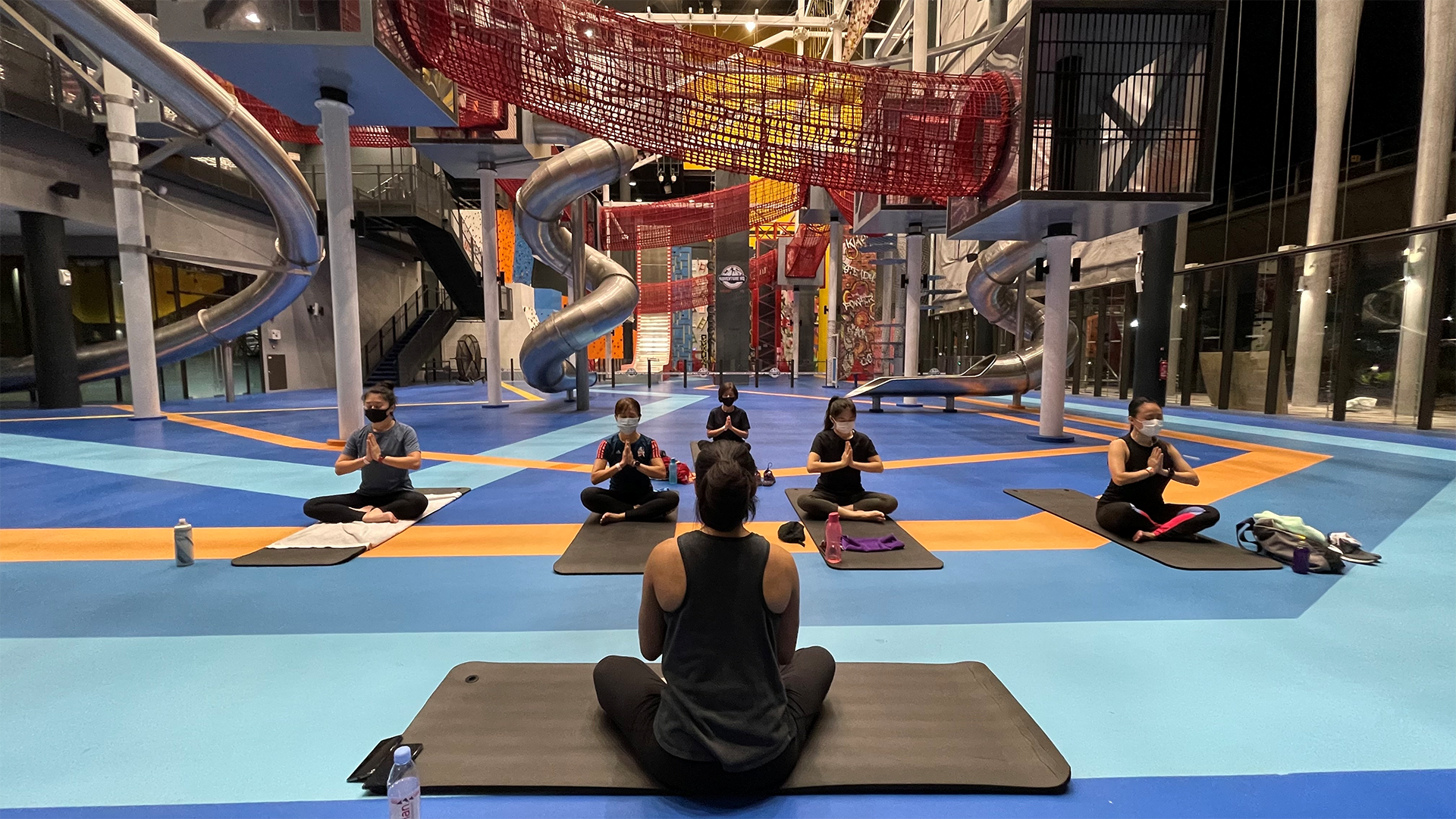 Social butterflies might consider setting their sights on casual sports to keep both their minds and bodies in shape. Take, for instance, leisure football – a group activity that is engaging on all fronts; keeping players up on their feet while also in constant interaction with their teammates. The various HomeTeamNS Clubhouses and Fitness Workz gyms also offer a range of group sports and exercise courses available that are a good opportunity for members to keep fit.
While prevailing social-distancing rules make for smaller group sizes, a good game with your football buddies still offers much of the same benefit. A football enthusiast himself, Mr Aidid recounts hardly ever feeling like he's exercising while playing – having fun with friends is the proverbial goal, after all. "Your cardiorespiratory and cardiovascular system will get better as well!" he adds.
Group sports aren't the only way to get fit while staying social. Partnering with a workout buddy is often mutually beneficial, as each of you constantly pushes the other to greater fitness heights.
For a change in pace and to ease stress levels, why not try activities such as yoga offered by Fitness Workz with a friend? As a low-intensity activity, yoga aims to improve one's flexibility, balance, and coordination in order to alleviate posture issues and lower back pain.
Alternatively, those interested in strengthening their core and muscle balance can opt for pilates – an exercise regime that focuses on low-impact flexibility while building muscular strength and movement endurance — instead.
A STRONG START IS HALF THE BATTLE WON
For individuals taking their first steps towards a less sedentary lifestyle, Aidid suggests that they first play some sports to gain momentum, before moving on to home workouts.
Beginners can ease into a routine by incorporating half-hour activity sessions twice a week; the length and frequency of these sessions can be increased following improvements in fitness, endurance and strength. Aside from eating well and having sufficient sleep, beginners should also draw up a workout schedule to support a work-life-exercise balance. "If you fail to plan, you plan to fail!" warns Mr Aidid.
Consistency is critical in order to get the most out of one's fitness routine. Getting fit carries a multitude of benefits, including reducing the risk of heart attacks, improving weight management, strengthening the muscular system, as well as boosting mental wellness and alertness. This is not to mention looking great once you get in shape!
At the end of the day, remember to just keep going at your own pace. As Confucius once said: It does not matter how fast you go, so long as you do not stop.