DAC (NS) Mohammad Nurizham Shah Bin Abdullah isn't just a father figure to his own children — he's also one to ex-offenders integrating back into society.
Throughout his 22 years of National Service, DAC (NS) Mohammad Nurizham Shah Bin Abdullah has helped to put a number of offenders behind bars. The 48-year-old started his service in Jurong Police Division before being transferred to the Public Transport Security Command (TransCom), where he is now NS Commander. "Our men have arrested people for various offences, from drug-related crimes to outrage of modesty," he says.
But DAC (NS) Shah's interactions with those who run afoul of the law do not stop there. Since 2020, the father of four has been an active volunteer at the Singapore Prison Service (SPS), where he is paired with inmates six months before their release. Support at this point of the prison sentence is crucial, as it can make all the difference to the inmate's success in rebuilding his/her life upon release.
UNLOCKING THE SECOND 'PRISON'
Support comes in many forms. Sometimes, it could be as simple as teaching inmates how to use a smartphone. "Some have been in prison for so long that they aren't aware of the tech advances we've had in the past two decades," says DAC (NS) Shah, who works in telecommunications. "Then there are ex-inmates who call me because they don't know how to deal with conflict at the workplace, and I guide them through the situation. With appropriate life skills, they would be able to hold a job and leave their old ways."
Volunteers like DAC (NS) Shah also act as father figures to some of these inmates, whose own families have often lost faith in them. "When they don't have family support and love, they may fall back into bad company and the prison cycle repeats itself," he explains.
To break such a vicious cycle, DAC (NS) Shah works closely with SPS to engage the inmates and forge lasting friendships with them. "You have to gain their trust before you can step in to advise and guide them," he says. To date, DAC (NS) Shah has mentored seven ex-inmates and he is proud to share that none have gone back to their old ways.
The learning isn't just one-way — DAC (NS) Shah has also gained a lot from the stories and struggles of the inmates. "As you hear about what they have gone through, you realise the importance of family and feel grateful for your blessings. Many times, these folks are just lost and need guidance. And as they turn over a new leaf, their greatest motivation is really to regain the trust that their families once had in them."
It's a lesson DAC (NS) Shah brings home to his children, aged 18, 16, 15 and eight. "I want them to grow up with the right values. So, I remind them that it's not just about academic success, but also the difference you make in people's lives. I am very encouraged that my oldest girl is now volunteering by tutoring underprivileged children. It goes to show how we can influence our children to be better."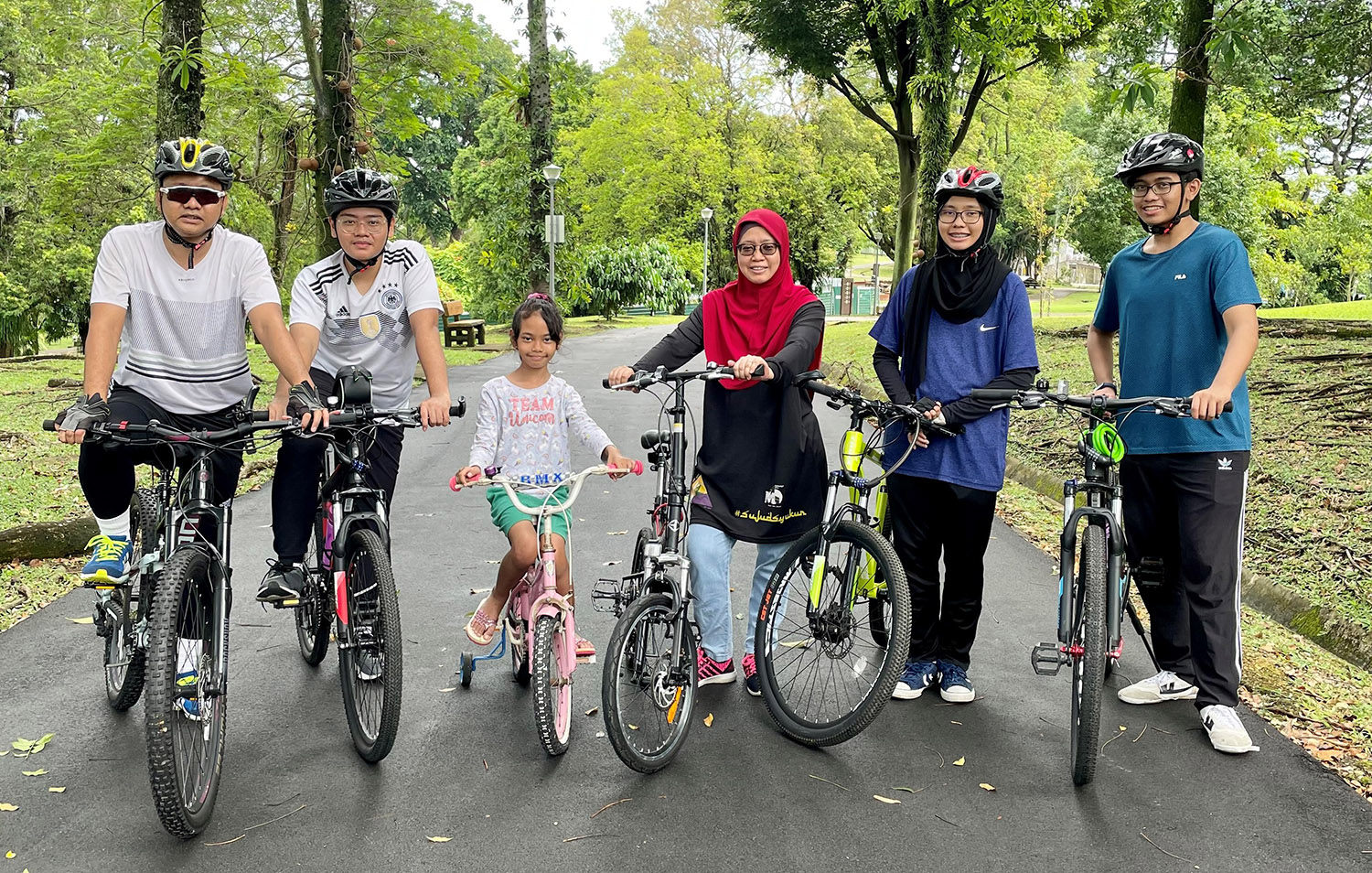 KEEPING AN ACTIVE MIND AND BODY
Besides the importance of giving back, DAC (NS) Shah encourages his children to be active and healthy. In this regard too, he leads by example. "One of our favourite hobbies is cycling. My older kids and I will cycle from Woodlands to Changi Village, where we will meet my wife, my youngest child and our domestic helper for a good meal."
These moments of levity are especially precious these days, as DAC (NS) Shah does not have to travel for work. Before the pandemic, he would fly around the continent to oversee his company's overseas telecom operations. "It is a blessing in disguise. I am very grateful to be able to spend so much time with my family these days."
"There are some who come out of prison and have nowhere and no one to turn to. I want to be there to help them so that the journey out doesn't feel so lonely."