Meet SGT1 (V) Sam Martinez, a Civil Defence Auxiliary Unit (CDAU) volunteer firefighter who has somehow cracked the code to a life well-lived.
TEXT: HTVN
PHOTOS: SGT1 (V) SAM MARTINEZ, NICOLE TAN
One can only dream of living as vibrantly as SGT1 (V) Sam Martinez, who is a volunteer Firefighter under the Civil Defence Auxiliary Unit (CDAU) in the Singapore Civil Defence Force (SCDF). Amid his busy career and volunteer role, SGT1 (V) Sam has somehow cracked the code to living life – he works and volunteers while enjoying several exciting hobbies – like freediving and motorcycle riding, to name a few.
A first encounter with freediving turned into love at first sight for SGT1 (V) Sam. He had been enchanted by the watersport when he first came across it on YouTube in 2019. Ever since then, his love story — like most others — truly began when he acted on it.
SGT1 (V) Sam said: "I saw a video of two freedivers in the turquoise waters. The elegance and serenity of it immediately struck a chord. My first introduction to the sport was in the pool at Our Tampines Hub. That first lesson had students do little more than breathing exercises and a static breath-hold." When asked to elaborate, he explained: "You can think of it as floating face down while holding onto the pool edge breath-hold." As he recounted the memory, his eyes lit up with joy and with an awestruck smile on his face, he continued: "And… I loved it."
The pandemic had nothing on him: it may have forced him to pause, but he emerged with a certificate for the watersport in Yucatan, Mexico early this year!
RIDING WITHOUT A CARE IN THE WORLD
SGT1 (V) Sam is also a motorcycle rider. His love for motorcycling stemmed from the sport's carefree nature. He experienced this freedom himself when he rode his motorcycle in northern Thailand and the region's popular Mae Hong Son loop in February 2020.
When asked what he liked best about motorcycling, he elaborates: "There is something incredibly liberating about riding up and down twisting mountain roads without a care in the world. Passing through villages, stopping by roadside stalls on chilly mornings for a steaming cup of coffee. Good memories, guaranteed!"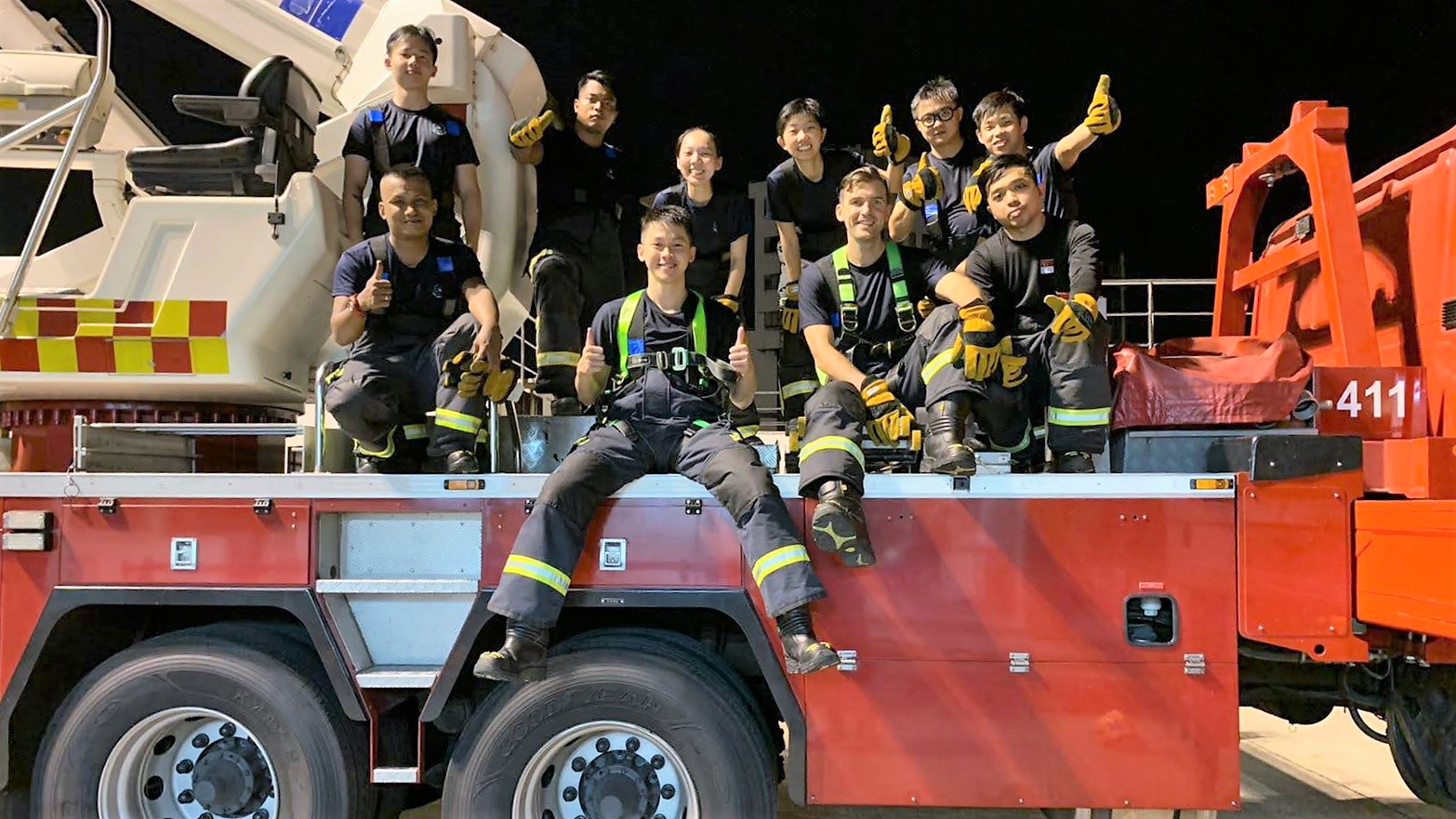 SGT1 (V) Sam's athletic skills aren't just for play, but to help others too. He receives training for Firefighting, Search and Rescue, Hazmat and First Aid from the CDAU Firefighting and Rescue Vocation. While excelling in just about anything he sets his mind to, SGT1 (V) Sam remains grounded and humble.
For him, the openness and professionalism of the Central Fire Station frontliners made his work there memorable. He appreciates their patience and dedication in explaining routine procedures and the use of equipment. As SGT1 (V) Sam aptly sums up: "The people make all the difference."
He also touches people's hearts through his volunteer work. When asked if he has any words of encouragement for interested parties to volunteer for HTVN, SGT1 (V) Sam says: "I'll borrow the slogan from a well-known sports brand for this one — Just Do It! Life is good, so let's give something back to society."
Find out more how you can make a difference in your community. Volunteer with the Home Team Volunteer Network today!
Like our stories? Subscribe to our Frontline Digital newsletters now! Simply download the HomeTeamNS Mobile App, and update your communication preference to 'Receive Digital Frontline Magazine', through the App Settings.