HomeTeamNS is serious about water conservation – here's how it's incorporating green features into its newest clubhouses and spreading the word about the importance of saving this precious resource.
TEXT: MELODY TAN
PHOTOS: HOMETEAMNS
Every day in Singapore, about 430 million gallons of water is consumed – an amount equal to around 782 Olympic-sized swimming pools. As our population and economy grow, our need for water is set to grow as well. PUB, Singapore's national water agency, estimates that our demand for water could be close to double by the year 2065.
To ensure that the nation's water needs are met, Singapore has three main solutions: to desalinate seawater, reuse water endlessly, and collect every drop. 
HomeTeamNS clubhouses are doing their part, too. While desalination is best left to the experts, both HomeTeamNS Khatib and HomeTeamNS Bedok clubhouses have water-saving features that make use of technology and innovation to take water conservation to a whole new level.
For example, the HomeTeamNS Bedok Reservoir and HomeTeamNS Khatib have an integrated rainwater harvesting system that drip irrigates the plants within the clubhouse, helping to reduce water use while maintaining the lush greenery of its surroundings.
Over at HomeTeamNS Khatib, the swimming pools have a secret, sustainable weapon when it comes to cleaning. They are the first of their kind in Singapore to use an ECO-filtration system that relies on a bio-film to trigger the process of photocatalytic oxidisation. This process sanitises the pool without requiring harsh chemicals like chlorine and reduces as much as half of the water normally needed for pool maintenance. The system also cuts down on energy consumption, and lasts twice as long as conventional decontamination methods.
This World Water Day mark the occasion with water-themed activities for kids and grown-ups throughout the month at participating HomeTeamNS clubhouses.
FUN ACTIVITIES AT HOMETEAMNS CLUBHOUSES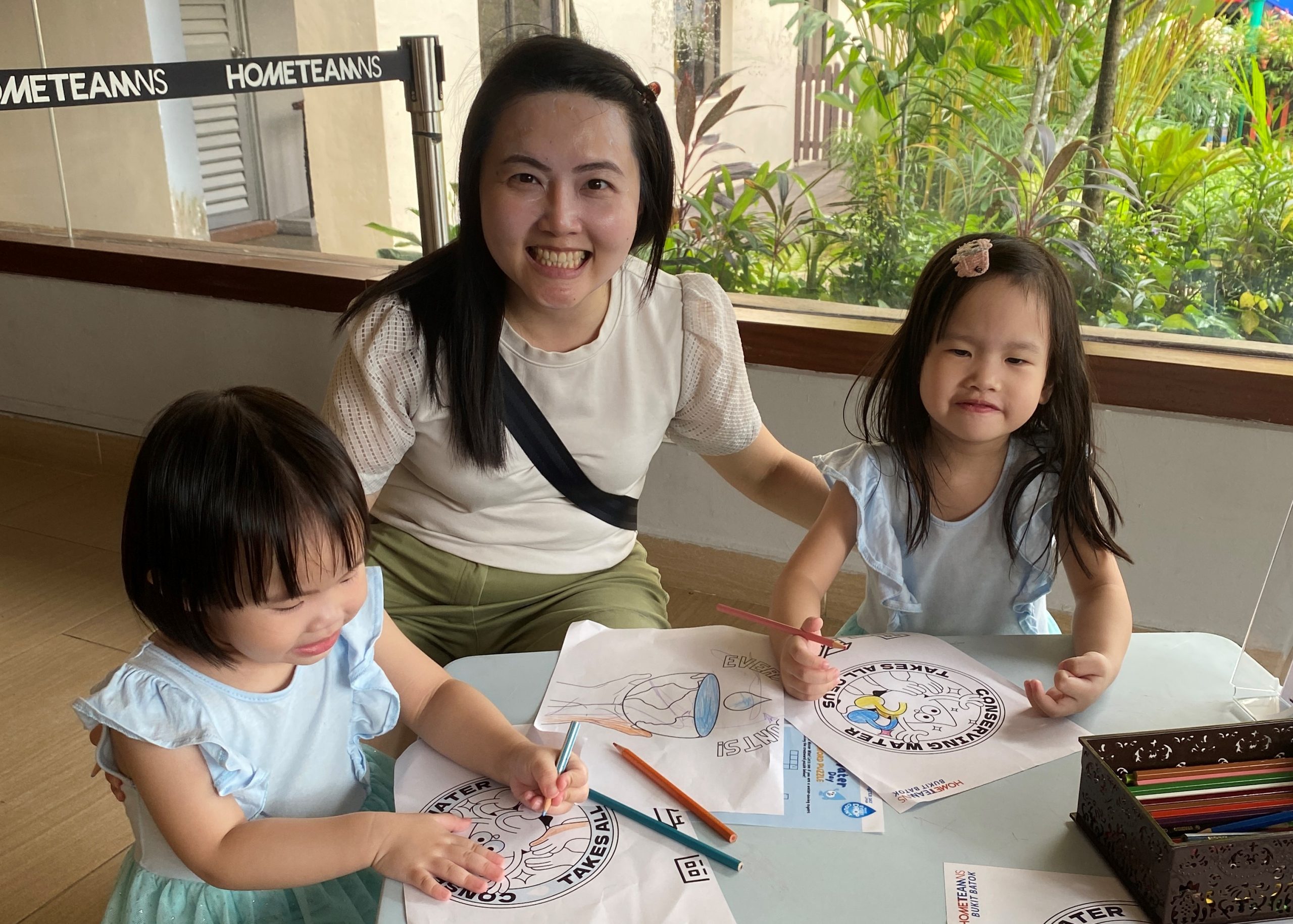 Get your blue crayons ready for colouring and crafting activities at the clubhouse lobby, where the kids' corner plays host to water-themed fun.
Older kids, teens and grown-ups can take part in the Water Day Online Trivia Contest. This fun quiz covers water consumption and conservation efforts in Singapore. Participants can join the online trivia at HomeTeamNS-JOM Balestier's Facebook page, and stand a chance to win PUB Water Wally plushies!
HomeTeamNS Bukit Batok's clubhouse Lobby A will host several water-themed activities:
Colour Me Blue
When and where: Every weekend from 17-31 March 2023, 11am to 6pm at Level 1, Lobby A.
Little ones can learn about water conservation with fun, educational activities at the colouring corner.
Interactive Board Games
When and where: 18-31 March 2023, 9am to 8pm at Level 1, Lobby A.
Learn tips on making a sustainable future together and participate in our interactive board games and redeem prizes when you complete each game – test your powers of recall with the memory game and try the crossword puzzles and get in touch with your inner wordsmith.
HomeTeamNS members or guests who participate in the Interactive Board Games or complete the colouring activity may spin the wheel to redeem a Singapore World Water Day merchandise.
Water Wally and Sally stickers are hiding somewhere within the clubhouse! If you spot them, be sure to snap a selfie, tag @HomeTeamNS Khatib on their Facebook page with your photo, and stand a chance to win $50 HomeTeamNS vouchers.
Want learn more about water conservation? Check out the clubhouse lobby where standees with water trivia will be displayed. If you're in the mood to test your knowledge, whip your phone out to scan the QR code on the standees, which will lead you to an online quiz. Participants stand a chance of winning Singapore World Water Day merchandise.
Like our stories? Subscribe to our Frontline Digital newsletters now! Simply download the HomeTeamNS Mobile App, and update your communication preference to 'Receive Digital Frontline Magazine', through the App Settings.