Safeguarding the health of SCDF officers and earthquake victims was all in a day's work for SCDF's NSF Doctors CPT (DR) Amos Lee and CPT (DR) Nicholas Tan at the disaster site.
TEXT: Cara Yap
PHOTOS: CPT(DR) Nicholas Tan
Approaching midnight on February 8, three hours into a multi-national earthquake search and rescue mission in Türkiye, CPT(DR) Amos Lee's training as a medical officer (MO) in SCDF's Emergency Medical Services Department (EMSD) kicked in.
As part of the Singapore Civil Defence Force's (SCDF) 68-strong Operation Lionheart (OLH) contingent, he had travelled 20 hours with the contingent to Kahramanmaraş, Türkiye, which had been devastated by a 7.8-magnitude earthquake on 6 February.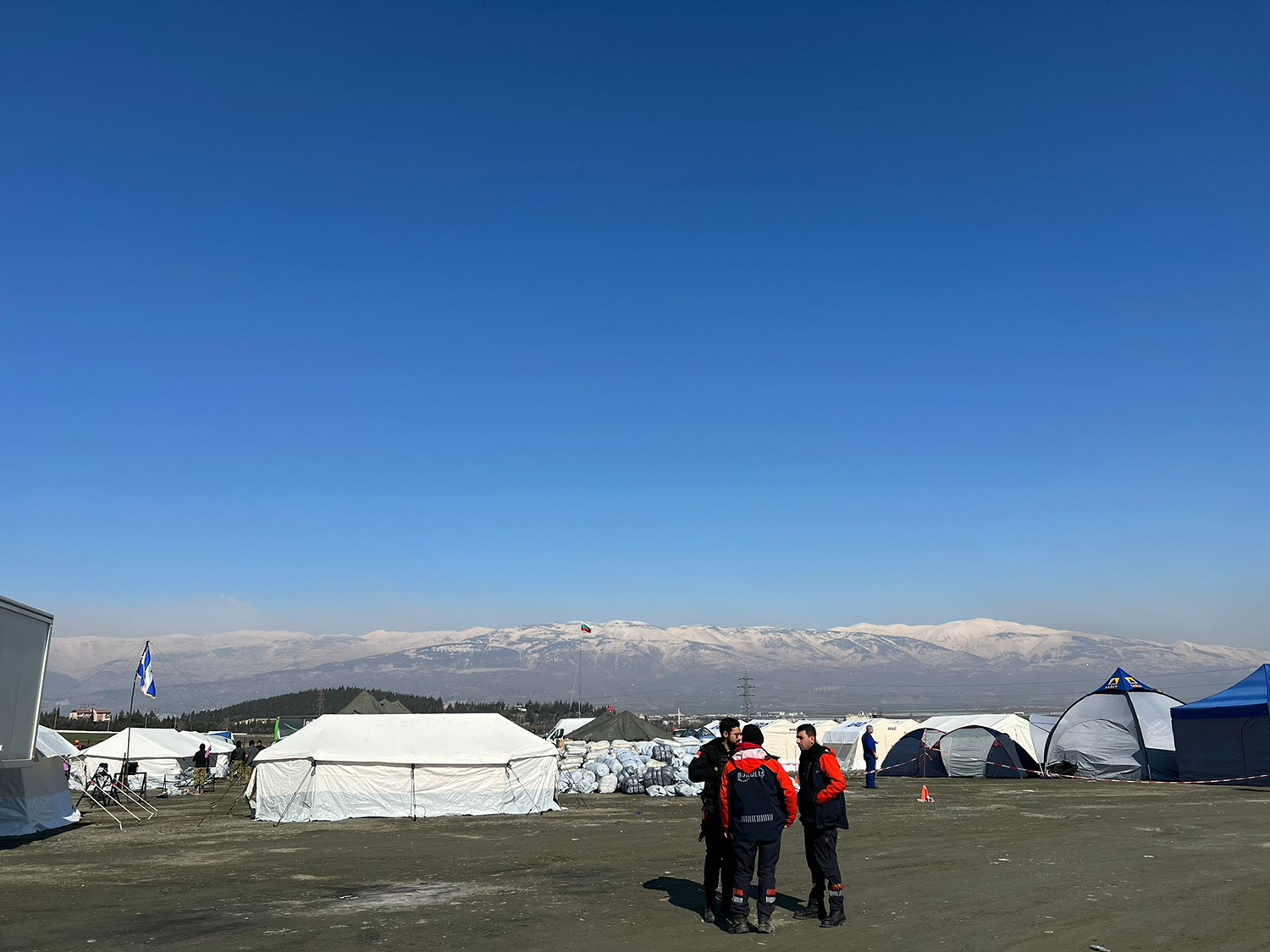 Here, in frigid temperatures of about two degrees Celsius, CPT (DR) Amos prepared to receive a 12-year-old Turkish boy, who had been extricated from the rubble by the elite Disaster Assistance and Rescue Team (DART) officers in the OLH contingent.
The rescued boy was suffering from hypothermia and psychological shock after being trapped for several days, so Dr Lee and the other medical professionals had to act swiftly. "Thankfully, he didn't sustain any life-threatening injuries. After taking his vitals, we stabilised him, administered fluids intravenously and kept him warm with a thermal blanket, before the local paramedics brought him to the hospital," he recalls.
The successful rescue was a bright spot in an otherwise sobering experience for the 27-year-old, who had witnessed courage, resilience and sorrow during the deployment. "As Medical Officers, we were taught to be resilient to hardship during our SAF Basic Military Training. Nevertheless, it was heartrending to see the locals cry and mourn amid the death and destruction," shares Dr Lee.
As a healthcare professional, Dr Lee anticipated the disaster's emotional toll.  "We do respect the grieving process of the victims.  However, as part of the OLH contingent, we must have sufficient coping mechanisms, so that we can carry out our duties professionally," he explains. Such stoicism is essential, as Dr Lee and other medical officers bore the responsibility of ensuring the health of all SCDF officers and search canines throughout the mission. Given their training in Advanced Trauma Life Support, they possess the skills to manage traumatic injuries and effectively support the OLH contingent.
Paying attention to details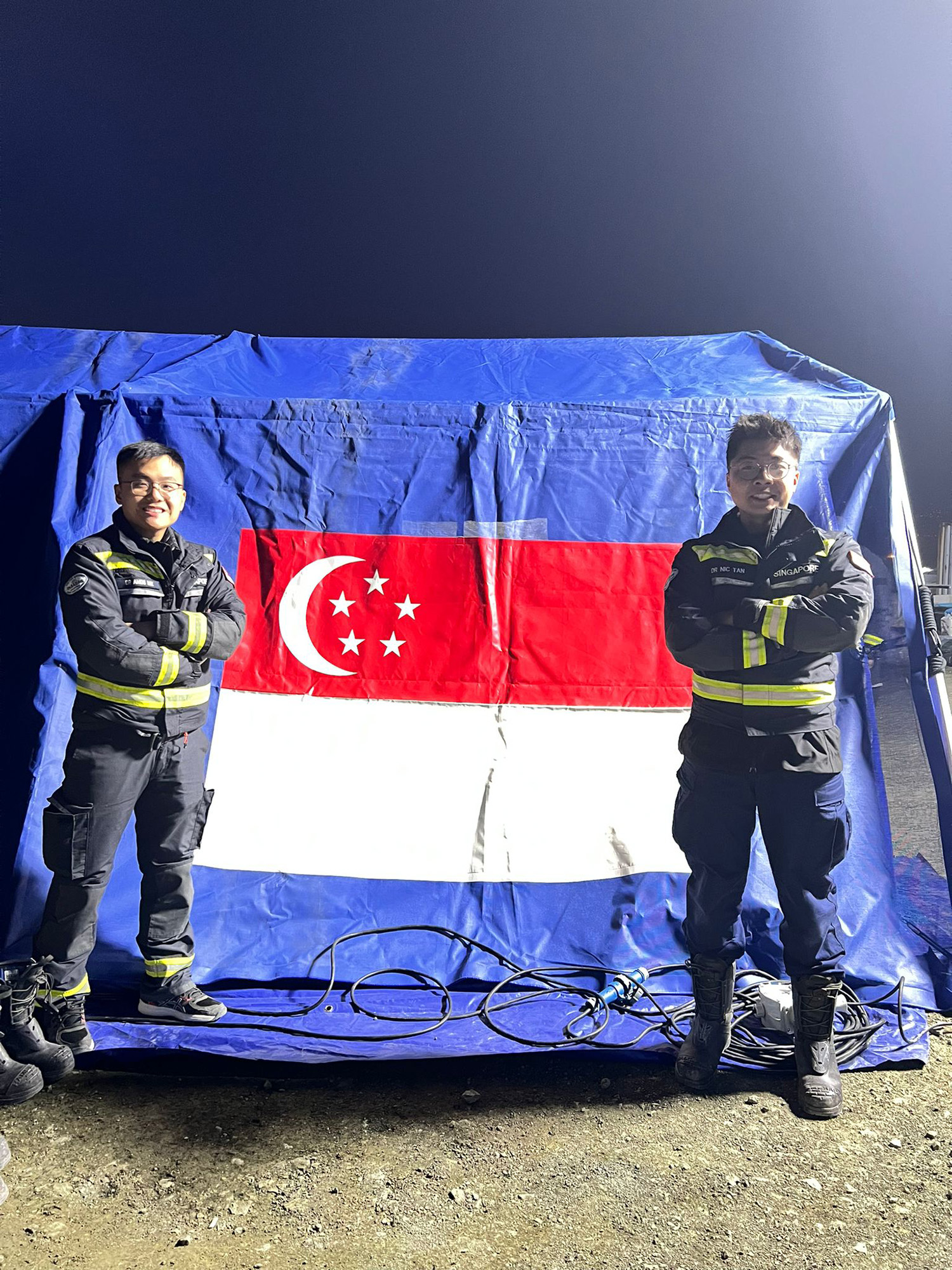 While the general public read play-by-play accounts of successful rescues conducted by the OLH contingent, not many are aware of the roles played by supporting team members such as Dr Lee.
Yet, these  roles are essential to the smooth operations of the OLH contingent, even if they are not directly involved in rescue work. CPT(DR) Nicholas Tan, from the Home Team Medical Services Division (HTMSD), Ministry of Home Affairs (MHA), who shared a tent with Dr Lee throughout the deployment, can certainly attest to that. The 27-year-old served mainly as an onsite GP for OLH contingent members and members of other international rescue teams that were based in the same camp.
"Minor ailments such as coughs, colds and runny noses may appear to be trivial, but how will our teammates concentrate on search and rescue, if they are not feeling well?" muses Dr Tan.
Throughout the mission, Dr Tan routinely treated ailments and minor injuries, not just for the contingent members, but also the search canines from SCDF's Search Platoon. When one of the search canines sustained a cut on its paw during a search, Dr Tan was able to neatly clean and bandage the wound, thanks to a three-day course in basic veterinary care he underwent prior to the mission.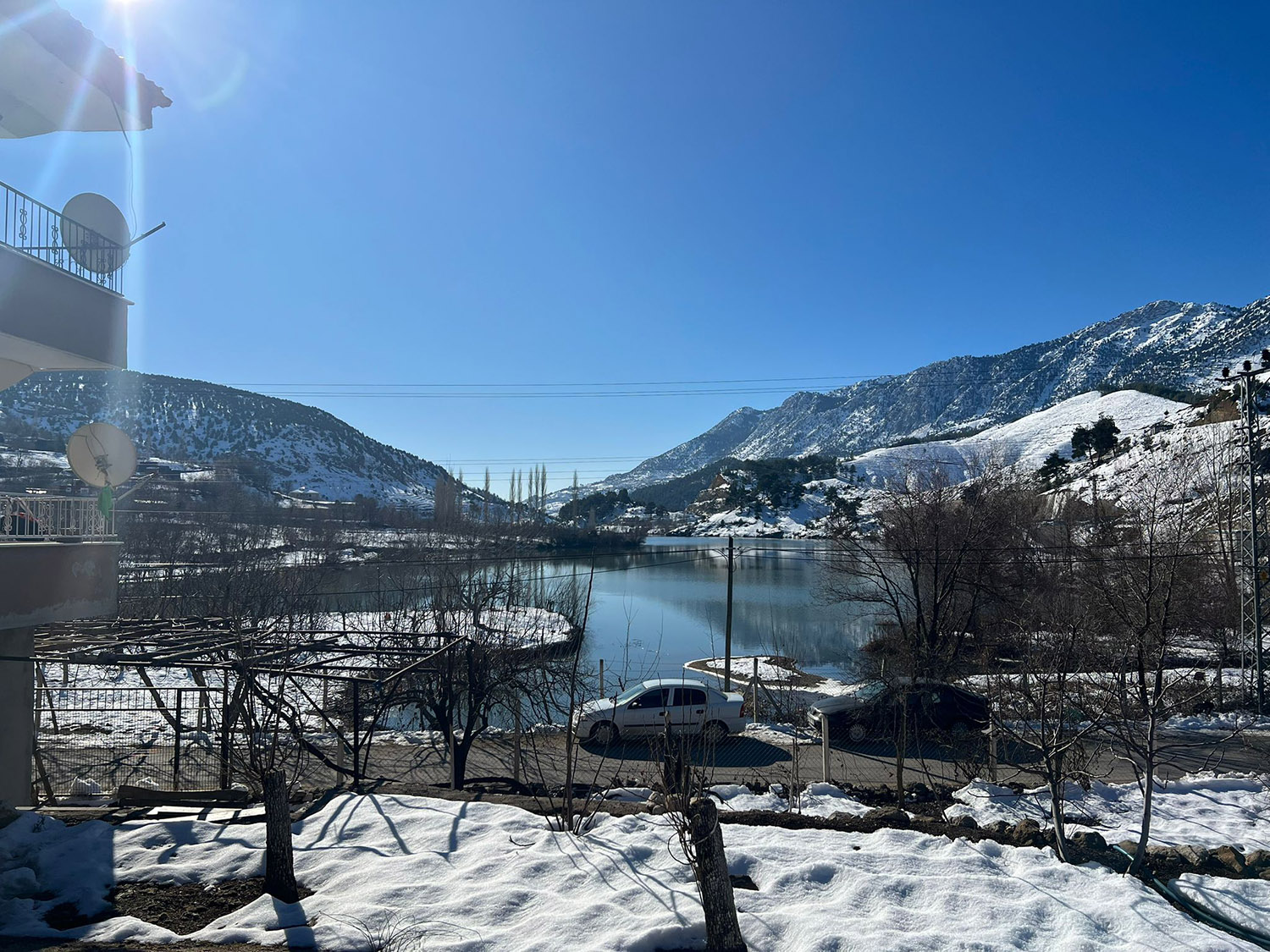 The swift deployment of the OLH contingent within hours of the earthquake, has reinforced Dr Tan's belief in the importance of watertight and agile logistics. "You must prioritise what to bring on overseas missions because you're limited by space and time constraints," shares the full-time NSF doctor, whose job scope includes drafting policies to improve the welfare of servicemen under the Ministry of Home Affairs. "We focused on variety instead of depth, packing medication and equipment to cover many types of emergencies – this involved a lot of pre-planning. Nothing was left to chance."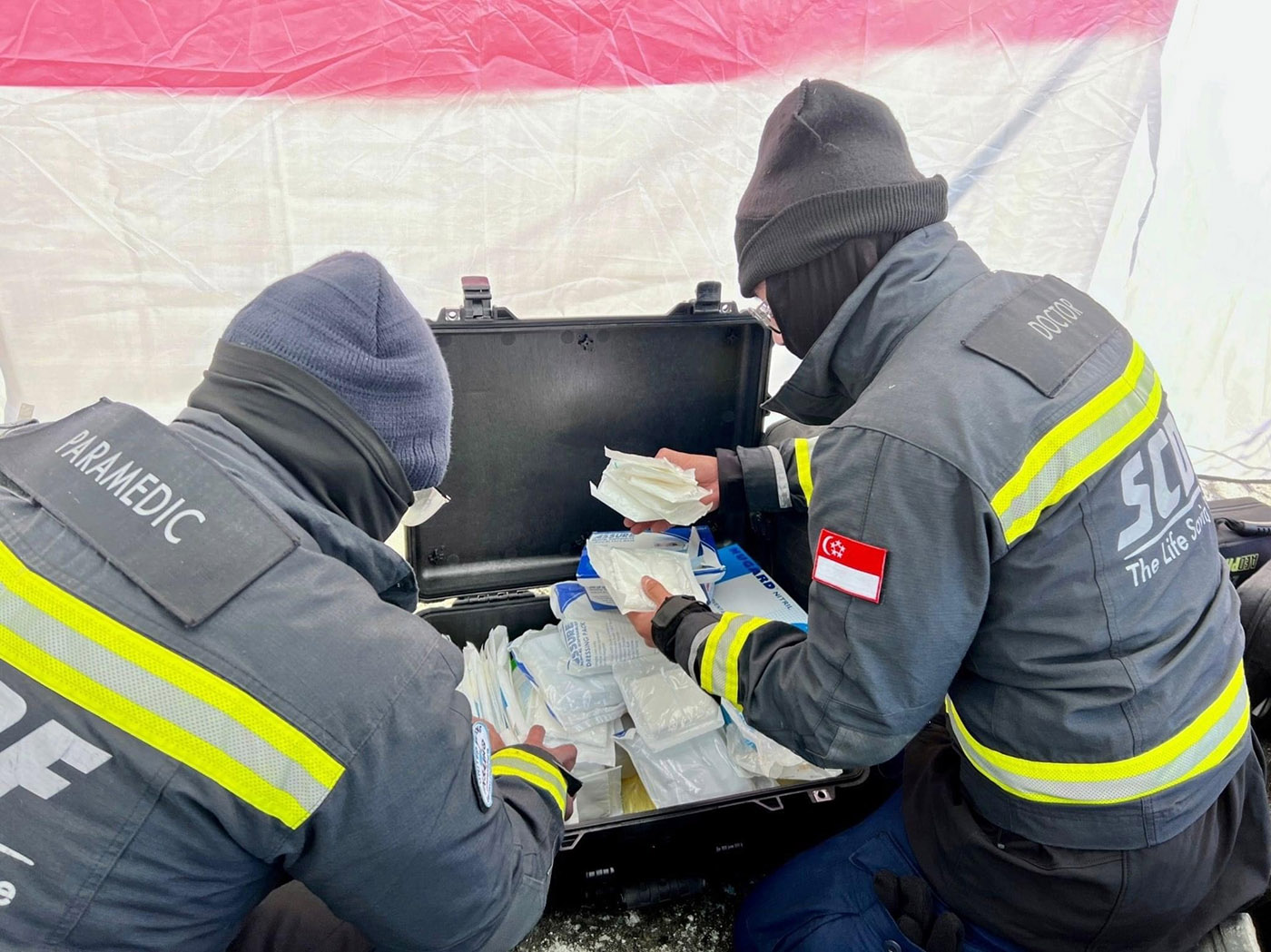 Like Dr Lee, this was Dr Tan's first time working in a disaster site, and he recalls being awakened by aftershocks on several occasions while resting in their tent. "As the base of operations was sited in an open area, we knew that the dangers from a tent collapse was minimal. However, the aftershocks did make us feel uneasy at times," recounts Dr Tan.
Despite the potential risks, both doctors did not hesitate when they received the deployment notice. "As a doctor, you have to step up when duty calls. This sense of responsibility is no different from that of other healthcare workers who worked hard to take care of COVID-19 patients, despite the potential risk of being infected by the virus," reflects Dr Tan, who recounted his stint at Singapore General Hospital during the pandemic, prior to enlisting in National Service.
Both Dr Lee and Dr Tan, who underwent BMT and the Medical Officer Conversion Course (MOCC) before joining SCDF, were equipped with both the physical and mental capacity to work under challenging circumstances. "We gained leadership skills during our SCDF induction course. We also learnt how to perform field amputations — on top of the veterinary course — and were engaged in regular exercises to familiarise ourselves with how OLH functions," explains Dr Lee, who also volunteers on overseas humanitarian missions with his church. He joined the medical profession as it is "a privilege to be present for those who are in need." Although he has yet to decide on his medical specialisation after NS, he has plans for an upcoming humanitarian trip in Cambodia. 
The OLH deployment struck a chord with Dr Lee, especially for the hospitality he received from the locals. "The Turkish people were really welcoming. Although they were having a difficult time in the aftermath of the earthquake, they kindly offered us drinks and warm meals," shares Dr Lee. Equally encouraging, was the camaraderie shared among members of the various international contingents, which transcended language and cultural differences.
"When I was queuing for food in front of a Turkish rescuer, I mentioned a few big names in Turkish football, as I knew that the sport is popular in Turkey. We started chatting and he showed me football clips on his phone. It shows that through patience and good will, we can find much common ground with others ," recounts Dr Tan, who will continue his internal medicine residency with SingHealth after NS.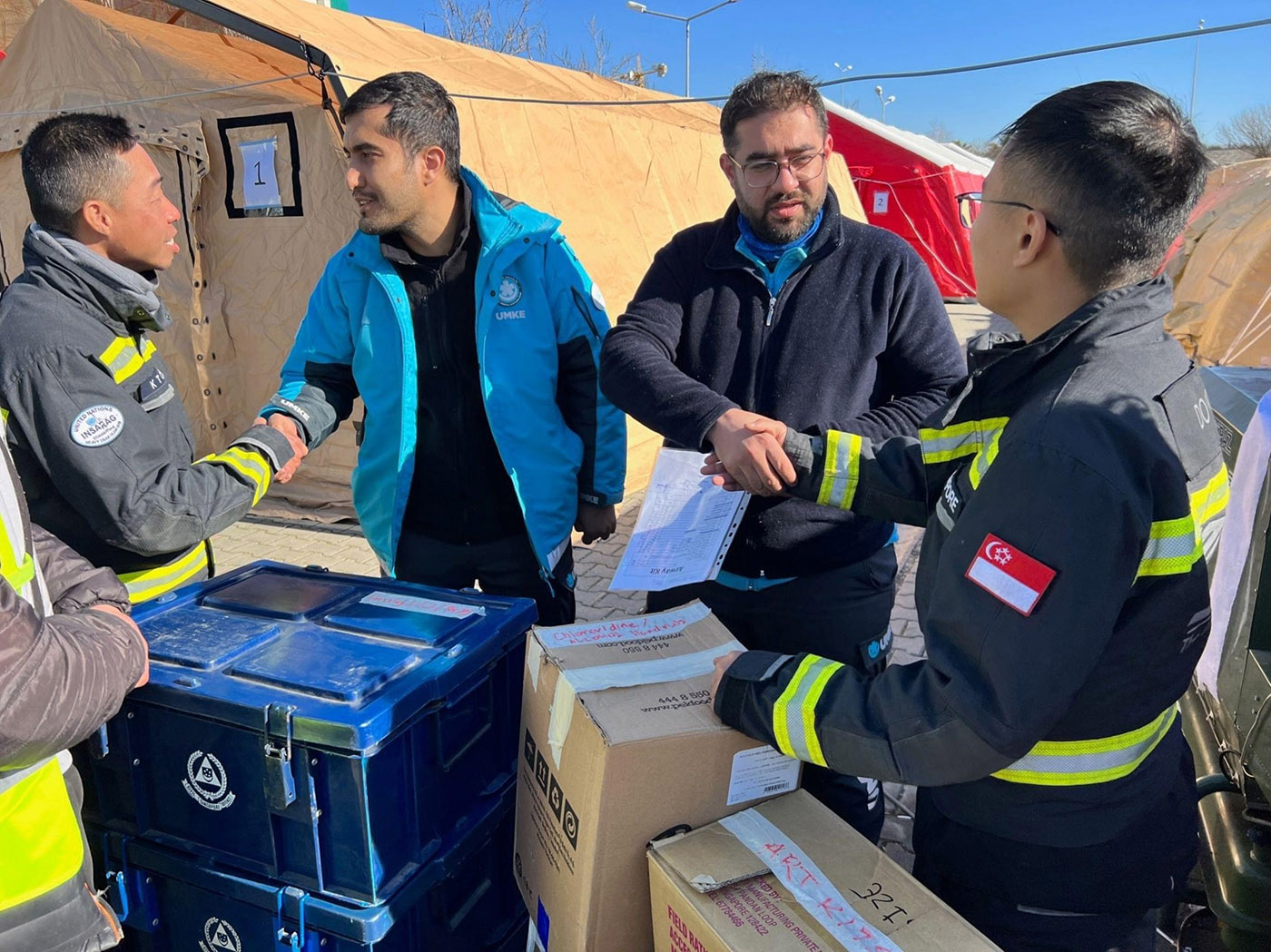 Dr Lee echoes this sentiment, saying that he maintains friendships with the Turkish translators assigned to his team. Despite the tragedy he witnessed he remains buoyed by the resilience displayed by the locals, as well as the collective strength of the international rescuers.
"My biggest takeaway through this experience was that regardless of nationality, race or religion, medical professionals have a duty to render help to those who need it," he concludes.
Like our stories? Subscribe to our Frontline Digital newsletters now! Simply download the HomeTeamNS Mobile App and update your communication preference to 'Receive Digital Frontline Magazine', through the app settings.