From reducing paper usage to relying on solar power to offset energy consumption, HomeTeamNS clubhouses are showing their support for the environment by going green.
TEXT: MELODY TAN
IMAGES: HOMETEAMNS
Sustainability is more than a buzzword – it's a way of life, one that's designed to help combat climate change and preserve the planet for future generations.
Just as more Singaporeans are incorporating green habits into their daily lives, HomeTeamNS clubhouses are also stepping up sustainability efforts.
HomeTeamNS Clubhouses and various facilities including Adventure HQ, T-Play, TactSim and Laser Quest have implemented numerous green practices. These include relying on technology – like digitising all documents to reduce paper use.
Guests are also encouraged to bring their own water bottles as paper and plastic cups are not provided for water, while the air-conditioning, lights and electrical appliances are set on timers and switched on during operating hours.
The new HomeTeamNS Khatib and Bedok Reservoir Clubhouses take things several steps further. As Khatib Clubhouse was completed in 2020 and Bedok Reservoir Clubhouse is set to be ready this year, both buildings were designed with sustainability in mind from the start.
THE FIRST OF ITS KIND: KHATIB CLUBHOUSE
The Khatib Clubhouse, which has been awarded the Green Mark Platinum certification by the Building and Construction Authority of Singapore (BCA), is ground-breaking in several ways.
Besides being purpose-built to fulfil the needs of Home Team National Servicemen, the 21,000 sqm clubhouse is also the first of its kind in Singapore to have an ECO-filtration system for its swimming pools. The system uses a bio-film to sanitise the pool water through the process of photocatalytic oxidisation – so there's no need for chemicals like chlorine. The system itself has a lifetime usage that is double that of conventional decontamination methods, and can reduce up to 50 per cent of the water used for pool maintenance, in addition to reducing energy use.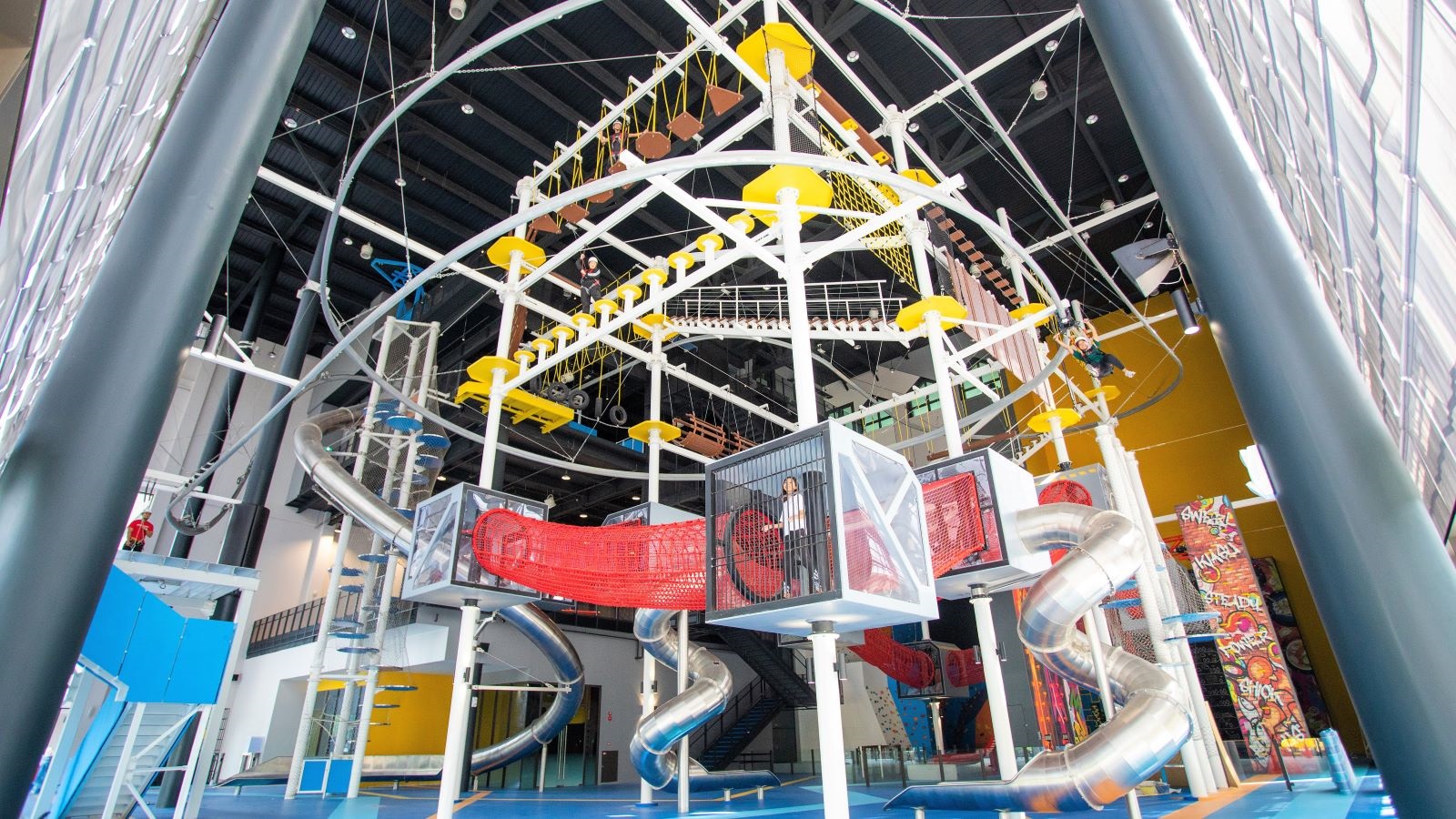 Khatib Clubhouse was also designed by DP Architects in collaboration with architectural engineering firm WSP to feature ample natural ventilation, via high ceilings and open-sided corridors. To avoid the building heating up under the glare of the morning and evening sun, it was orientated in a north-south direction and has a large rooftop garden – ideal for social events, while providing shade to the open spaces below.
Air-conditioning was kept to a minimum in the four-storey Adventure HQ, which is also Singapore's largest multi-installation indoor hub. Instead, the façade is opened up fully to the surrounding greenery, keeping it breezy and airy.
Elsewhere indoors, lights are linked to timers and motion sensors so that they can remain off when there is less traffic. A smart air-conditioning system enables less energy to be used when cooling an empty room. When the room begins to heat up with more people, the system is able to recalibrate and cool things down again.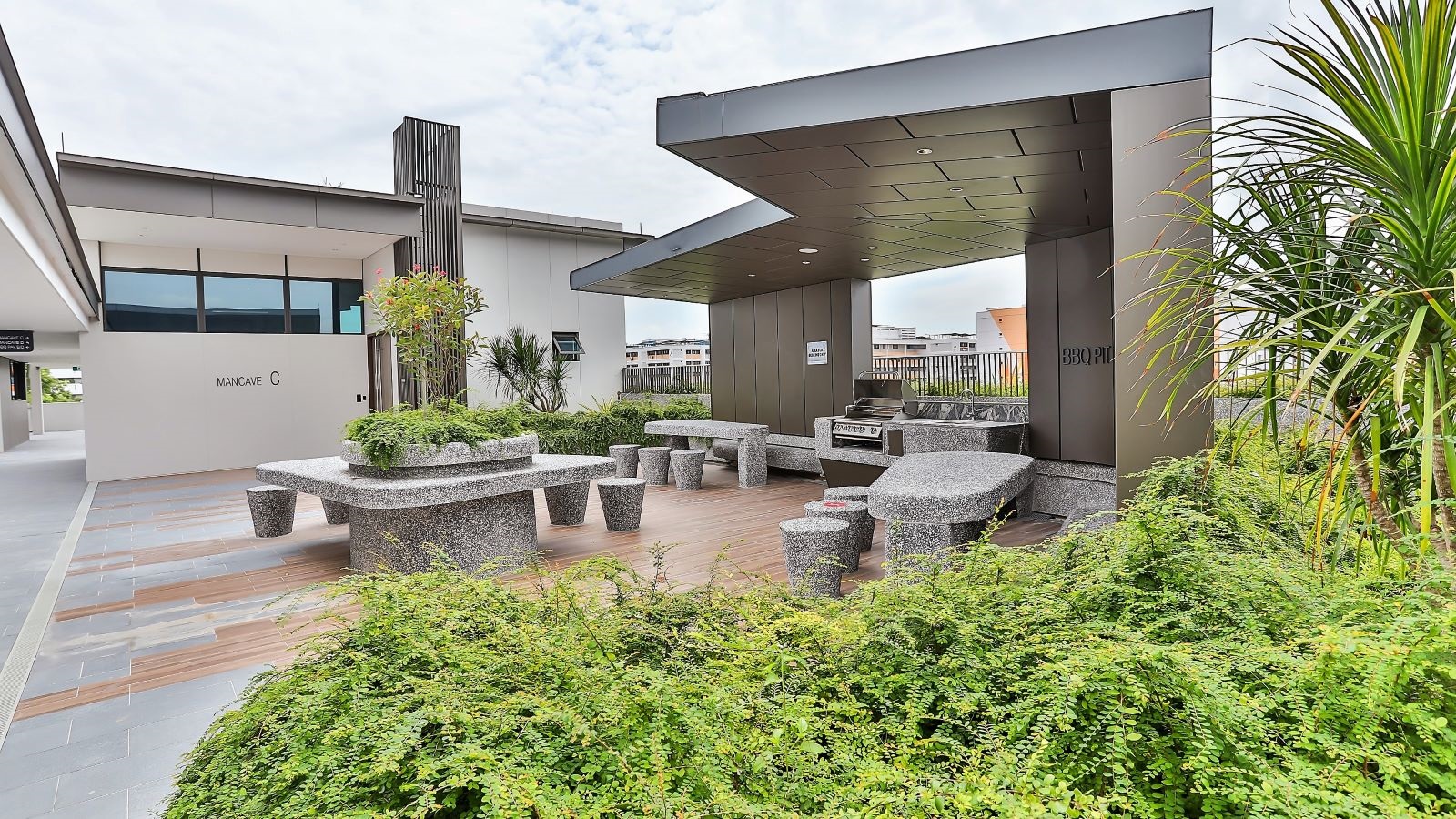 Even the location of Khatib Clubhouse emphasises greenery, with a 10 metre-wide central thoroughfare leading from the surrounding Yishun Park @ N8 into the main lobby. Lower Seletar Reservoir Park is just across the road, but plant-lovers won't have to go far to find landscaping designed around the creation of different habitats and biodiversity – such as the Fern Forest, the sensory garden at the landscaped corridor and the arid garden with drought-tolerant species on the rooftop.
Maintenance for all these plants is not an issue. The automated irrigation, augmented with rainwater harvesting, is controlled via a usage and rainfall monitoring system. This helps ensure that keeping Khatib Clubhouse green doesn't require a compromise on resource consumption.
TECHNOLOGY POWERING A GREENER FUTURE
Set to be completed in 2022, the Bedok Reservoir clubhouse will also feature eco-friendly systems for greater efficiency and reduced maintenance, similar to Khatib Clubhouse, while expanding upon the latter's green credentials through the use of technology and sustainable design. More details on Bedok Reservoir Clubhouse's sustainability features will be shared in due course.
By making sustainability a priority from the start, these HomeTeamNS clubhouses not only provide comfortable spaces for members to connect, relax and celebrate – they also do their part for the future by contributing towards a greener Singapore.
You and your family members can take small steps that make a big difference to the environment, here's how.