A harrowing encounter turned SGT1 (NS) Muhammad Zainal Abidin from reluctant National Serviceman to passionate fire and rescue specialist at SCDF's Civil Defence Auxiliary Unit.
TEXT & PHOTOS: SINGAPORE CIVIL DEFENCE FORCE
Like many other Singaporean males, SGT1 (NS) Muhammad Zainal Abidin enlisted for National Service (NS) when he was 18. "Initially, I did not see the importance of serving NS — and I must admit that I was not the most enthusiastic in training," says Zainal, 30, recalling his experience as a full-time National Serviceman (NSF) with SCDF.
But SGT1 (NS) Zainal then experienced a turning point that would shape a life-long passion. "One day, my fire station crew and I were instructed to help out during a suicide attempt," he recounts. "When we arrived at the scene, we were tasked to set up the life pack as quickly as we could. As I was not very serious during my training, I struggled to keep up with my colleagues when handling the equipment. Yet there I was, caught in a situation where a life was at stake. Fortunately, it was a team effort and my personal shortcomings did not adversely affect the operations."
Realising that he could have done more to support his team, SGT1 (NS) Zainal resolved to focus on his NS training and learn as much as possible from veteran SCDF career officers. "After the incident, I realised how self-centred and immature I was," concedes SGT1 (NS) Zainal. "I decided to put in my utmost effort to do my best in NS. Ever since then, my passion for saving lives has continued to grow."
After completing his full-time NS stint in 2014, SGT1 (NS) Zainal went on to work as a technician and obtained a diploma in aerospace engineering. He is currently pursuing a degree in psychology. Over the years, he has developed a passion for lifesaving, which led him to join the SCDF's Civil Defence Auxiliary Unit (CDAU) as a fire and rescue specialist at Bishan Fire Station. "Joining the CDAU was a great milestone in my life. Lifesaving is a noble endeavour and I believe this is something that my son will be proud of," asserts the father of a 6-year-old.
FIGHTING THE PULAU BUSING INFERNO
His son would certainly be able to regale friends with tales of his father's heroic acts. On the evening of 20 March 2018, SGT1 (NS) Zainal and his crew were alerted to an oil storage tank fire at Pulau Busing. From where he stood, kilometres away from the island off Singapore's southwestern coast, SGT1 (NS) Zainal could see raging fire and clouds of thick black smoke.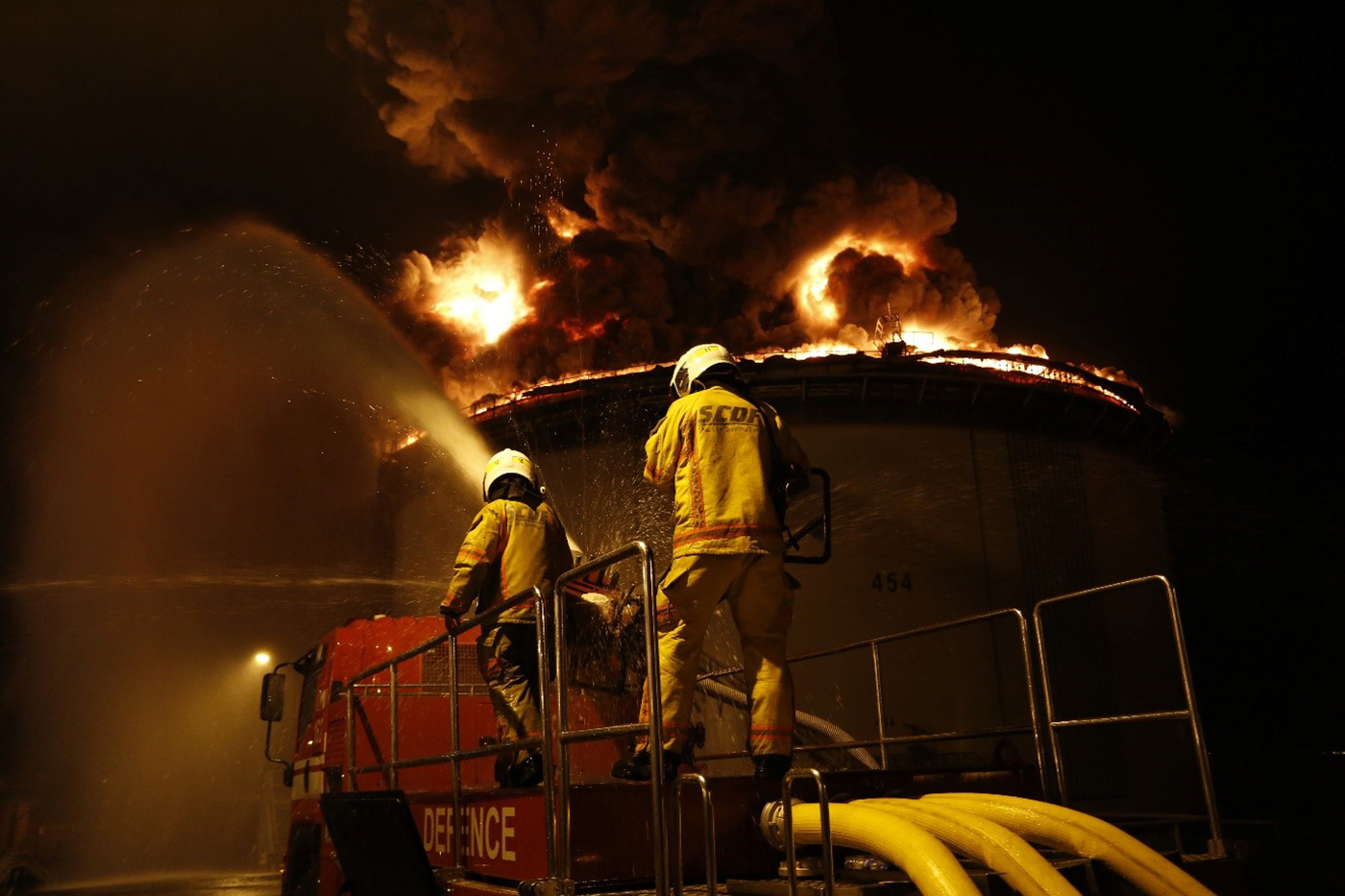 "The fire was burning on a massive scale when we approached the site in our fire engines onboard a vessel," says SGT1 (NS) Zainal. "This reminded me of the stories that some SCDF career officers shared from their experience fighting a pumphouse fire at Pulau Bukom years ago. The Bukom pumphouse fire was so intense that one of our emergency appliances was partially burnt." Bearing that in mind when setting up the ground monitor this time round, SGT1 (NS) Zainal was careful to maintain a safe distance from the raging fire and constantly check on the wind direction to ensure safety.
A total of 31 firefighting and support vehicles, 128 SCDF personnel and Company Emergency Response Team members along with the Police Coast Guard, Maritime and Port Authority of Singapore, Republic of Singapore Navy and the National Environment Agency were involved in the highly challenging six-hour operation at Pulau Busing. "When the Pulau Busing fire was ultimately extinguished around midnight, my crew and I had to stay behind to monitor the site until 8am the next morning," notes SGT1 (NS) Zainal. "As there were about five of us in my section, we took turns to monitor the site every two hours to ensure that the area remained safe. Such precautions are necessary because re-ignition can happen in oil storage tank fires."
Despite the lack of sleep after the arduous firefighting mission, SGT1 (NS) Zainal managed to stay alert during the long hours of standby duty. "What I have learnt from my experiences as an NSF and a CDAU officer, is that we must never take Singapore's safety for granted," he cautions. "Every time I put on my firefighting bunker gear and lift the rescue equipment, I am carrying not just a heavy physical load but also the weight of responsibility."
Today, SGT1 (NS) Zainal passionately imparts his rescue and firefighting knowledge and skills to NSFs at Bishan Fire Station. He always reminds them to take their NS seriously – they are, after all, young men entrusted with a noble mission of safeguarding the lives and property of others.
Like our stories? Subscribe to our Frontline Digital newsletters now! Simply download the HomeTeamNS Mobile App and update your communication preference to 'Receive Digital Frontline Magazine', through the app settings.