Meet Mr Choo Hock Hua, an active 75-year-old who enjoys spreading the word about crime prevention and caring for fellow seniors.
"Singapore is a safe country, but low crime doesn't mean no crime", says Mr Choo Hock Hua, 75, a Crime Prevention Ambassador (CPA) who has been volunteering with the National Crime Prevention Council for 18 years.  When asked what his motivation as a volunteer was, Mr Choo said he finds meaning in serving the community. "I see the role and function of the National Crime Prevention Council as a good cause to further enhance the safety and security of Singapore. Joining the CPA programme allows me to help spread the crime prevention message to Singaporeans," he says.
As a CPA volunteer, Mr Choo helps to conduct crime prevention talks and organise crime prevention exhibitions to educate the community, especially senior citizens. He shares updates about criminal tactics and advises them on simple crime prevention measures to safeguard themselves. "For example, when they receive a suspicious phone call (that they) believe to be a scam, they should practice the: 'Don't Panic, Don't Believe, Don't Give,' mantra," he explains. Mr Choo and his team works closely with Central Police Station officers to conduct chit chat sessions with the elderlies, mostly in dialects. He would share crime prevention messages and distribute crime prevention brochures. The brochures highlight various crimes and their prevention such as online purchase scam, investment scam, impersonation scams and love scam. "I believe that by constantly chit chatting with the elderly, they would remember simple crime prevention message so as to protect themselves from being a victim of crime. In addition to volunteering as a CPA, Mr Choo also serves as a grassroots leader at the Chin Swee Residents' Committee (RC), a role he has taken in for the past 20 years. He is thus very passionate about caring for the elderly.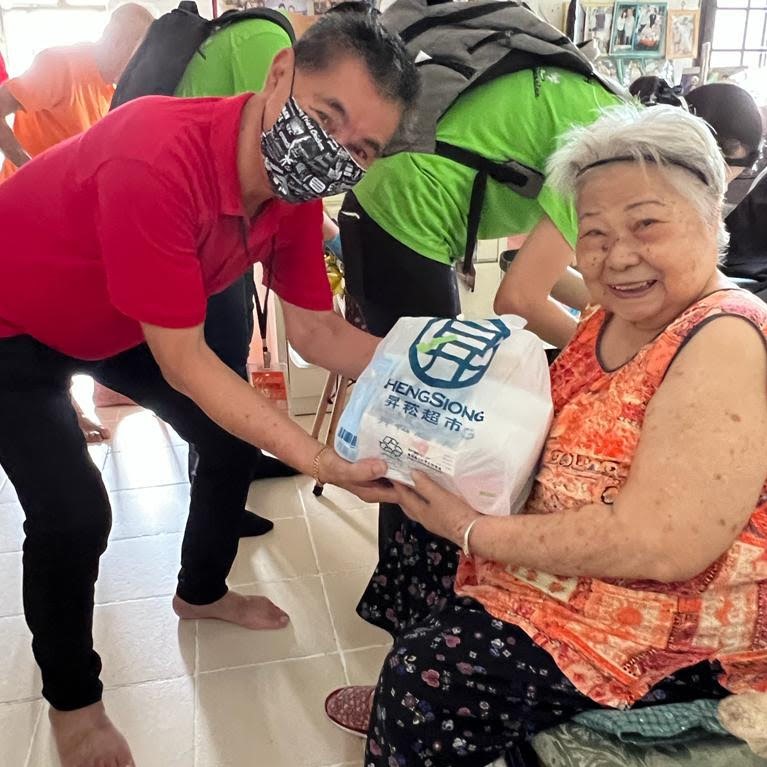 CPAs are sometimes involved in non-crime prevention activities as well. During a flu vaccination exercise in December 2021, many senior residents had difficulty getting their shots due to mobility issues. Mr Choo and a team of CPAs, who are also grassroots leaders, visited their homes to assist with the flu shots, which were administered by certified nurses.
They also presented each senior with a gift bag of daily necessities prepared by the RC, which reduce the need for them to venture outside their homes after their injection. "Seeing the residents smile and nodding their heads in acknowledging our efforts made me feel proud and keeps me motivated to serve the community. I will continue to serve the elderly in Chin Swee as long as my assistance is required," says Mr Choo.
Mr Choo tells Frontline that he intends to continue volunteering with CPA, and strongly encourages others to use their time for a meaningful cause. "Crime Prevention is everybody's responsibility. It's like brushing your teeth and washing your face; we need to do them daily," says Mr Choo.
"Likewise, every day we must look out for one another in our family and neighbourhood. We should be wary of dubious get-rich-quick schemes and online that are too good to be true. This will help protect us and our family from becoming victims of crime."
Mr Choo also highlights the importance of work-life balance when volunteering. "It is essential to plan ahead and have a contingency plan," he says. "I am lucky to have a supportive wife and a team of helpful and cooperative grassroots leaders to help me whenever I am involved in CPA activities."
The Crime Prevention Ambassador (CPA) volunteer was a scheme launched in 2002 by the Crime Prevention Council (CPC). The National Crime Prevention Council (NCPC) is a non-profit organisation committed to promoting public awareness of and concern about crime and to propagate the concept of self-help in crime prevention.
The Council comprises representatives from the commercial and industrial sectors, as well as from the public sector and the Singapore Police Force (SPF). CPAs help to share and promote crime prevention messages to your peers and also the wider community.
Come and join Mr Choo as a CPA or as a Home Team Volunteer for a good cause today!
Find out more on how you can make a difference in your community and how other MHA volunteers are helping to keep their neighbourhoods safe.