Community Engagement officers play an essential role in driving the SPF's partnership efforts.
Operating at the heart of our community, the Community Engagement (CE) Officers' policing work involves liaising with the wider public. Their aim is to actively educate and raise awareness on illegal/unlawful activities through Crime Prevention exhibitions and road shows, house-to-house visits and advisory posters in our neighbourhoods. In addition, they partner with external stakeholders to organise school talks and Citizens on Patrol (COP) activities.
To achieve greater effectiveness in their engagement efforts, CE Officers are trained to develop both service-oriented skills and mindsets. The training improves their communication skills and helps them establish strong rapport with the public.
CE is one of many vocations open to Police Full-time National Servicemen (PNSFs) such as SC/CPL Nur Hakim Hazrin from Foxtrot Division. Here, he shares his enriching journey serving the Singapore Police Force (SPF) and the public as a CE Officer.
Due to COVID-19, CE Officers' engagement efforts have gone online. While this necessitated new processes, SC/CPL Hakim and his colleagues have adapted and successfully organised various virtual activities. These included training COP volunteers and crime prevention talks for pre-schoolers.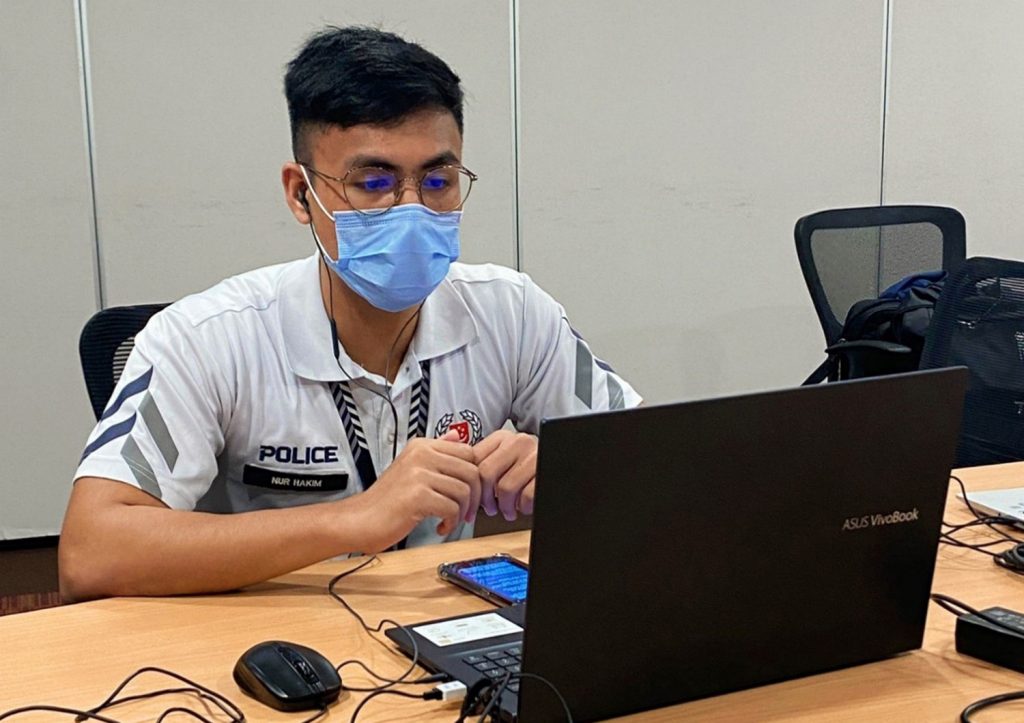 One of the most challenging work experiences SC/CPL Hakim faced was when he had to engage a handful of uncooperative scam victims. They expressed little to no interest when he advised them to sign up for the Community Alert Service (CAS). This made it demoralising and difficult for SC/CPL Hakim to communicate with them.
However, with constant practice and support from his colleagues, SC/CPL Hakim adopted a positive mindset, allowing him to perform his duties more confidently.
For instance, if he makes a mistake while handling a complaint from the public, he keeps his chin up and learns how to handle such situations better in future. This gives SC/CPL Hakim added confidence when performing his duties.
SC/CPL Hakim strongly believes that the work he does is meaningful and worthwhile, and he was able to learn public speaking, improve rapport-building skills and achieve a service-oriented mindset. Being further inspired by the CE Officers' framework of volunteerism, SC/CPL Hakim goes the extra mile and volunteers during his free time.
An active volunteer at the Ang Mo Kio Family Service Centre (AMKFSC), he recently befriended seniors at AMKFSC. This gave him a better understanding of older residents. He also hopes his newfound knowledge will enable him to better assist them during his policing duties.
CE Officers work closely together with the community to help maintain a safe and secure living environment for all. The vocation also goes to show that PNSFs can contribute to frontline policing effort in various ways, and that the work they do is just as essential as that done by any other frontline police officers in safeguarding Singapore.