From racing against time in a scavenger hunt to surviving horror-themed escape games, HomeTeamNS members enjoyed a scarily good time during Halloween.
TEXT: ADLINA ADAM
PHOTOS: HOMETEAMNS
SPOOKY LANE OF FITNESS, TRICK OR TREAT AT HOMETEAMNS-JOM BALESTIER
Over the Halloween weekend on October 30 and 31, 478 HomeTeamNS members dropped by HomeTeamNS-JOM Balestier to participate in exciting activities with their families. From Gho-st Hunting to the Spooky Lane of Fitness, Trick or Treat, participants gave themselves a good scare before going home with bags full of treats and big smiles on their faces.
Spooky Lane of Fitness, Trick or Treat
Spanning 20 meters, participants conquered different stations filled with tricks and activities. Along the way, they came face-to-face with ghoulish Halloween favourites, including Dracula, Skull, Mummy and Jack-O-Lantern.
Participants tackled challenges such as collecting items for the Witch's brew with a pair of chopsticks at the fastest speed possible, breaking Dracula's Dra-Code using mathematics, conquering Jack-O-Lantern's agility ladder drills, and counting the number of eyeballs in the jars for Skull. After completing all the stations, participants were rewarded with sweet treats to take home.
Let's Gho-st Hunting
There was indeed something strange in the neighbourhood! Participants navigated the Spooky Lanes to find Halloween creatures that had gone into hiding. To find the creatures, participants scanned QR Codes on hidden posters. With the discoveries, they gained chances to enter the District Lucky Draw. Prizes included sports bags and towels.
SPOOKTOBER AT HOMETEAMNS KHATIB
As for HomeTeamNS Khatib, members lived their scary movie moments through a series of fearsome horror stories, dressed up in their best ghastly costumes, and ventured out on a scavenger hunt from October 22 to 31.
The 5 Stories of Horror

At allocated timeslots between October 22 and 31, some 142 participants worked under pressure to solve five horror mystery stories at HomeTeamNS Khatib – Walk-of-Dead, Haunted Toy Museum, Dr Jekyll's Lair, Wacky Warehouse, and Circus Comes Alive. Grouped in pairs, they received a survival guide that included ground rules and the synopsis of the stories. Participants were given 15 minutes to solve a task at each venue, before moving on to the next story.
CarnEVIL
616 members and their loved ones had a fang-tastic time at the CarnEVIL! Consisting of four game booths – "Bewitched Ring Toss", "Skeleton High-Fives", "Feed the Pumpkins" and "Ghoul-in-One", participants were on roll as they collected stamps on their spooky passes and redeemed some prizes and popcorn!
To snazz up the carnival vibe, families were dressed up in their best ghastly costumes and strutted down the EVIL Runway, and even went trick-or-treating with the clubhouse's popular mascots. 
Terrorfic Hunt
Parents and their children raised their hunting skills to new heights as they scrambled through all 5-storeys of HomeTeamNS Khatib during the Terrorfic Hunt! In this digital scavenger hunt, participants searched for hidden clues and discovered a secret message at each checkpoint. At the end of the hunt, they were treated to a Boo! Bag of all things Halloween such as chocolates and candies!
SCAVENGER HUNT AT HOMETEAMNS BUKIT BATOK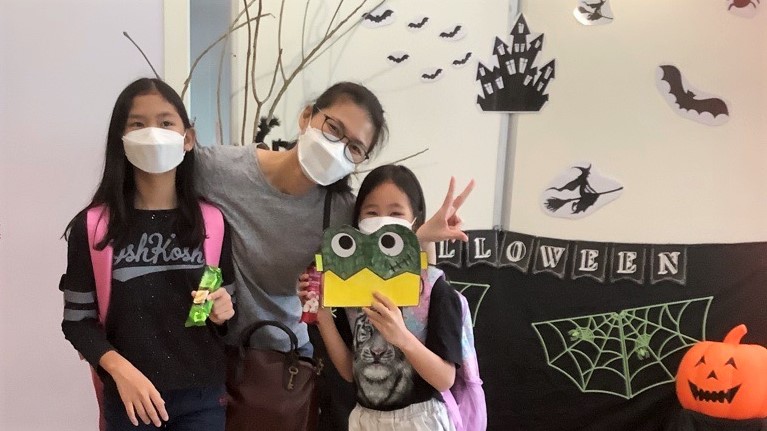 A scavenger hunt was held at HomeTeamNS Bukit Batok between October 25 and 31, with 158 participants taking part. Members had to scout for a list of hidden items such as mummies, pumpkins, candy corns and witches to redeem an ice-cream that was stolen from the Witch before Halloween.
For the latest updates on HomeTeamNS events and activities, subscribe to our newsletter, visit our website or official Facebook page .