Explore the great outdoors – and learn more about Singapore's rich heritage, with these walking trails that bring you to Home Team landmarks of the past and present.
TEXT: MELODY TAN
PHOTOS: HOMETEAMNS, SPF & SCDF
From HomeTeamNS Bukit Batok to the upcoming clubhouse at Bedok Reservoir, the HomeTeamNS clubhouses are full of exciting attractions, shops, eateries and facilities. But if you're itching to experience the great outdoors – and the same old parks and cycling routes are getting a little stale – why not try a walking trail with a HomeTeamNS-inspired twist?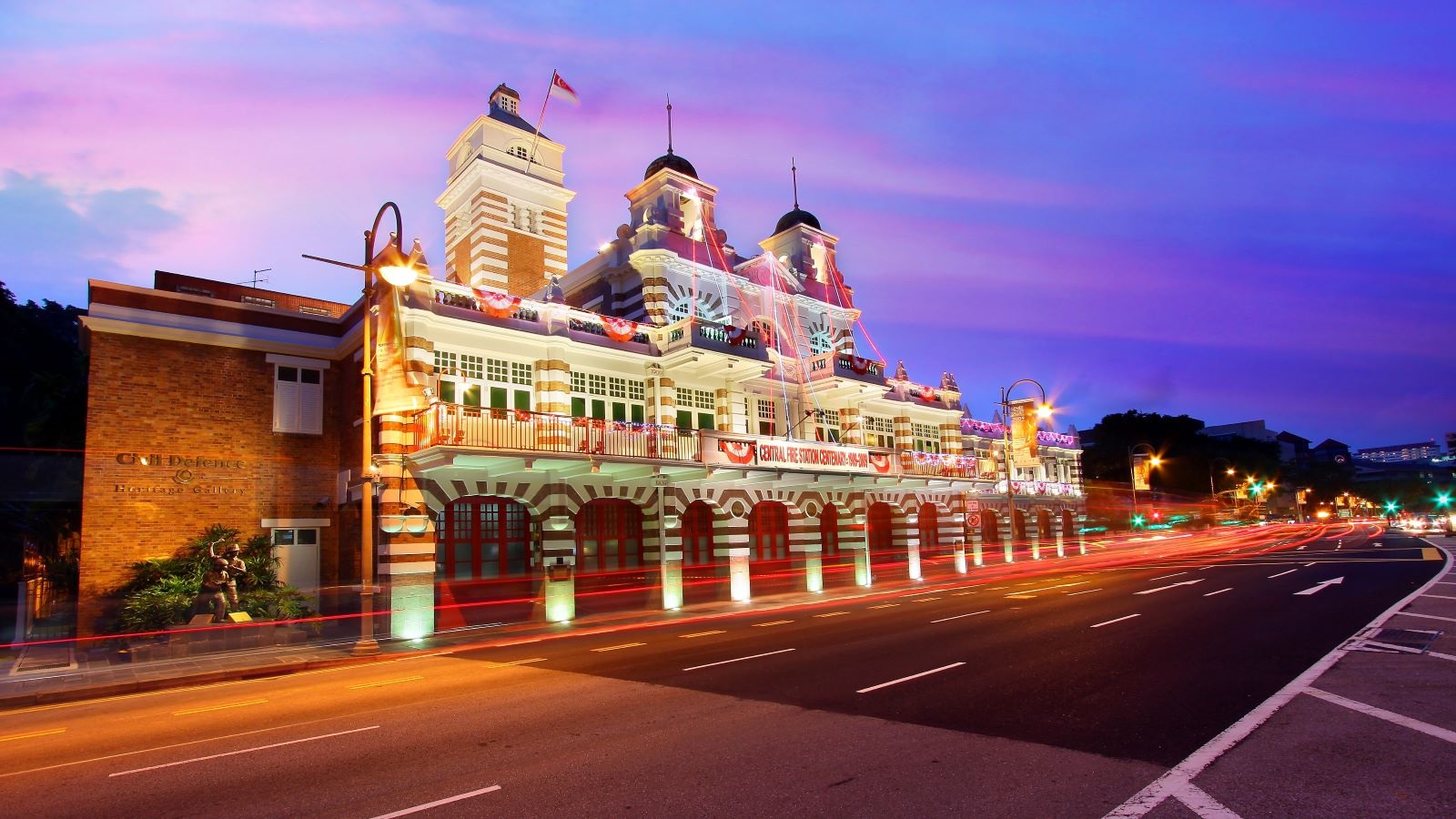 As you explore Singapore on foot, you'll get to enjoy scenic nature and the bustling urban landscape, plus learn more about Home Team history as you pass landmarks like the former Hill Street Fire Station and the Old Police Academy at Mount Pleasant.
Best of all, you'll start at HomeTeamNS clubhouses – the perfect places to fuel up before embarking on a trail. (Don't forget to bring your umbrella and a water bottle!) These trails range from easy 2km walks to more challenging routes of up to 11.7km, so you can choose to bring along the kids, gather your buddies or simply go solo on your own HomeTeamNS walking adventure in Singapore.
THE CENTRAL ROUTE: HOMETEAMNS BALESTIER-JOM
HomeTeamNS-JOM Balestier clubhouse
Easy version: 2km (30 minutes)
Medium challenge: 6km (1.5 hours)
Your walking trail starts here at HomeTeamNS-JOM Balestier (31 Ah Hood Road), where you'll make your way down the same road and stroll through the pleasant green patch of Zhongshan Park to enter the busy stretch of Balestier Road.
Turn right and head west past Balestier's famous array of eateries and shops until you reach the junction. Cross over to the other side of Thomson Road or continue walking north until you see a traffic crossing (the area is currently affected by construction for the North-South Corridor, so crossings may be rerouted).
Head north on Thomson Road before turning left onto Mount Pleasant Road, where you'll pass by the grounds of the Old Police Academy. Dating back to 1931, the Senior Police Officers' Mess (153 Mount Pleasant Road) is still in operation as a social club, so be sure to keep an eye out for the imposing building constructed in the Tudor Revival style. At this point, you'll have walked an easy distance of about 2km (around 30 minutes).
For a longer, more challenging 6km loop (1.5 hours), continue down Mount Pleasant Road – while admiring the serene greenery dotted with black and white bungalows once home to senior colonial police officers – before turning right onto Gymkhana Avenue and then right again onto Jalan Mashhor. Following the road will take you back onto Thomson Road, from which you can retrace your steps to the HomeTeamNS Balestier-JOM clubhouse (and indulge in a well-deserved cold drink).
THE WESTERN ROUTE: HOMETEAMNS BUKIT BATOK
HomeTeamNS Bukit Batok clubhouse
Easy version: 1.4km (20 minutes)
Easy-medium challenge: 4.3km (one hour)
For a child-friendly route that stretches through a 1.4km-long trail (20 minutes) from HomeTeamNS Bukit Batok (2 Bukit Batok West Avenue 7), cross Brickland Road towards the HDB blocks of Bukit Batok West. Follow the pedestrian path leading into Bukit Gombak Park, which will take you into the landed enclave of Pavilion Park.
Continue left and westward along the outermost road of Pavilion Circle, exiting on Bukit Batok Road. Turn right and walk on until you reach the Bukit Batok Fire Station (80 Bukit Batok Road), which is also the headquarters for the Singapore Civil Defence Force (SCDF)'s 4th Division. Bukit Batok Fire Station, which replaces the former Bukit Timah Fire Station, has been in operation since 1956.
If your walking companions are up for a longer trek of 4.3km (around an hour), turn north all the way up Brickland Road, passing underneath the Kranji Expressway. Turn left onto the Old Choa Chu Kang Road and walk past the farms and nurseries in the area.
Once past the Chinese Cemetery, you'll see Home Team Academy (501 Old Choa Chu Kang Road) on your left. The Academy is also where you'll find the Home Team Gallery, where you can learn more about the Home Team's role in major events such as the Nicoll Highway and Hotel New World disasters and Operation Ferret, a successful large-scale joint operation that severely reduced the supply of heroin in Singapore in 1977, marking a turning point in Singapore's fight against drugs.
THE NORTHERN ROUTE: HOMETEAMNS KHATIB
HomeTeamNS Khatib clubhouse
(Very) easy route: 600m
Medium challenge: 6km (1.5 hours)
With HomeTeamNS Khatib's (2 Yishun Walk) idyllic location amidst the greenery of Yishun Park, you won't be hard pressed to find a pleasant walking route around the ORTO hub just next door, or across both Yishun Avenue 2 and 1 to reach the lush environs of Lower Seletar Reservoir Park about 600m away.
But to see a piece of Home Team history, you'll have to go further – 6km (1.5 hours), to be precise. From HomeTeamNS Khatib, turn left and go up north Yishun Avenue 2, turning left again onto Yishun Ring Road. At the junction, turn left onto Yishun Avenue 3. At the next junction, you'll turn right onto Sembawang Road – towards the famous Chong Pang Nasi Lemak – and continue up north, past Sembawang Shopping Centre. Continue straight when you reach another junction, this time onto Canberra Road.
At the final junction of Canberra Road and Admiralty Road West, cross straight over to North Road, where you'll find the former Sembawang Fire Station (68 Scharff Road) which dates back to the 1930s. Located now in Sembawang Shipyard, the art-deco style Fire Station was once part of the colonial-era Sembawang Naval Base, survived the Japanese Occupation and was awarded conservation status in 2007.
THE EASTERN ROUTE: HOMETEAMNS BEDOK RESERVOIR
HomeTeamNS Bedok Reservoir clubhouse
Medium challenge: 4.2km (one hour)
Tough challenge: 11.7km (three hours)
When HomeTeamNS Bedok Reservoir opens later this year at 900 Bedok North Road, be sure to check out its waterfront view of Bedok Reservoir, complete with waterfront villas for a memorable family staycation. But if you prefer walking to watersports, try this trail which will bring you past not one, but two Home Team landmarks.
Continue down Ubi Avenue 4 and turn left onto Ubi Road 1, then right onto Ubi Avenue 3. The medium-difficulty hour-long 4.2km-long trail ends here, at the Traffic Police HQ (10 Ubi Avenue 3) where in 1999 the Traffic Police moved their headquarters from the neo-classical building at 28 Maxwell Road, which is today's Maxwell Chambers Suites.
To enjoy the contrast between old and new, seasoned trekkers can take up the challenge of walking an additional 7.5km (slightly less than two hours) to reach Central Fire Station and the old Hill Street Police Station at 62 and 140 Hill Street respectively. (Of course, you can reach both landmarks more easily from HomeTeamNS-JOM Balestier, but where's the fun in that?)
From the Traffic Police HQ, exit onto Paya Lebar Road and continue south, turning left onto Circuit Link and left again onto Circuit Road. Cut through the HDB estate and follow the canal south, using the Pelton Canal park connector, before turning left onto Aljunied Road. Turn right onto Sims Avenue, cross the Kallang River over to Kallang Road and cross over to Victoria Street.
At the traffic light, cross to Hill Street. You've made it! Be sure to take a selfie with the iconic red-brick façade of Central Fire Station, as well as the rainbow array of window frames at the old Hill Street Police Station (now the Ministry of Communications and Information). After all, having walked 11.7km (three hours) from HomeTeamNS Bedok Reservoir, you've come a very long way – just like the Home Team itself.