The National Day Parade (NDP) returns to the heartlands – and if you didn't get a ticket this year, head down to HomeTeamNS clubhouses to celebrate with loved ones at a live NDP screening.
TEXT: MELODY TAN
PHOTOS: SHUTTERSTOCK
August 9 marks Singapore's 57th year of independence – and the festivities are back full-scale, after two years of quieter celebrations due to the COVID-19 pandemic.
If you haven't managed to secure tickets to the National Day Parade, you can still bask in the Singapore spirit elsewhere. Watch the fireworks at Gardens by the Bay East, take part in National Day game challenges and lucky dips at HomeTeamNS Bukit Batok, or have a dance party with your favourite K-pop hits at HomeTeamNS-JOM Balestier.
Dress up in red and white, bring your family and friends and get ready to celebrate our nation's birthday with HomeTeamNS!
PICNIC AT GARDENS BY THE BAY EAST
2019 was the last time HomeTeamNS members celebrated the nation's birthday at the Picnic by the Bay. Covid-19 meant that the event took a two-year hiatus, but it's back with a bang this year.
Don't feel like experiencing National Day indoors? Head out to nature and enjoy a Picnic by the Bay instead, complete with a fantastic view of the National Day Parade fireworks show. This might be a once-in-a-lifetime experience, as from 2023 onwards the parade is scheduled to move to The Padang from its current location at The Float @ Marina Bay.
Register early online to enjoy free gifts and snacks, as well as access to carnival games and a bouncy castle. HomeTeamNS members will also receive one free picnic mat, so while the kids are at play you can sit back and watch the National Day Parade streaming live on a big screen.
To make the most of your picnic experience, wear comfortable clothing to keep cool, bring water bottles, sunglasses, umbrellas and a power bank for your devices – after all, you won't want to miss Instagramming the fireworks.
WHERE: Gardens by the Bay East, Promenade Lawn
WHEN: Aug 9
TIME: 5pm to 9pm
COST: S$15 per person
HAVE FUN AND CHILL OUT AT HOMETEAMNS-JOM BALESTIER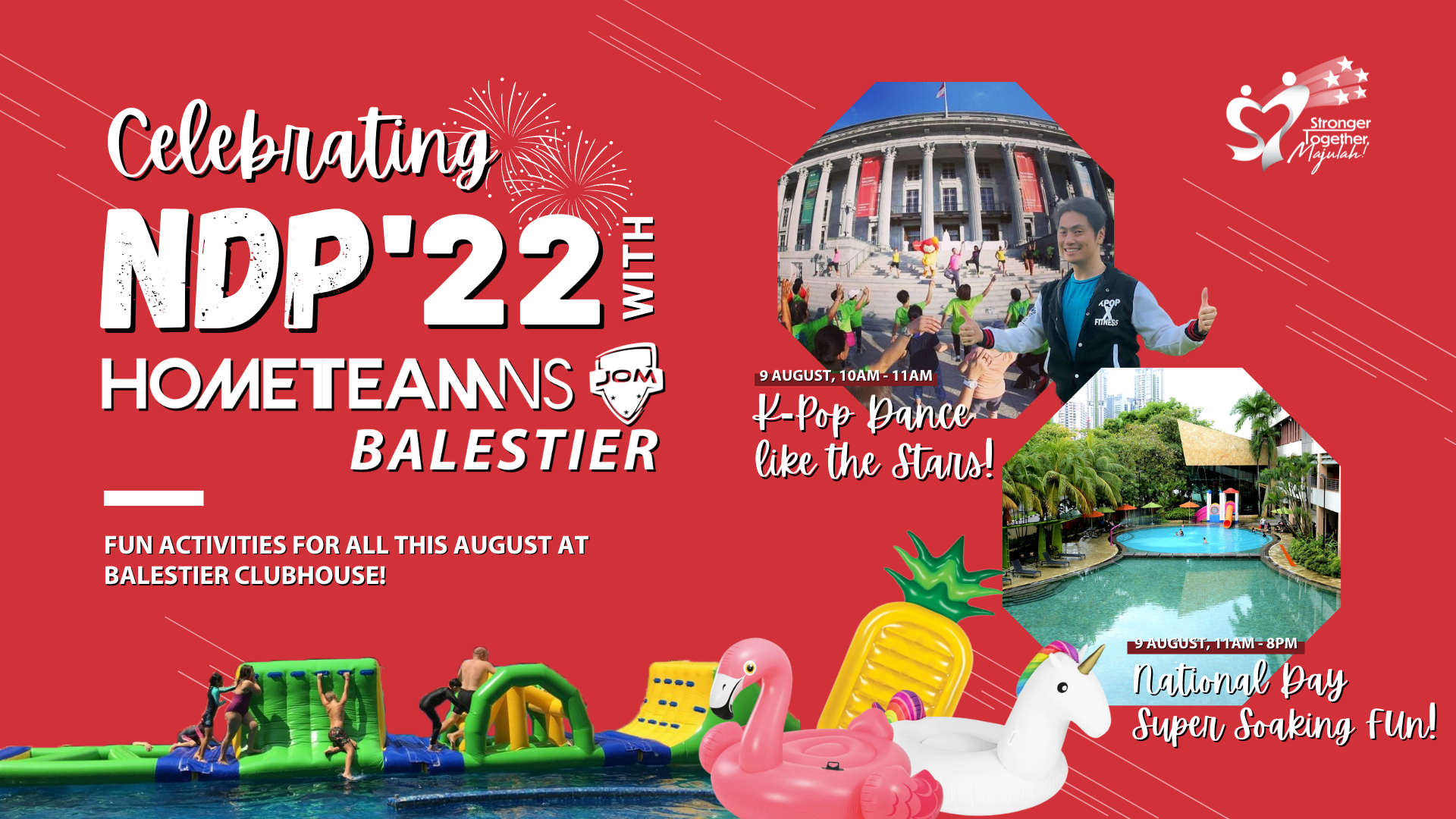 Choose between taking it easy or sweating it out this National Day at HomeTeamNS-JOM Balestier, with its duo of celebrations guaranteeing fun for all.
From 10am to 11am, celebrate with a slick K-Pop dance routine at K-Pop Dance like the Stars! – a dance fitness session headed by KpopX fitness coach Kelvin Toh. Expect not just the latest K-pop hits, but also upbeat National Day songs to get you in a festive mood.
From 11am, it's time for a pool party with National Day Super Soaking Fun! Taking place at the kids and recreational pool, the event features a water obstacle course, fancy floats for rent and National Day Challenges for all members of the family to take part in. Hungry? Splash out on a poolside meal with a variety of food and beverage options available before diving back into the water.
WHERE: HomeTeamNS-JOM Balestier
WHEN: Aug 9
TIME: K-Pop Dance Fun & Fitness 10am to 11am, Fun & Chill 11am to 8pm
COST: Prices range between $3 to $10 per person per event, depending on membership status. View the prices of entry here.
HOMECOMING AT HOMETEAMNS BUKIT BATOK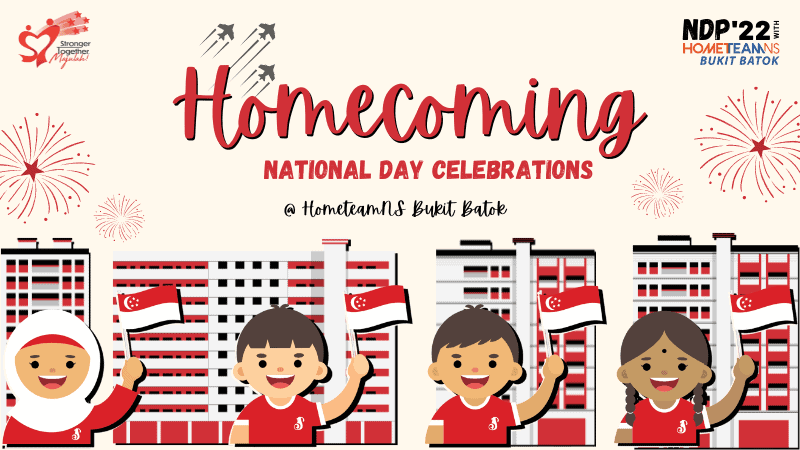 There's no place like home – HomeTeamNS Bukit Batok, that is – where the National Day Homecoming event will be in full swing on Aug 9.
Dress your family or your friends in red and white and get your face painted in matching colours before having your photos taken for the photo wall. Kids will want to check out balloon sculpting, fun National Day game challenges and lucky dips for a chance to win ice cream and other tempting prizes.
When it's time for lunch or dinner – or you're just feeling snackish – survey the array of promotions and special menus at the food and beverage outlets, from favourite fast food to fancy family-dining options. Then at 5.30pm, make your way to the auditorium on Level 3 to watch the National Day Parade.
As a bonus, the first 300 HomeTeamNS members to register will stand a chance to redeem a free goodie bag. Auditorium seats are limited, so don't forget to register early to avoid disappointment – and to get a front row view of the parade. Happy National Day!
WHERE: HomeTeamNS Bukit Batok
WHEN: Aug 9
TIME: Lobby activities 11am to 5pm, NDP Screening 5.30pm to 8.30pm
COST: It's free! Click here to register.