Farewell, Mr Lee, Our NS Champion – Ending the year on a high note with outgoing HomeTeamNS President Mr Desmond Lee, who is also Singapore's Minister for Social and Family Development and Second Minister for National Development.
BONDING WITH NSMEN AT THE REAL® RUN
The 22nd HomeTeamNS REAL® (Regular Exercise, Active Lifestyle) Run on October 15 was a great celebration of the 50th Anniversary of National Service (NS50). It paid tribute to Home Team NSmen with a special Flag Parade Contingent, which saw over 100 flag bearers flying their division flags with pride.
Said Mr Desmond Lee: "This year's HomeTeamNS REAL® Run is special in many ways. It is our NS50 Edition, to commemorate 50 years of NS, and to salute all our NSmen for your contributions and sacrifices to keep Singapore safe and secure."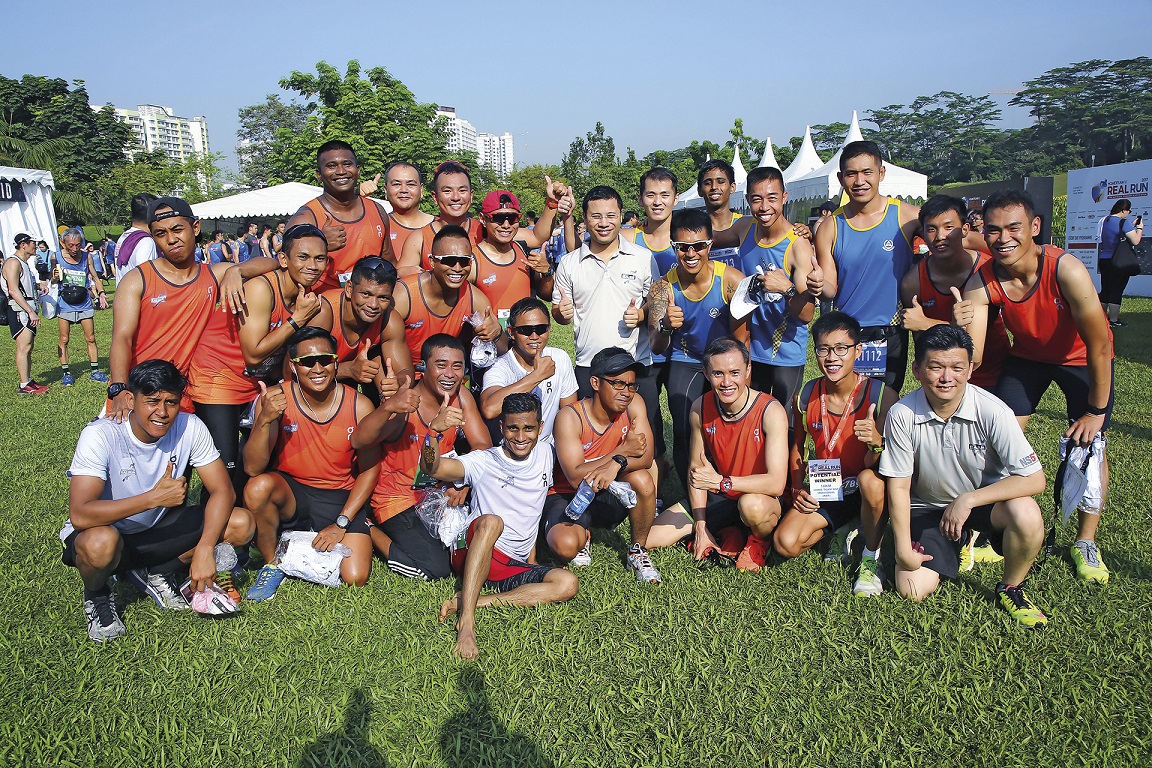 The event introduced a unique multi-terrain challenge: Runners could choose between
(1) Coney Island's rough terrain and
(2) urban landscape of Punggol Waterway Park.
Making the day even more special were 14 invited runners from the Singapore Special Olympics team, each paired with a HomeTeamNS runner. A competition between the forces also had both sides pumped and raring to go.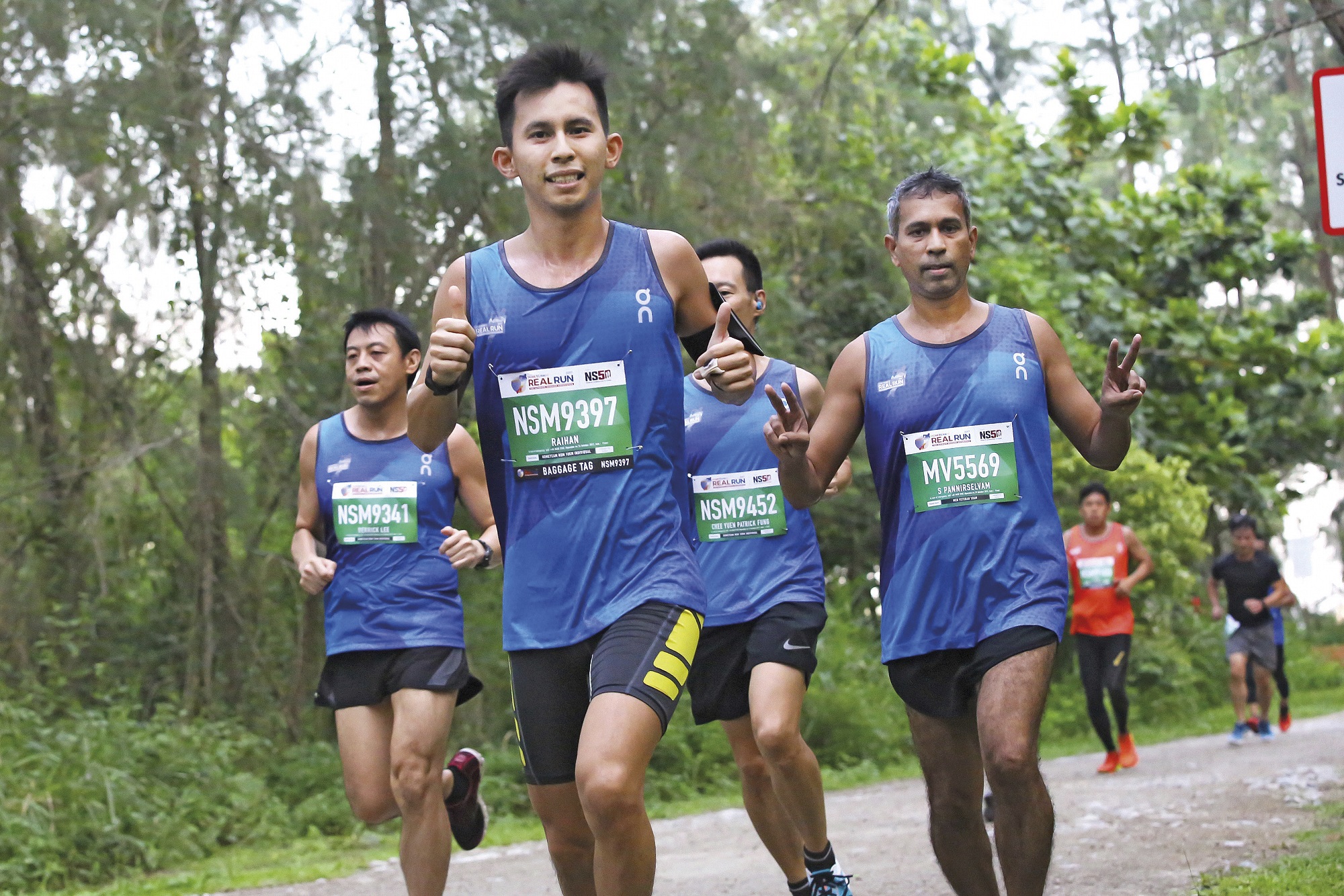 What our runners thought
"I love this year's venue and route," enthused MAJ (NS) Su Caizheng. "I have never been to these parts of Singapore,and they really left a good impression. Plus, this year is NS50, so everything seemed a bit grander."
ASP Ram Shanker s/o Vijaya Mogan, a first-time REAL® Run participant, said: "The route was fantastic, very scenic and well-sheltered. Unlike routes for other marathons, I felt the route was very green."
He also relished the chance to partner a Special Olympics runner.
I salute all Special Olympics athletes for their mental strength and emotional resilience in overcoming their physical challenges to take part in such sports. I felt even more inspired, seeing how it was really a matter of mind over body for my running partner.
Added COL (NS) Edwan Nizar: "I am very amazed at their focus and determination despite their challenges. These are things we should learn."
NSMEN FOR NSMEN
On November 3 and 4, the Bukit Batok Clubhouse was abuzz with over 500 NSmen, NSFs and HomeTeamNS members attending a first-of-its-kind thematic career and education fair. Dubbed the HomeTeamNS Career Fair and Learning Cafe 2017, the event featured an enriching Learning Cafe environment.
Job seekers were given a "special learning journey" card to encourage them to sign up for courses and apply for jobs, and they could simultaneously redeem free cafe-style food and beverages.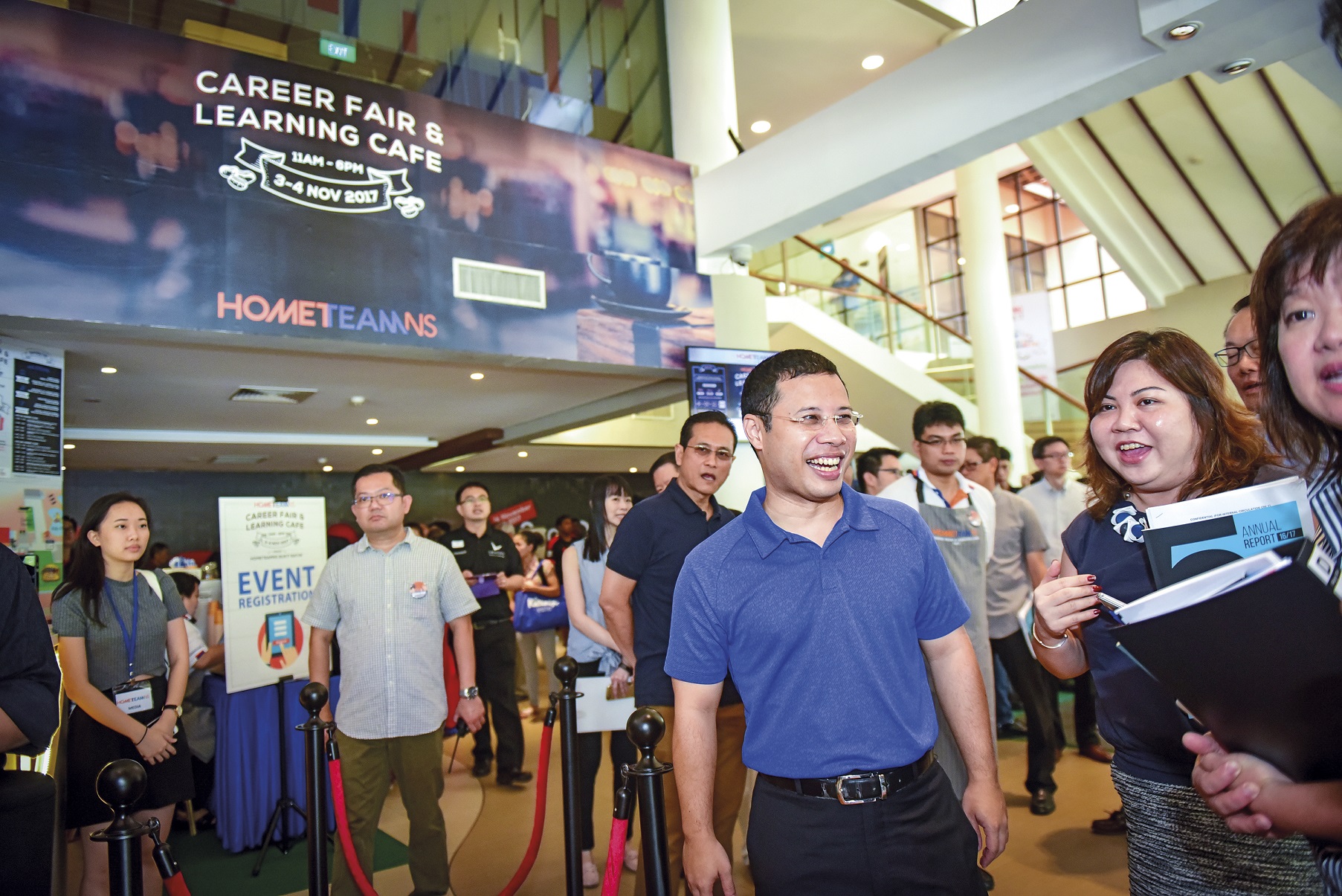 Club members also attended talks by fellow NSmen, who shared their insights and career experiences in their respective industries.
"As Singapore experiences moderate growth and an improving labour market, some of our members might be keen to find out more about career opportunities in certain sectors and industries," said Ms Agnes Eu, Chief Executive, HomeTeamNS. Ms Eu added that the fair leveraged the NSman support network.
Co-organised by the National Trades Union Congress' e2i (Employment and Employability Institute), the fair showcased a total of 17 industry partners across the food and beverage, hospitality and security sectors.