HomeTeamNS members had a ho-ho-holly jolly time at the clubhouses during the December holidays, as they immersed themselves in festive activities like lucky draws, crafts, and contributing care packages to the needy.
TEXT: ADLINA ADAM
PHOTOS: HOMETEAMNS
FIFA 22 TOURNAMENT AT PLAYPEN BUKIT BATOK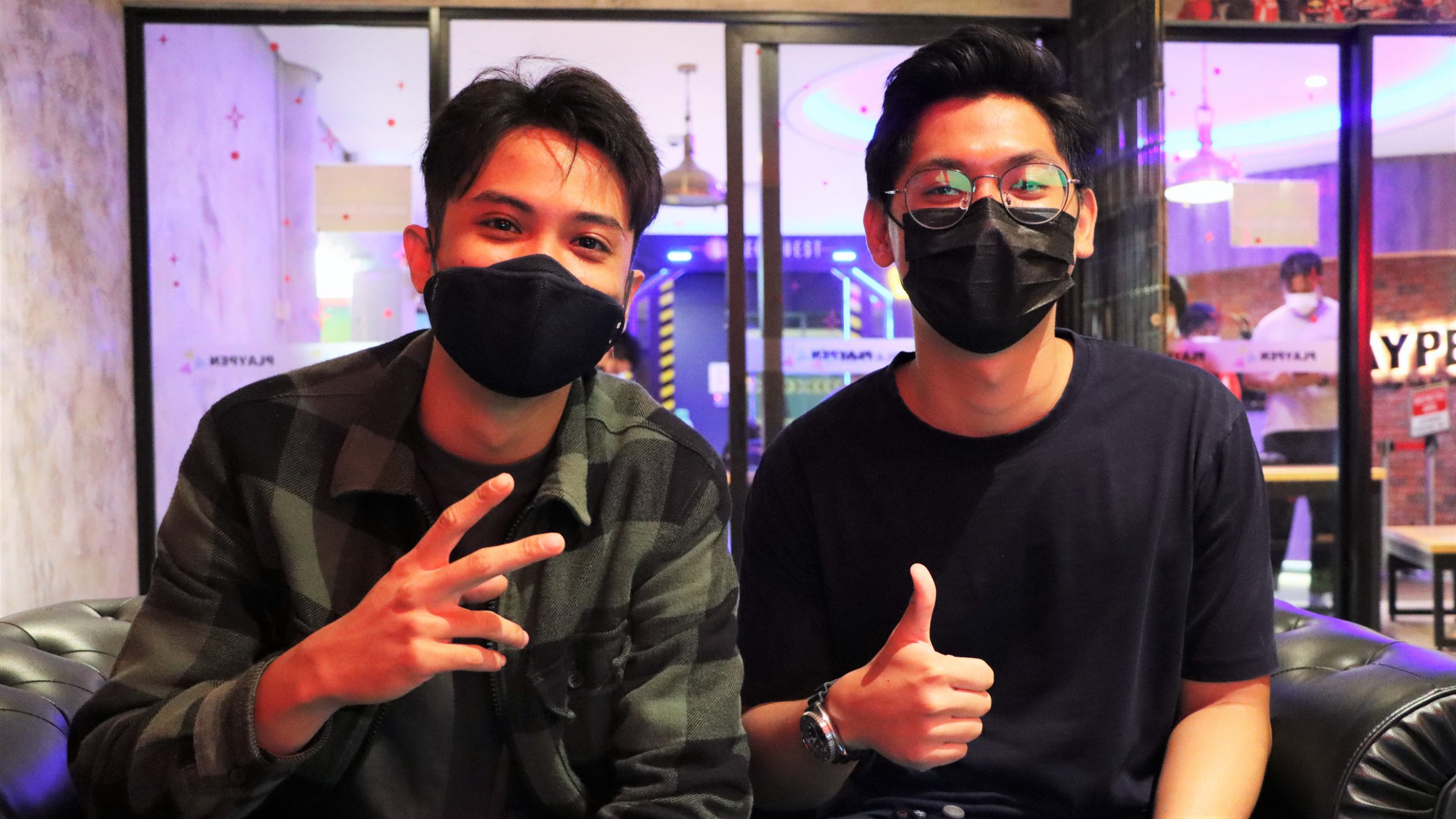 PlayPen hosted its first and largest FIFA 22 Christmas Tournament on 18 December 2021 from 10am to 4pm. Some 24 participants pitted their skills against each other for bragging rights to be the best e-footballer. The tournament consisted of three stages – Group Stage, Knockout Round, and Grand Final, and was open to all age groups.
With entry fees starting at S$35, the tournament included guaranteed FIFA 22 match play sessions and a S$10 meal voucher to Éla, a Halal Greek Restaurant at HomeTeamNS Bukit Batok. Participants also stood a chance to win a Nintendo Switch OLED console in a virtual lucky draw.
HomeTeamNS would like to congratulate George, Sabri, and Ignatius – the FIFA 22 Christmas Tournament's top-three finishers. The top three won an Xbox Series S (worth S$459), a S$100 Premier Football Voucher and a S$50 Premier Football Voucher respectively.
"This is a great initiative by HomeTeamNS! Kudos to the PlayPen team for organising this tournament. I hope there will be more similar tournaments in the future!", shared HomeTeamNS member Sabri Daud, who finished second.
PlayPen plans to accommodate more members in future tournaments. Stay tuned for information on upcoming events on Laser Quest's Facebook Page or our website.
CHRISTMAS WINTERLAND AT HOMETEAMNS BUKIT BATOK
From a Winterland Snowy Experience to Winter Craft sessions, 325 HomeTeamNS members and their loved ones had an enjoyable time at HomeTeamNS Bukit Batok during the December holidays.
Winterland Snowy Experience
Who said you can't experience snow in sunny Singapore? HomeTeamNS Bukit Batok found a workaround to our tropical climate by setting up a cosy air-conditioned tent by the swimming pool that offered a magical experience. Families had a blast playing in the "winter" wonderland, courtesy of the cool air and artificial snow foam.
"We love how interactive the Christmas activities are, especially the Snowy Experience!" shared HomeTeamNS member, Jerome Ng.
Winter Craft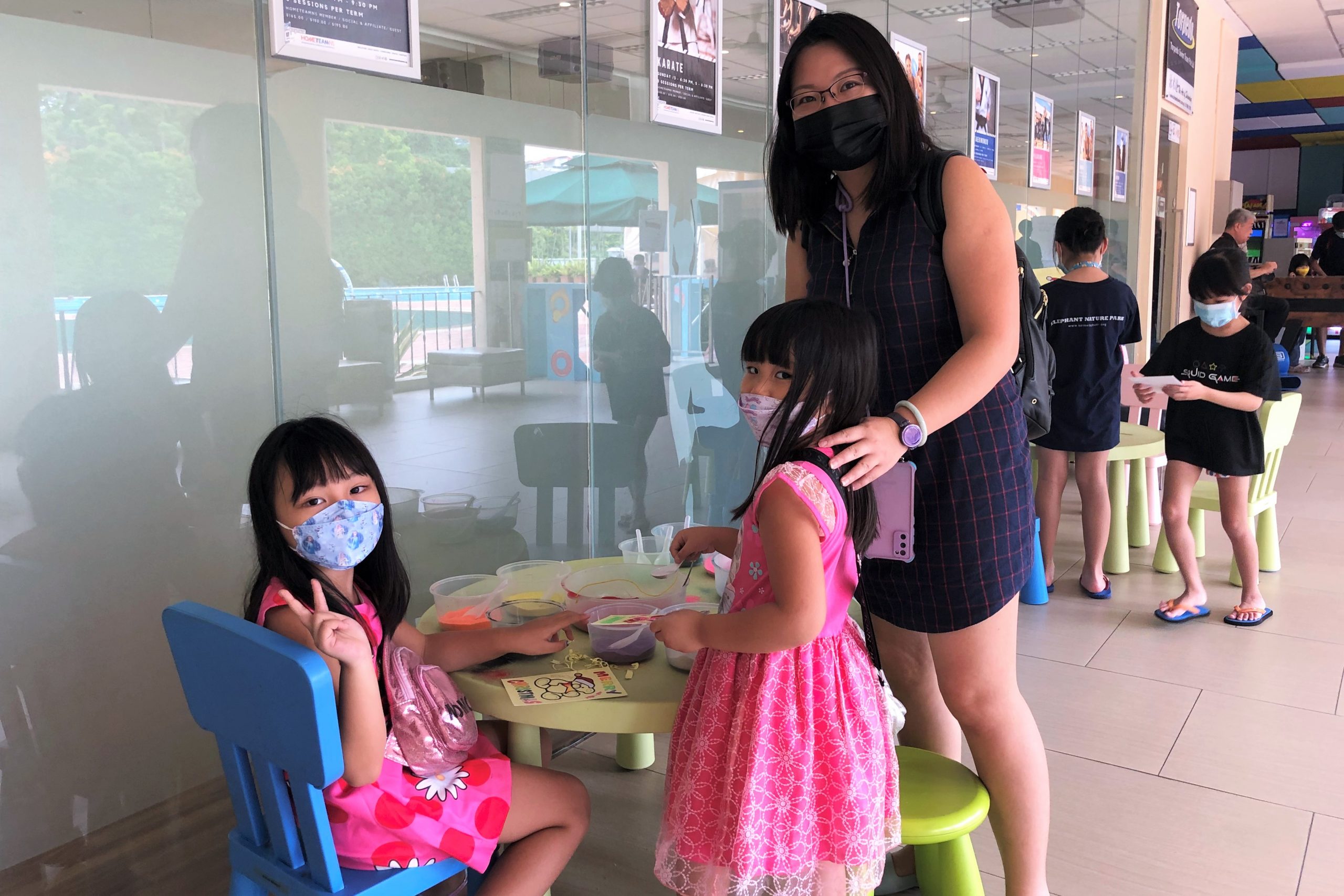 CAUSE IT'S CHRISTMAS AT HOMETEAMNS KHATIB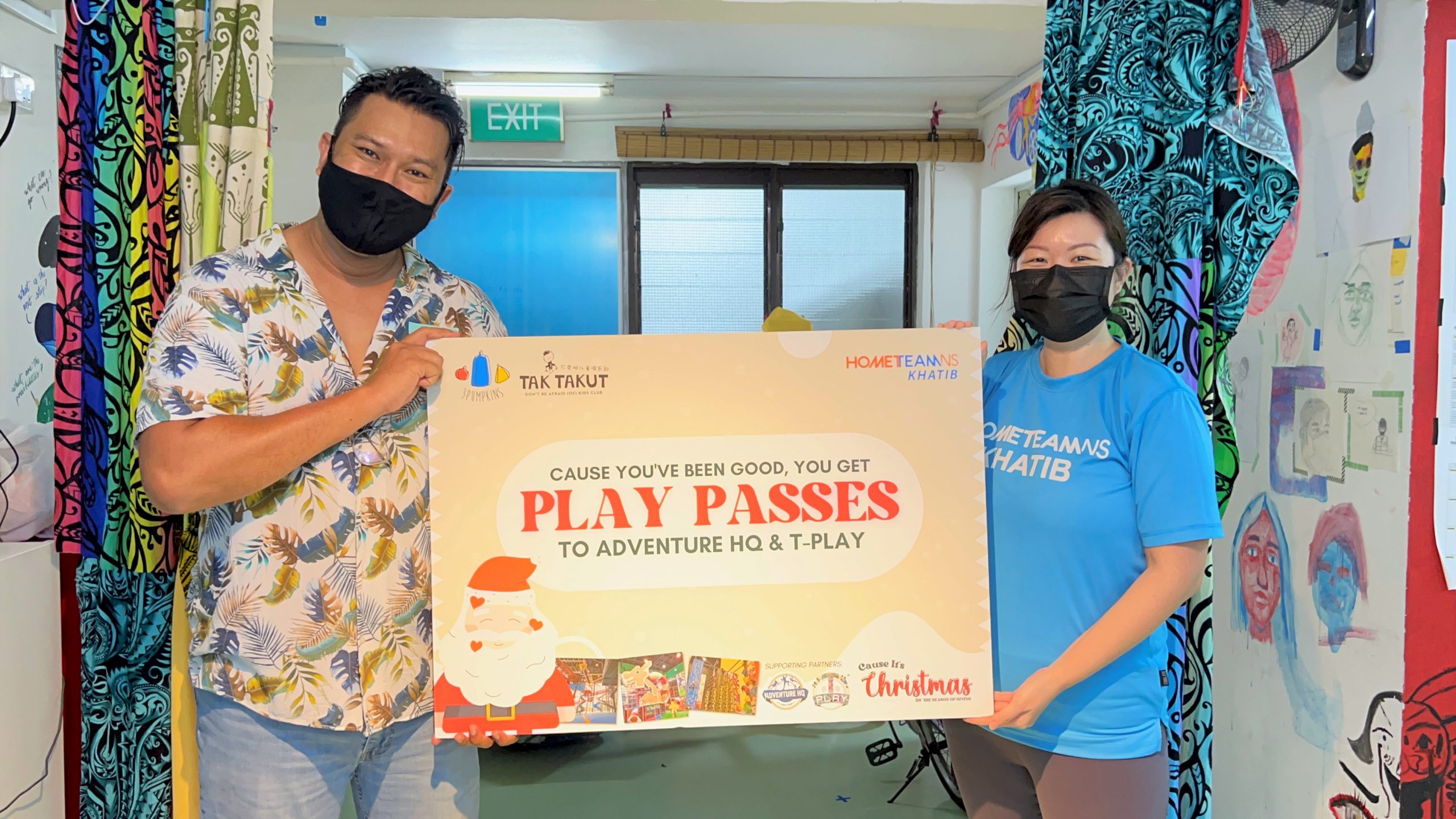 It's the season of sharing! HomeTeamNS Khatib rallied members and guests to contribute Care Packs and Play Passes to two beneficiaries – Tak Takut Kids Club by 3 Pumpkins, a community space for children, and the Sunshine Welfare Action Mission (SWAMI) Home, a voluntary welfare organisation that provides integrated nursing home care services to the elderly.
The care packages consisted of daily essentials such as toiletries and groceries, while the Play Passes admitted the children for play time at Adventure HQ and T-Play. A total of 123 contributions were made by HomeTeamNS members and guests, which brought smiles to the beneficiaries.
Members and guests who contributed gifts were treated to a Christmas carnival organised by HomeTeamNS Khatib on 11 and 12 December 2021. Some 180 members and guests played Minute-To-Win-It games, jumped around at the Bouncy Castle and received a Merry Bag inclusive of a gelato voucher from Jewel Cafe.
A CRAFTY CHRISTMAS AT HOMETEAMNS-JOM BALESTIER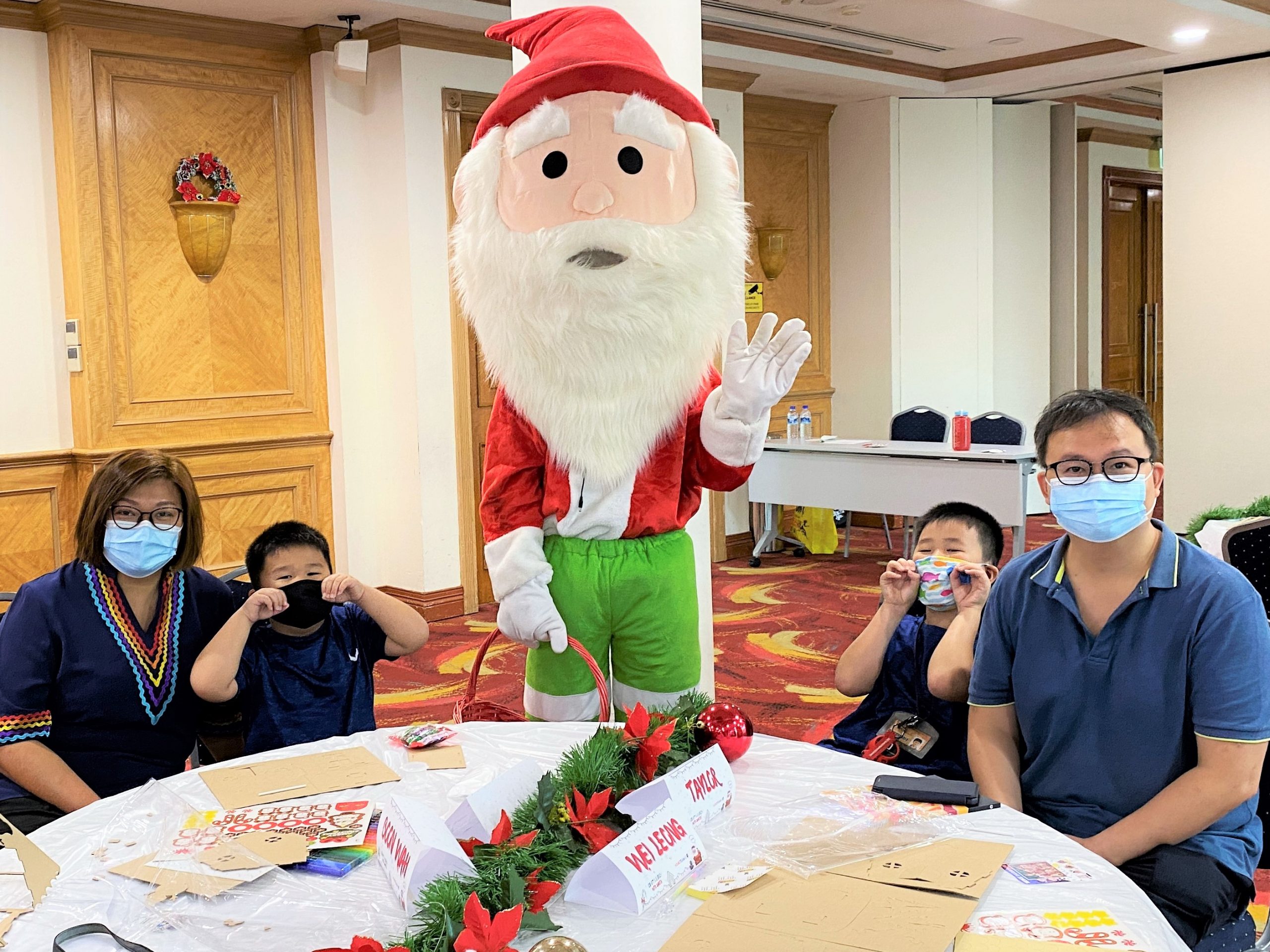 Help Santa Lose Weight
After all that Christmas feasting, Santa is sure to have gained a pound or two. HomeTeamNS members were tasked to help Santa lose weight, either by eating a healthy meal at HomeTeamNS-JOM Balestier eateries – Jom Makan Seafood or Indulge Teppanyaki & Grill House, or by completing simple workouts – 20 Jumping Jacks or 30 Squats!
Members were spoiled for choice for healthy meal options, including Seafood White Bee Hoon and Stir-fry Garlic Kang Kong from Jom Makan Seafood, and any dishes containing Chicken Breast or Salmon Fillet from Indulge Teppanyaki & Grill House.
Christmas Craft-A-Land and Gift DIY
At the Christmas Craft-A-Land event on 18 and 19 December 2021, 177 HomeTeamNS members and 156 guests participated in various fun station games and activities including Candy Cane Hook, a Christmas Quiz and Walk, Find & Snap.
Candy Cane Hook participants were tasked to transfer Candy Canes from one bucket to another; while for Walk, Find & Snap, contestants combed the clubhouse to find Christmas-related items and take photos for a chance to win prizes.
Eight lucky winners walked away with prizes worth S$550 across the two-day event, with one grand prize and three consolation prizes given out each day.
Missed out on the fun? Don't fret! Keep fit with HomeTeamNS-JOM Balestier and receive S$20 food and beverage vouchers when you sign up for Judo and Karate classes, from 1 to 31 January 2022.
SPIN & WIN AT FITNESS WORKZ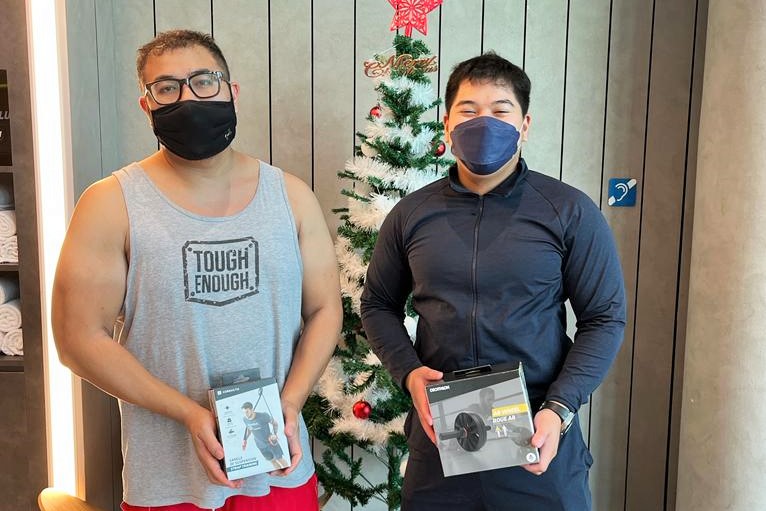 In the spirit of giving, members who signed up for the six-month or 12-month memberships at any of Fitness Workz gyms between 20 to 31 December 2021 got to spin the wheel and walk away with prizes. A total of 69 members signed up for the gym memberships and received free gifts such as an Under Armour backpack, smoothie blender, ab wheel roller and suspension trainer.
"I thank the trainers for presenting me with this gift. It is not all the time you get to win something. The suspension trainer allows me to add something different to my current workout!" shared Muhamad Sallehan Bin Zainuddin.
Wish to work out as a group? Look out for the promotions for group classes on the HomeTeamNS Fitness Workz Facebook Page.
SANTA'S LUCKY DIP AT T-PLAY BUKIT BATOK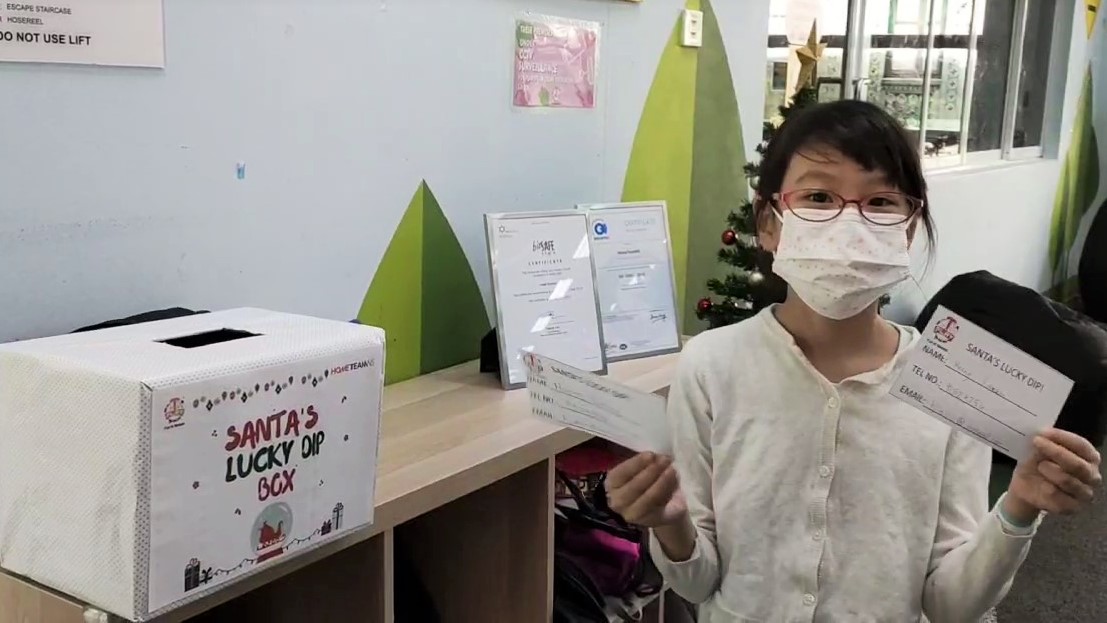 Between 11 and 25 December 2021, T-Play members who booked a slot at T-Play Bukit Batok were entered in Santa's Lucky Dip. Three lucky winners won a 2D1N Villa Staycation at HomeTeamNS Bukit Batok, a Junior Bicycle Set (inclusive of a bicycle, helmet, and elbow and knee pads) or a two-hour Console Game Time at PlayPen and three Laser Quest Missions (for two people each) at HomeTeamNS Bukit Batok.
The winners were announced through an interactive Facebook Live session on 26 December 2021 on T-Play's Facebook page. T-Play Bukit Batok also encouraged online viewers to be among the first five to like, share and comment on the post to stand a chance to win T-Play Art Packs.
Missed out on all the fun? Stay tuned for more clubhouse activities and events coming up next month! Check out the HomeTeamNS Official Facebook Page or website for the latest updates.