Get out of the classroom – or office – for some fun and healthy learning as a family.
TEXT: TERESE TAY
IMAGES: SUPPLIED, FARMMART CENTRE, SINGAPORE
BOLLYWOOD VEGGIES
There's lots to do at this farm and nature sanctuary in the Kranji countryside. Learn about the origins of the food we eat with a farm tour or a Discovery Harvest session. Discover how humans have evolved with food in a guided tour of the Bollywood Food Museum. And put the whole family to work in a cooking class at Bollywood Bhanchha.
FARMART
Let your kids learn about many of Singapore's common farm animals here. Besides interacting with and feeding the animals at this facility – such as goats, tortoises, rabbits, birds and hamsters – families can take a tour with friendly Uncle William. He is passionate about quail farming and will be able to speak on quail husbandry, life cycle, eggs and nutrition, and the quail industry here.
CLIP 'N CLIMB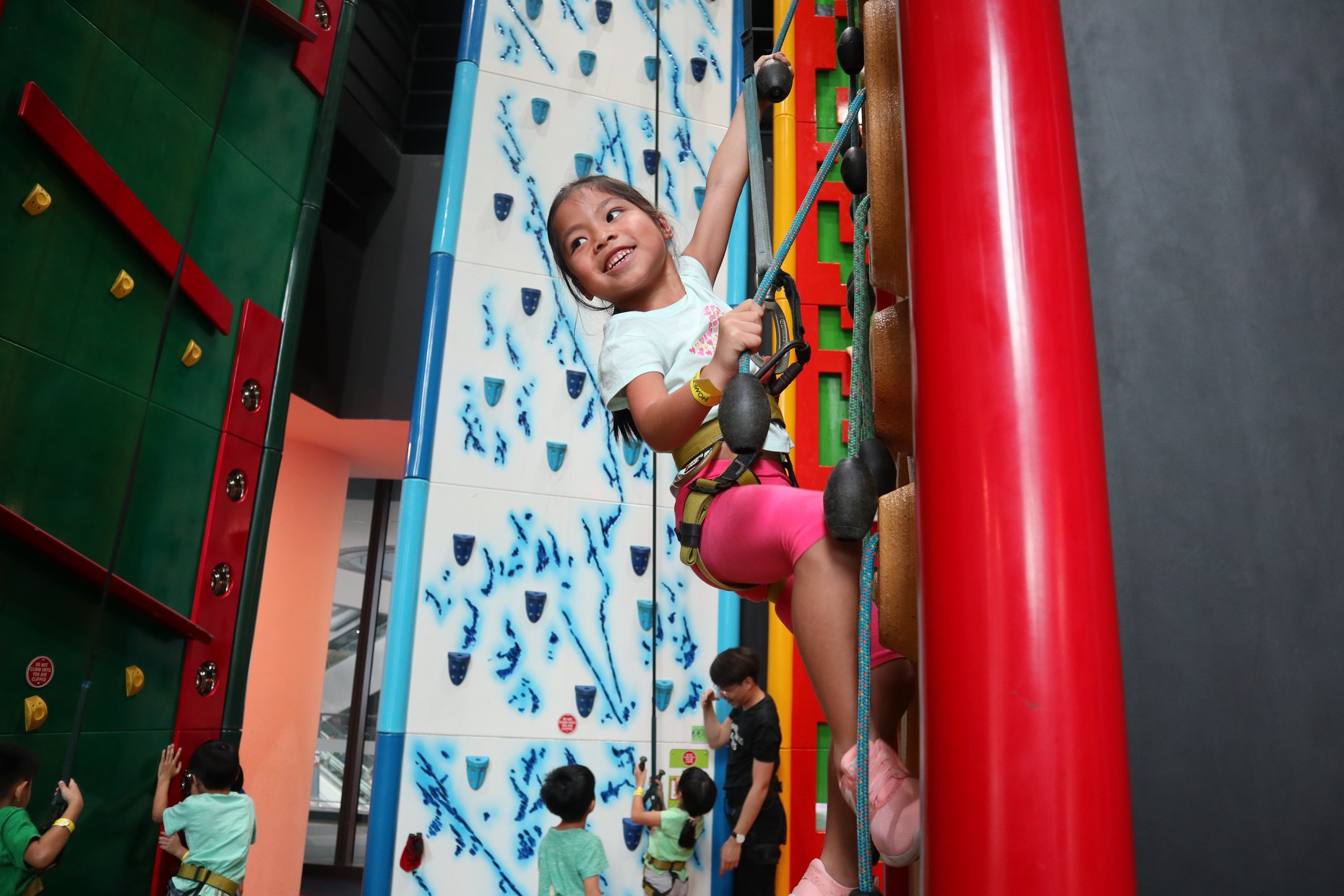 Active families can challenge themselves with the imaginatively designed obstacle courses at this colourful indoor climbing theme park at HomeTeamNS Tampines.
Featuring 19 challenges with different difficulty levels, the walls are built with an automatic belay system for added safety. Don't miss the Triffid, a snaking course inspired by the Jack and the Beanstalk fairy tale.
T-PLAY
At this transport-themed 4,200sqm indoor playground at HomeTeamNS Bukit Batok, kids can navigate obstacle courses, bounce on trampolines and whizz down slides into ball pits, all in a safe environment. The activities are designed to improve their movement and
coordination skills, spatial awareness and physical fitness. Toddlers can play with building blocks and foam toys in their own special zone.
PHOBIA: THE SCIENCE OF FEAR, SCIENCE CENTRE SINGAPORE
Old or young, it is safe to say that everyone has fears. Allay some of those your child has with this journey of self-discovery to find out what phobia really is. Go through each exhibit in turn to learn about the historical and cultural significance of phobias, as well as the psychology and physiology of fear.
GROWING UP IN SINGAPORE, NATIONAL MUSEUM OF SINGAPORE
The 1950s and 1960s was a tumultuous period of change for Singapore, full of uncertainties and challenges. But despite the difficulties, children growing up then could still enjoy a happy childhood. Take a walk through this gallery, which offers insights into how kids spent their time, forged friendships across ethnicities, and formed the beliefs and aspirations that would lead them to shape the generations to come. Download the handy Family Time Guide that's packed with tips and activities to do as a family.
SGH MUSEUM
Housed in Bowyer Block, an architectural landmark in the sprawling Singapore General Hospital campus, this museum is a repository of artefacts and records. Besides learning about the hospital's founding and early years, as well as how local medicine and healthcare have advanced, visitors can also view antiquated medical equipment, such as an X-ray machine dating back to the 1930s.