HomeTeamNS' Body to Soul event showcases safe, practical ways to stay physically and mentally fit
TEXT: MORGAN AWYONG
PHOTOS: HOMETEAMNS
How can one lead a balanced lifestyle? Here's a hint – it involves so much more than just physical wellbeing. HomeTeamNS' upcoming Body to Soul event at the HomeTeamNS Khatib clubhouse will focus on physical and mental health. With workout routines thrown into disarray, the organisation wants to help members regain their fitness mojo once again in an enjoyable, balanced way.
Happening on November 27 and 28, the Body to Soul event includes talks on mental health to bolster one's resilience, as well as a variety of classes from yoga to workout routines that use hydraulic machines for more effective results.
Any kind of exercise is good for the body, but if you're just restarting your fitness journey, low-impact exercises tend to be more enjoyable. It's easier – and safer – to adopt a repetitive routine and focus on your movements. Four versions of such exercises will be introduced at Body to Soul, so members can get a taste of works best for them.
The Low Impact Aerobics Class is ideal for anyone looking for a light – and light-hearted – cardio-focused workout led by Fitness Workz instructors.
If you think Yoga is only for the super-flexible, a trial session may change your mind. While being supple helps, yoga helps improve your balance, tone your body and improve posture through slow movements and deep breathing. It's a gentle form of strengthening and a relaxing, refreshing activity.
If you prefer using machines in your workout, the Hydraulic Machine class and its specialised equipment ensures a controlled workout that is effective and safe. Exclusive to Fitness Workz Premium, these machines are engineered to help engage target muscles but remove the impact through its smooth, cushioned delivery.
Finally, the Guardian Bridge circuit class is led by the gym's Fitness Ironmen Committee. Don't be intimidated by their name – the friendly trainers will teach a series of low-impact circuit exercises that allow participants to train by themselves anywhere to improve on their overall health and conditioning.
WELL-BEING BEYOND THE BODY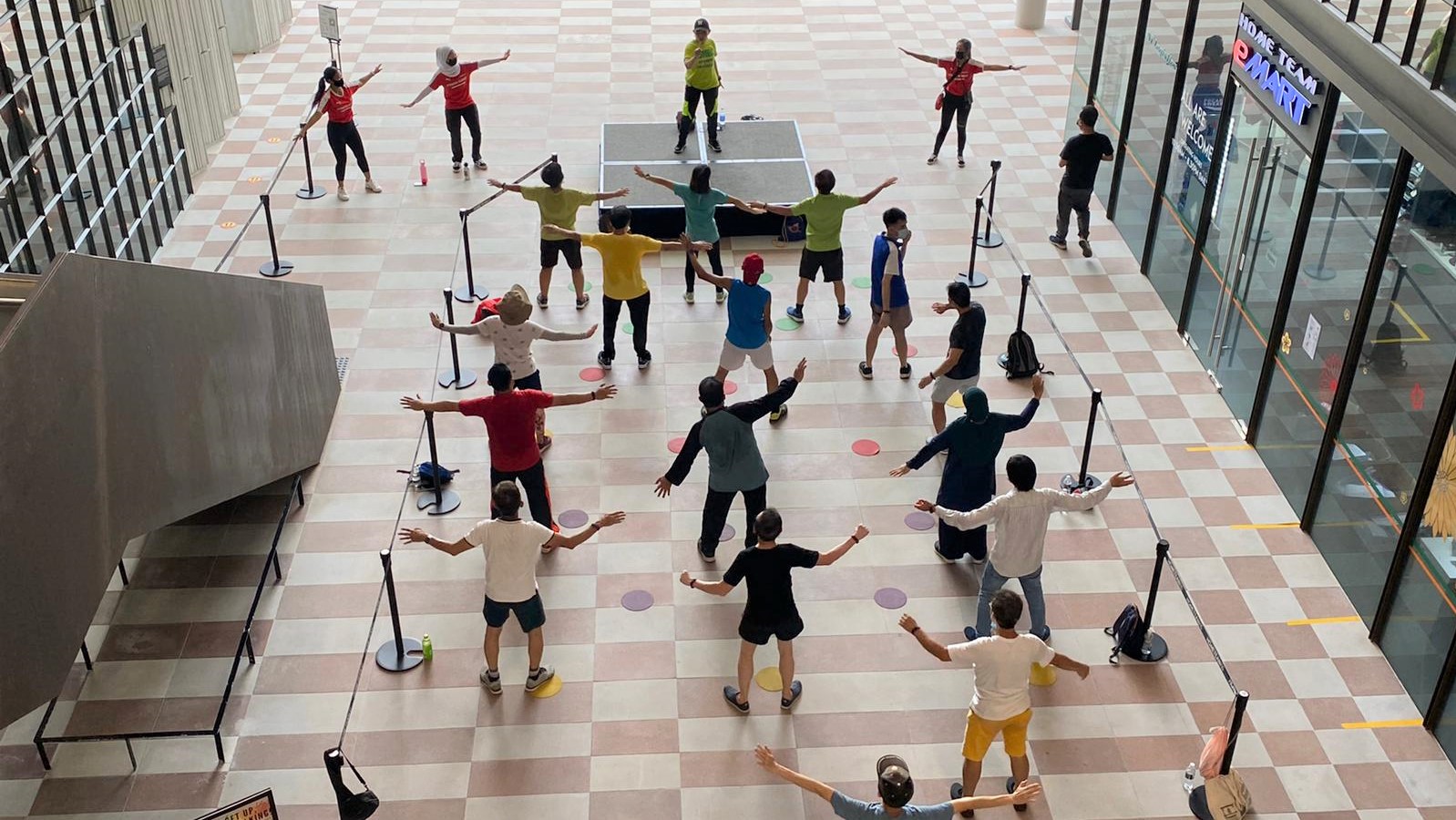 If the pandemic has taught us anything, it's that mental well-being is just as important as the physical and needs to be maintained through healthy habits. Discover how you can improve your mental health with the Mental Wellness Talk by The Agency for Integrated Care (AIC) and Montfort GoodLife! @ Yishun. Learn about conditions like depression and dementia as well as understand how active ageing and self-care plays an important role in managing your overall well-being.
Other event partners will be offering wares and services at the foyer in support of the theme holistic wellness.
Starbalm, for instance, will be showcasing their sports therapy products, targeted to soothe problem areas through balms, lotions and patches. Nature One Dairy offers dry sampling of their adult nutrition formula which can help with bone and muscle health. You may get their nutritional formula at a huge discount and every purchase offers a chance to participate in a sure-win lucky draw.
Made some new friends? Revamp your mobile services with TPG Mobile to stay in touch at plans suited for your lifestyle. After trying out all the physical activities, the Fitness Workz team will introduce its many facilities and offerings.
Brought to you by the Health Promotion Board, learn how to build muscle strength as well as balance and flexibility in the Rolling Good Times showcase. You can also learn about minimising fall risk. Members will get an opportunity to register their interest should they like to progress onto the whole programme.
Sign-up for the Body to Soul event to access these programs, as well as a free goodie bag worth S$50.
Like our stories? Subscribe to Frontline Digital newsletters to get your bi-weekly dose of updates on new stories and exciting Subscriber Perks!