The Singapore Sport Climbing and Mountaineering Federation launched a new national syllabus to align the training standards for instructors of high-ropes activities.
TEXT: ADLINA ADAM
IMAGES: HOMETEAMNS
Various rope-course facilities in Singapore adopt different standards and teaching methods for their instructors and trainers on the safety management of high-rope activities. The Singapore Sport Climbing and Mountaineering Federation (SSCMF) saw the need to set a common standard for training courses so instructors would impart the same knowledge and best practices to trainees.
It rounded up a team of programme specialists, and together with HomeTeamNS, the People's Association's PAssion Wave and two other corporations, developed a set of new training standards.
The Singapore National High Ropes Standards by SSCMF was launched on 18 January 2022 at HomeTeamNS Adventure HQ by Assoc Prof Muhammad Faishal Ibrahim, Minister of State, Ministry of Home Affairs & Ministry of National Development, and President of HomeTeamNS. The event was graced by guests and members of the high-ropes industry.
"As one of Singapore's leading adventure facilities providers and teambuilding venues, HomeTeamNS welcomes the launch of the national standards for high ropes training," said Ms Agnes Eu, Chief Executive of HomeTeamNS.
"We believe it will help to regulate the industry, equip specialists with the best practices and encourage continued pursuit for excellence."
She added that HomeTeamNS is privileged to play a part in SSCMF's milestone achievement.
"Our involvement echoes our commitment to build a strong team of in-house Adventure Specialists and contribute to the growth and development of adventure pursuits, a matter close to the hearts of our NSmen."
ADVENTURE SPECIALISTS TO THE RESCUE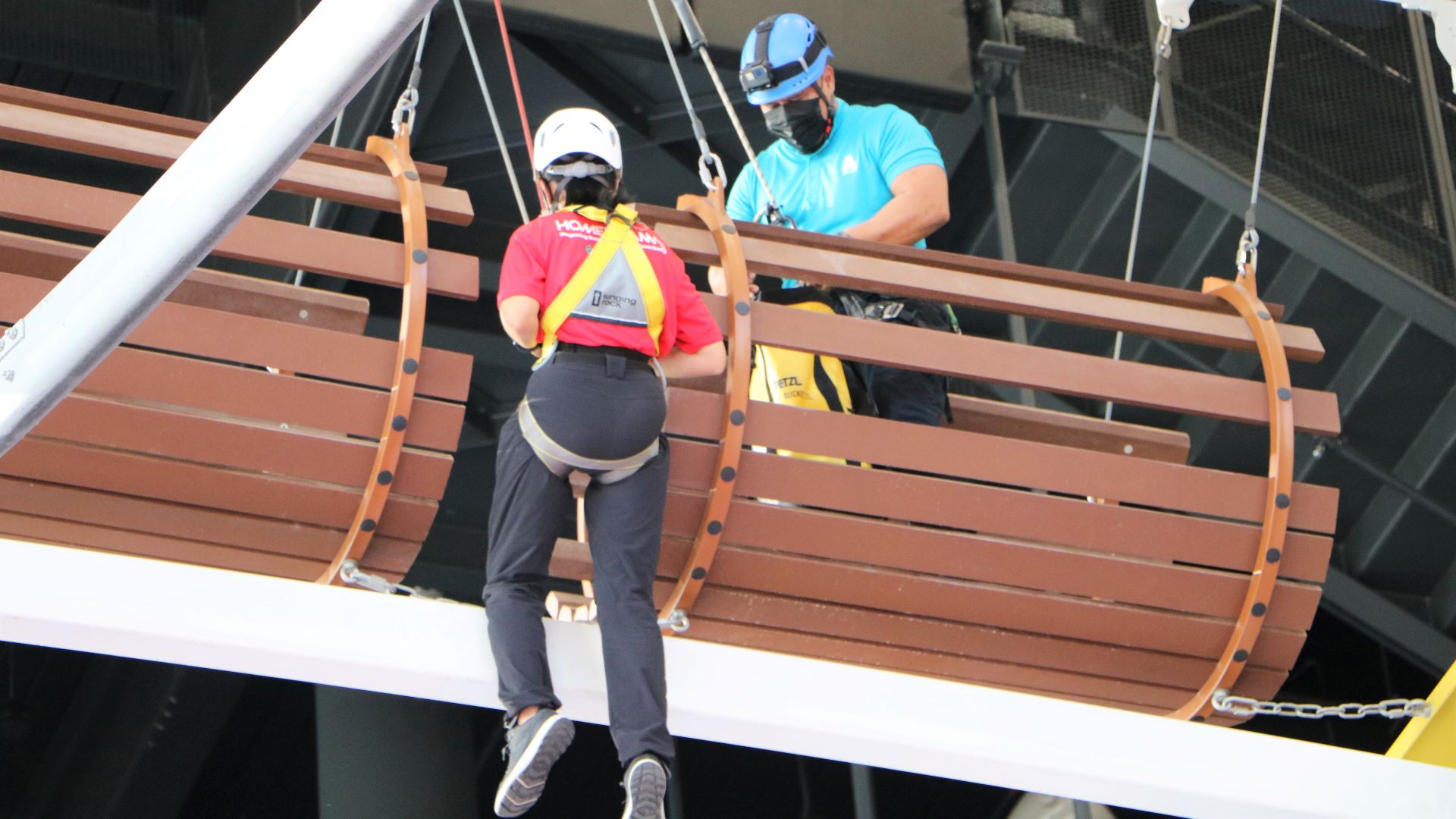 During the launch, two rescue demonstrations were performed by SSCMF and HomeTeamNS specialists.
In the first scenario, a participant tripped while walking along an obstacle course and fell. A specialist approached the participant and set up separate anchor points to transfer the participant's weight to his anchor system. The participant's safety line was then removed before being lowered down.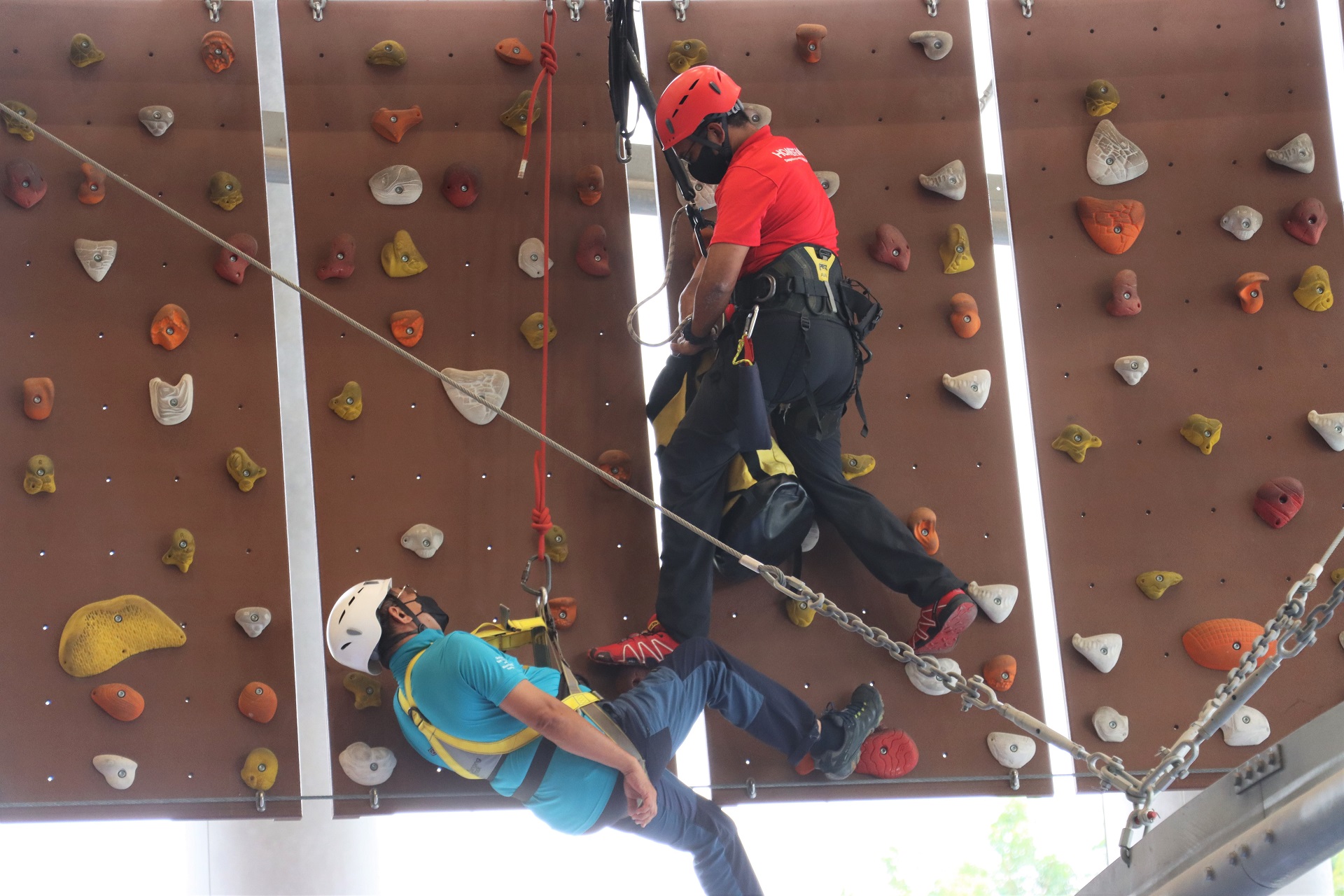 In another scenario, a participant lost his grip at the rock wall, fell off and was unable to climb again due to exhaustion. A specialist then used traditional techniques such as the "Munter Hitch" and "Auto-Bloc", to secure his weight before releasing the participant's safety line.
After the participants were brought to safety, a copy of the syllabus was presented to Assoc Prof Faishal. This marked the official launch of the national high ropes standard, signifying the new journey that the high-ropes industry will be embarking upon in time to come.
TAPPING INTO INDUSTRY EXPERTISE
Mr Iswandi Masduki, Assistant Director of the Business Development and Marketing unit in HomeTeamNS, shared that the organisation currently works with an external partner to train a selected group of senior specialists as in-house trainers.
The certifications received are site-specific to the Association's facilities. In turn, the senior specialists will conduct monthly training and refresher courses for the other specialists.
"With the introduction of this national standard, all our specialists will now be trained under a nationally-recognised curriculum, which is more structured. It also allows our instructors access to knowledge of the industry's best practices," he added.
FUN FACTS ABOUT ADVENTURE HQ
Adventure HQ is Singapore's largest multi-installation indoor adventure centre. Spanning across four storeys, the 2,800sqm facility feature 10 kaleidoscopic adventure installations, catering to all levels of adrenaline thrills for the young, and young at heart.
Adventure HQ is home to Singapore's…
FIRST Indoor Roll Glider
LONGEST INDOOR SLIDE at 14m
FIRST 165m long Indoor Artificial Caving
BIGGEST two-tiered, 16 elements Indoor Challenge Ropes Course
Are you an adrenaline junkie? Visit Adventure HQ at HomeTeamNS Khatib and have the time of your life!