REAL® Run 2022 marked a welcome and popular return to a physical event.
TEXT: NUR ADLINA BINTE ADAM
PHOTOS: HOMETEAMNS
In the early morning of 8 October 2022, close to 3,000 Home Team National Servicemen (NSmen), their loved ones and other avid runners gathered at The Meadow at Gardens by the Bay for the REAL® Run. HomeTeamNS' annual run was finally back as a physical race, and members eagerly soaked in the carnival-like atmosphere throughout the day.
Unique to this race, runners were flagged off by Singapore Police Force (SPF)'s Covert Bike and Emergency Response Team, and the Singapore Civil Defence Force (SCDF)'s Fire Bike and Red Rhino. The runners were also greeted with a refreshing start, as the Red Rhinos sprayed water jets at the starting line. Guest-of-Honour Associate Professor Muhammad Faishal Ibrahim, HomeTeamNS President and Minister of State, Ministry of Home Affairs & Ministry of National Development, flagged off the event.
TEAMWORK MAKES THE DREAM WORK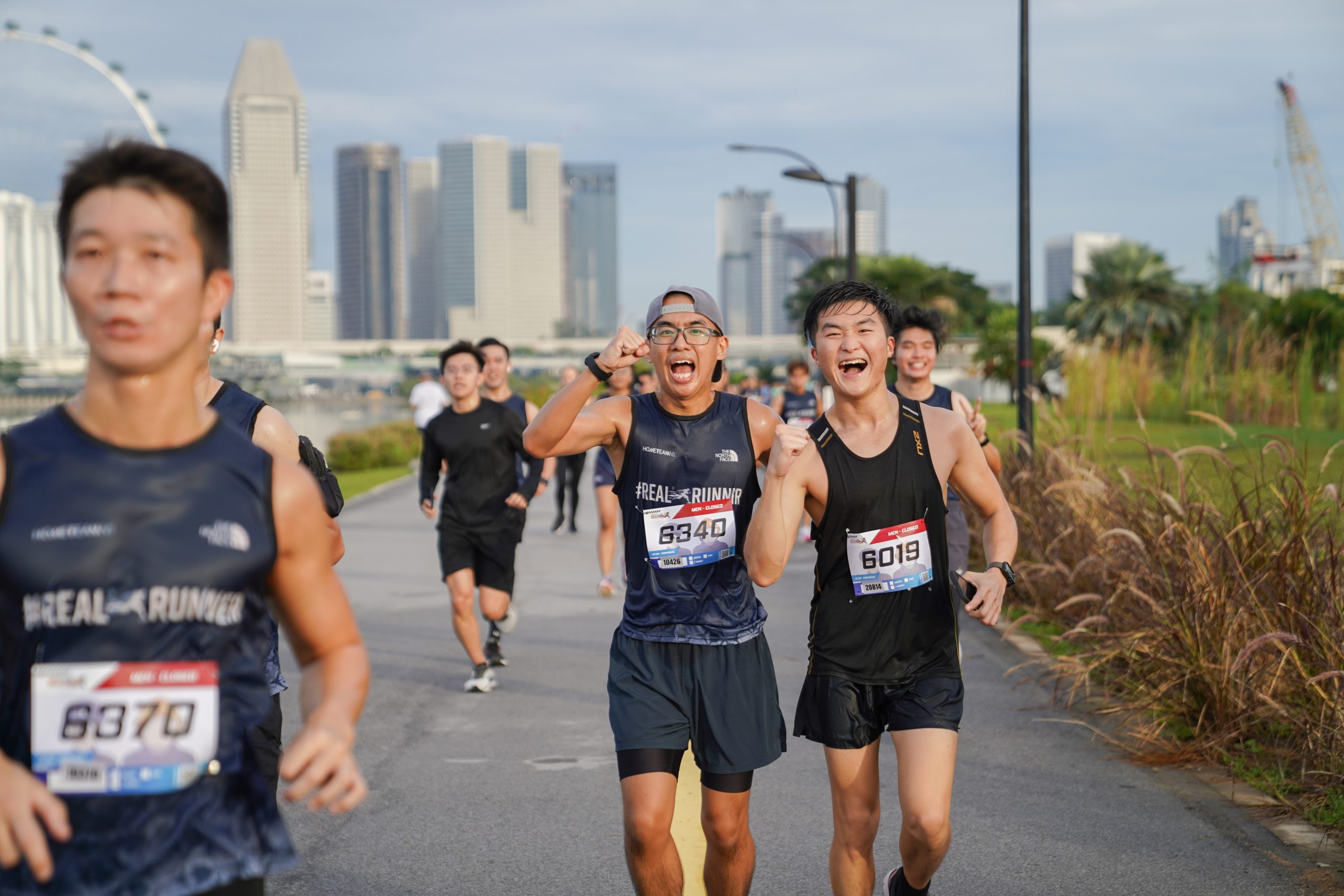 REAL® Run may be a race, but it is also an event for NSmen from the Singapore Police Force (SPF) and SCDF to bond with one another. "I get to run with my father, which is something we can do together as a family, and together as Home Team members," shared SC (NS) Muhammad Zidny Ilman Bin Edwan Nizar from the Public Transport Security Command (TransCom). It was his first time participating in REAL® Run with his father, COL (NS) Edwan Nizar from the 2nd SCDF Division, who is also a member of the Management Committee as the Co-Chairman of the Strategic Review Committee of HomeTeamNS.
Both NSmen and full-time National Servicemen (NSFs) competed in the 5km and 10km group and individual categories. For the 5km Flagbearer category, the NSmen from the Protective Security (ProCom) team of runners from SPF took first place, while the runners from the 4th SCDF Division came in second.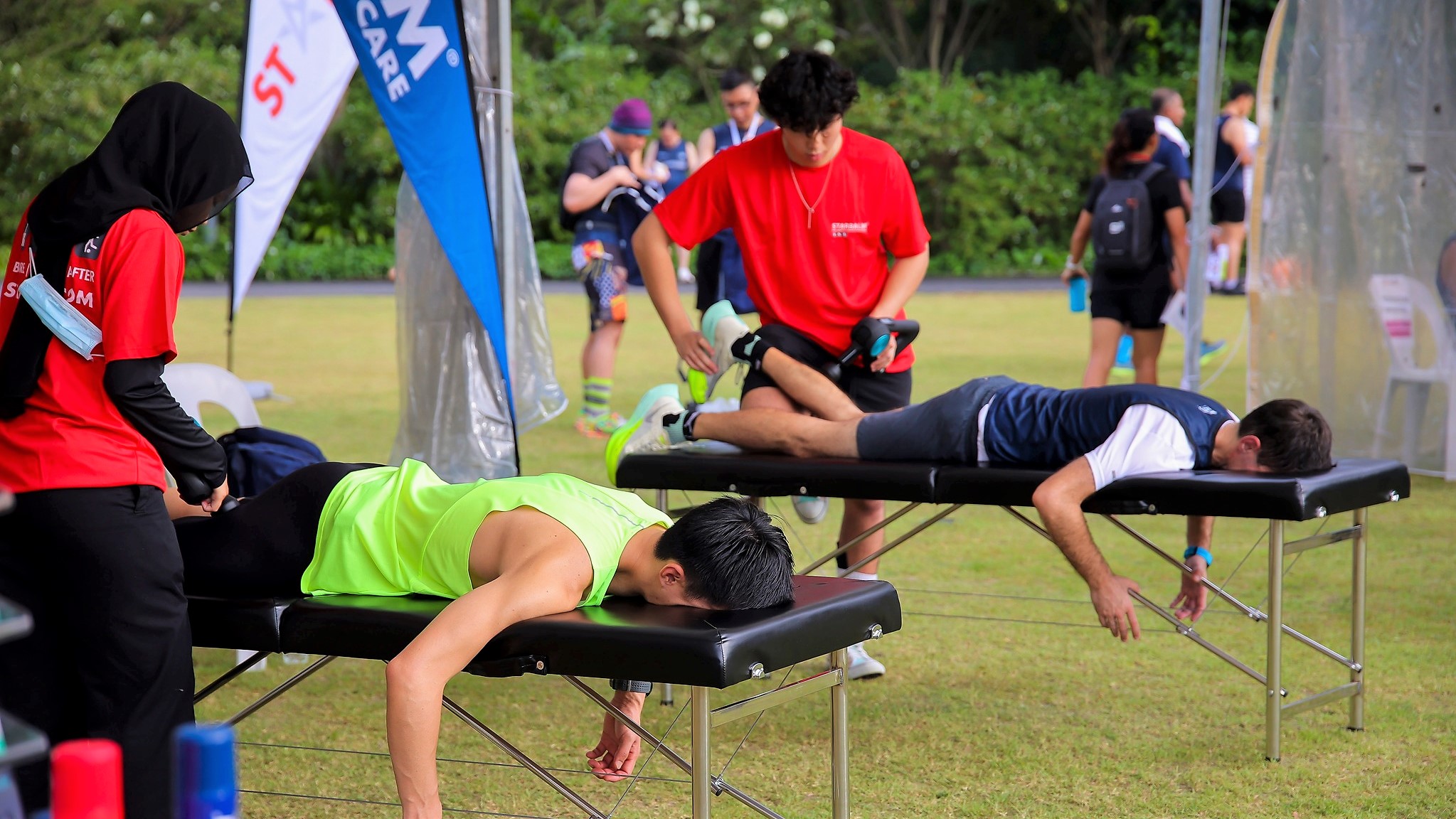 Participants enjoyed various activities at the Race Village, which included carnival games, post-race massages and other highlights such as Human Foosball and Pedal Go-Kart. LTA (NS) Daniel Obadiah Lim and REC (NS) Koh Soo Tze Andy from the Civil Defence Academy (CDA) tried activities like hoop-throwing and Zumba.
"It was extremely engaging. There are so many activities to do here," said LTA (NS) Lim. The pair added that the games provided an opportunity for family bonding, as parents played with their children. "The thing I missed most from these past two years is the fun-filled atmosphere. It's nice that we hold it (REAL® Run) every year," said REC (NS) Koh.
Longing for another reason to run? It's time to gather your friends for the REAL® Run 10km Virtual Run. At your own time, pace and running route, complete the 10km Virtual Run till 31 January 2023. Register for the run by 31 December 2022 and send a screenshot of your running app displaying the date, time of the run and distance covered. If you are new to the virtual-running scene, you can use popular running and fitness apps that are GPS-enabled such as Strava, RunKeeper, Fitbit and Garmin Connect to clock in your run.
Entry fees for the virtual run are priced at S$19.90 and S$24.90 for HomeTeamNS members and the general public respectively. Runners will be entitled to The North Face Finisher Tee and a 20-litre Canvas Bag (worth a total of S$59) upon completion of the run. For more information on the run and entitlements, visit our website.
For the latest updates on HomeTeamNS promotions and events, visit our website and Facebook page
A few words of encouragement from our REAL® Run Committee!