Experience physical entertainment at Singapore's first-ever gamified multi-tier obstacle course, located in HomeTeamNS Bedok Reservoir.
TEXT: MORGAN AWYONG
PHOTOS: HOMETEAMNS
If you are someone who spends most of the day seated at your job, finding the motivation to get active is always a challenge. But if there are two things that usually do the trick, we'd say it's the promise of some friendly competition combined with a hearty dose of fun. So, when the invitation came to try the new Action Motion at the launch of HomeTeamNS' newest clubhouse at Bedok Reservoir, it was easy for me to say yes and jump right in!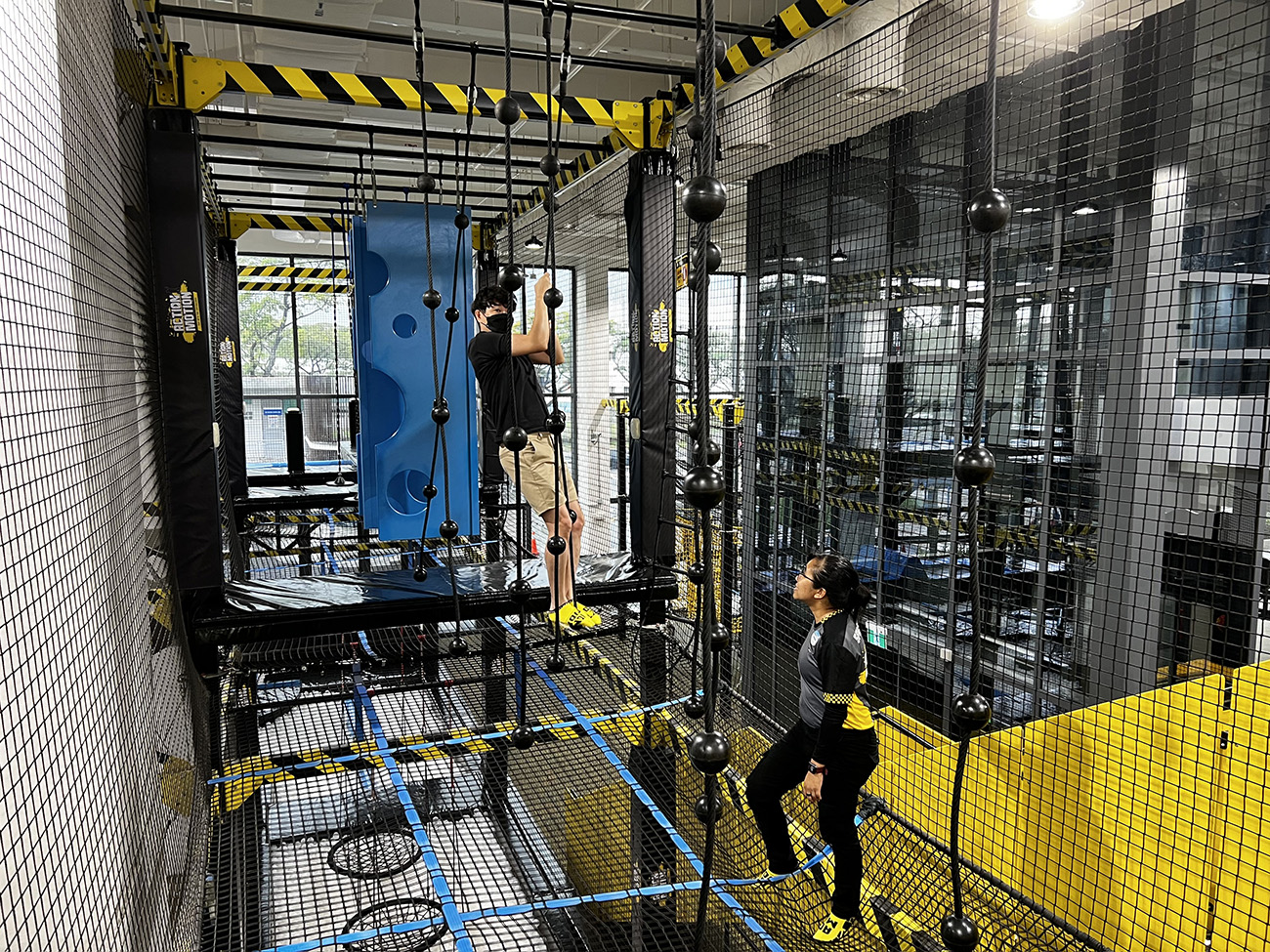 The giant space that is Action Motion is unmissable as one enters the Bedok Reservoir clubhouse lobby. Set to the right of the entrance, the sprawling grounds are home to five different experiences that cater to players of all inclinations.
The largest of these is the Rapid Action obstacle course, Singapore's first score tabulation gamified obstacle course. As players work their way through the course elements, they tap their RFID wrist tags at various recording stations. This tracks their progress and displays their times on a public screen. For groups, this can spur some epic competition. As a solo player, I pitted myself against the day's scores, or attempted to set personal bests.
My first challenge at Rapid Action were three motorised and five static elements in a U-shaped route. After understanding how the gamified system worked, I launched myself into the giant playground, hoping my limbs would cooperate. Sure, the course offers easier ways to negotiate certain elements, but where's the fun in that? I got a good workout navigating the first course, with spinning rods and hoops testing my timing, and unexpected stubs jutting out to delay my way across a wall. And if you miss, worry not — your fall is cushioned by ball pits. I found that the array of elements nicely balanced the need for agility, hand-eye coordination, balance and strength, and this deskbound noob actually breezed through the courses with decent scores.
The easier options makes the course more accessible to a wider age range, while alternative choices at certain junctions offer opportunities for repeated play. The advanced stage, though, was literally on another level. There were similarly eight elements there, with a safety net below, but finessing them required a lot more skill. For instance, one element contained ropes dangling like vines that would have you swinging like Tarzan, and another that looked like giant slices of Swiss cheese that you need to hook yourself through.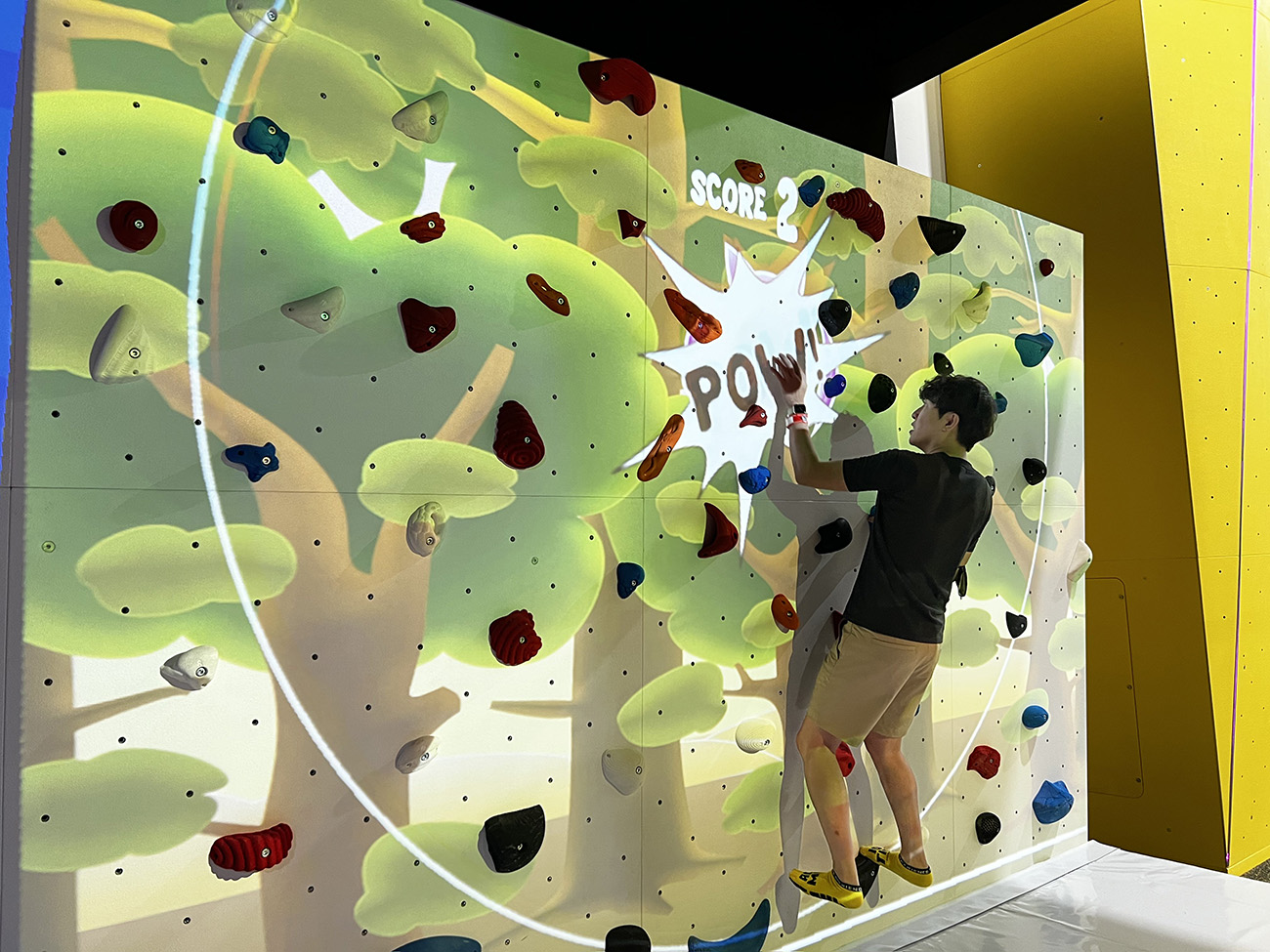 Tapping once again on technology, I headed for some augmented reality fun at Valo Climb and Valo Jump. Valo Jump is housed in a netted platform with a large bouncing mat. Camera sensors detected and monitored my jumps, and were linked to the movements of my avatar on the giant screen. I first picked out one of the five different augmented environments that corresponded to different difficulty levels (I was a bit winded so I chose the easiest). What emerged was an animated canyon setting where I had to bounce on a bridge to knock off birds and fishes to gain points, while an octopus tried to hold me down on the screen.
The engaging visual nature of the games made this suitable for all ages and it also distracted from how much of a workout one gets while playing. Players can share their emails to receive a copy of their gameplay video.
Valo Climb takes place on two bouldering walls, which can be adjusted to different heights and difficulty levels. Using precise motion sensors, players can attempt various augmented reality challenges that are projected onto the walls. My challenge required me to whack out bats from a forest. Despite the limited wall space, there was still plenty of room to clamber across. The nearby seats made this especially good for groups as spectators could cheer on their favourite players.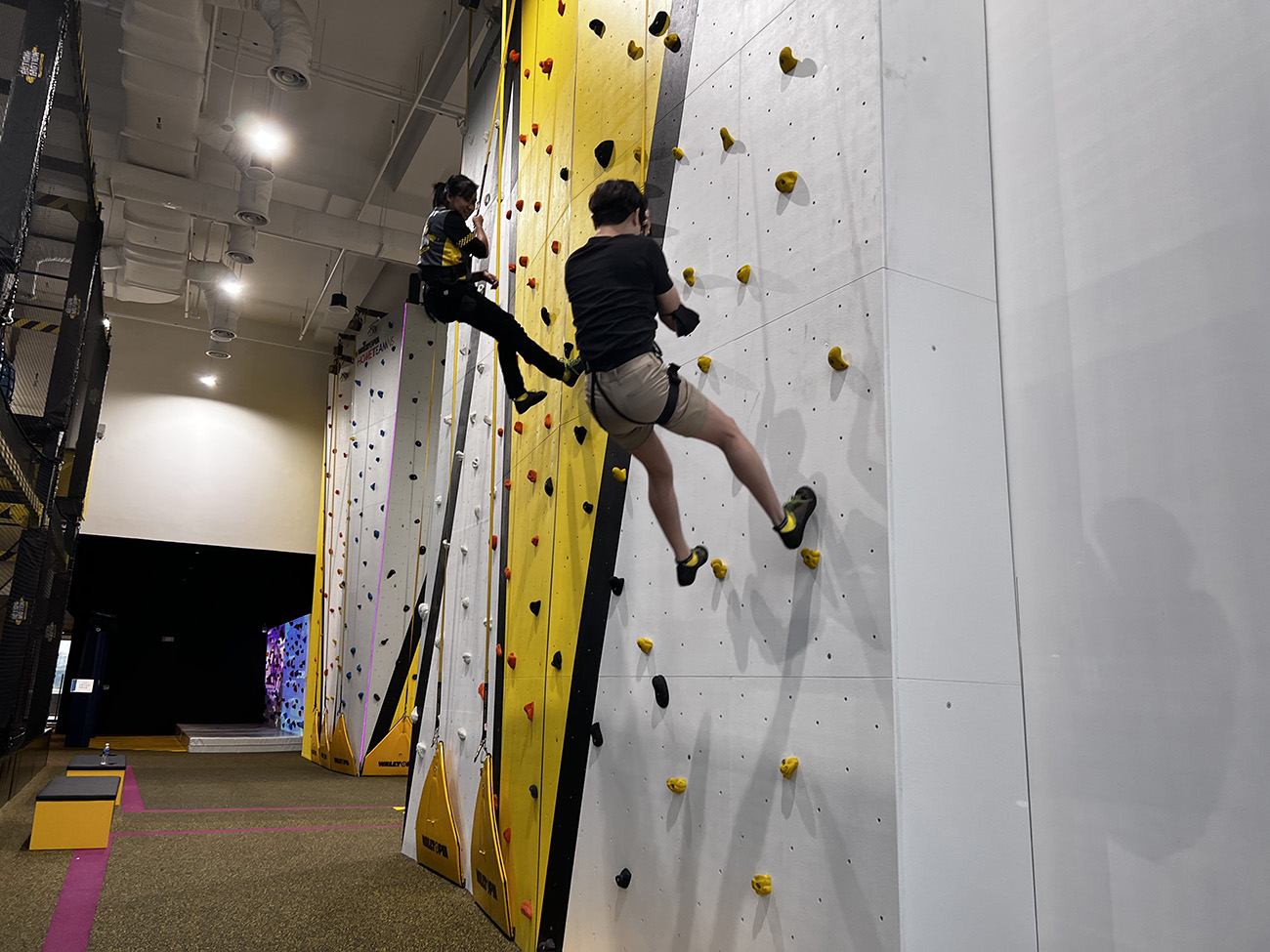 For rock climbers, the Ascend Lab is your go-to station. It offers 10 lanes of varying difficulty, with two black courses as the most difficult options. Ascend Lab also includes automated belay systems, which means solo climbers can enjoy sessions to their heart's content, especially since the courses are refreshed twice a month.
For those new to rock-climbing, on-site briefings allow anyone to enjoy the routes. Again, I picked the easier yellow route, and had a great time figuring out the ways I could move up the wall. Because this was not timed in any way, I also felt this installation was more evenly-paced and less competitive, which had its appeal.
Motion Mesh had a similar vibe, as the netted cube was a rope maze that was similar to a playground. I had to climb up a tunnel to the second tier and then make my way down to the lower ball pit. While ideal for children who love to explore, I was told that adult teams have enjoyed using it as a quirky meeting venue, or turned into a small course for bonding events.
After attempting all five experiences at Action Motion, my body was feeling worse for wear – although I was grinning throughout. By adding so many elements of play into the games here, I had a solid workout that was also plenty of fun. With its wide array of customisable features for all body types, Action Motion also ensures that players of all ages can enjoy their facilities.
Tickets to Action Motion start from S$35 for HomeTeamNS members (Tuesdays to Fridays) and include savings of up to S$10 when you come as a group of four during weekends, public holidays and their eves, and school holidays.
For safety purposes, guests are required to be taller than 125cm and lighter than 120kg. Children under 12 years old have to be supervised by their guardians. The high-grip Action Motion socks are compulsory and cost S$4 a pair, but free socks will be given to all participants during the first three months of their official opening (until March 15).
When booking, pick out the time slots you prefer, and enjoy free play within the allotted session (2.5 hours on weekdays and 3 hours on weekends). I suggest timing it with a relaxing soak in the clubhouse's waterfront infinity pool right after, or having a meal at one of the many eateries. Action Motion also includes event room usage – ideal for parties or corporate bonding sessions.
Unplug yourself for a day and find fitness and play at the new Action Motion located at HomeTeamNS Bedok Reservoir.
Like our stories? Subscribe to our Frontline Digital newsletters now! Simply download the HomeTeamNS Mobile App and update your communication preference to 'Receive Digital Frontline Magazine', through the app settings.