The team behind HomeTeamNS cohesion activities has adapted its programming to suit all requirements – online and offline, masks on to masks off – when it comes to bonding activities. Here's how they did it.
TEXT: MELODY TAN
PHOTOS: HOMETEAMNS
If you've ever wondered who the mastermind behind an especially fun or creative HomeTeamNS cohesion activity is, meet Ms Nur'Atiqah Aidah.
Ms Nur'Atiqah is an Executive Cohesion Accounts Specialist with HomeTeamNS. Along with her teammates, she oversees all cohesion and non-cohesion programmes across the different HomeTeamNS clubhouses for agencies affiliated with the Ministry of Home Affairs.
Having worked at HomeTeamNS for four years and counting, Ms Nur'Atiqah is an old hand at planning HomeTeamNS cohesion activities – sometimes with a twist, if one is required.
She explains that all programmes are carefully tailored according to the goals of the client. As part of her role, she also offers advice on suitable activities, based on her and her team's accumulated experience of organising HomeTeamNS cohesion programmes over the years.
"Clients are able to customise their activities," she shared. "For example, we've issued blindfolds to participants for high element courses, just to ensure that our clients will have a different experience while doing a familiar activity."
ADAPTING QUICKLY TO PANDEMIC NORMS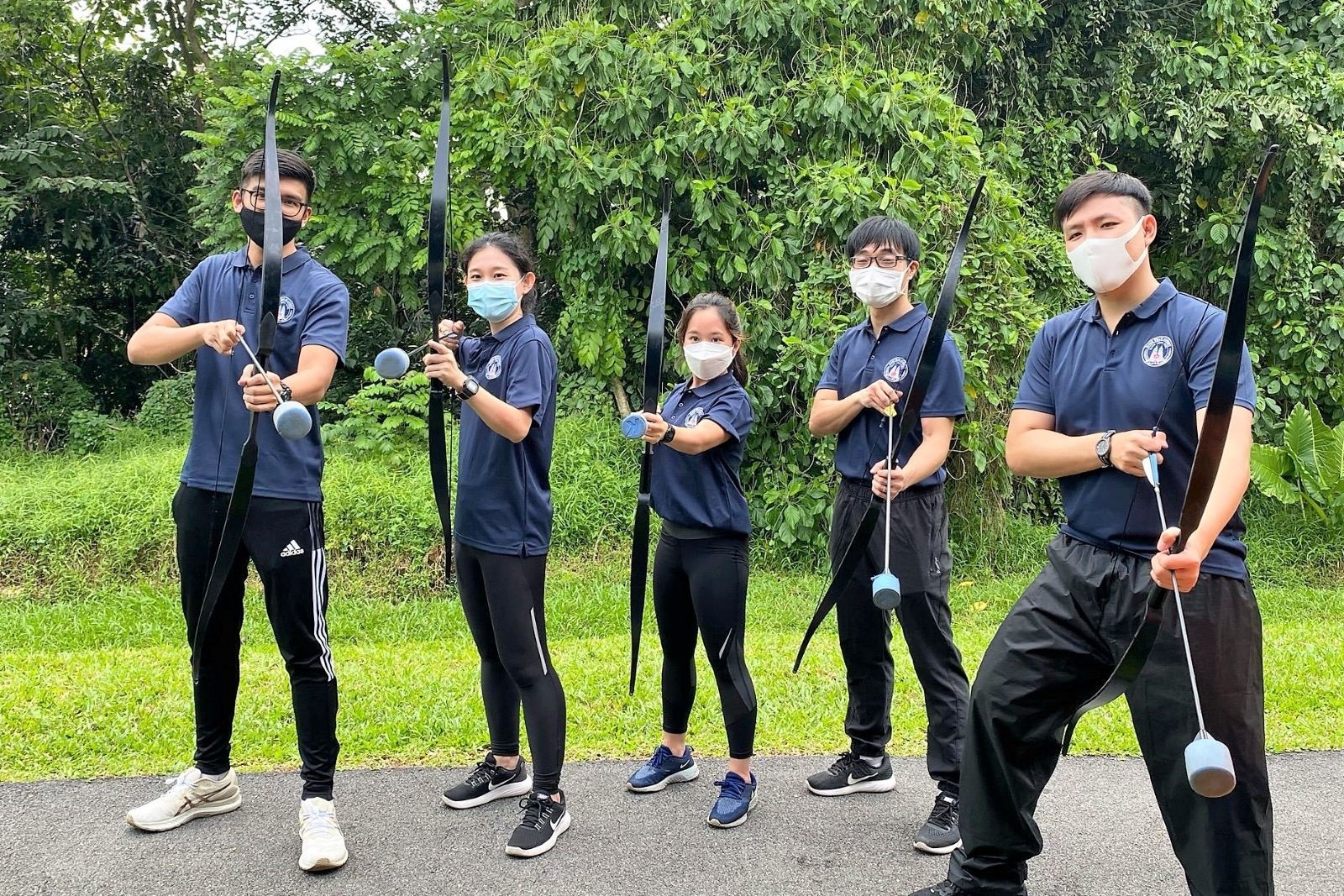 Prior to the COVID-19 pandemic in 2020, Ms Nur'Atiqah estimated that up to 95 per cent of HomeTeamNS cohesion and non-cohesion programming took place on-site – a practice that was no longer tenable as the pandemic took hold and safe distancing measures were imposed to prevent transmission of the virus.
Despite the unprecedented nature of the pandemic, Ms Nur'Atiqah and her team made sure that cohesion activities could still continue – albeit in a different form. Everyone stayed calm and kept going in their original roles, even as the future of cohesion programming seemed uncertain and their work routines were completely reshaped.
"We had to adapt quickly to move our programming online," she recalled. "We had to pick up new skills, acquire new software and also soft skills, so that our programming could be delivered online."
Even for the activities that could still be carried out offline, there were challenges to deal with, like minimising the risk of COVID-19 transmission: "We had sanitise our equipment more frequently and deploy more manpower for our programmes."
EVOLVING INTO A POST-PANDEMIC REALITY
Like many other countries, Singapore has settled into a new normal, two years after the start of the pandemic. With a widely vaccinated population and a better understanding of the virus, Singapore has lifted many of its original safe distancing measures – a welcome move for those looking forward to the return of real-life cohesion activities.
Ms Nur'Atiqah confirmed that business-as-usual cohesion programming has come roaring back – with some slight adjustments. "We've resumed our programmes as per normal currently, but for mask-on programmes, we've had to take into consideration the type of activities that can be conducted with masks."
For her, the fact that some units still prefer to hold online cohesion activities comes as a bonus: "That would mean that our services have expanded to both online and on-site."
Looking to the future, Ms Nur'Atiqah feels that the pandemic has enhanced the cohesion programming team's skillsets, as some of the skills they've picked up while conducting activities online – such as more effectively engaging their clients – are also proving useful in real life interactions.
Overall, she believes the team has also become far more flexible in how they respond to changes. "We've learnt to always be on our toes. Regulations change and we have to adapt, so our team has been in go-go-go mode since the pandemic."
BUILDING A SENSE OF CAMARADERIE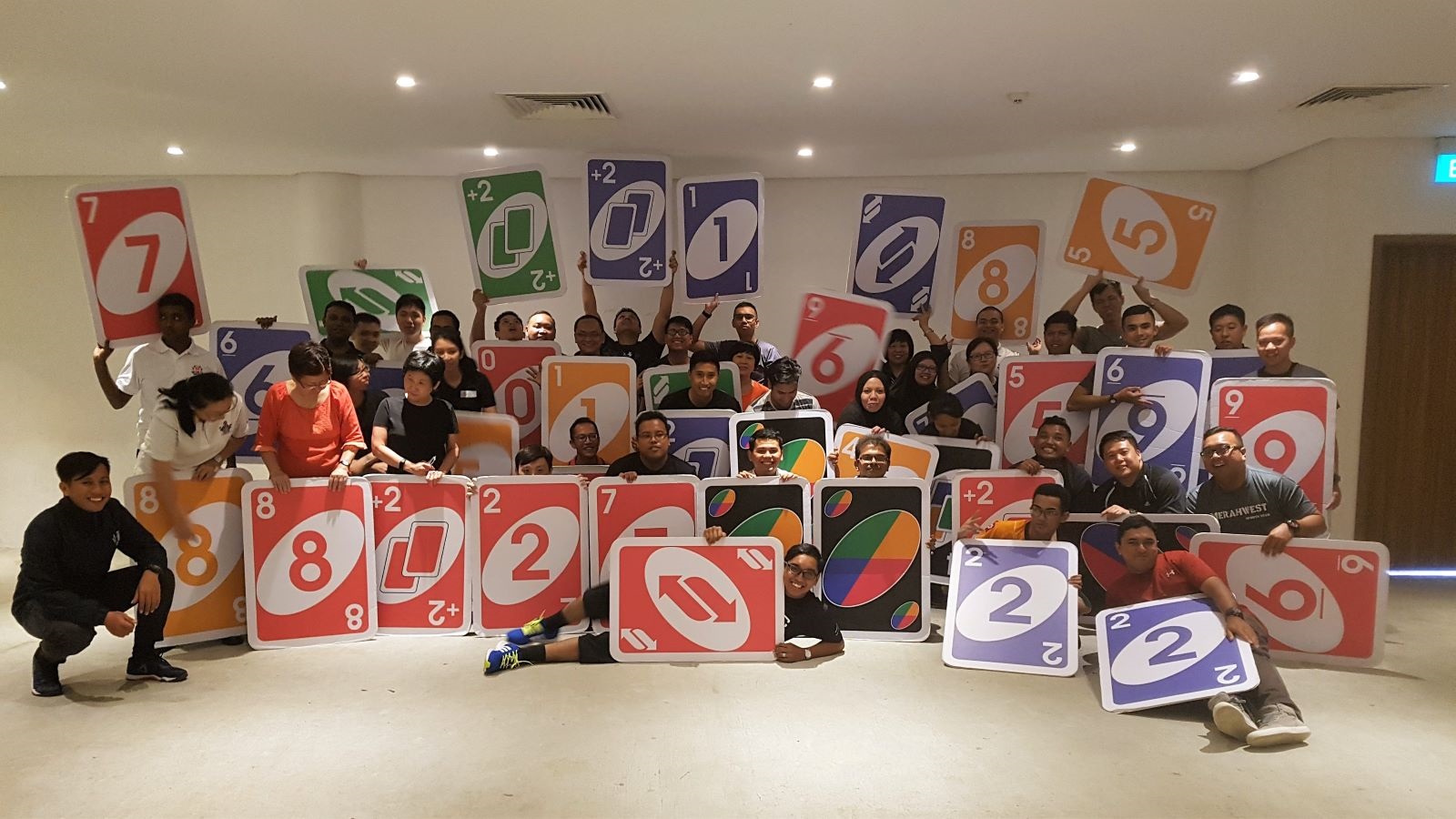 Mr Mohamad Hafiz of the Singapore Police Force's Central Division (A Div) is a veteran of HomeTeamNS cohesion programming, as the A Div has engaged Ms Nur'Atiqah's team on multiple occasions for activities targeting its Police NSmen (PNSmen).
Complimenting the team as being passionate and dedicated to facilitating programmes, he said: "HomeTeamNS has managed to tailor, customise and inject various elements to their programmes to match the profiles and characters of our PNSmen. There was never an activity which was not well received. Most importantly, our objective of building a strong camaraderie amongst our PNSmen is well achieved through all their team building and cohesion packages."
He added, "HomeTeamNS has proven to be a highly reliable, independent and proactive organisation that is willing to go the extra mile in facilitating and meeting customers' expectations. Working with the team has been a pleasure. I would strongly recommend HomeTeamNS as your go-to destination for team-building and cohesion programmes."
GROWING AS A TEAM WITH HOMETEAMNS
You can't teach team spirit – but you can develop it, through stimulating and thought-provoking activities designed to encourage cohesion and camaraderie. As a provider of corporate teambuilding services, HomeTeamNS offers a selection of packages to suit your team's specific needs.
For a hassle-free experience, choose from the different options among the Corporate Fixed Packages, such as the Shoot-off, Shoot-out in which teams engage in rousing competitive rounds of Archery Tag and Laser Quest. Let your inner child loose with Uno Bowl, which features giant UNO cards (perfect for the 'gram) paired with bowling and ice-breaker games, or bring your own children for Family Day – a customisable package that can be constructed to suit all budgets, activity levels and demographics. All fixed packages are equipped with a programme facilitator, safety officers, bottled water and a photographer to capture your team's most memorable moments.
If you have something more specific in mind, try out a Corporate Customised Package instead, which allows you to select from a wide variety of activities to fulfil your team-building objectives. Dodgeball, drumming, a rope challenge course, human foosball, pool rafting, mixology – the choice is entirely yours.
And for Ministry of Home Affairs (MHA) agencies, the cohesion activities at HomeTeamNS are a homecoming of sorts – a comfortable, welcoming place to come together as a team and engage in the exciting work of team building. Clocking in at different budgets and provisions, the cohesion packages range from no-frills to upsized and combo, with over 40 activities to pick from. Paintball, pedal gokarting, pool, futsal and even terrarium making – forging stronger team bonds has never been more fun.