HomeTeamNS REAL® Run participant, 57-year-old Kalaichelvan Ramachandran, has been 'going the distance' since he was a teenager and has inspired his children to take up the sport too.
TEXT: MELODY TAN
PHOTOS: KALAICHELVAN RAMACHANDRAN
Running is not just Mr Kalaichelvan Ramachandran's lifelong hobby – it is also a passion that he's proud to have passed down to his three adult children, who took up the sport when they were still young.
Mr Kalaichelvan, known as Kalai, started running cross-country races in secondary school. During his National Service stint, he continued to take part in marathons. Today, he runs twice a week for leisure, going up to three or four times when he is in training for a specific event – such as the HomeTeamNS REAL® Run, which he has taken part in an impressive 25 times.
With the physical race having taken place on 8 October 2022 at Gardens by the Bay, REAL® Run is currently holding a 10km Virtual Run for those who missed out on the earlier physical event.
The REAL® Run 10km virtual run 2022 allows participants to complete the given distance at their own time, pace and running route between 25 October 2022 to January 2023. All that's needed is to register for the run – the last day to do so is 31 December 2022 – and send in a screenshot of your running app showing the date, time of run and the distance covered. Finishers receive an exclusive The North Face T-shirt and a 20-litre canvas bag, worth a total of S$59.
INSPIRING A NEW GENERATION TO KEEP MOVING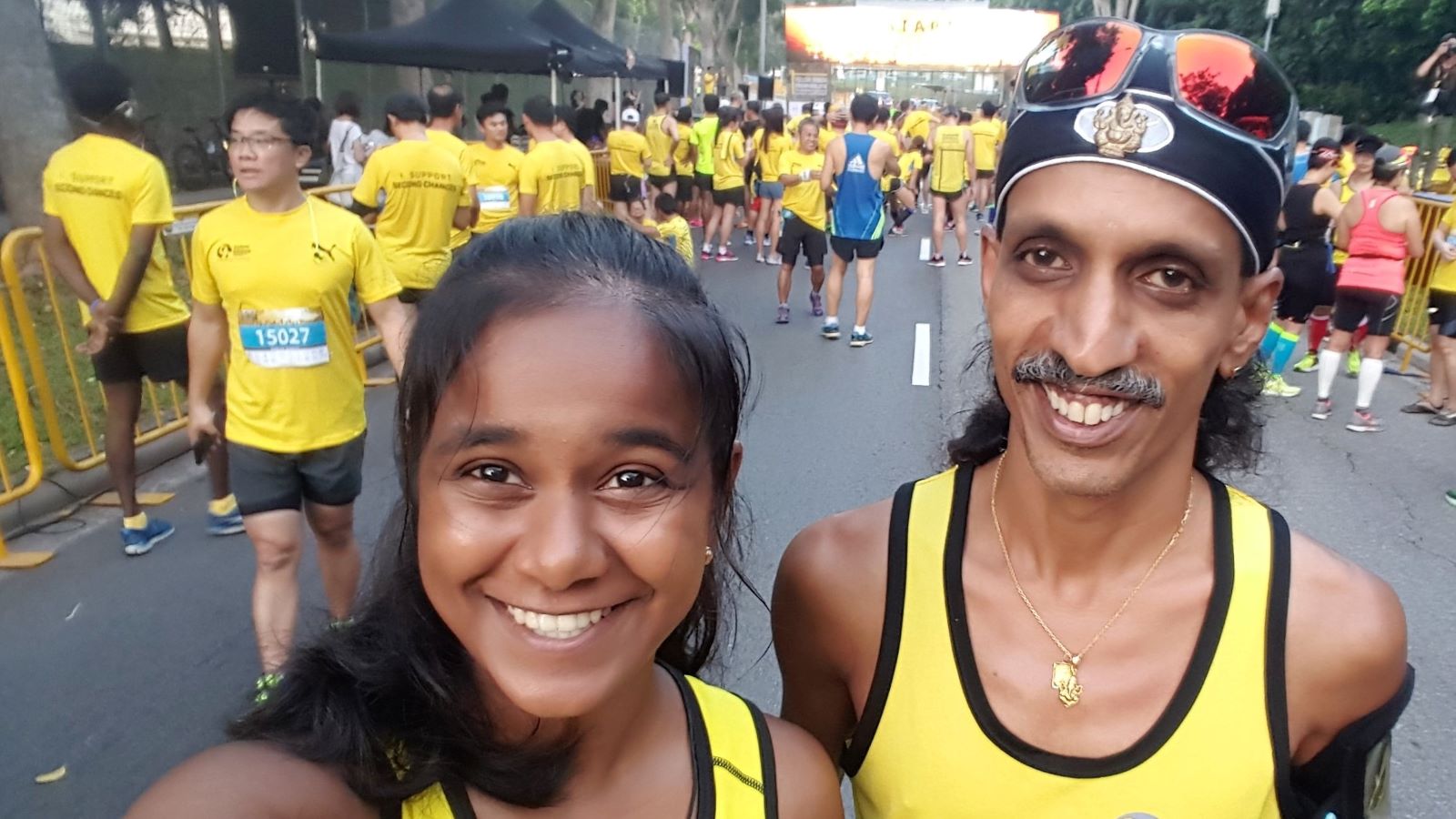 As a young man, Mr Kalai found running to be a rewarding hobby as he enjoyed beating the goals he set for himself: "Each time I clocked a new personal best, I wanted to keep improving it." Now a spry 57, Mr Kalai – who works in the freight forwarding industry – has seen how running has enriched not just his own life, but also strengthened the bond between him and his children, two boys aged 25 and 19, and a girl aged 23.
Mr Kalai first introduced his children to running by enrolling them in age-appropriate races.
"They enjoyed running with other kids, so they looked forward to the events," he recalled. "They wanted to run in order to keep fit. That's the lesson I want to pass down to them – that running helps you lead a healthy lifestyle." Running also helped him to maintain focus as a parent, despite all the pressures of daily life: "Running is a form of relaxation for me. On days that I am particularly stressed, I go for a run so that I keep my frustrations away from my kids."
Mr Kalai has since ran in several events with his children, including a full marathon with his older son and two Yellow Ribbon Races with his daughter. Each event he and his children participate in creates new opportunities for bonding, he says. "Knowing that my kid is running in the same event as me is inspiring," he reflected. "If we have an event together, I remind my children to train for it, and we run together a few times before the event. On the event day itself, although we may not be running side by side, we go down to the event together and return home together."
CARING FOR OTHERS THROUGH RUNNING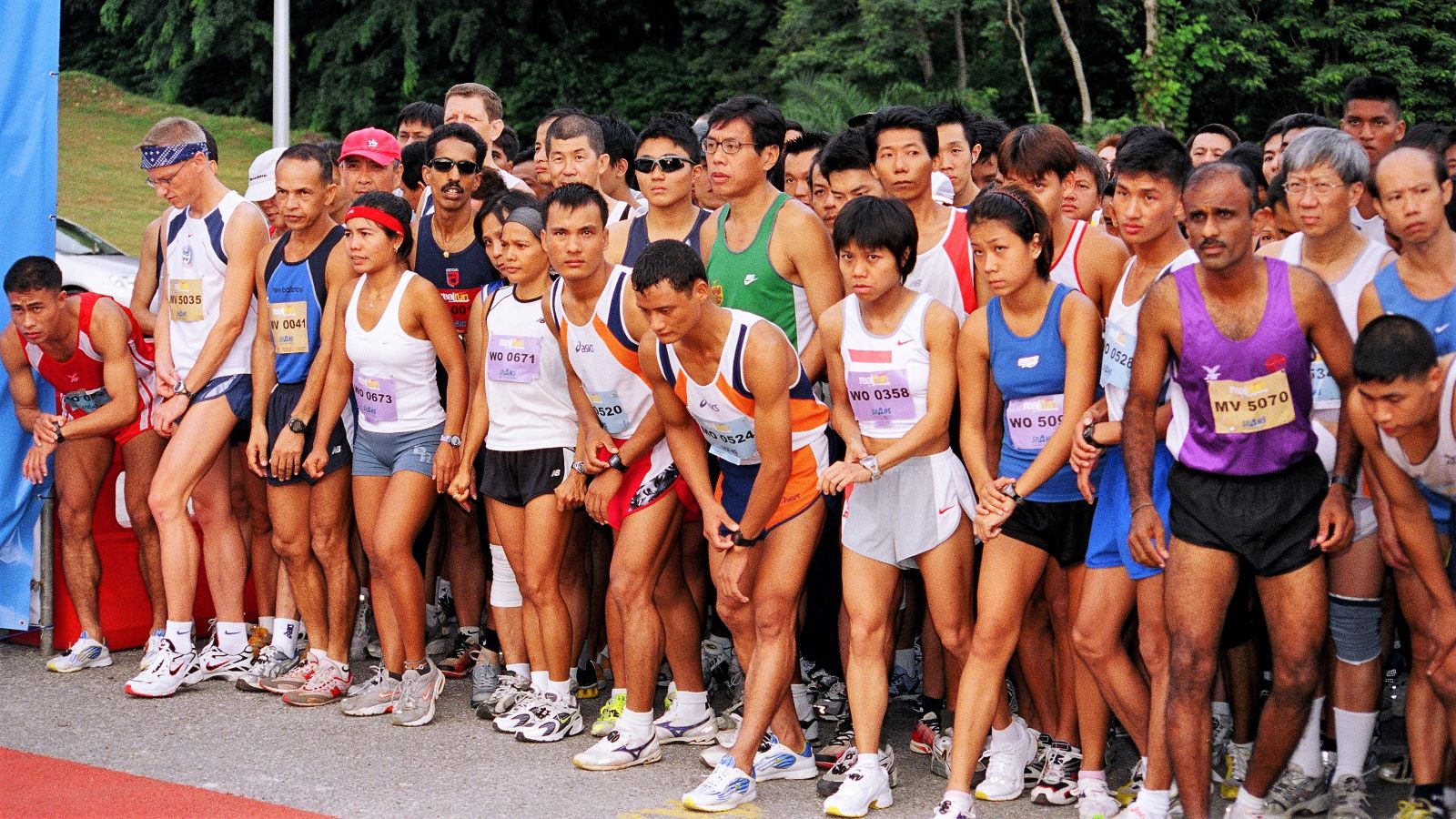 One of Mr Kalai's favourite runs is the HomeTeamNS REAL® Run, which he participates in alongside his friends from a wide array of backgrounds and races. "When we used to train for REAL® Run races in Sentosa, a few of us from different walks of life would meet to have breakfast together on a lorry that was driven by one of the runners," he reminisced.
While he finds the virtual REAL® Run – first held in 2020 – to be slightly less interactive compared to a physical race, he still embraces the challenge of completing the 10km on his own: "It has proved to me that running can be done anywhere and at any time. I find it rewarding that I can still run together with my friends for this event."
When he is not training for events, Mr Kalai enjoys the social aspect of running – and has also started doing good with every step. "I am currently a member of a social running group known as the Thaarumaaru Runners, which is known not only among the Indian community but by many Singaporeans too."
Originally founded in 2017 to encourage fitness among the Indian community, the Thaarumaaru Runners have expanded their activities to include helping others. "We are also a socially responsible group, as we have done fund-raising events," he shared.
Besides connecting him to people, running has taught Mr Kalai more about his own strengths and resilience. Despite a slipped disc in 2010 that took him out of action for a year, he is proud to say that he is still capable of running long distances, while maintaining his previous timings. "I have realised that any injuries can be recovered from with good rest. They don't have to hold me back from continuing in the sport after I recover," he said. "I also feel that as an active person, we recover quicker from injuries in comparison to less active people."
If Mr Kalai's lifelong love affair with running has inspired you to participate in the HomeTeamNS Virtual REAL® Run for the first time, he has some useful tips for newcomers to the event. "When planning the route to run, try to follow those that offer the most realistic experience – including tarmac, beach and trail terrain. Also, form groups with friends who have the same interest, and run together."
Like our stories? Subscribe to our Frontline Digital newsletters now! Simply download the HomeTeamNS Mobile App, and update your communication preference to 'Receive Digital Frontline Magazine', through the App Settings.