NSPI Fredric Kong looks forward to reaching greater heights in the year ahead while reflecting on the lessons learnt in the past year.
TEXT: HOMETEAMNS
PHOTOS: FREDRIC KONG
In 2022, NSPI Fredric Kong will have plenty of opportunities to accomplish his goals as a Company Adjutant in the Singapore Police Force (SPF) – a vocation overseeing a company's discipline, welfare, administration and training targets.
NSPI Kong aims to inspire and shape the over 500 trainees under his care into motivated, disciplined and competent police officers. He believes that giving the trainees goals and a sense of purpose, as well as making training realistic and enjoyable, are essential. He also hopes to share with them his frontline experiences during an attachment to a Neighbourhood Police Centre.
Passing out from the Officer Cadet Course (OCC) as a commissioned senior officer did not come easy. In 2021, NSPI Kong underwent the demanding nine-month course at the Training Command, which required the officer cadets (OCTs) to be versed in general and criminal law, as well as policing skills and procedures on responses to various incidents as a Ground Response Force officer. Given the emphasis on leadership and decision-making, these skills were then tested in a command centre virtual simulation exercise where the OCTs were required to oversee ground forces in response to various incidents.
In addition, the OCTs went through a gruelling 19-day leadership course with the Outward Bound School (OBS) at Pulau Ubin. Upon graduation from the OCC, these newly minted National Service Probationary Inspectors (NSPIs) would then move on to undertake important positions at various departments or specialist units, such as the Special Operations Command (SOC) or the Protective Security Command (ProCom).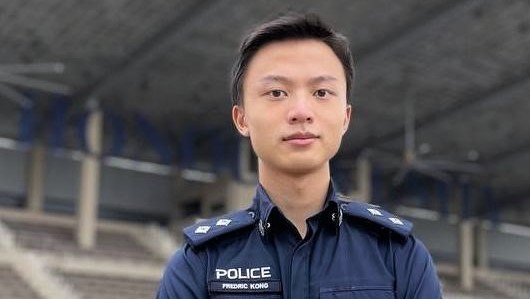 In the new year, NSPI Kong recalls what he had learnt from two memorable experiences during his OCC. The first involved months of hard work and long training hours, which culminated in him marching proudly as part of the Police Guard-of-Honour Contingent at the National Day Parade (NDP) – twice – on the 9th and 21st August 2021.
Weeks before the NDP, the participants were balancing rehearsal commitments with their coursework, an upcoming summative criminal law assessment, an Individual Physical Proficiency Test (IPPT) and a Stay Home Order (as part of the parade's safe management measures due to the fluctuating COVID-19 situation).
NSPI Kong, who was the squad's Vice-Chairman, decided that he needed to take action to help his squad succeed. He worked closely with his squad's Academic and Sports ICs to implement supplementary programmes to help his squadmates prepare for the assessment and enhance their fitness for the IPPT. NSPI Kong also personally produced mock exam questions and hosted pre-exam review sessions. "The key was being proactive," he reflected. "That was what made all the difference."
Now as a Company Adjutant, NSPI Kong wants to continue exercising initiative and enhance training opportunities. He already has several ideas in mind for 2022 and is working with his supervisors to realise them.
The second experience took place amid the choppy waves at the Northern tip of Singapore during a five-day sea expedition with OBS. At the time, NSPI Kong and his team braved an unforgiving downpour while having to maintain a compact fleet formation. However, in the middle of facing the storm, they were rewarded with an unforgettable sight. "I saw that as it grew more radiant, two brilliant arcs of prismatic light – a double rainbow – had emerged from the fog," he recounted.
These moments with his squadmates made him appreciate and treasure the camaraderie that they had built over the past nine months. Having once been a trainee himself, he hopes the trainees never forget to treasure the moments along the way, even in their short two-year National Service (NS) stint. To make their time in NS rich and meaningful, he is ready to work hard with his team of Field Instructors and Course Managers.
NSPI Kong will be pursuing a PhD programme at the Massachusetts Institute of Technology (MIT) after completing his full-time NS and aims to complete writing one or two research papers during his weekends by the end of 2022. Despite committing most of his time to carrying out his duties, NSPI Kong still makes an effort to further his knowledge in his field of studies.
The keen learner exemplifies the theme of continuous education during NS, which is facilitated to full-time National Servicemen (NSFs) through the NS e-PREP Scheme. This scheme facilitates NSFs' transition from full-time National Service to further studies or into the workforce by offering a wide range of courses and modules, helping NSFs keep up with their peers.
In his own time, NSPI Kong wishes to uncover the more complex effects of trade and trade policies so that Singapore can link its financial and trading hub status to sustainable economic growth. It would a challenging goal for many, but this does not faze NSPI Kong: "It is no simple endeavour, for sure – but I don't make my New Year resolutions easy!"
Besides shouldering his newly assigned duties as Company Adjutant, NSPI Kong has made his personal resolution for the new year — to complete his 2.4 km run in under nine minutes. He believes in continuously pushing his limits with a positive mindset to achieve his goals.