The HomeTeamNS Bedok Reservoir clubhouse isn't just surrounded by greenery – it's also a green building, with digital features that enhance the visitor experience.
TEXT: MELODY TAN
PHOTOS: HOMETEAMNS
HomeTeamNS clubhouses have become known for catering a variety of activities for its members. For instance, HomeTeamNS Khatib is known for being an urban retreat and the HomeTeamNS Bukit Batok has become popular for its family friendly-facilities. HomeTeamNS Balestier is known as a sporting haven while the brand-new HomeTeamNS Bedok Reservoir is rapidly carving out a name for itself as a waterfront haven.
Known for its first-in-Singapore facilities – like Aqua Adventure – and stunning villas for memorable staycations, the clubhouse is an idyllic retreat set amid the expanse of the Bedok Reservoir waterfront.
Still, there are two things even more impressive about HomeTeamNS' latest clubhouse. Like HomeTeamNS Khatib clubhouse, it is known for its commitment to sustainability, and its innovative smart features. Visitors to the Bedok Reservoir clubhouse might not notice all of them, but these little details add up to a seamlessly enjoyable clubhouse experience that also aims to keep Singapore green.
RECOGNISED FOR ITS GREEN STATUS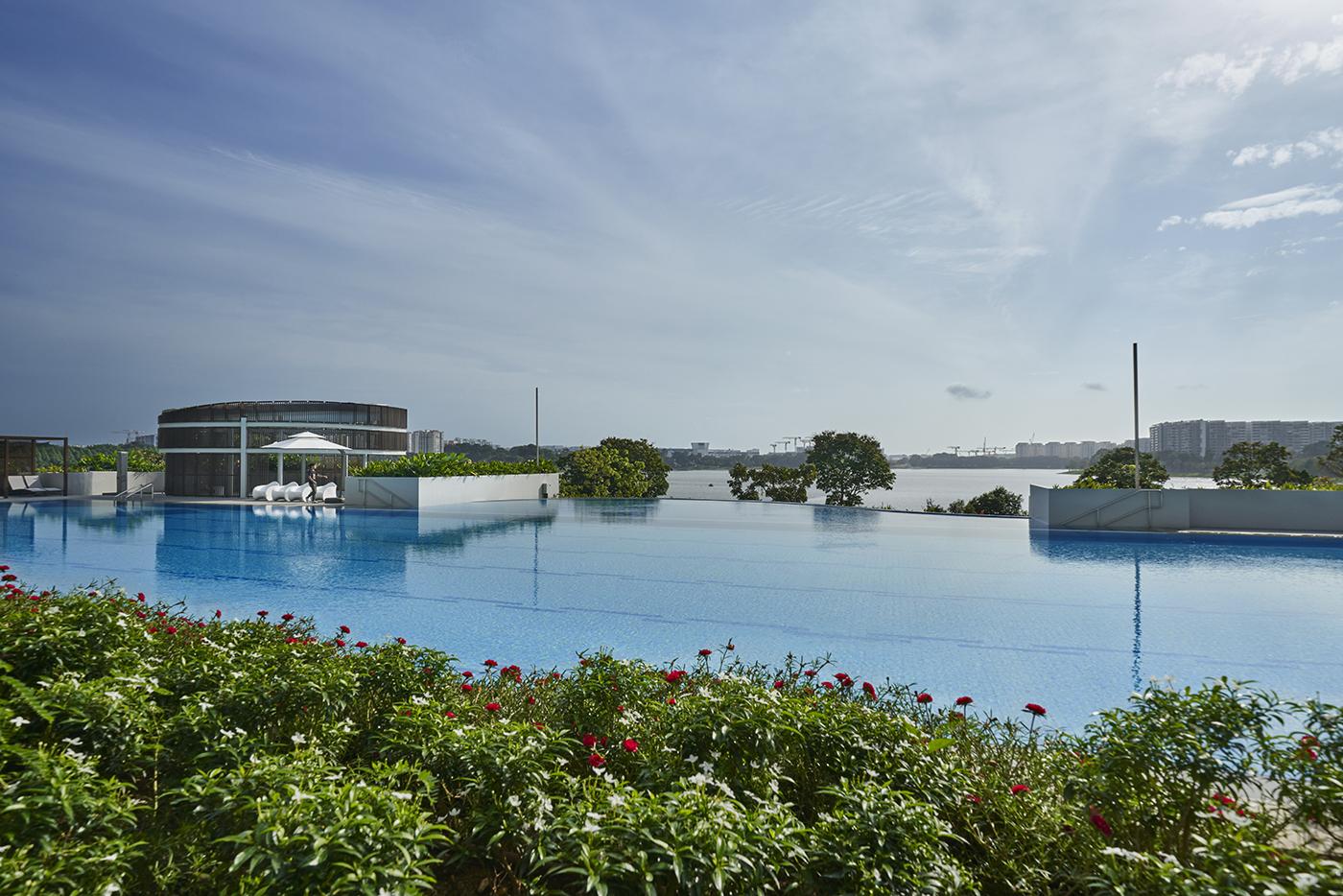 The Building and Construction Authority's (BCA) Green Mark certification recognises buildings that have been built and designed with sustainability in mind by having climate-responsive features and a healthy indoor environment, in addition to being energy and resource-efficient.
As a new public sector building, the HomeTeamNS Bedok Reservoir was required to attain a Green Mark Platinum status – an achievement it shares with HomeTeamNS Khatib and attained with the help of energy-efficient light fittings and smart lighting systems with motion sensors that detect when an area is less populated, so lighting usage can be automatically reduced.
In addition, the clubhouse was built with low-carbon and Singapore Green Building-certified products, with an eye to supporting Singapore's Green Plan 2030. Solar panels are on the pipeline and will generate enough electricity to power two per cent of the building's energy consumption.
Inside the building, all water-related systems were designed in compliance with the PUB Water Efficiency Labelling Scheme Rating requirements, ensuring that water usage is kept as low as possible – even with an in-house three storey-tall indoor water adventure centre.
Investing in these measures enabled Bedok Reservoir clubhouse to reach energy savings of over 30 per cent, as well as fulfil the other criteria needed to achieve BCA's Green Mark Platinum award.
KEEPING COOL AND POWERING UP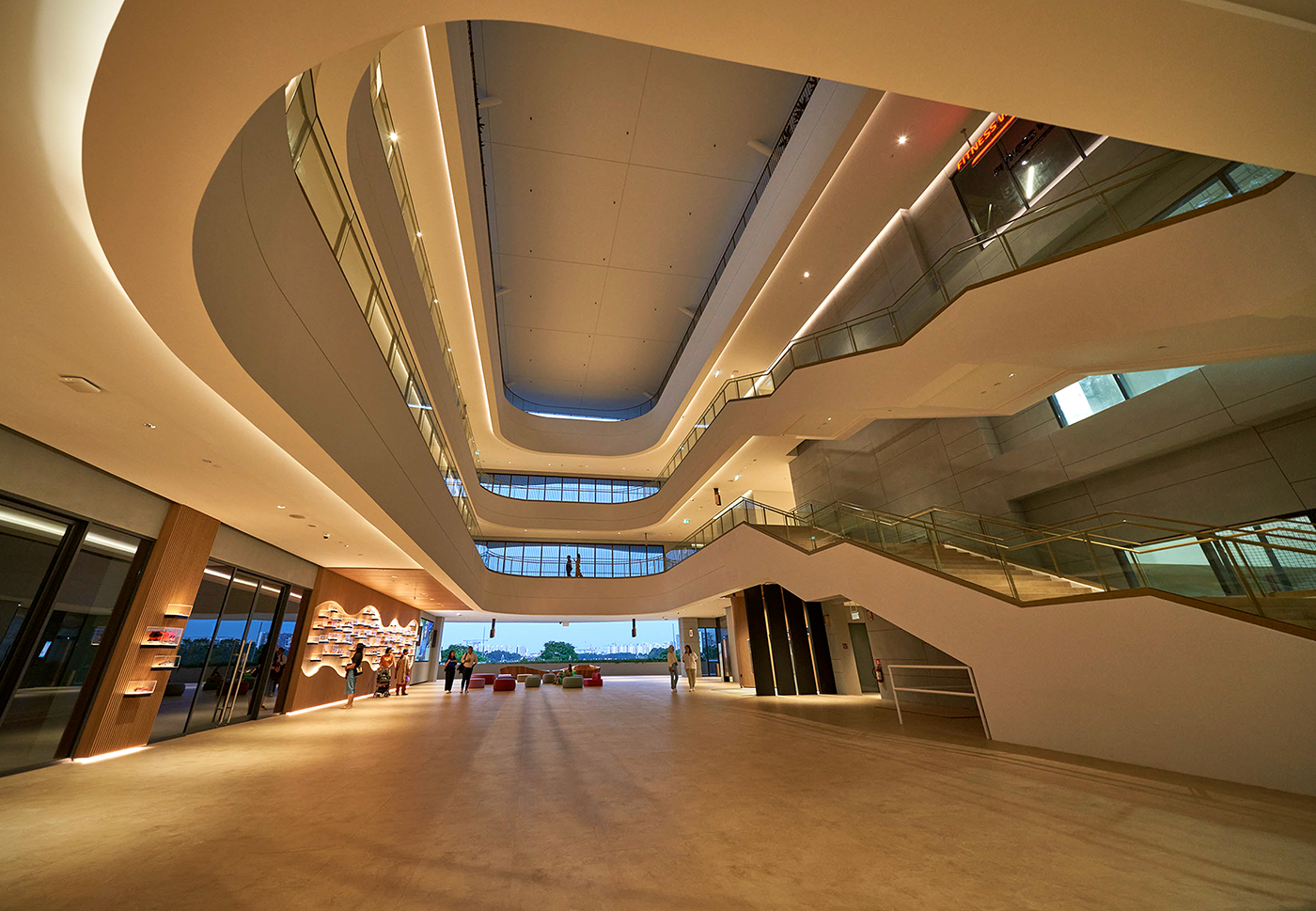 Notwithstanding the cooling waterfront of Bedok Reservoir, the weather can get pretty warm. Visitors will want to take shelter from the heat at HomeTeamNS Bedok Reservoir, where common areas like the lobby are naturally ventilated and large overhang balconies provide shade for those on lower floors.
Within the clubhouse grounds, visitors are surrounded by lush greenery, over half of which are plants native to Singapore. They're maintained by a rainwater harvesting and drip irrigation system for easy, sustainable upkeep. 
In addition, the blue and green clubhouse roofs consist of high solar reflectance index (SRI) building materials. SRI roofs are able to reflect solar heat more effectively than those built with traditional roofing materials, allowing the building to cool down by emitting absorbed solar heat to the surrounding air.
Even the walls are part of the keep-cool mission: HomeTeamNS Bedok Reservoir's façade walls consist of building materials with low thermal transmittance, while the glass has a low emissivity coating.
These materials and coating ensure that the building doesn't absorb as much heat into its interior, thus having the double benefit of cooling down visitors while lowering energy consumption.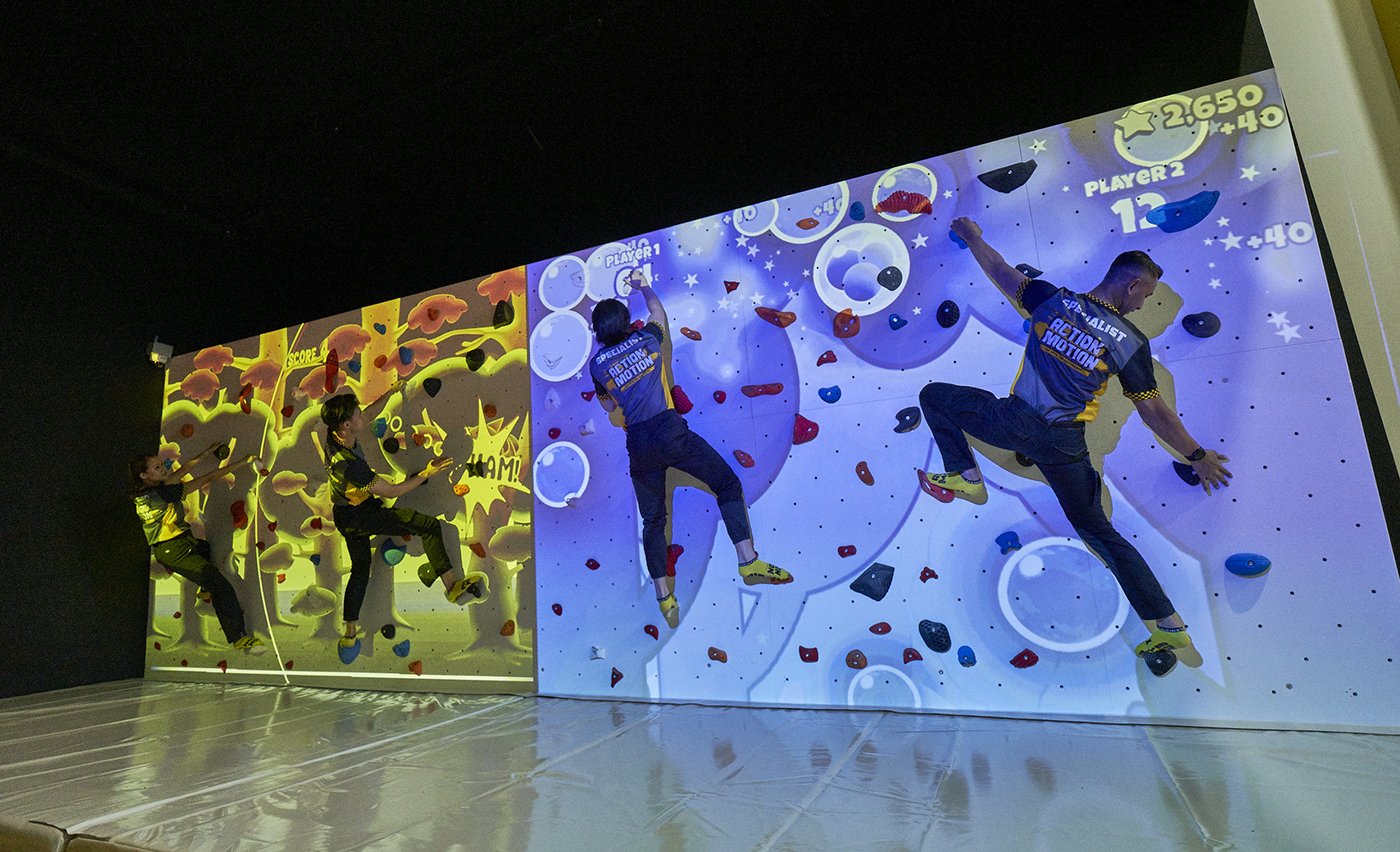 If you've always wanted to live out your video game fantasies in real life, Action Motion is where you want to be.
The digital active experience arena has a score-tabulating gamifier system that adds up your wins in real-time as you move through the arena, conquering the multi-level obstacle course, net maze and more. With every tap of your wristband, your total score – including timings – is added to the leader board in the arena, taking competition to a whole new level.
Still keen for more digital fun? Action Motion also has Augmented Reality (AR) bouldering walls and an AR trampoline, which combine motion capture and projected graphics to make things more interesting. For example, the AR-enhanced bouldering activity invites you to slap images of bubbles projected onto the wall in order to pop them and score points.
EASING YOUR EXPERIENCE WITH TECH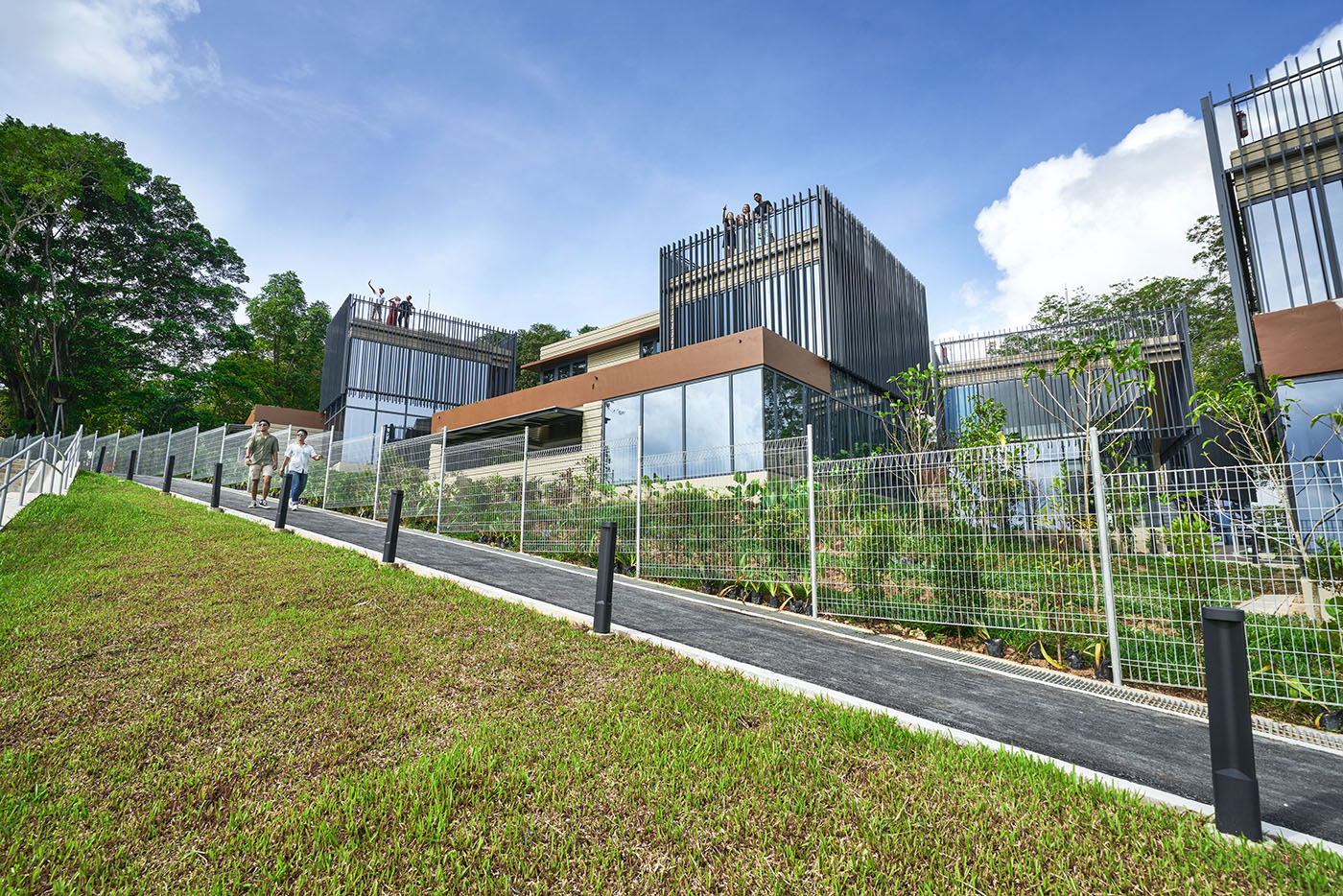 Never fear losing your room (or villa) key again and having to pay a fine, because at HomeTeamNS Bedok Reservoir's East Villa, the key is in your phone.
More precisely, it's a QR code that appears in your HomeTeamNS Mobile App when you check in, allowing you to gain access to your villa without fuss. And if your family or friends arrive later, you can add up to four guests for every booking – so they can use their own accounts to access the QR code without having to borrow your phone. No need to worry that the code can be re-used or screenshotted, as it refreshes every few minutes to ensure security and your peace of mind.
Finally, like all the other HomeTeamNS clubhouses, HomeTeamNS Bedok Reservoir aims to feel like home – and soon, it will have its own robot concierge welcoming members back. The concierge robot is equipped with voice-enabled Artificial Intelligence technology, so it can answer verbally when you ask it a question, such as directions to the facility you want or help desk support issues.
To see these cool features in action, come down to HomeTeamNS Bedok Reservoir, where smart facilities meet a more sustainable future. 
Like our stories? Subscribe to our Frontline Digital newsletters now! Simply download the HomeTeamNS Mobile App and update your communication preference to 'Receive Digital Frontline Magazine', through the app settings.