Aqua Adventure offers more ways to make a splash at HomeTeamNS Bedok Reservoir.
TEXT: MORGAN AWYONG
PHOTOS: HOMETEAMNS
Other than the occasional cold spell, Singapore's sweltering tropical weather usually has us appreciating the fact that we're surrounded by water. For most of us, pools are the best way to cool off and a new indoor water park is always welcome news, especially for those rainy days.
Aqua Adventure at Bedok Reservoir clubhouse adds another destination in the east, but even those living in the west will find good reasons to visit, for some of the premier features at this water adventure centre.
Here is how you can experience all of the coolest aspects of the facility while having plenty of fun.
FLY DOWN THE BLACKHOLE OR SLIDE DOWN DOUBLE TROUBLE WITH A BUDDY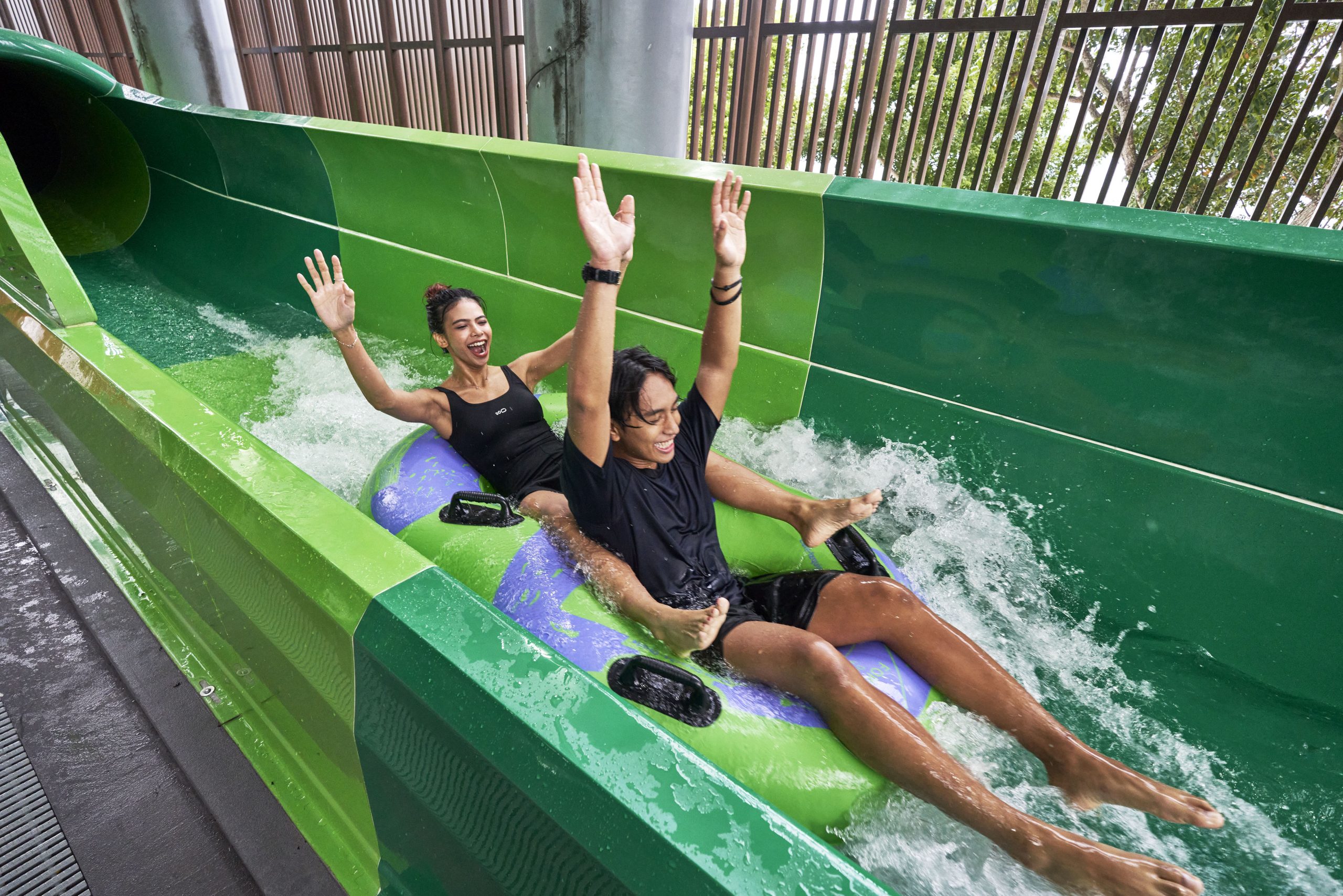 Water slides are a star attraction at any water park and Aqua Adventure didn't hold back when they designed their offerings. At 85-metres, the Blackhole Slide will plunge one quickly into its roaring depths, and feel much longer given how thrilling the 12 to 15-second journey will be. As intimidating as it may sound, one ride is all that's needed to make you come back for another round.
But if good things are meant to be shared, then hook your buddy up with Double Trouble. Hop onto the dual-rider float and have twice the fun as you whirl down the slide. At 114-metres long, it is Singapore's longest indoor waterslide, so expect a gush of exhilarating adrenaline each time.
FIND YOUR SUPERHERO STRENGTH BY SCURRYING ACROSS THE SCRAMBLE NET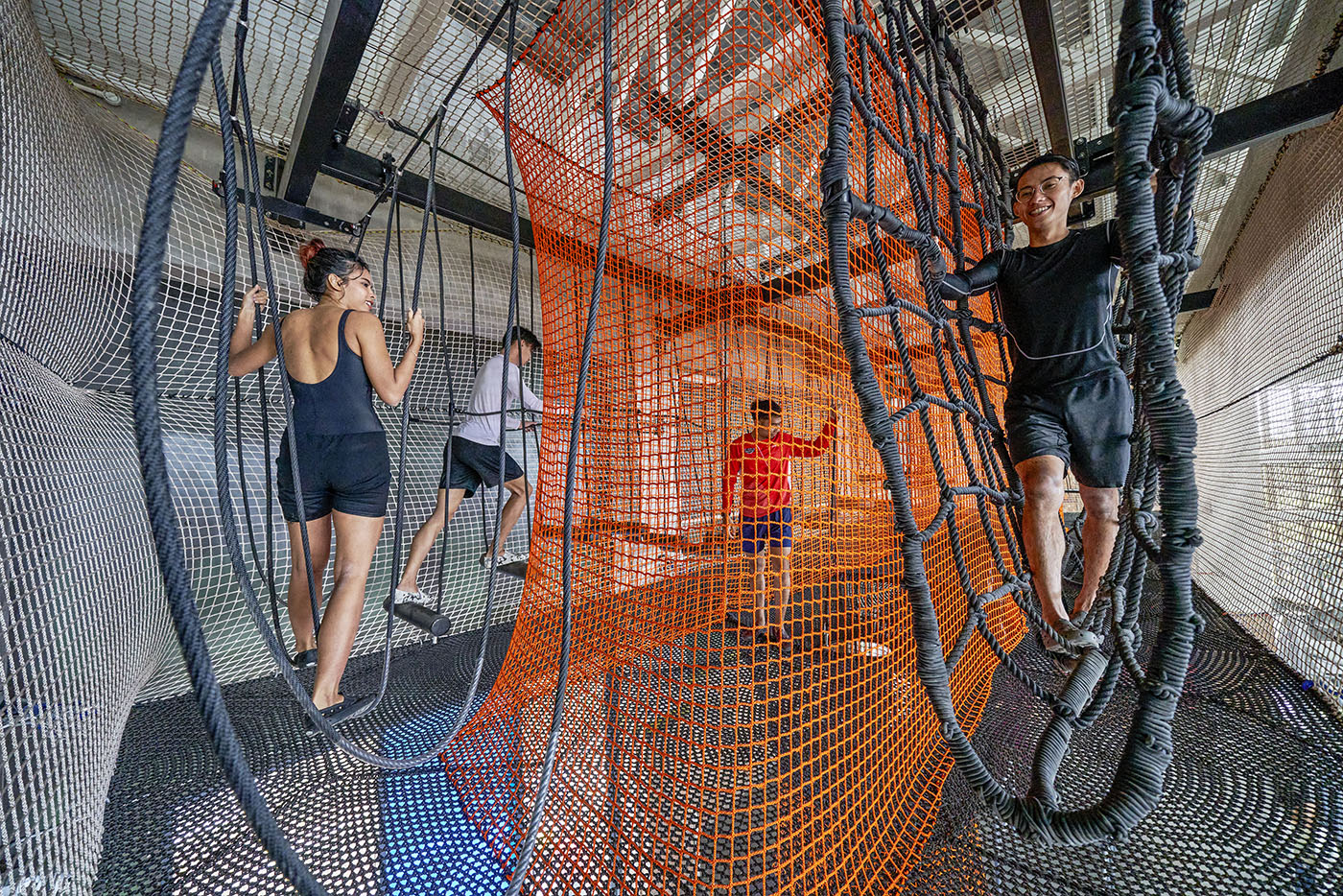 Aqua Adventure has both wet and dry play zones, and Scramble Net is one of the latter.
Be like Spiderman as you clamber up a tunnel into a giant webbed enclosure, or summon your Black Widow-like stealth skills and tiptoe across a tyre bridge. Complete the round of seven obstacles, navigating past Bosun's Loops and trusting your balance at Passage of Fear, and you're assured of a victory your heroes will be proud of. The net obstacle arena is also great with friends as everyone gets to discover their strengths and weaknesses, and helping each other overcome their toughest challenge is frankly what being a superhero team is all about.  
CHALLENGE YOURSELF AND HELP YOUR BUDDIES ACROSS THE WET OBSTACLE COURSE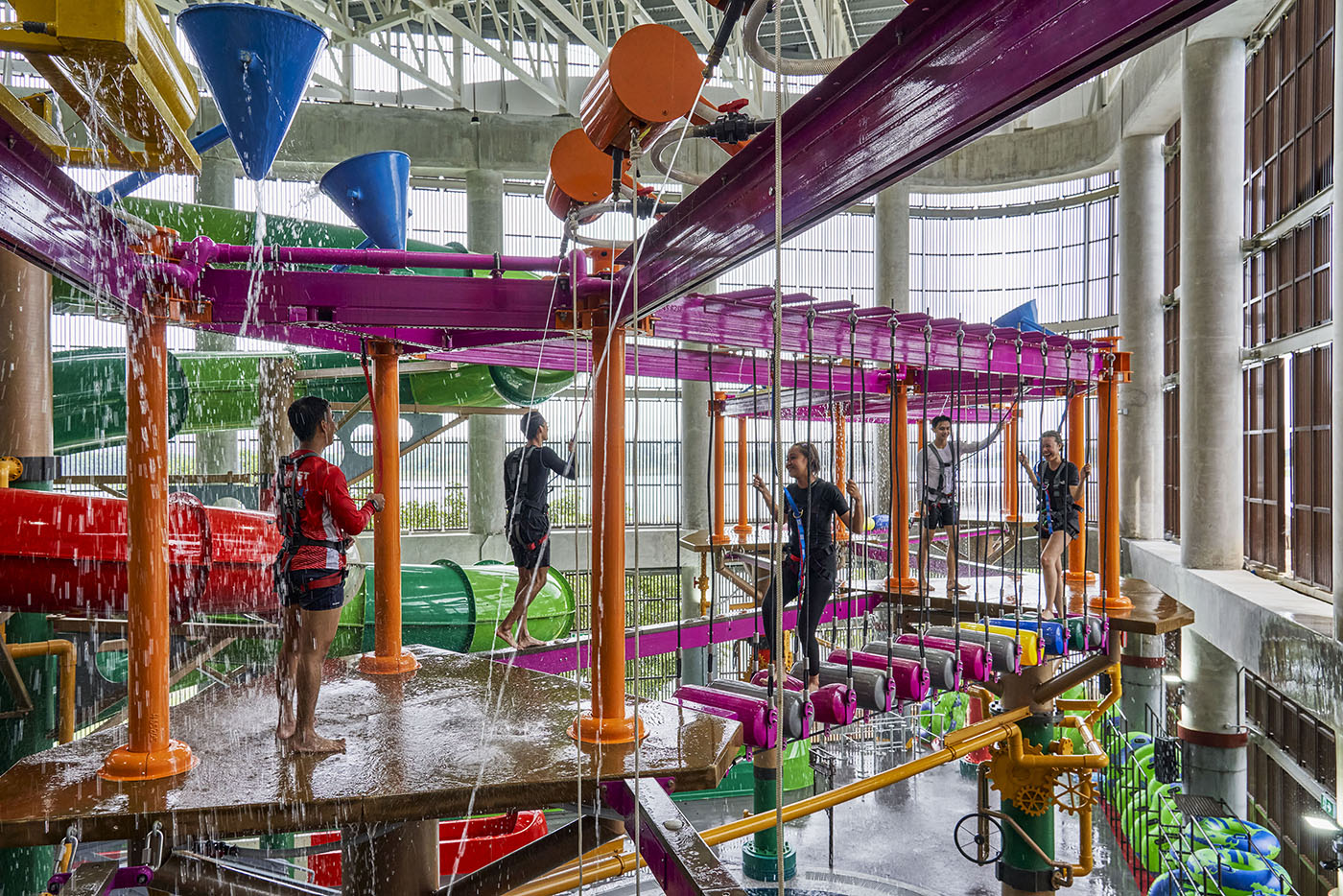 Located above the laze pool, the Aquatic Challenge Rope Course offers seven engaging play scenarios, and players are encouraged to help each other conquer the obstacles. Whether it's balancing yourself as you walk across narrow beams or keeping stable as you make your way over hanging steps, having your friends cheer you on is always a memorable experience.
Safety is always a priority so players will be clipped into a full-body harness, and selected elements are cushioned to protect incidental bumps. The only thing you'll have to worry about is conquering that illusion of height, and the periodic splashes from water buckets that fiendishly tries to throw you off as you make your way through the course. We never said it was easy!
FLOAT AND CHILL AT THE LAZE POOL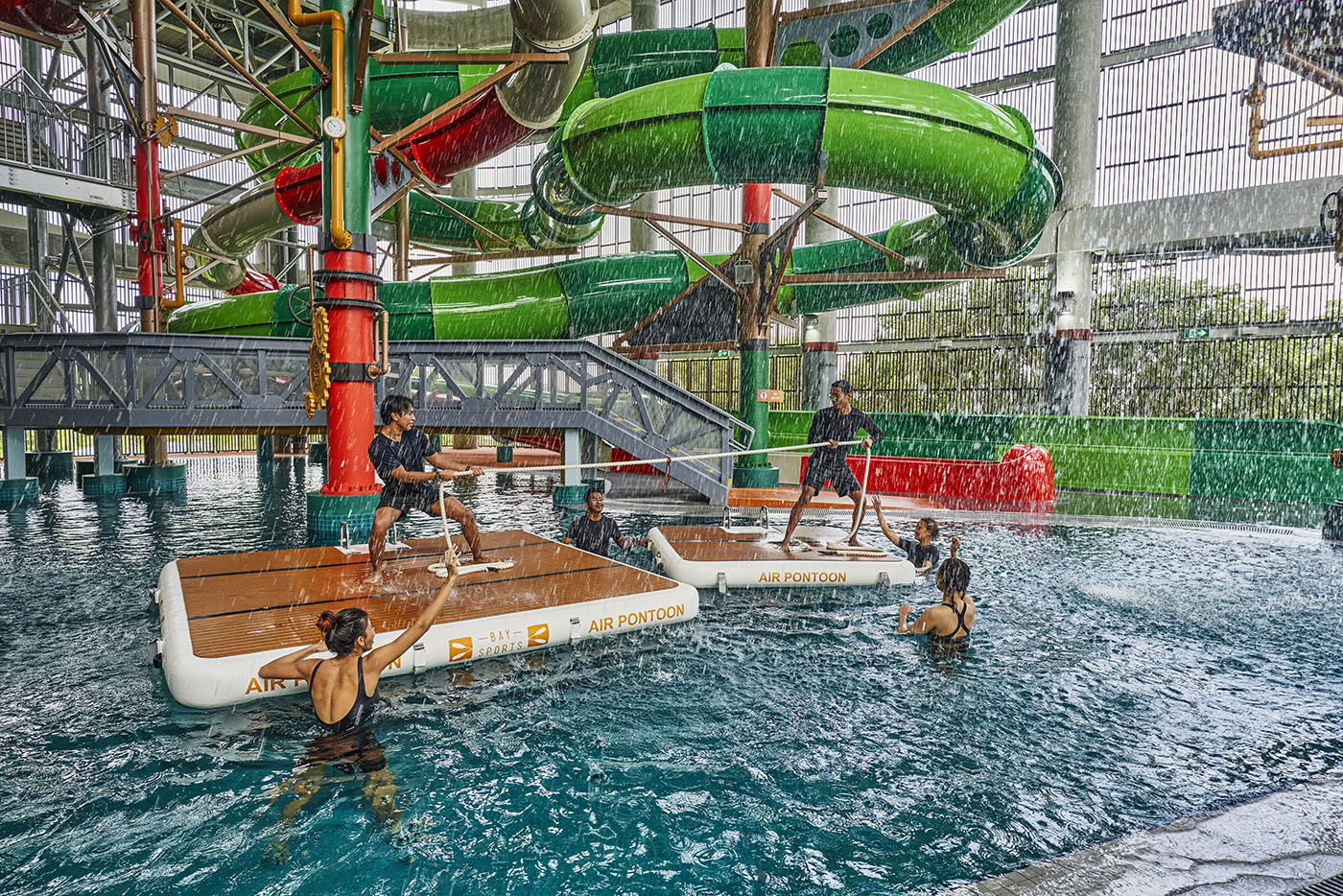 The Laze Pool offers an escape for anyone who wants to take things down a notch.
Whether you just want to wade in and soak in the cool waters or opt for an idyllic paddle, the large pool has plenty of space to indulge in both. Best of all, it has a perfect vantage of almost all the play stations at Aqua Adventure. Pro tip: You can learn from others as they traverse the obstacle courses above.
Look out for the special programmes arranged by the Aquatic Specialists – there are hourly games on floating pontoons open to everyone. Crank those competitive arms up for some jousting with foam noodles or tug-o-war, or even play a round of Captain's Ball with a twist on the shifting platform. If you arrange for team-bonding events here, rest assured all will go as planned in Singapore's first indoor water park venue, come rain or shine.
BEAT YOUR BUDDY AT THE CLOCKWORK TOWERS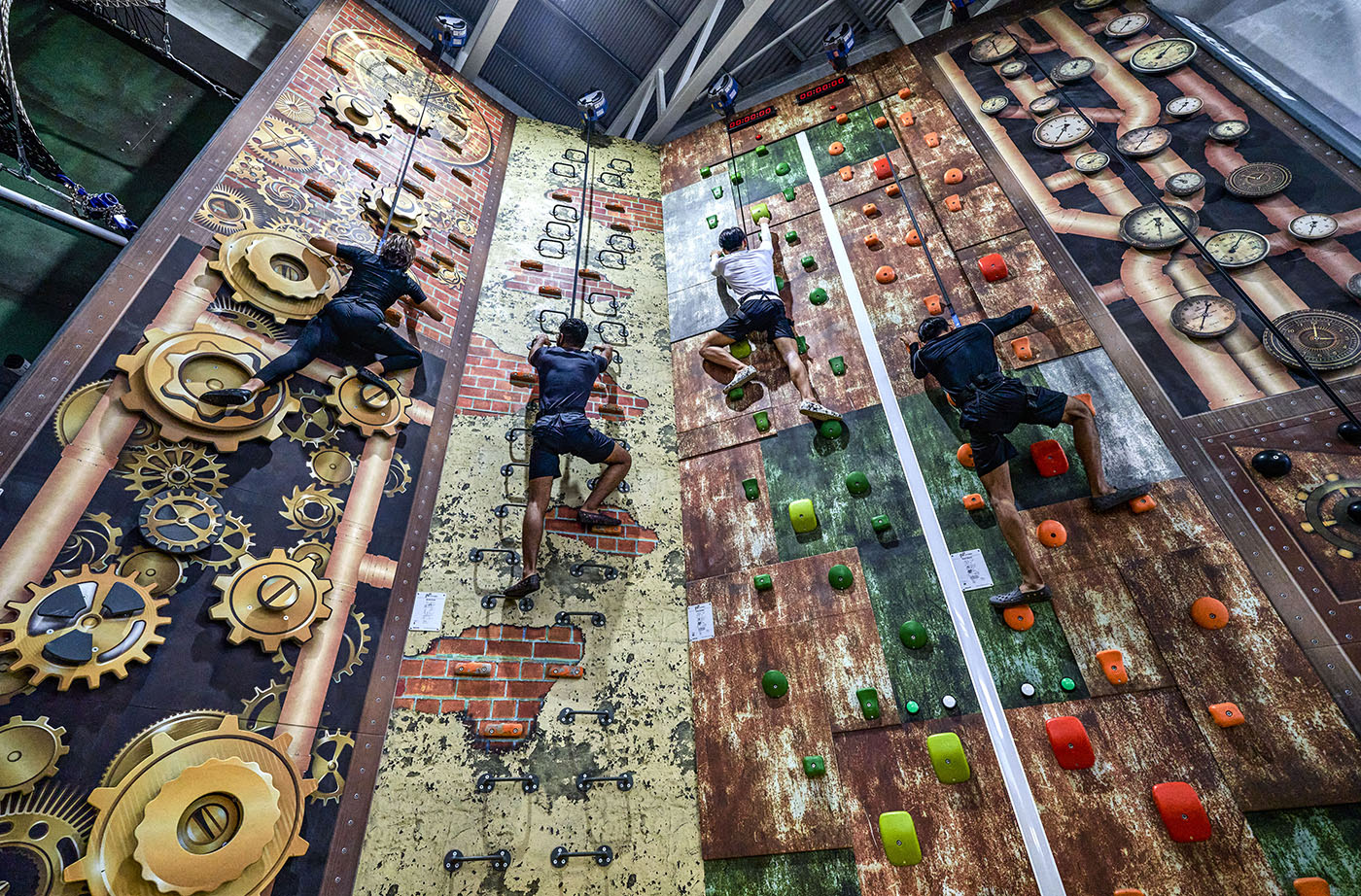 Time for a climb up some quirky walls. It might surprise you but Aqua Adventure's generous compound includes a five-lane rock climbing wall, but just like everything else at the water park, they come with their own spin.
The auto-belay systems mean you don't need to take turns clambering up the Clockwork Towers. Groups can have five participants simultaneously make their way to the top via the different routes, as they race against a timer or each other. Give the beginners the runged version on a "crumbling" wall, or attempt the traditional handholds up another two colourful paths.
But to really understand the name, challenge yourself with the two thematic lanes featuring clock faces and clock gears. It'll give even the most seasoned climbers a thrill with its unconventional grips, and even includes surprise interactive elements that will require smart manoeuvres.
If you work up a sweat, it's good to know that the pool's just nearby for a refreshing way to cool off.
Jump right into some splashing fun at Aqua Adventure at HomeTeamNS Bedok Reservoir, open for bookings from 2 June 2023.
Like our stories? Subscribe to our Frontline Digital newsletters now! Simply download the HomeTeamNS Mobile App and update your communication preference to 'Receive Digital Frontline Magazine', through the App Settings.