Here are dishes easy enough for guys who can't really cook to whip them up for the special ladies in their lives!
Ingredients
• 2 tsp olive oil
• ½ tsp shallots
• 4 tsp risotto rice
• 400ml vegetable stock
• 3 tsp pumpkin puree
• Salt and pepper
• 30g unsalted butter
• 20g parmesan
• ½ tsp parsley
• Garnishes: 50g goat cheese, black olive powder and herbs
Directions
1. Heat oil. Add onions. Saute slowly for around 3min until softened.
2. Add rice. Saute until rice is shiny.
3. Stirring gently and continuously, add stock in small batches over 10min or until softened.
4. Add pumpkin puree. Continue stirring for about 5min.
5. Remove from heat. Season with salt and pepper, then butter, parmesan and parsley.
6. Garnish and serve.
Pumpkin Risotto
Recipe by Chef Janne A Ollikainen,
Executive Chef of L'Apéritif, Winestone, Fudebar and Food Exchange, dining outlets at Novotel Singapore on Stevens and Mercure Singapore on Stevens.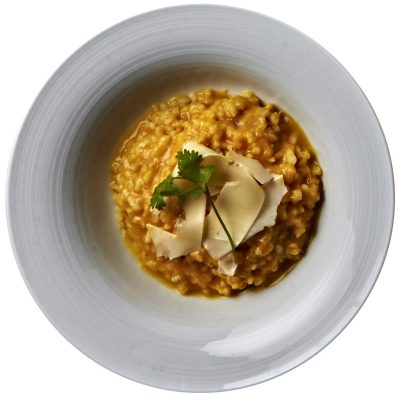 Seafood Aglio Olio
Recipe by Executive Chef Nazrie bin Jaafar
I am…, a European-influenced halal Western cafe. Outlets are at HomeTeamNS Tampines and Bukit Batok clubhouses.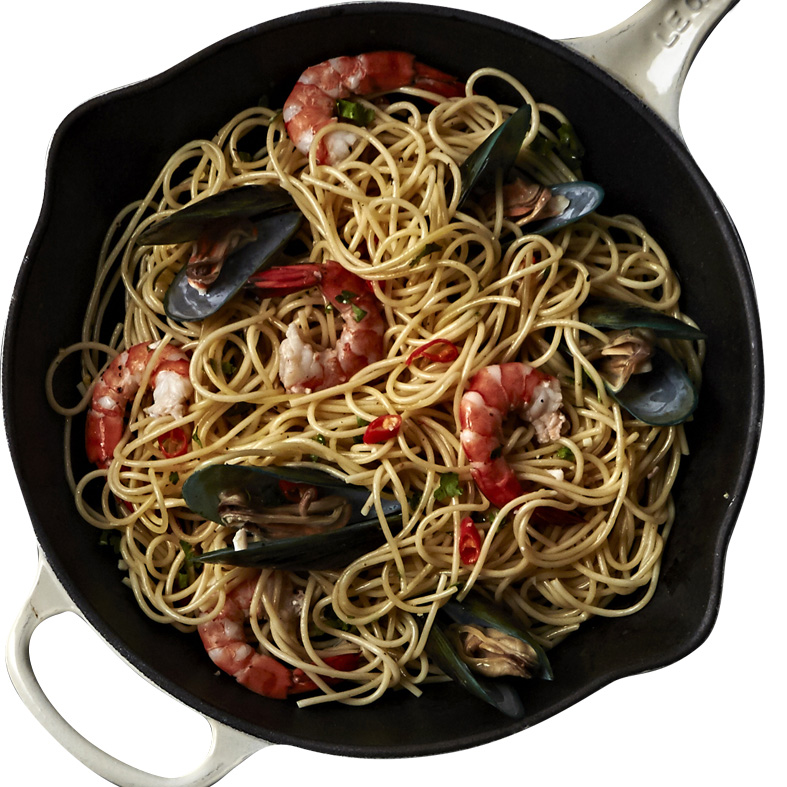 Ingredients
• 320g spaghetti
• 2 tbsp olive oil
• 2 tbsp chopped garlic
• 2 red chilli padi, sliced
• Seafood (prawns, mussel and squid)
• Salt and freshly ground black pepper to taste
• 1 tsp parmesan
• 1 tsp fresh chopped Italian parsley
Directions
1. Cook pasta following packet directions.
2. Drain, reserving ¼ cup of liquid.
3. Heat oil over medium low. Cook garlic and chilli padi for 1-2min or until fragrant.
4. Add seafood and stir-fry until well cooked.
5. Add spaghetti, ¼ cup reserved cooking liquid, salt and pepper.
6. Toss for 1-2min or until the ingredients combine and are heated through.
7. Serve sprinkled with parmesan and parsley.
Ingredients
• 3 red and 3 yellow peppers, cut into strips
• 2 onions, cut into strips
• Fresh chicken or tofu cubes (optional)
• 50ml extra virgin olive oil
• 1 tbsp minced garlic
• 1 flat tsp salt
Directions
1. Preheat oven to 200°C.
2. Place vegetables (and chicken/tofu if desired) in a tray and bake for 6min at 300°C.
3. Remove from oven and drain.
4. Combine olive oil with garlic and salt in a bowl, then mix with vegetables.
5. Bake for 6min at 300°C.
6. Mix again and bake for another 6min. Serve with bread/salad.
Middle Eastern Roasted Vegetables
Recipe by Chef/Owner Aviv Zafrir 
Pita & Olives, a Middle Eastern bistro. The outlet is at Pasarbella@Suntec City, North Wing, Suntec City Tower 3.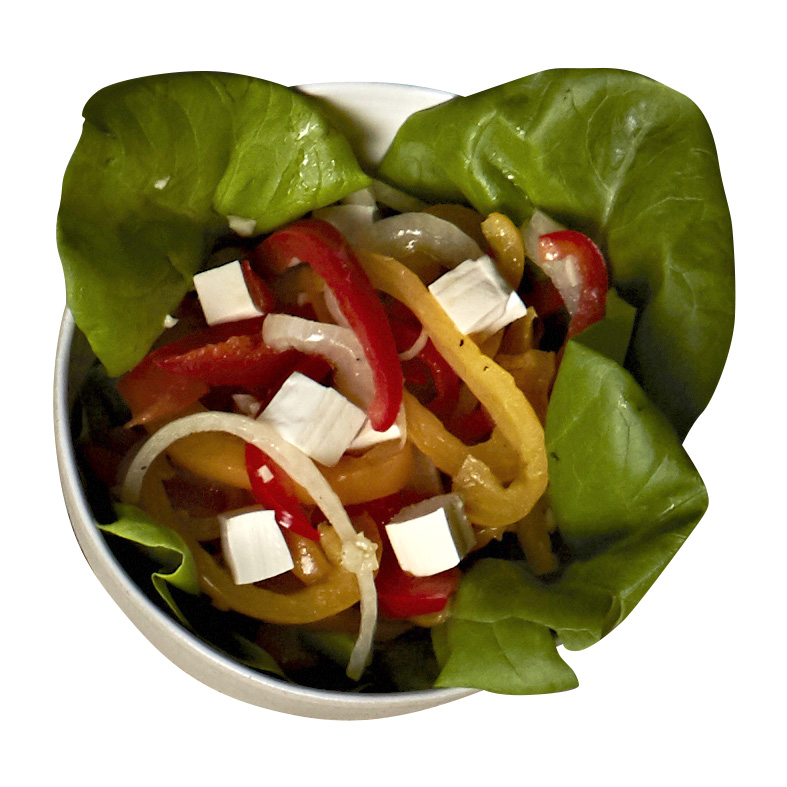 Cooking someone a meal expresses affection and appreciation like nothing else can. As we commemorate International Women's Day on 8 March, we're sure your grandmother/mother/sister/girlfriend/wife will love such a gesture from you.
Tag us on our social media (Facebook or Instagram) if you tried making any of these dishes!
Other articles that you might like: