Frontline salutes the best-performing Division, Fire Station and NS Units for their wins at Best Unit Awards 2020.
BEST FIRE STATION AWARD
Banyan Fire Station
"It's an honour and privilege to receive this award on behalf of the unit. The credit goes to all the servicemen of Banyan Fire Station for their hard work, dedication and commitment."
MAJ Tan Boon Siong
Commander, Banyan Fire Station
BEST RESCUE BATTALION AWARD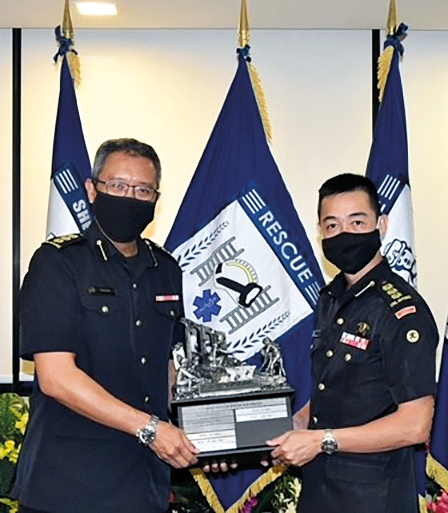 21 (B) RBn
"Congratulations to the men of 21 (B) Rescue Battalion (RBn) for achieving yet another Best Rescue Battalion Award. I am honoured and humbled — this award is the result of pure dedication, contribution, commitment and teamwork of every man in the Battalion for giving their very best during in-camp training (ICT) in 2019. Like any other Battalion, we face challenges during ICT. But these challenges are met by many responsible individuals who took ownership in ensuring we overcome them. It is never easy, but we have done it. My personal thanks go to my Deputy Battalion commander LTC (NS) Jahan De Silva, Hd Ops MAJ (NS) Shah Indra, Hd Medical LTC (NS) Mohd Faizal, Hd Pers MAJ (NS) Yusfiansha, Hd OSC MAJ (NS) Rozaiman, Hd lnfoComms MAJ (NS) Charles Lim, and both my Coy commanders — MAJ (NS) Fazrul and MAJ (NS) Alexander Boey. Thank you!"
COL (NS) Mohamed Razaleigh
Commander, 21 (B) RBn
BEST MEDICAL UNIT AWARD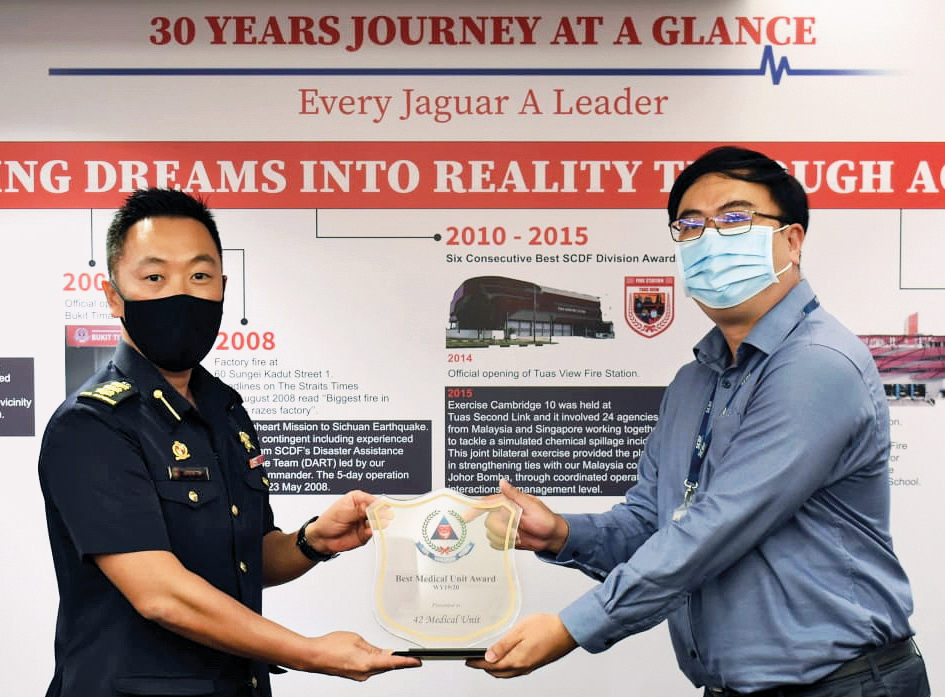 42 MU

"I am happy for the men of 42 Medical Unit (MU). Thank you SCDF for acknowledging the hard work the men have put in. Their willingness to embrace and adapt to new training methods and equipment is laudable and deserving of this recognition."
MAJ (NS) Ernie Ho
Commander, 42 MU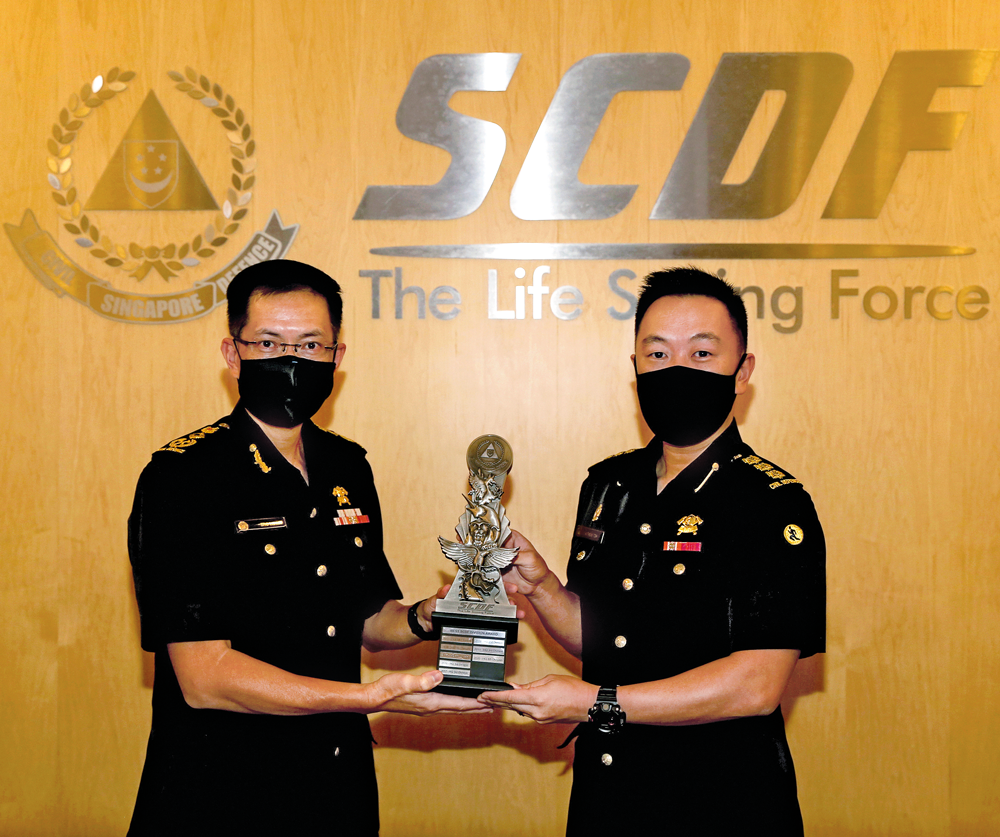 4th SCDF Division

"This achievement is only possible because of the collective leadership, grit, belief and hard work by all members of the Division (affectionately known as Jaguars). Winning the Best SCDF Division Award alongside the three Best NS Unit Awards in 2020 has added significance, as we commemorated our Division's 30th Anniversary or JAGUAR30 (1990-2020), and amid this extraordinary period. We will continue to strive for excellence in all that we do towards keeping Singapore safe and secure."
COL Anthony Toh
Commander, 4th SCDF Division and Senior DD Operations

BEST PUBLIC SHELTER & RESILIENCE UNIT AWARD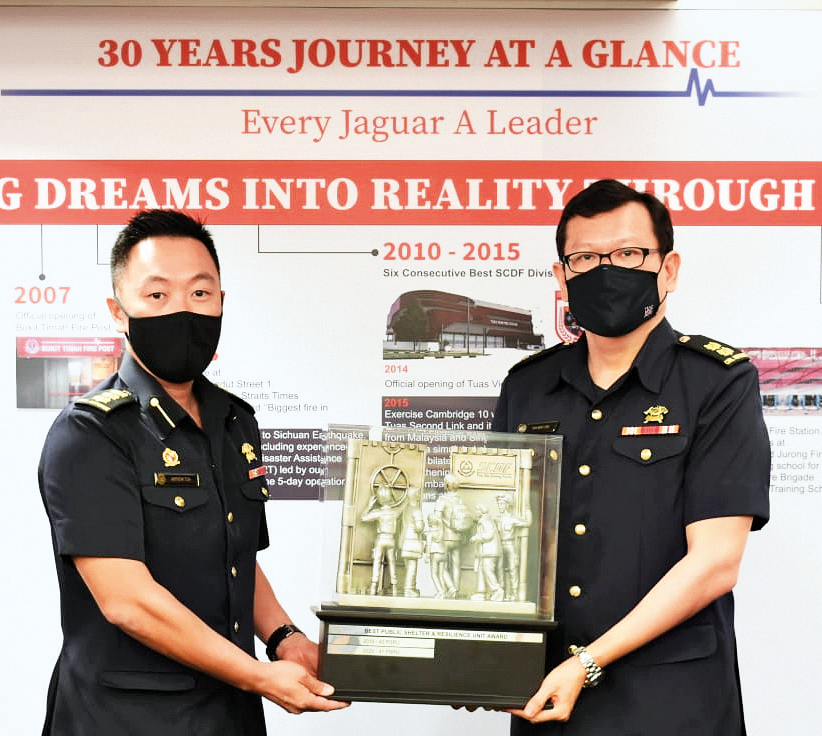 41 PSRU
"The Best Public Shelter & Resilience Unit (PSRU) Award is testament of the men's exemplary dedication and strive for excellence in whatever they do. As the Unit Commander, I am extremely proud of this achievement and hope it will spur the rest to perform better."
LTC (NS) Jason Tan
Commander, 41 PSRU

MOVING SHOWCASE



Traditionally, the Best Unit Awards presentation is witnessed at the SCDF Parade. However, last year, due to the restrictions in hosting a full-scale ceremony, the event was decentralised at the unit level and presented to the respective Commanders of the winning units.
Other posts you might like:
[box_1 query_per_page="2″ query_manual_ids="11314, 11221″ meta_category="" meta_date="" meta_views="" meta_author="" meta_comment="" load_more_btn=""]