Lazarus Island, once a penal colony, is now home to Singapore's first tiny house accommodation – as well as a host of fun activities on land and at sea.
TEXT: MELODY TAN
PHOTOS: SHUTTERSTOCK
Lazarus Island has long lain in the shadow of its more developed sibling, St John's Island. But now it's time for this hidden gem to shine among Singapore's Southern Islands, and welcome visitors seeking sun, sand, and surf in an unspoiled setting.
Earlier this year, Sentosa Development Corporation (SDC) announced that it was launching sustainable, 'light-touch' visitor activities on Lazarus Island, starting with Tiny Away Escape @ Lazarus Island, a uniquely small-scale accommodation operated by Singaporean tiny house ecotourism provider Big Tiny. More amenities and activities will soon follow, according to SDC.
No longer a well-kept secret among beachgoers and nature enthusiasts, Lazarus Island is ready to take its place in the sun. But how well do you know the island's history, and what the future holds for it?
Before the arrival of Sir Stamford Raffles, the Southern Islands of Singapore – and Singapore itself – were inhabited by the Orang Laut, or people of the sea. They called Lazarus Island Pulau Sekijang Kechil while the larger St John Island was termed Pulau Sekijang Besar.  
When the British arrived, the islands became collectively known as the St John's Islands. It is thought that a corruption or mishearing of 'Sekijang' by the British resulted in the name St John, while the isolation hospital for contagious diseases built on Lazarus Island – termed a lazarette – gave the latter its name.
Another version of how both islands got their names states that two missionaries – named St John and Lazarus – on board Raffles' ship were asked to disembark on the islands to look for water. St John was unable to find any water on the island he stopped at, while Lazarus found a spring.
THE DIFFERENT INCARNATIONS OF LAZARUS ISLAND
In 1873, a cholera outbreak on the mainland killed 357 people, which led to the building of quarantine facilities on St John's Island where migrants – especially those from China, who formed the majority – could be observed for signs of contagious diseases such as smallpox or cholera.
During the same period, Lazarus Island was home to several inmate confinement sheds that were later abandoned when a prisoner escaped. The sheds burnt down in 1902, leaving the island to function as a graveyard for quarantined migrants who passed away.
By the 1960s, Lazarus Island transformed yet again – this time into a radar base for civil aviation. A decade later, it was slated for recreational uses under SDC management.
ACTIVITIES ON LAND AND SEA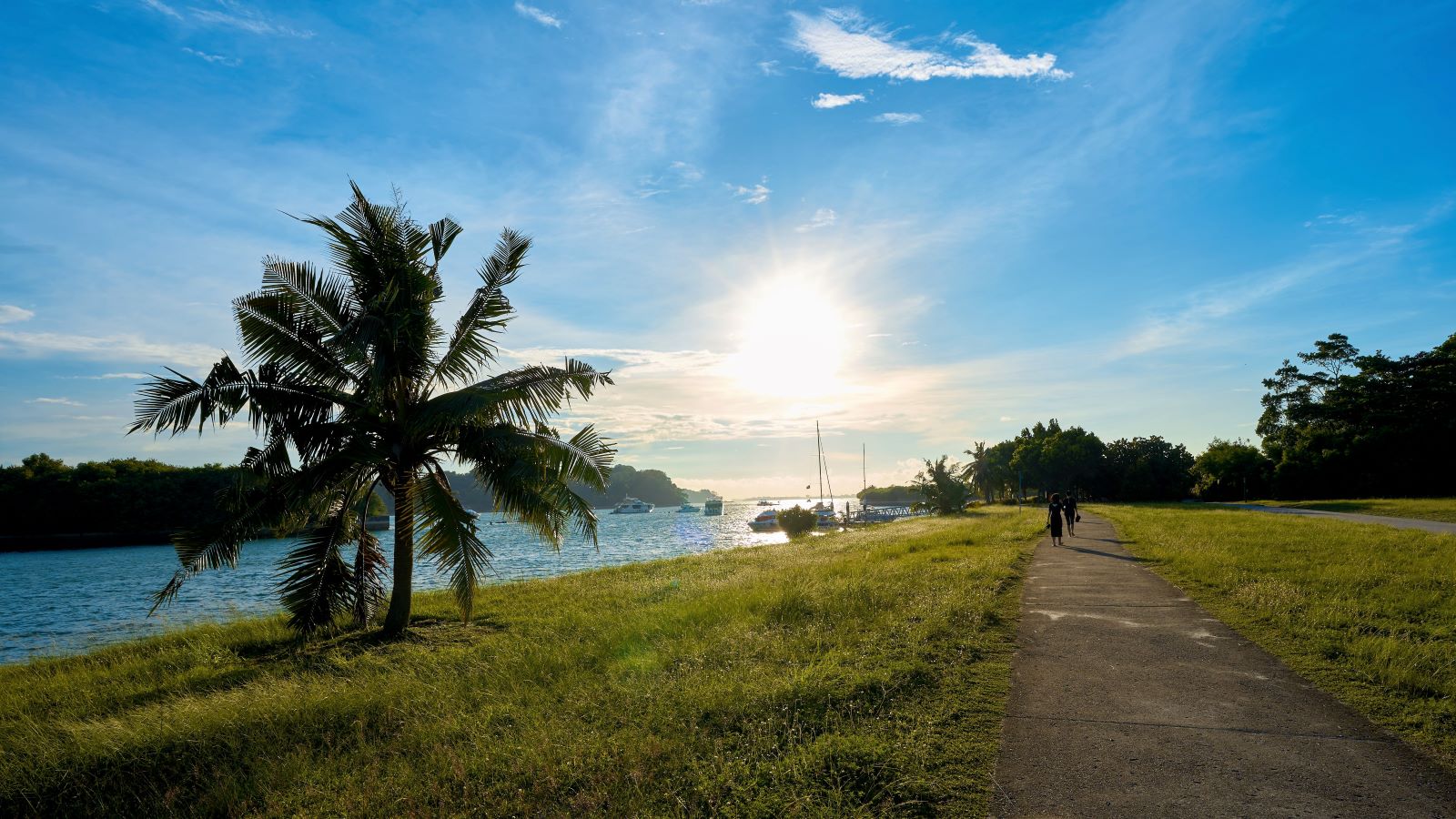 Lazarus Island is currently a popular choice for families and individuals looking to reconnect with nature.
A short ferry ride (20 minutes from Marina South Pier, or 15 minutes from Sentosa Cove) followed by a stroll across the causeway between St John's and Lazarus Islands will bring you to the latter's beach, which some say is the best in Singapore. Its wide sandy expanses are perfect for activities like sunbathing, kite flying, and a game of beach volleyball. A row of trees also provide much-needed shade for picnics (be sure to bring enough food, drinks, and other necessities, as there are no shops yet on Lazarus Island).
Adventurous explorers will want to rent a bicycle at the Gogreen Southern Island Bicycle Rental to explore the island on two wheels, while those who prefer to explore the Lazarus Island lagoon can choose between kayaking and stand-up paddling.
As the island boasts a healthy reef eco-system, snorkelling and catch-and-release fishing are also fun options. If you plan to swim, do watch out for strong currents around the island's coastline.
AN ECO-FRIENDLY DESTINATION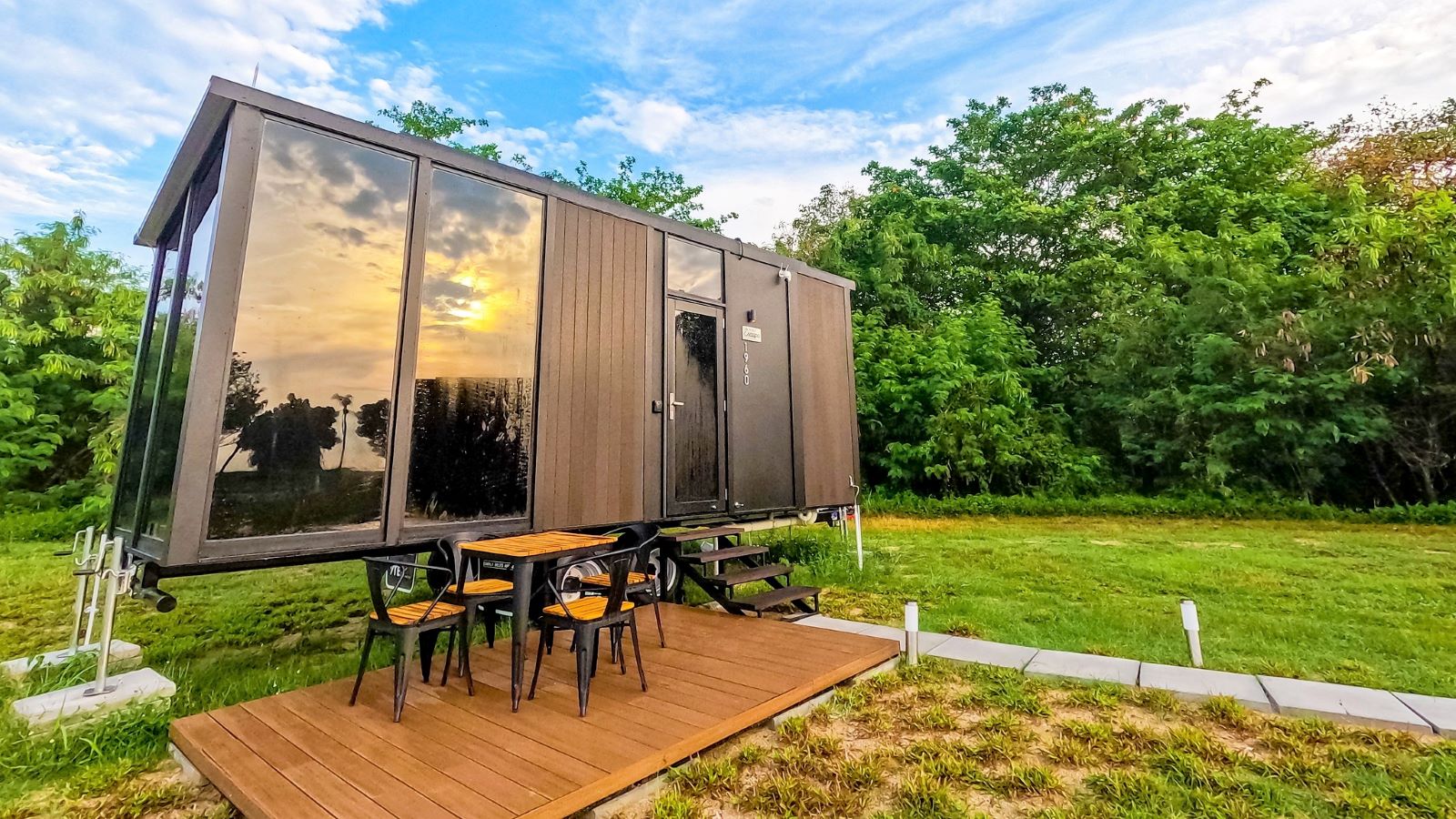 In the near future, more non-motorised water activities will be launched alongside other attractions such as overnight glamping experiences. But in the meantime, book yourself a little vacation at Tiny Away Escape @ Lazarus Island.
The five Tiny House units – which measure between 150 to 170 square feet – are decorated according to themes, such as unit 1900, which has a colonial black and white aesthetic, or unit 1960, which is inspired by industrial design. And yes – for those wondering, air-conditioning and wi-fi are included.
More importantly, they are powered by solar energy and feature eco-friendly features such as biodegradable shampoo and body wash, as well as high-tech food waste recycling systems, so that visitors leave almost nothing but footprints on the beach when they depart.
If you're taking the kids on a green vacation, why not let them get involved with a trash-picking activity? Organisations like Our Singapore Reefs often hold beach clean-up activities at Lazarus Island, but if you want to start your own clean-up, check out these useful guidelines from the Public Hygiene Council. Keeping Lazarus Island clean will ensure it remains a beautiful natural retreat for generations to come.
HAVE A CLEAN AND GREEN EXPERIENCE
Planning to head south to Lazarus Island over the weekend? Here are some tips on how to be an environmentally conscious visitor.
TIP 1: BYOB
In this case, the 'B' stands for bag, as in, bring your own bag for trash so that you can take your rubbish with you when you leave. Even better, bring several bags so that you can divide recyclables from waste as well.
TIP 2: DON'T FEED THE ANIMALS
If you're disposing food waste, tie your bag securely and keep it out of sight. In addition, be sure not to leave even a stray food wrapper behind. The last thing you want is for the island's resident macaques to develop a junk food habit – and to begin accosting visitors for more.
TIP 3: LEAVE NATURE IN ITS PLACE
Similarly, teach your children not to touch wildlife. Creatures living in marine environments like the cone snail or jellyfish can deliver a nasty sting. To learn how to react when you spot common animals such as monitor lizards and snakes, check out this handy guide from the National Parks Board. 
TIP 4: KEEP THE NOISE DOWN
A beach day with your favourite tunes blasting out from a portable speaker is undeniably fun, but when the volume is too loud, nature pays the price. With noise pollution, many animals cannot rely on their hearing to hunt prey or escape predators. It also affects the visitor experience and mental wellness of other people looking for some peace and quiet in nature.
TIP 5: CAPTURE MEMORIES, NOT SOUVENIRS
Bringing home shells from the beach is also highly discouraged, as it disrupts the island's fragile ecosystem. Besides being used as shelters by hermit crabs or even fish, shells play host to algae, sea grass and microorganisms, while birds use them in their nests. Instead of taking home a shell for memory's sake, take a picture instead (the best part: you can take as many photos as you want).
For more ideas on eco-friendly activities that are fun for the whole family, click here.
Like our stories? Subscribe to our Frontline Digital newsletters now! Simply download the HomeTeamNS Mobile App, and update your communication preference to 'Receive Digital Frontline Magazine', through the App Settings.