Three generations of SCDF NSmen, including one serving his full-time National Service, discuss what drives them to excel in the Force.
The harrowing images of Ukrainians crouching for safety and shelter in Kyiv's subway stations drives home the importance of the Public Shelter and Resilience Unit within the Singapore Civil Defence Force (SCDF). The commander of this Operationally Ready National Service Unit is LTC (NS) Lee Boon Keat, who was named NSman of the Year in 2019.
LTC (NS) Lee's team from the 2nd SCDF Division oversees the use of buildings like MRT stations to serve as public shelters in a crisis. Their work focuses on the eastern fringes of our city state, in areas such as Bedok, Mountbatten and Dakota. We ensure that the shelters provide sustainable protection for shelterees over 2 weeks. The shelters are self-sufficient, with air filtration, ventilation, and even water supply," he explained. Getting our humble MRT stations up to the task involved numerous learnings from countries such as Switzerland and United Kingdom, which have such shelters.
LTC (NS) Lee is the regional managing director for a digital experience platform, a role he has held for five years. That, together with his family commitments (he is married with four children), might make it seem like there's little time for his NS obligations.
The 44-year-old is however determined to balance all three roles. "As a leader at work, home and in my NS unit, I want to lead by example," he tells Frontline. He is especially committed to NS, because as he puts it: "Being called to serve Singapore is a privilege. It's one thing to be competing in the rat race for your own benefit, but another to give your time and energy to the greater cause of protecting your country."
Reflecting on his two decades of service, LTC (NS) Lee naturally has several stories to share. One that he specifically remembers drives home the important role that each and every personnel in the SCDF plays, a message he would like to share in conjunction with NS55.
"It involved a rescue operation when I was attached to Changi Fire Station," he said. "A woman was standing precariously close to the top floor of the airport carpark which is a few storeys above ground." As a Rota Commander, he was responsible for ensuring that the woman was safely rescued. With the aid of the entire team, the rescue operation went off without a hitch, but his Section Commander suffered a cut to his face. "It goes to show how dangerous such operations can be and how determined our men are when they are deployed to assist those in need."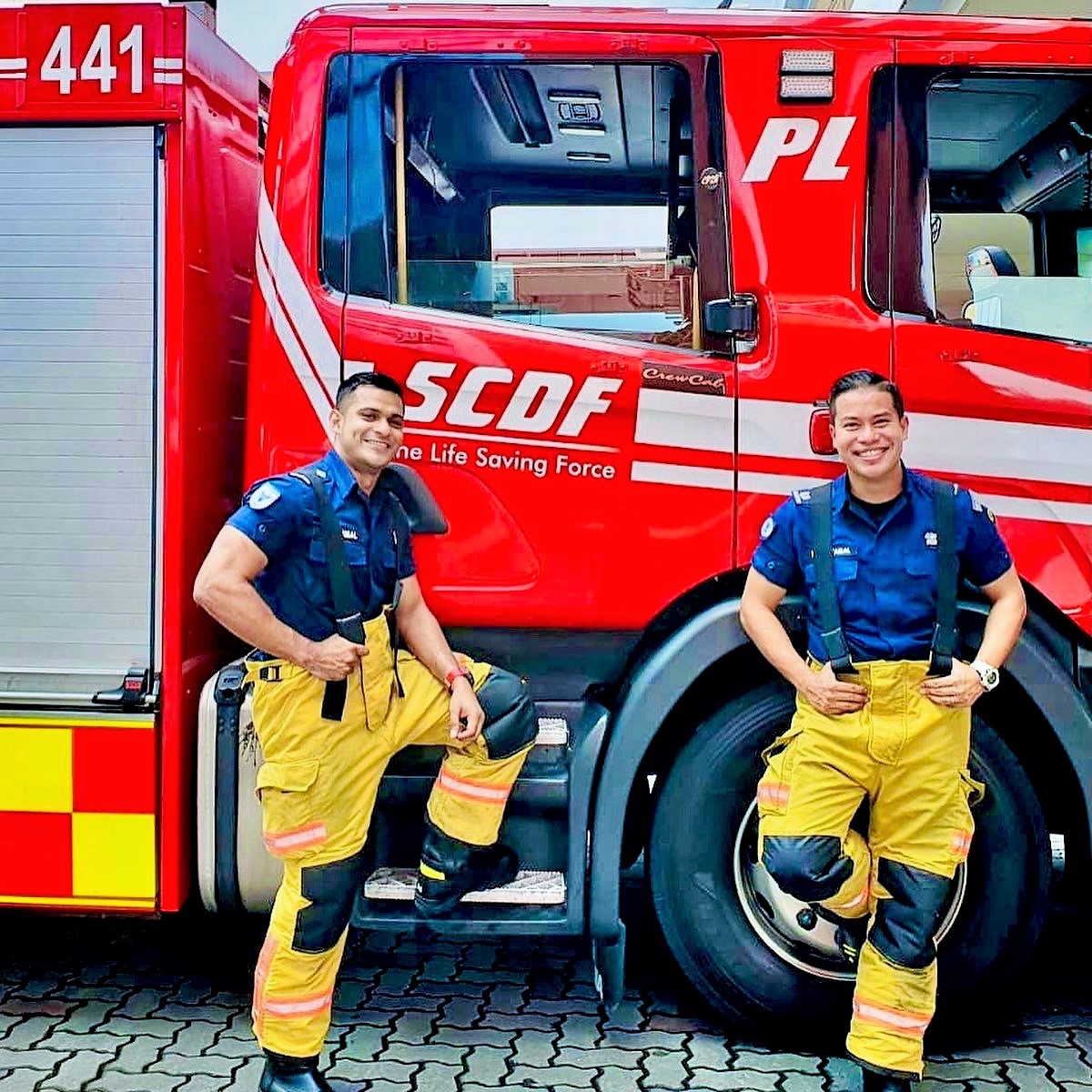 It may have been more than 15 years ago, but CPT (NS) Mohammed Iqbal Bin Abdul Halil still recalls the profound impact that his commander had on him. "COL Wesley Lim was the Commander of the fire station that I was posted to then and he inspired me with his leadership style," shared CPT (NS) Iqbal, 36. "He had a very distinctive style of running the fire station and he respected all of us."
CPT (NS) Iqbal tries to emulate that style as the current Deputy NS Commander of Bukit Batok Fire Station. "He taught me to be a good leader and I applied what I learnt in my role," he explained. Like COL Lim, he strives to connect with all his men on a personal level to understand their challenges. "I constantly ask them about their wellbeing and how their development can be improved." This has led to several improvements. For example, some had found it difficult to remember all the firefighting and hazardous materials procedures before their in-camp training. To tackle this, CPT (NS) Iqbal and his team instituted a learning day, where personnel can be brought up to speed on these procedures before their deployment. "It is very meaningful and enriching to be a part of this process," reflected CPT (NS) Iqbal, who is an executive at Resorts World Sentosa.
He is also passionate about fitness and regularly rallies his men to complete and do well for their IPPT tests. As a working adult himself, he understands the challenge of maintaining one's fitness amid other responsibilities. He puts this experience to good use by devising programmes that champion fitness for NSmen.
His fondness for problem-solving is one reason that he has decided to take up an NS leadership position. "I enjoy being in this leadership role because I get to use my experience to shape the way we approach NS. As an NSman myself, I know how my daily life is affected by call-ups and IPPT, but I can provide valuable feedback to the unit. In some ways, I am like a bridge between the Force and my NSmen. I want to make the experience better for my NSmen so that they enjoy coming back and are reminded of our purpose in doing so."
That purpose, he says, is to save lives. As a firefighter, CPT (NS) Iqbal has been constantly at the frontline and responding to many emergency calls. But one operation that stands out in his mind was: Being called to put out a blaze in Bukit Panjang in 2011. "We were trying to rescue 10 people from a corner unit of the block. I had to work with teams from different fire stations to help bring those people to safety. All our planning and training over the years went towards saving those people and I'm proud we did just that."
FINDING MEANING IN HIS DUTY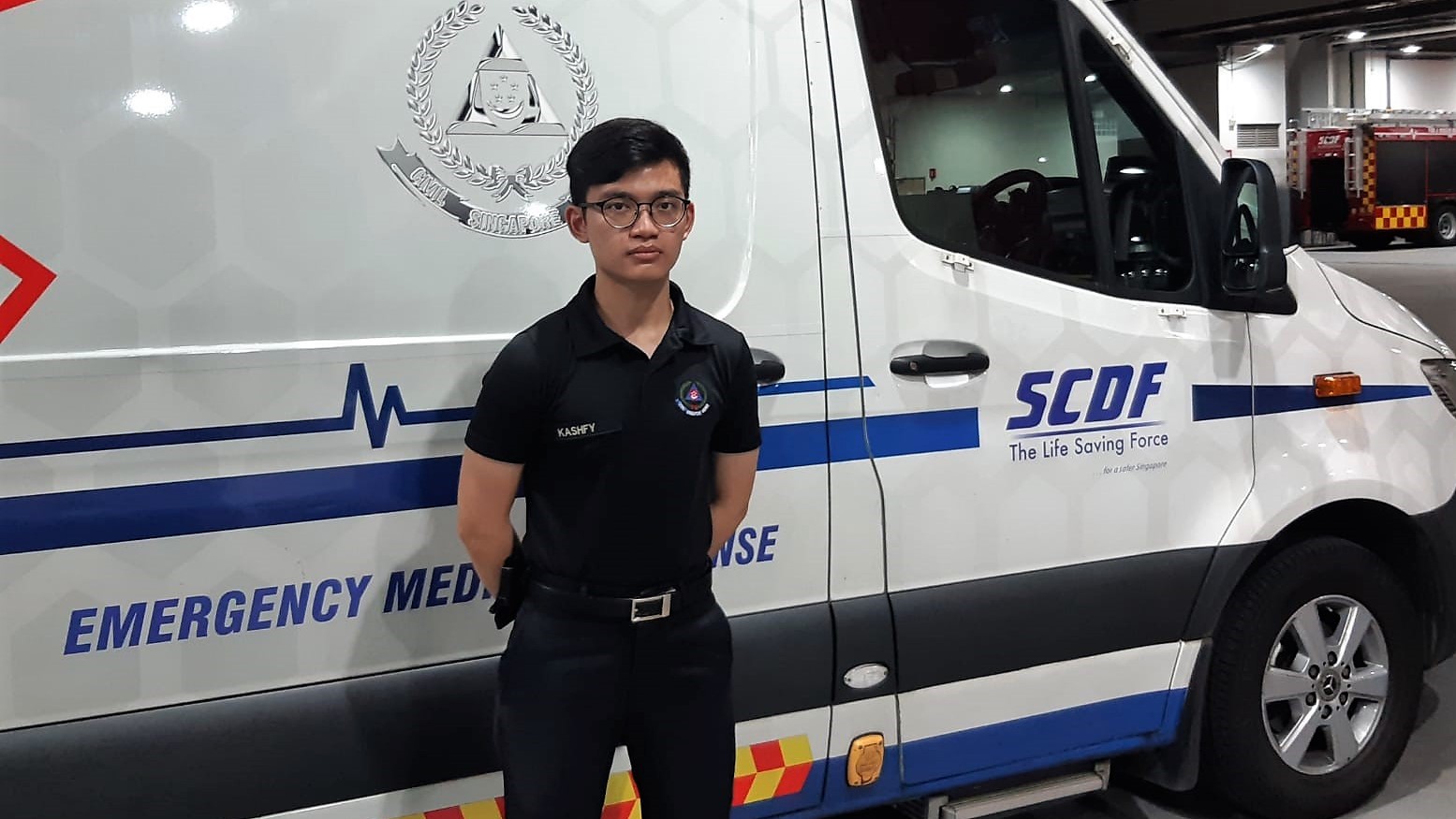 Before enlisting in 2020, CPL (NSF) Kashfy Ilxilim Bin Zulkarna'in had a perception that NS would be a waste of two years of his youth. But as he approaches his Operationally Ready Date (ORD) this November, his perception of National Service has changed dramatically. "I've come to appreciate the role we all play in defending and safe-guarding Singapore," the 20-year-old remarked.
That realisation was sparked by his vocation as an ambulance medic at Bishan Fire Station, where he was posted to last year. For up to 12 hours a day, CPL Kashfy would be responding to emergency calls. These shifts begin with performing a full check of the ambulance and its equipment to ensure that the crew  is ready to attend to all emergencies happening that day. These emergencies will range from motor accidents to cases of people getting injured in Singapore's forests and nature reserves.
Witnessing these incidents was a sobering experience for CPL Kashfy, as it made him realise how important SCDF's Emergency Medical Services are. "There was one incident I'll never forget," he said. "A woman had gotten into a traffic accident and was badly injured." The crew sprang into action to save the woman and she eventually survived. "Our lifesaving training comes in handy every day. It makes such a big difference in the lives of Singaporeans and their families, who are desperately in need of help."
His team's quick thinking and nimble responses were especially useful during the height of the Covid-19 pandemic last year. CPL Kashfy's team was deployed to help out in other parts of Singapore including Pasir Ris and Jurong.
"Calls were coming in so frequently that we barely had time to take a breather. That kind of workload day in and day out can take a toll on you." Still, he adds that he is glad he was able to play such an important role during a national crisis. "It is not something I would have been able to do if I had not been serving my NS."
Now that his NS journey is coming to an end, CPL Kashfy is looking forward to his enrolment to the National University of Singapore to pursue a degree in computer engineering. There are also many years of continued service in the SCDF as an NSman. However, he is certain of one thing: "I'll be doing something meaningful to help Singaporeans.