This father, also a Citizens on Patrol volunteer shares why it's important to be a role model for his children.
TEXT: HOME TEAM VOLUNTEER NETWORK
PHOTOS: SHANKAR TARAKAD
Portrait photographer Anne Geddes said: "Any man can be a father, but it takes someone special to be a dad." On this special Father's Day feature, Mr Shankar Tarakad, a Citizens on Patrol (COP) volunteer, shares his story of being a father and a Home Team volunteer.
VOLUNTEERING TO PROTECT THE COMMUNITY
As a COP volunteer, Shankar works with a team of volunteers to keep the area around River Valley, Havelock and Lower Delta safe. They patrol in groups of four or more, ready to answer any questions raised by residents. He shared, "The goal is to allow the residents to reach out to us when we patrol while keeping a visible presence of law, and keep Singapore safe." Additionally, Mr Shankar also volunteers as a Crime Prevention Ambassador (CPA), which is also part of the Home Team Volunteer Network.
Shankar emphasised, "As a father, I believe children will learn by example when they see their parents stepping out to do something meaningful like volunteering. It allows them to see another perspective of life. This is something I truly believe in." Since young, his children have witnessed their parents volunteering in many other organisations such as the Community Paying it Forward (CPF) and Samaritans of Singapore (SOS).
Through his volunteering efforts, his children learned that there is a positive impact in helping the community.
His son, Anshul Shankar, who is currently serving his national service with the Singapore Civil Defence Force, as well as his daughter, Anusha Shankar, mentioned that their parents passionately spend their free time volunteering and share with them their voluntary work experiences. In turn, they understood the importance of giving back to the community and being involved in their neighbourhood and society.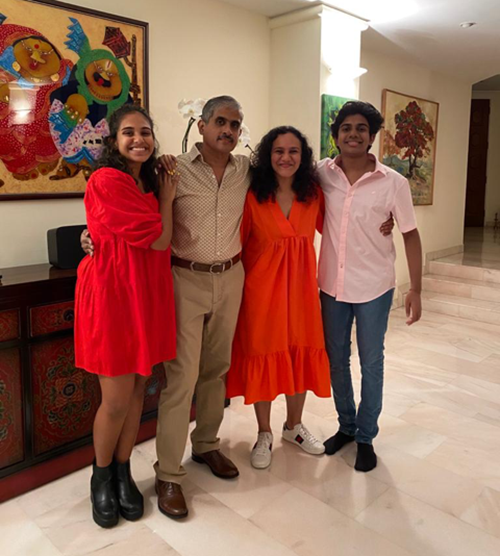 Shankar discovered by being a volunteer, it teaches him many valuable lessons in life such as:
Two-way street communication: You learn from people and you impart your knowledge to them at the same time
Widen your vision to the undiscovered: You learn more about the neighbourhood and the residents. Besides giving crime prevention advices, patrolling comes with many "perks". For example, Shankar now knows which fruit shop sells fresher and cheaper products than supermarkets. He also discovered new food stalls that he now enjoys, such as the Char Kway Teow at Zion Rd.
Fulfilment in life: Your life will feel complete and meaningful by doing things that you are passionate about and at the same time, benefitting the community.
Shankar's acts of kindness and generosity in volunteering showed us that life is more than just work and family.