Home Team's two longest-serving National Servicemen – SUPT (NS) Mohd Azman Mohd Sidek and COL (NS) Jorge Lau Hock Huat – share with us what motivated them to continue serving after their statutory age, and how their roles have changed over their decades of service.
TEXT: MELODY TAN
PHOTOS: SUPT (NS) MOHD AZMAN MOHD SIDEK & COL (NS) JORGE LAU HOCK HUAT
For COL (NS) Jorge Lau Hock Huat, 2017 was a very special year. Not only was it the 50th anniversary of National Service (NS), it was also his 50th birthday.
"It made me feel like I was born with NS," he recalled. "During NS50, I had the privilege of meeting President Tony Tan and the First Lady during the Home Team Festival at Kallang Wave."  
The double celebration heralded another milestone the following year, when COL (NS) Lau became the first NSman in the Singapore Civil Defence Force (SCDF) to have successfully extended his NS service beyond the age of 50 under the Volunteer Extension Scheme (VES).
Like COL (NS) Lau, SUPT (NS) Mohd Azman Mohd Sidek is also participating in the VES at the ripe age of 59. SUPT (NS) Azman is an SGSecure trainer who has also played an active role in HomeTeamNS, serving as the first chairman for HomeTeamNS' REAL RUN committee. Over their long period of service, both men have seen National Servicemen play more important roles over time.
CONTRIBUTING ACROSS ROLES
COL (NS) Lau's journey began in 1986, when he enlisted with the Singapore Armed Forces. After three months of basic military training, he was selected for officer cadet training with the Singapore Police Force (SPF), where he served until his Operationally Ready Date (ORD).
In the early 1990s, he was transferred to the SCDF, where he is currently Deputy Division Commander NS, 3rd SCDF Division Battalion Commander, 32B RBn Deputy Battalion Commander, 32A RBn Head Ops, 32A RBn Company Commander, and NHG Medical Company Personnel Officer, GWBn.
He has also collected a slew of awards along the way – such as the HomeTeamNS Meritorious Award (Gold) and HomeTeamNS 20 Years Long Service Award in 2021, and the Long Service Medal (Civil Defence) at the National Day Awards 2020 – and has been part of numerous committees. He has chaired the 3rd SCDF Division Tactical Forum and co-chaired the Clubhouse Development Committee (North), which oversaw the building of HomeTeamNS Khatib.
"After more than three decades of service as an NSman, I was referred to as a 'career National Serviceman'," he said. "During my NS years, I was literally everything, everywhere – participating in many of the NS50 committees, ICTs, NS unit exercises, NS dialogues, and Home Team events and activities."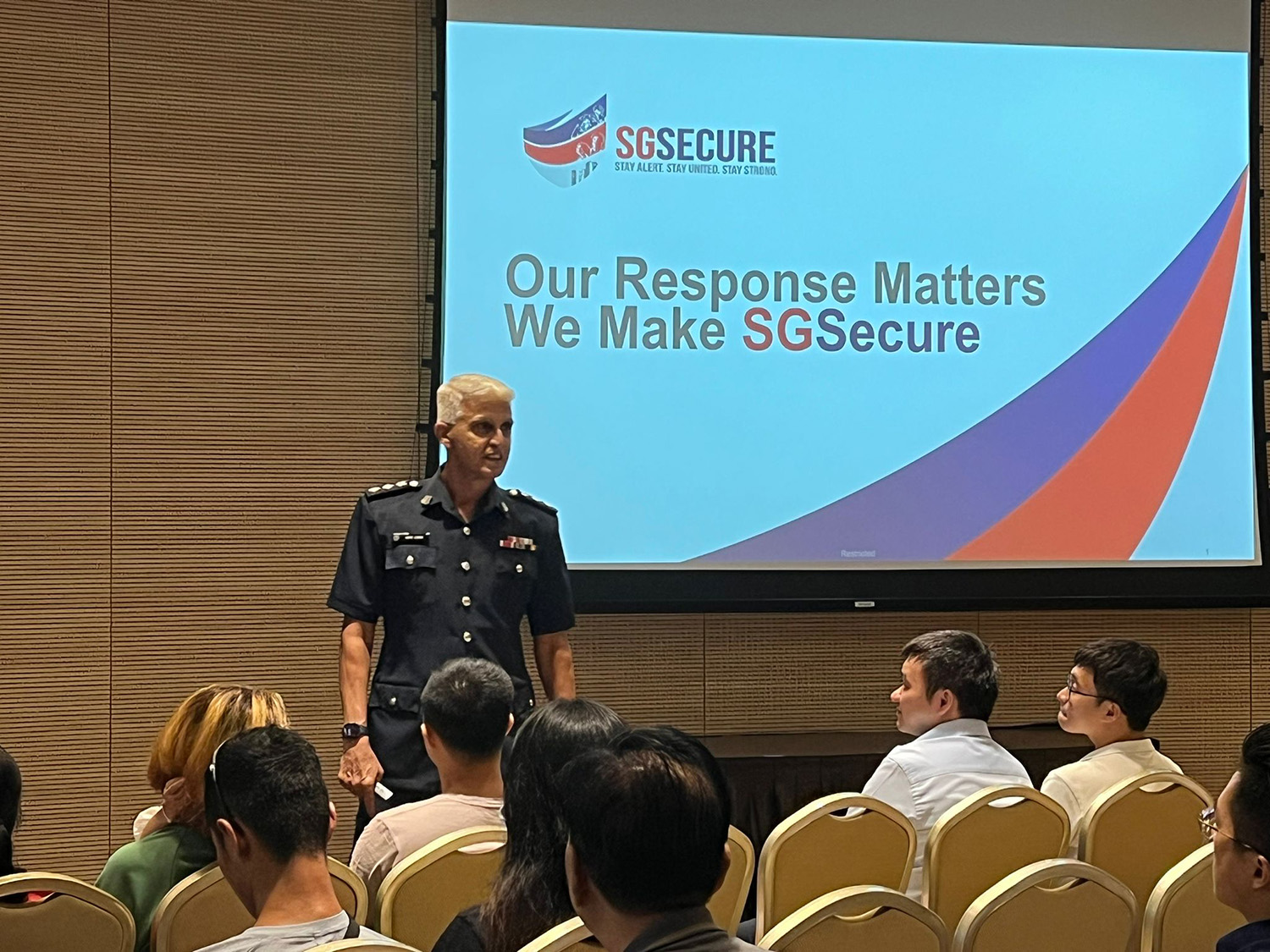 SUPT (NS) Azman, who enlisted for National Service in 1981, said that he decided to extend his service after enjoying his time as an NSF and National Serviceman with the SPF.
"This is my way of paying it forward," he explained. "In addition, given my profession (I am an educator), my role in SGSecure is very relevant, because I want to play my part in educating our youths to navigate their lives grounded on specific principles."
In extending his service, SUPT (NS) Azman was joined until recently by a batchmate, SUPT (NS) Ow Kok Meng, who stepped down two years ago to focus on other things. "We have been buddies for so long and have shared many amazing NS-related memories together. Both of us also share the same passion and attitude in wanting to pay it forward, which stems from us being in the same profession as educators."
SUPT (NS) Azman's pride in the next generation is evident when he mentions that his son is an NSman with SCDF: "Between the two of us, we have the Home Team covered – SPF and SCDF!"
Now in his 42nd year of serving the nation, SUPT (NS) Azman is still as dedicated as he was in 1981. Of the awards he's collected, he said: "It is always good to be recognised, but that is not the reason that I am still at it. It's about who I am and what I love to do, in the SPF and other areas of my life. If there's anything that I might eventually treasure, it would be the bragging rights of being the longest-serving National Serviceman in Singapore across all the uniformed services!"
"Extend because you want to, and because there is a niche for you to contribute to," advises SUPT (NS) Azman. "This way, your motivation and passion will make your contributions so much more meaningful."
COL (NS) Lau attained his Operationally Ready National Serviceman (ORNS) status in 2021 and relinquished his post as deputy division commander of the 3rd SCDF Division. He continues to serve as a volunteer in the Civil Defence Auxiliary Unit (CDAU), as part of the CDAU Executive Committee. He is also a mentor to the CDAU Recruitment Team and the CDAU officers in the 3rd SCDF Division.
He says that over the three decades and counting of his service, Home Team National Servicemen have played a critical role in ensuring the safety and security of Singapore, going far beyond policing and firefighting duties.
"Something that was little known in the past is that SCDF ORNSmen were involved in Ops LionHeart deployments, where they worked alongside with SCDF's elite unit, the Disaster Assistance and Rescue Team (DART), in overseas Urban Search and Rescue (USAR) missions," said COL (NS) Lau. "In October 2022, SCDF became the first Asia-Pacific organisation to have its USAR framework accredited for its ORNS Rescue and Medical Units. Hence, NS has definitely transformed and evolved compared to the early years."
SUPT (NS) Azman, the former NS commander with the SPF, added: "I have personally seen National Servicemen rising from playing a support role to working hand-in-hand with the regulars, as the overall responsibilities for SPF officers – both regulars and NSmen – have evolved and become more demanding. The roles have similarly evolved, including appointments and ranks to recognise the roles of NS commanders."
COL (NS) Lau concurs that service and duty apply to both NS and other parts of life, such as one's career. "Service and duty are the keys to developing trust and respect," he said. "Hence, I believe in taking pride in everything we do, yet being humble in serving the community. I would tell NSFs and National Servicemen who are thinking of extending their service that leadership is all about serving – serving Singapore, serving the National Servicemen under your command, and serving beyond your NS communities. Serve with a willing heart, and the rest will fall into place."
Like our stories? Subscribe to our Frontline Digital newsletters now! Simply download the HomeTeamNS Mobile App and update your communication preference to 'Receive Digital Frontline Magazine', through the App Settings.