The latest edition of the HomeTeamNS Awards celebrated Home Team National Servicemen (NSmen) who went the extra mile in serving their comrades, as well as showcased performances by talented volunteers and staff.
TEXT: KHOR HUI YI
PHOTOS: HOMETEAMNS
HomeTeamNS honoured exceptional Home Team NSmen volunteers for their exemplary service and contributions to the Home Team at its biennial Awards Ceremony held on 5 April. The event was also marked by the Appreciation and Appointment Ceremony, which paid recognition to members of the organisation who completed their service and went the distance. Here, volunteers for the new term were also announced.  
Held at HomeTeamNS Bedok Reservoir, the newest clubhouse that officially opened in January, HomeTeamNS Awards 2023 was attended by close to 130 volunteers.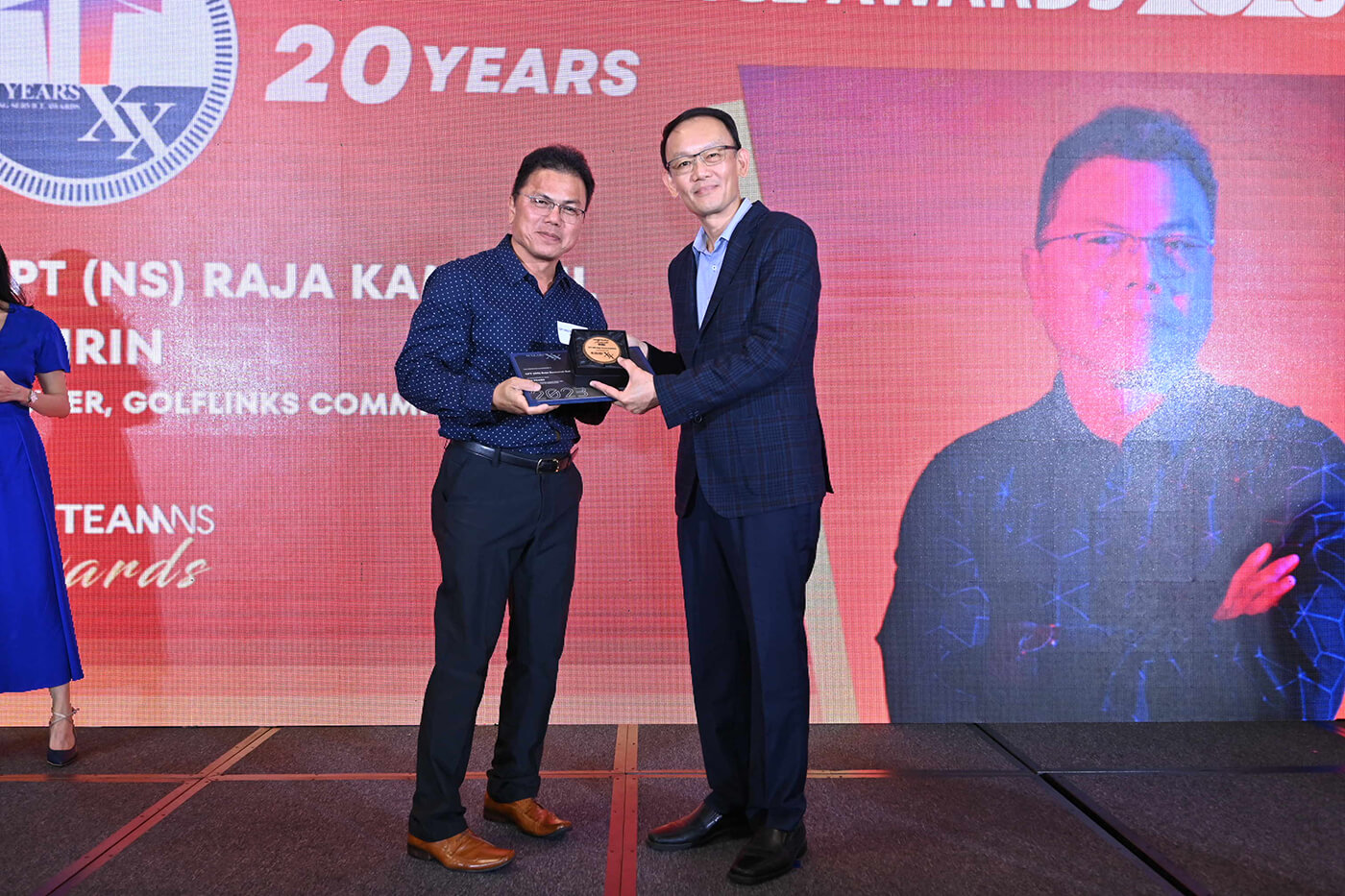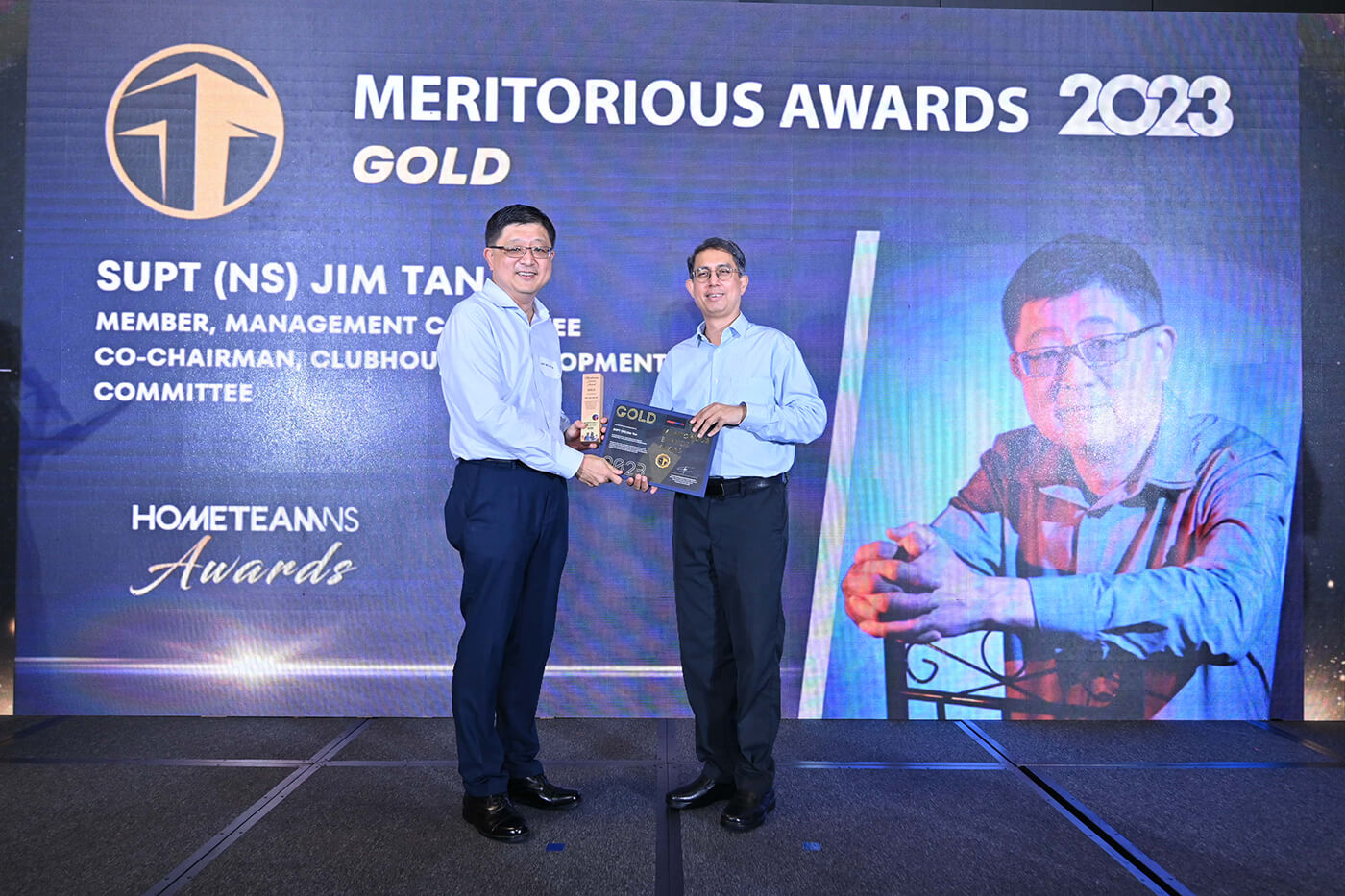 A total of 36 Long Service Awards and 27 Meritorious Awards were conferred on volunteers who contributed their time and expertise to HomeTeamNS.

All mementos were engraved with the HomeTeamNS Guardians symbol, which forms the letter T and resembles an upward-facing arrow. Back in 2019, the symbol was launched alongside the Guardians' Volunteer Network that continuously engages NSmen volunteers and serves as a resource panel for HomeTeamNS.
Bearing the tagline, 'WECrAFT' (short for 'Creating A Future Together'), the symbol represents NSmen from Singapore Police Force (SPF) and Singapore Civil Defence Force (SCDF) coming together to elevate HomeTeamNS toward greater success.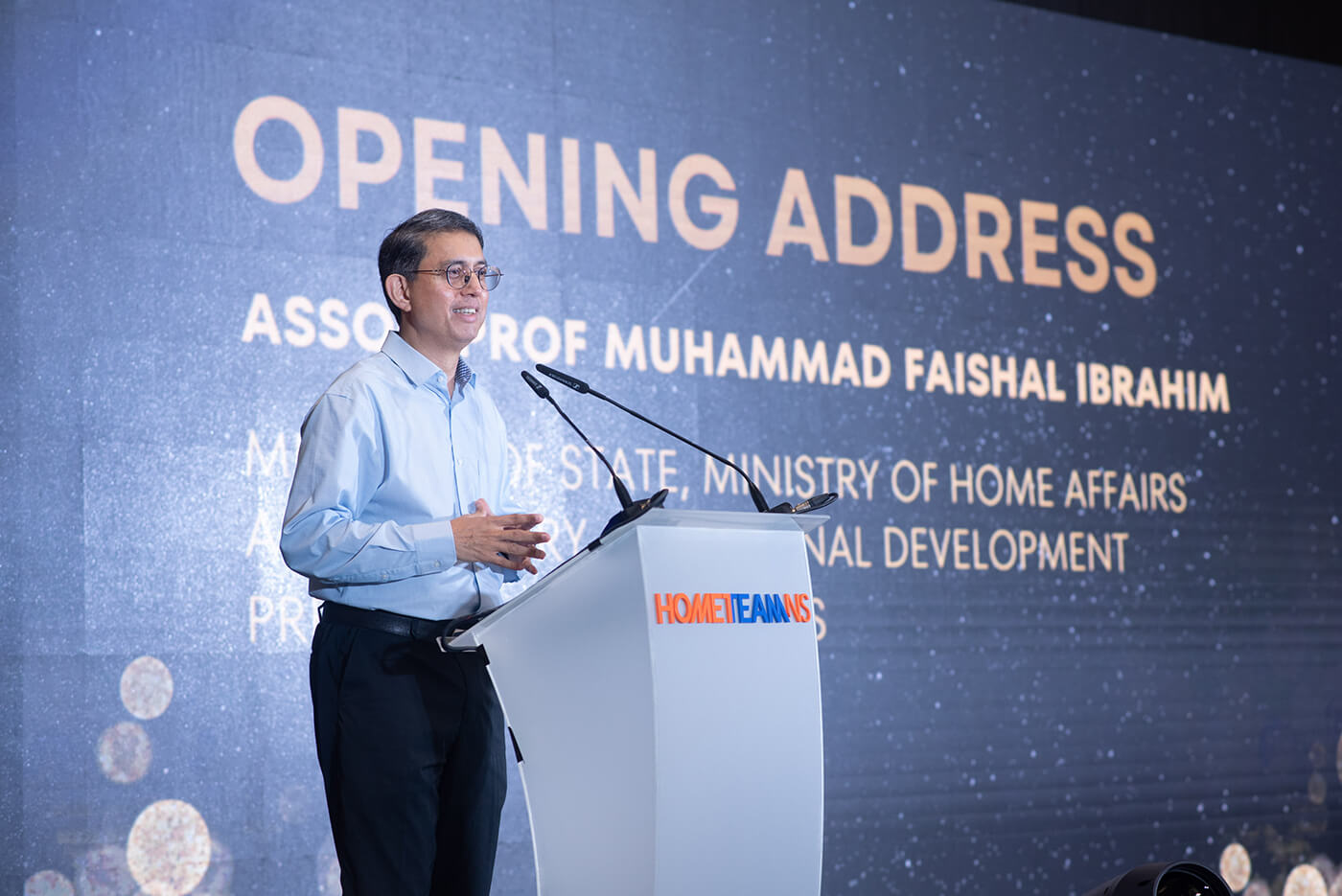 "To all HomeTeamNS volunteers, I thank you for your contributions to the nation, to HomeTeamNS and to your fellow Home Team National Servicemen. HomeTeamNS is truly a set-up led by NSmen, for NSmen," said Guest-of-Honour Associate Professor Muhammad Faishal Ibrahim, Minister of State, Ministry of Home Affairs & Ministry of National Development and President of HomeTeamNS, in his opening address.
It was a night for NSmen, by NSmen, complete with song and dance performances staged by our talented volunteers.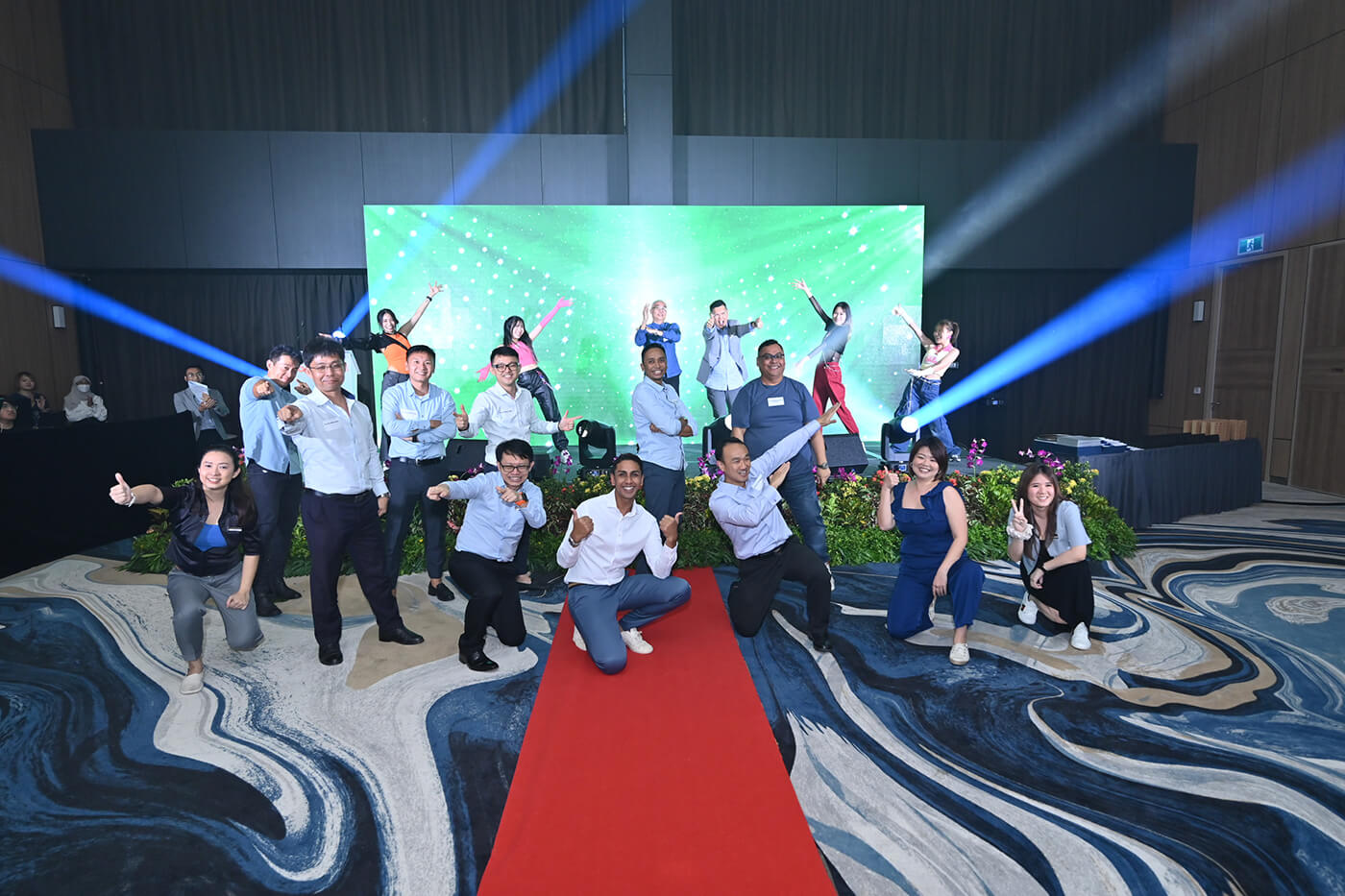 The night kicked off with a bang as 15 NSmen volunteers and staff —including Mr Cheah Kok Keong, PBM and DAC (NS) Jonathan Wan, Co-Chairmen of Guardians Committee — surprised the audience with a flash mob performance. The group had trained for two weeks prior to the event to awe the audience with their sleek dance moves, accompanied on stage by the dance group "alt.titue".
Amping up the lively atmosphere was CPL (NS) Sharne Sulaiman, who performed rousing renditions of classic tunes like "Proud Mary" and "Man in the Mirror".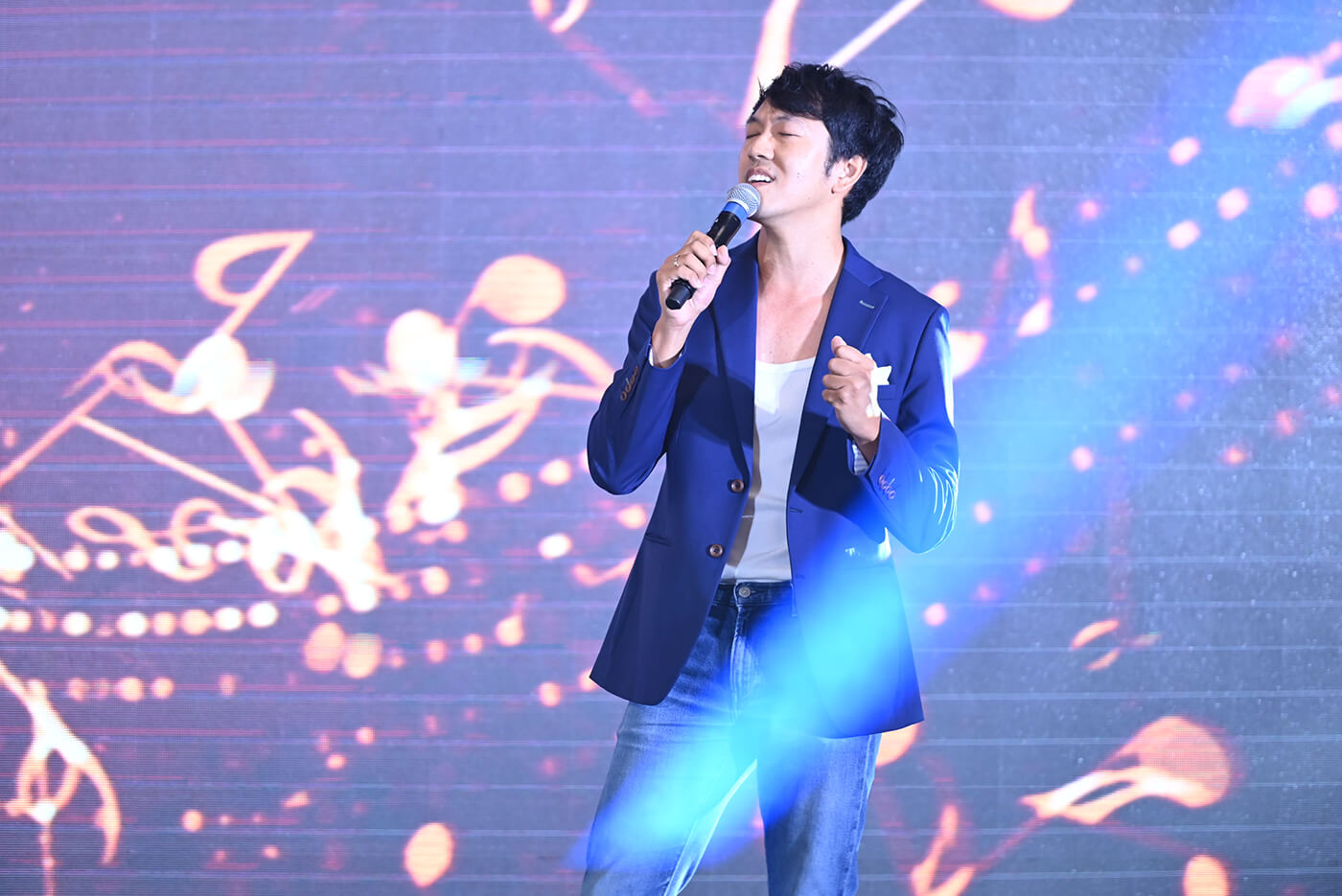 From state-of-the-art clubhouses, to digitalisation efforts and events aimed at fostering bonds among NSmen, HomeTeamNS' successful transformation journey remains deeply anchored in the strong partnership between HomeTeamNS staff and the Guardians' Network. The robust showing of the volunteers at HomeTeamNS Awards 2023 reflected the continued support of Home Team NSmen for the organisation.
"Many of us here are not only active volunteers at HomeTeamNS, but also active NSmen in your respective units. Most of you here hold Key or Command appointments, leaders in your respective units. You are a role model to the young men you lead and there are bound to be some who wish to follow in your footsteps, to come forward to offer their time and energy to serve, beyond the call of NS duty," said DAC (NS) Jonathan Wan, Co-Chairman of Guardians Committee.
Like our stories? Subscribe to our Frontline Digital newsletters now! Simply download the HomeTeamNS Mobile App and update your communication preference to 'Receive Digital Frontline Magazine', through the app settings.