SC 2 Ong Jung Yi is in a buoyant mood lately. After all, the national swimmer recently clocked his personal best in the 100m and 200m butterfly categories. These achievements are especially significant, as the 20-year-old is aiming to qualify for the upcoming Tokyo Olympics. "But they were not without their challenge," he shares. "I was juggling between studying for my International Baccalaureate examinations and training at the pool. As a result, I was not resting enough and was prone to falling sick. That affected my stamina and ability," SC 2 Ong recalls, adding that no matter how hard he pushed himself then, he could not improve his swim times.

But SC 2 Ong pressed on. "I have to thank my extremely supportive supervisors at the Singapore Police Force, who allow me to fulfil both of my national duties," he says. "The senior management gives me permission to leave the office slightly early so that I have time to travel from the Police National Service Department to the Chinese Swimming Club," adds SC 2 Ong, who will complete his full-time National Service next April.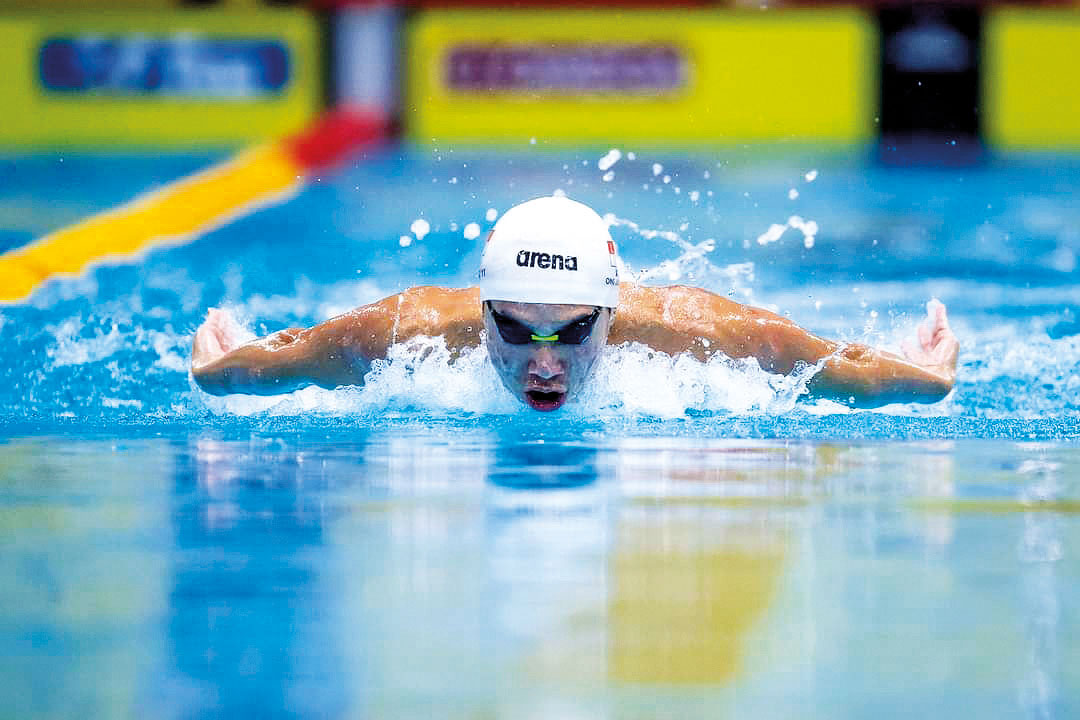 SC 2 Ong trains at the Chinese Swimming Club daily, from 5.30pm to 8pm. But that is not the only time he works out: he has additional morning training sessions at least twice a week. These start at 5.30am and end two hours later. "It is definitely gruelling, but I have a goal in mind and that keeps me motivated," he shares. SC 2 Ong, who has swam for the country at the Southeast Asian Games and the Youth Olympic Games, aims to represent Singapore at the Tokyo Olympics.

To do that, SC 2 Ong needs to best his current timings at this June's Singapore National Swimming Championships. The times to beat are 51.96 seconds (100m) and 1 minute 56.48 seconds (200m butterfly); SC 2 Ong needs to shave off more than one second for both events. This may sound like a tall order but it is something SC 2 Ong is determined to accomplish. "It is my lifelong dream to compete at the Olympics and I am going to try my best to get there," he says.

SC 2 Ong's Olympics dream was sparked shortly after he began competitive swimming at the age of 11. He was introduced to the sport when he was in kindergarten, as his parents thought that it would be a good way for him to expend his energy and improve his asthma condition. "I grew to like swimming and started competing at the school level. Now, I am gearing up for the ultimate honour."
SC 2 ONG'S SWIMMING REGIMEN
Up to eight times a week, at least two hours each session
His training include on-land activities like core exercises, weights training, and mobility and endurance work. He also completes a set number of swim laps during each session.
Other Posts You Might Like