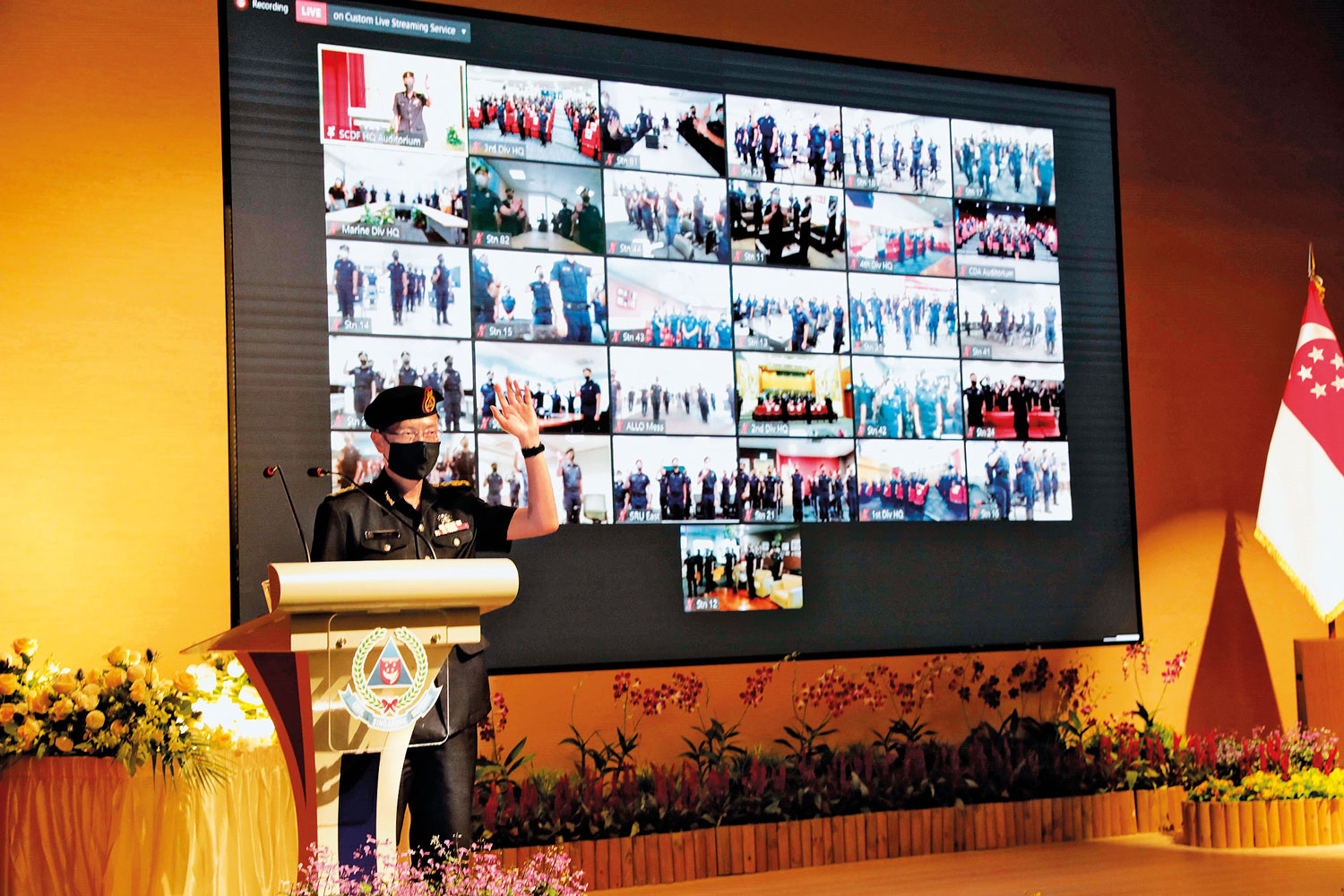 On 15 April 1989, the then-Singapore Fire Service and Singapore Civil Defence Force formally merged into a single organisation to respond to all types of life-threatening emergencies during both peacetime and national emergencies. To commemorate this special day, a Dining-In Ceremony would traditionally be held on every 15 April. This year, a Pride and Care Observance Ceremony was held instead due to the COVID-19 Safe Management Measures.

Commissioner SCDF, COMR Eric Yap, officiated the event with a few selected officers present physically at the HQ SCDF Auditorium. About 1,200 people tuned in live from different satellite sites. The Pride and Care Observance Ceremony was particularly significant as it marked the first official ceremony by SCDF since the outbreak of COVID-19 in Singapore in 2020.
At the Observance Ceremony, 4th SCDF Division was announced as the recipient of the Unit Pride and Care Award 2021. COL Anthony Toh, Commander of 4th SCDF Division received the Award on behalf of his Division.

Another 25 regular officers and full-time National Servicemen were presented individual Pride and Care Star Awards for either rendering assistance to those in need or for showing care and concern to their fellow officers.

A further 10 ORNSmen and CDAU officers were presented the Pride and Care Star Awards by their respective Commanders at various decentralised ceremonies a week later. Among them was LTA(NS) Muhammad Sarfudeen S/O Salahudeen. As a Course Administrator at Civil Defence Academy (CDA) while serving his NS, LTA(NS) Sarfudeen went the extra mile in showing care to trainees and even contacted those who had posted out of Frontline Operation Training Centre to ensure that they were adjusting well.
LTA(NS) Muhammad Sarfudden S/O Salahudeen
Course Administrator/Special
Rescue Platoon Commander
Frontline Operations
Training Centre
CDA
LTA(NS) Jeremie Choo
Shun Hong
Rota Commander
Ang Mo Kio Fire Station
3rd SCDF Division
SSG(NS) Taufiq Bin Abdul Hamid
Section Commander
Woodlands Fire Station
4th SCDF Division

SSG(NS) Hasbullah Bin Kamaruizaman
Former FRS-EMT
Woodlands Fire Station
4th SCDF Division
SGT1(NS) Dhia Muhammad Dhurrony Bin Muslim
Trainer
Frontline Operations
Training Centre
CDA
CPL(NS) Amer Aqmar Bin Mohamed Yusof
Fire Fighter
Woodlands Fire Station
4th SCDF Division
Other Posts You Might Like