For a business that is just starting out, an economic downturn can be a frightening prospect. But that was precisely the situation that DAC (NS) Darric Teo found himself in 20 years ago. In 2001, he founded ASL Solutions, a logistics firm that helps marine companies procure spare parts for their operations. Just as he was beginning to grow its customer base, a global recession hit.

Recalling those uncertain and hectic days, the 49-year-old tells Frontline that it was a never-give-up attitude that helped the company pull through those turbulent times. "We pulled in 14-hour work days, seven days a week out of our office at Changi Airfreight Centre," DAC (NS) Teo says. "It was go, go, go. Looking back, I realise I had a lot of energy to keep moving — and it was because I love the work so much."
His foray into logistics began shortly after his National Service (NS) stint. Then, he joined a local company where he discovered his passion for helping customers solve their logistical issues. Being good at what he did, DAC (NS) Teo decided to set up ASL Solutions. "I used the first seven years of my career to learn the ropes and build a name for myself in the sector. When I felt I was ready, I ventured out on my own."

His hard work paid off and ASL Solutions survived the economic crisis. The company began to grow rapidly, thanks to an increasing customer base. When he started the firm, it had just two employees. Within a few years, that number expanded to 12. ASL Solutions also shored up its capabilities by purchasing a second office at Gul Circle.

The firm's success has been driven by DAC (NS) Teo's keen eye for business trends, which helped it stay nimble and adapt to changes in the industry. For example, in the early days, going through middlemen to secure contracts was the norm. But over the years, shipowners prefer dealing directly with logistics companies like ASL Solutions. "We had to change the way we operate to meet this trend," explains DAC (NS) Teo.
MAKING THE MOST OF OPPORTUNITIES
According to DAC (NS) Teo, there are a lot of transferrable skills one can pick up during NS and use in their careers. These include people management, contingency planning and leadership confidence. "When your unit puts you up for a course to prepare for higher command, go for it!"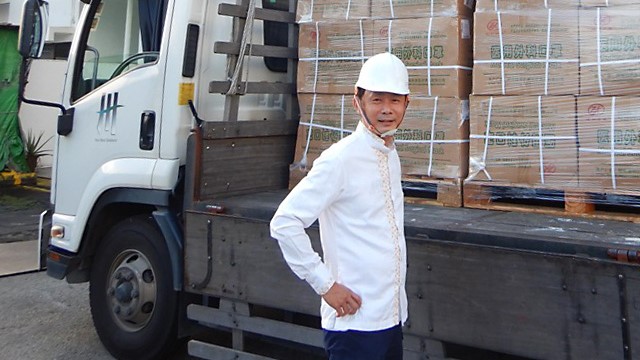 But this growth hit a roadblock when COVID-19 emerged. "The last year has been a real rollercoaster ride," says DAC (NS) Teo. "It has had a spillover effect on the entire supply chain and we have had to downsize our staff strength." He admits that the loss of face-to-face interaction with customers has been especially hard, as his sector relies heavily on strong personal relationships. He is getting through the crisis by following a simple mantra: "Life is full of challenges. You have to be resilient and be prepared for them. Learn from these experiences and come back stronger."

Ever the pragmatist, DAC (NS) Teo is also using this period to encourage his staff to focus on skills development so that they can be ready for recovery when it comes. He allows his staff to chart their own professional development by giving them the flexibility to pursue the skills they want to. "Our approach to skills is quite holistic," he shares. "It's not just about hard skills and knowledge. These are important but just as valuable are soft skills like effective communication and interpersonal skills."

DAC (NS) Teo's trust in his employees is also evident in his active support of the Yellow Ribbon Fund (YRF). "During my NS days, I served as an investigation officer with the Singapore Police Force. That experience opened my eyes to the good work that the YRF does and I was eager to lend my support. I have hired two ex-offenders who have both gone on to do very well in ASL Solutions and remain valuable teammates."
In the early days of his business, DAC (NS) Teo was able to throw himself into work because of his wife's understanding and support, as well as their shared values. "She works in procurement at a multinational company and shares my passion for a good career. We knew we wanted to work hard and succeed for our future family, so that kept us going," he shares.

But his focus changed eight years ago with the arrival of his son. "I'm more mindful of spending time with him so I'm always looking to do things better and faster. The more efficient I am, the more I can be with him." Their favourite family activity is a stroll around the neighbourhood after a long day at work. "It's good to get a breath of fresh air and end the day with your loved ones."
Other Posts You Might Like