Cybersecurity matters: How DAC (NS) Ng Sy Jang keeps communities safe, through his National Service role in the Singapore Police Force and his full-time job.
TEXT: KEENAN PEREIRA
PHOTOS: DAC (NS) NG SY JANG
Security and safety are big themes in DAC (NS) Ng Sy Jang's life. By day, he serves as an IT Security Researcher at DSO National Laboratories (DSO), Singapore's largest defence research and development organisation. But the 49-year-old's efforts to keep Singapore safe don't end there: He also does this as the NS Commander for the Singapore Police Force (SPF)'s Crime Investigation Department (CID).
DAC (NS) Ng's journey with SPF began in the late 1990s, when he signed on following his National Service (NS). It was an exciting time as technology was quickly changing the way they operated. He explains how the widespread presence of closed-circuit television cameras (CCTVs) has been a gamechanger: "Back then, if we wanted to catch a loan shark runner, we would have to wait at the victim's home to catch them in the act. But we don't need to do that anymore, since we can rely on CCTV footage to help us."
A SECURITY BOOST THROUGH TECH
Technology has also made it easier for the public to reach the police. For instance, the SMS 71999 Service allows members of the public who require emergency assistance to text the police when it is not safe to call '999' or when they are unable to speak. Police reports can also be easily filed online.
But with the advancement of technology comes the risk of cybercrime. The SPF reported 22,219 such cases in 2021, a 38 per cent increase from 16,117 cases in 2020. These cases include online scams and cyber extortion, which can affect both civilians and the SPF.
"Cybersecurity is a matter of concern for everyone, both inside and outside of the Force. It's important that we follow good tech practices, such as changing our passwords regularly, so that we do not fall prey to such crimes," advises DAC (NS) Ng, whose full-time role in IT security gives him an edge in understanding tech issues. "At work, we have the tools and know-how to find out what different kinds of malware do and how best to detect and thwart them."
AN UNENVIABLE BUT NECESSARY TASK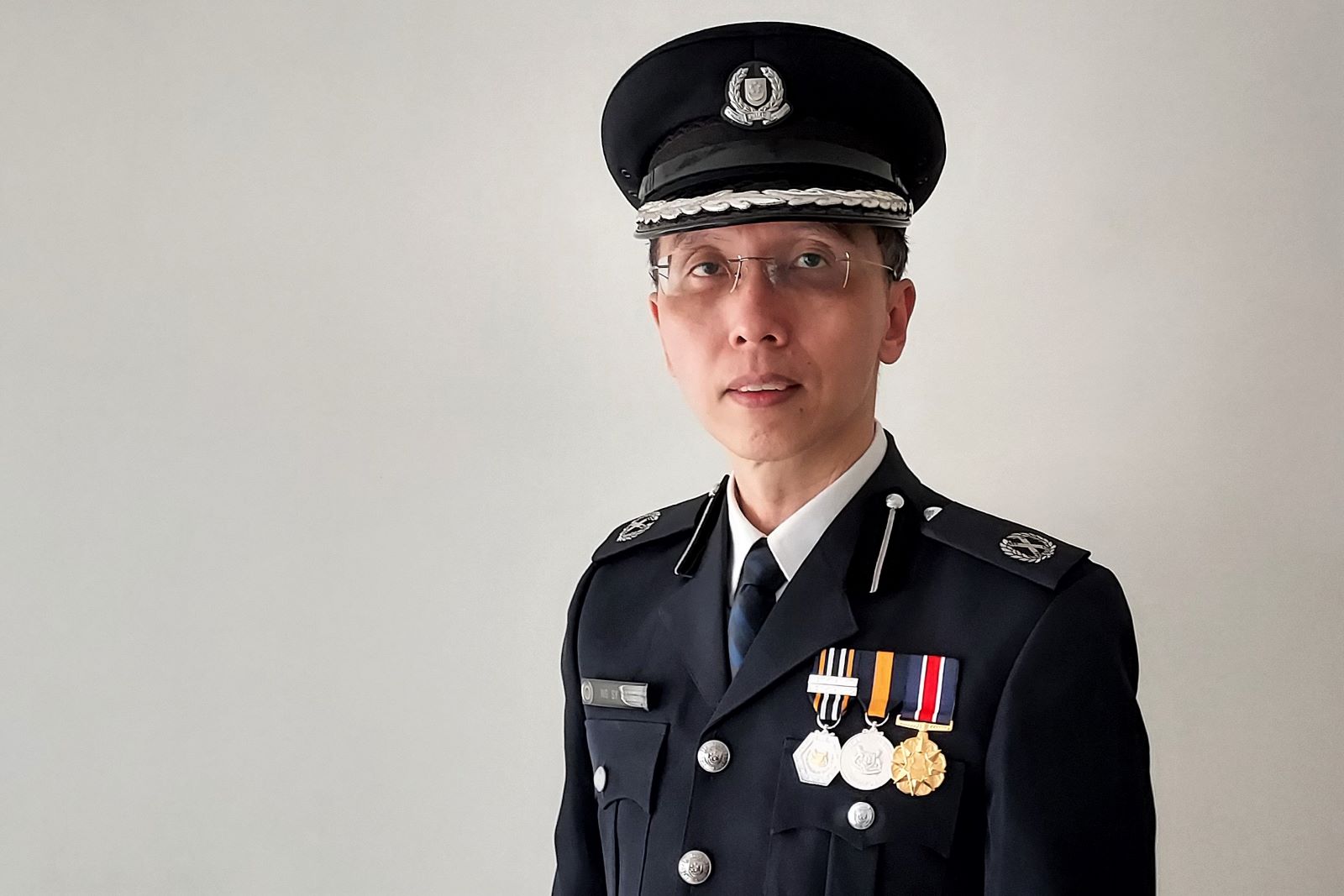 In his present role as NS Commander of the CID, he leads over 160 NSmen, more than half of whom are in its disaster victim identification group. "In the event of a mass casualty event, these men will assist the regulars in identifying victims using dental records and fingerprints," explains DAC (NS) Ng. "The current NSman batch is being trained to learn how to carry out their duties and how to handle and identify bodies and body parts."
Four members of his team were involved in Exercise Mayday, which concluded in June 2022. This exercise simulated a plane crash, with dismembered "bodies" lying around. It trained DAC (NS) Ng's men to react to such situations and taught them how to handle body parts with care, so that they could later be used in victim identification.
"During a mass casualty event, families will report missing loved ones to us and provide certain identifying traits — a ring or mole, for example, which will be keyed into a system. This will then be matched against the body parts found to help us speed up the process of identifying victims," explains DAC (NS) Ng.
He admits that some might find the task challenging but says that the unit's focus on team spirit and collaboration helps get the job done. "All the unit's leaders try to build rapport with the team and lead by example so we can ensure mission success. It's an unenviable but necessary task."
Like our stories? Subscribe to our Frontline Digital newsletters now! Simply download the HomeTeamNS Mobile App, and update your communication preference to 'Receive Digital Frontline Magazine', through the App Settings.
CYBERSECURITY DOS AND DON'TS
DAC (NS) Ng shares tips on maintaining good cybersecurity:
Don't share your password and ensure it's long enough and unique.
Don't click on links from unknown sources.
Don't download apps from untrusted sources.
Do be more vigilant and aware of tactics used by scammers.