The metaverse offers plenty of immersive experiences, from world-building platforms to popular kids' games. But what is it actually and how can parents join in the fun?
TEXT: MELODY TAN
PHOTO: SHUTTERSTOCK
If you've been seeing the term "metaverse" more often but don't know what it means, you might want to ask someone aged below 16. Just as millennial-era childhood was defined by the rise of the Internet, Generation Z – and their younger siblings, Generation Alpha – are fearlessly exploring the metaverse. But what is it?
Think of the metaverse as a purely digital world where people can play, socialise, work and carry out numerous activities using avatars to represent themselves.
These avatars can be enhanced through technologies such as virtual reality (VR), where VR headsets like the Meta Quest 2 allow users to immerse themselves in a metaverse game platform. Users can also use augmented reality – where they use their phones to scan items around their real-world surroundings to accumulate points in a metaverse shop or game.
Big things are in the works for the metaverse. Mr Mark Zuckerberg, the founder of Facebook – which rebranded itself to Meta in 2021 – announced his vision of the metaverse, in which people use augmented reality glasses to "see" and hang out with their friends at concerts or play basketball. Last year, the LEGO Group announced a partnership with Epic Games to build an immersive and engaging digital experience especially designed for children in the metaverse.
While that's still some way off in the future, there are plenty of existing games and educational activities for families to explore the developing metaverse with their kids.
Your child might tell you that they're "playing Roblox", but they're doing much more than just playing a game.
Roblox is a digital platform where users can create their own games and play others' games, as well as use in-game currency – called Robux – to purchase items for use or decoration within the games.
The platform's user-friendly game development tools make it easy for younger participants to build their own games, which often focus on simulated real-world experiences like school or caring for a pet. Parents can guide their kids in creating these experiences and use the opportunity to discuss the topic at hand – such as responsible pet ownership – or use Robux to explore budgeting. 
An older game, Minecraft appeals to LEGO fans who enjoy the platform's base concept of making items, buildings and more using blocks. In survival mode, players have to look for food, fight off enemies and build defensive structures, while creative mode allows players to use the game's resources and tools to create whatever they want – such as entire cities, replicas of movie settings, spaceships, castles and more.
If your kids enjoy a long-term project, one enjoyable family activity could be to work on building their dream house in Minecraft. Let the little ones take the lead and be amazed by their creativity.
If you've invested in VR headsets for the family, there are fun, kid-friendly games that can be played together.
Horizon Worlds allows Meta users to gather virtually and explore different areas, play interactive puzzles and games and socialise with others on the app through your avatar. Users can even create their own worlds.
Learn to cooperate with Cook-Out, an award-winning multiplayer cooking game for up to four players – though it can also be played solo – in which you work together to make and serve up virtual sandwiches for enchanted creatures. Prepare for frantic movements, excited squealing and lots of laughter.
To encourage family fitness – who says gamers don't exercise – challenge your kids to a round of Beat Saber, where you slice block-shaped musical beats with a pair of light sabres, while avoiding bombs and missing notes. Party mode allows you to compete with each other, all while enjoying the game's soundtrack of pop hits from teen favourites like Billie Eilish and Lizzo.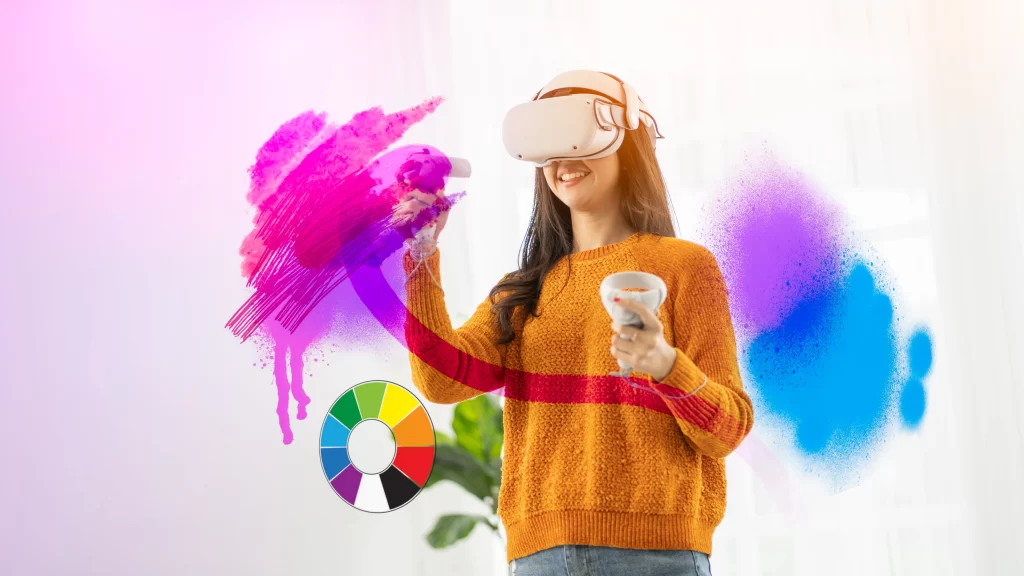 Young creatives will have fun collaborating with siblings or parents in VR sandboxes like Virtuoso, which provides a range of unique musical instruments for users to explore. The virtual music stage empowers both little learners and experienced music students alike, as they can create music in real-time, jam with others and even record their own songs to share.
If you have a budding Picasso in the house and don't want to have oil paints smeared over all your surfaces, Vermillion takes the mess out of painting. Users get a VR palette with features like custom tutorials, realistic colour mixing and the rich impasto texture of oil paints, and are also able to paint together with up to four people. (This includes sharing palettes and painting on each other's canvases, so it's best to lay down some ground rules before a sibling fight breaks out.)
Not all of your kids' favourite artistes or bands will come to Singapore to perform, but you can take them to a virtual concert in the metaverse.
Both real-life pop stars like Ariana Grande, Justin Bieber and completely virtual idols like South Korean girl band MAVE have held metaverse concerts, making their live performances accessible to fans all over the world, no matter where they live.
VR viewing experiences aren't just limited to concerts. Baobab Studios won an Emmy for their VR-powered film Baba Yaga, which gives viewers the opportunity to become the main character in a fairy-tale world, where they must go on a quest to save their mother's life and extract a cure from the witch Baba Yaga (who is played by Kate Winslet, in a cast stuffed with well-known Hollywood names). Cheer your child on as they venture into a forest, interact with the film's magical characters and help them work through the decisions that will influence the story's outcome.
SAFETY FIRST IN THE METAVERSE
CHECK THE RATING
Before purchasing a game, ensure that it's rated appropriately for your child's age. While Roblox is extremely popular with primary schoolers in Singapore, it's actually recommended for those aged 13 and up if played without parental supervision, while Minecraft is ranked safe for kids aged 8 and above.
AVOID STRANGER DANGER
It's best to do your own research on how game platforms are structured and what features they offer. For example, sandbox builder game Fortnite has two versions, Battle Royale and Save the World. Fortnite: Battle Royale involves 100 players fighting it out until only one remains. This means the online voice and text chat can connect your child to strangers and expose them to profanity or inappropriate speech. To prevent this, disable the chat function completely, or limit your children to playing only with people they know in real life.
EDUCATE YOUR KIDS
Don't be afraid to discuss openly the dangers kids might fall prey to, such as online grooming, scams and account hacking. Having the right knowledge will empower your children to keep themselves safe, and keeping the lines of communication open will ensure that they'll come to you first if anything happens.
Like our stories? Subscribe to our Frontline Digital newsletters now! Simply download the HomeTeamNS Mobile App, and update your communication preference to 'Receive Digital Frontline Magazine', through the App Settings.