Booking 1-for-1 movie tickets at Cathay Cineplexes just became much easier, thanks to a HomeTeamNS Mobile App update.
TEXT: AUDRINA GAN
IMAGES: HOMETEAMNS
Getting your fill of epic big-screen action with your friends or loved ones just got much easier, with the ease of in-app bookings of 1-For-1 Cathay Cineplex movie tickets.
The update was officially launched at Cathay Cineplex Cineleisure on 15 July 2022, marking a new milestone in the partnership between HomeTeamNS and Cathay Cineplexes.
The event was attended by more than 50 guests including HomeTeamNS President, Associate Professor Muhammad Faishal Ibrahim, who is also the Minister of State, Ministry of Home Affairs & Ministry of National Development; Ms Agnes Eu, Chief Executive of HomeTeamNS and Mr Chang Long Jong, CEO of mm2 Group.
TAKING SEAMLESS CONVENIENCE TO A NEW LEVEL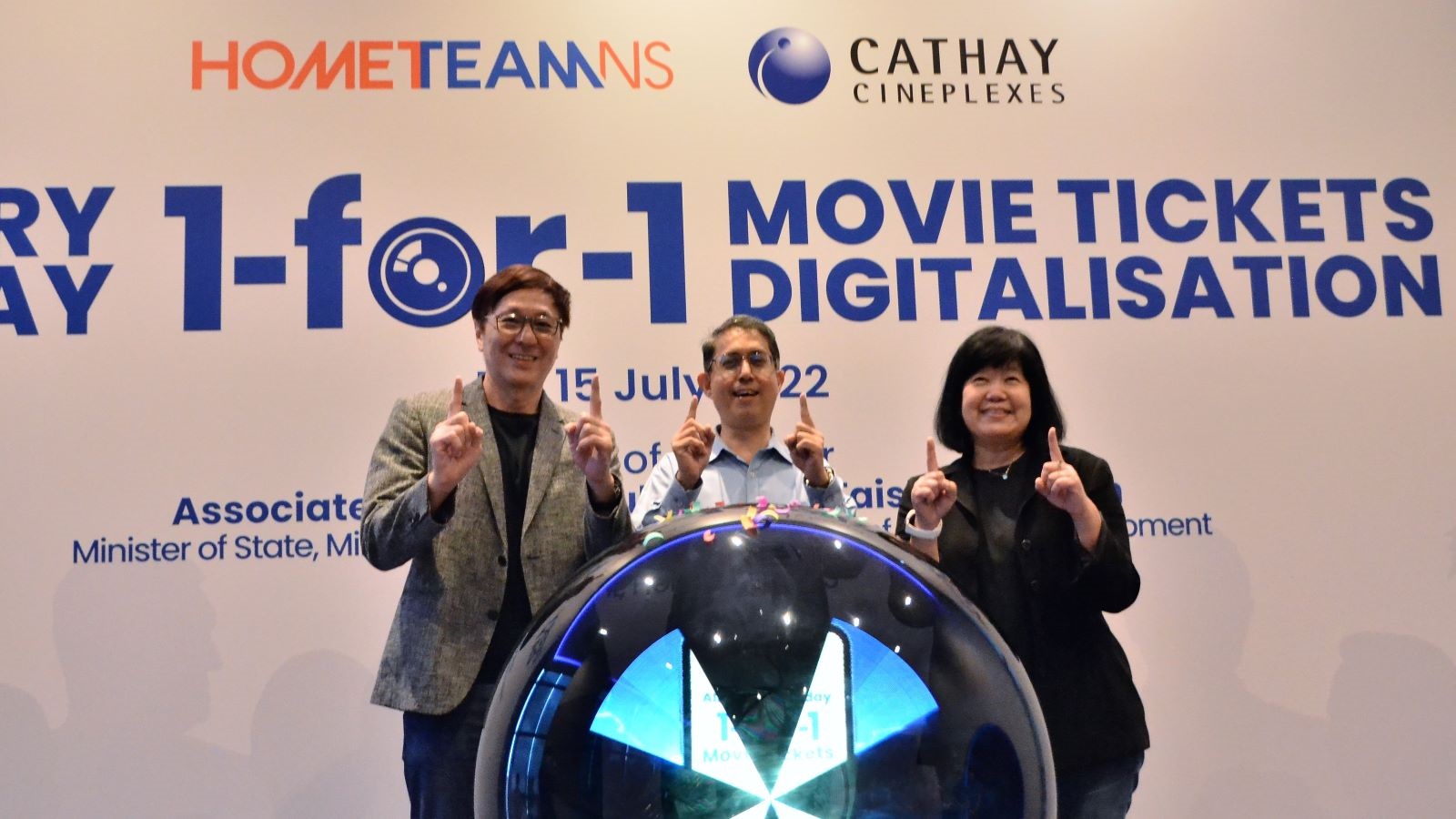 Assoc Professor Faishal said HomeTeamNS has been on a digitalisation journey since 2020. "One of the key goals of this journey was to build a seamless and convenient experience for our members as they enjoy the perks and privileges of the HomeTeamNS membership," he explained.
Ms Eu said she was happy to see the healthy turnout at the event to celebrate HomeTeamNS' new partnership milestone with Cathay Cineplex. "I'm also pleased that our app is well-received by our members," she added.
Mr Chang noted that the new movie booking integration with the HomeTeamNS app would allow members to access the movie benefits more efficiently. He said this is part of the company's efforts to give back to HomeTeamNS members. "After a two-year hiatus, we're excited to return with a vengeance. We have a line-up of Hollywood, Asian and local movies coming up," he added. 
A MILESTONE FOR NS, AND A CORPORATE PARTNERSHIP
As a frequent moviegoer who enjoys the big-screen surround-sound experience at the cinema, Assoc Professor Faishal said he uses the HomeTeamNS Mobile App regularly. "This year marks the 55th Anniversary of National Service. It is a significant milestone as we pay tribute to our NSmen for their contributions to keep Singapore safe and secure. We are thankful for corporates like Cathay Cineplexes that have stepped up to support our NSmen," Assoc Professor Faishal added.
The  HomeTeamNS-Cathay Cineplexes partnership began in 2018 offering members S$3 off Weekend movie tickets from Fridays to Sundays. This was later expanded into a 1-for-1 Weekend only promotion. Currently, members enjoy an exclusive "All-day 1-for-1 Movie Benefit" any day of the week. To date, the partnership has garnered 30,000 1-for-1 transactions, clearly showing the popularity of this entertainment benefit among HomeTeamNS members.
Guests at the event also watched a complimentary screening of the Marvel superhero film Thor: Love and Thunder. Having hung up his hammer in search of inner peace, Thor (Chris Hemsworth) is forced out of retirement to take on Gorr the God Butcher, who wants to eliminate all gods. Thor enlists the help of Valkyrie (Tessa Thompson), Korg (Taika Waititi) and Jane Foster (Natalie Portman) to stop Gorr as mayhem ensues.
Till 31 March 2023, HomeTeamNS members can purchase an all-day F&B Combo at S$5 (U.P.S$9.80) through the app, which includes a regular soda and a medium popcorn.
To book tickets, login to the HomeTeamNS Mobile App, go to "Promotions", and tap "1-for-1 Movie Tickets" under "Marketplace". Click "Book Now" and enjoy your 1-for-1 movie tickets.
Each member can only purchase one pair of tickets per day. Redemptions are limited and are on a first-come-first-serve basis, while stocks last across Cathay Cineplexes in Singapore. Advanced bookings are also allowed in the HomeTeamNS App, with a standard online booking fee of S$1.50.
Download the HomeTeamNS Mobile App to uncover all your membership perks and get first dibs on promotions.