Two Singapore Civil Defence Force (SCDF) NSFs who are also national athletes share how they achieved sporting glory.
Say hello to Corporal (NSF) Noah Lim Tian Run and Lance Corporal (NSF) Muhammad Syakir Bin Jeffry, two SCDF Full-time National Servicemen (NSFs) who recently participated in the 31st Southeast Asian (SEA) Games in Hanoi, Vietnam.
CPL Noah, an Emergency Medical Technician (EMT) from Alexandra Fire Station, clinched the gold medal in Jiu-Jitsu, while LCP Muhammad Syakir, a firefighter from Tuas Fire Station, brought home the joint-bronze medal in Pencak Silat for Team Singapore. They share their experiences balancing life serving National Service (NS) with being national athletes.
TRAINING SMARTER, FIGHTING HARDER
What is Jiu Jitsu? What is its main objective?
CPL Noah: A Jiu-Jitsu match is fought between two opponents and the main objective of the martial art is to make your opponent tap out using submission holds such as arm locks, leg locks and chokes. There are various types of submission locks in Jiu-Jitsu. Every submission lock must be precisely carried so your opponent does not have a chance to escape. Jiu Jitsu is not an easy martial art to master.
How long have you been practicing Jiu Jitsu and what attracted you to this martial art?
CPL Noah: I have been practicing Jiu-Jitsu for about six years. Prior to this, I was a competitive swimmer. My elder brother was already learning Jiu-Jitsu then and he would practice his submission moves on me at home [laughs].
I became fascinated by the different types of submission moves that one could master in Jiu-Jitsu. That was how I got into the martial art and dedicated myself to it.
How do you feel having won the gold medal for Singapore?
CPL Noah: I did not expect to do well in this sport, as I was up against several strong opponents in the competition. Moreover, I was unable to train as often as before after my National Service (NS) enlistment. My brother, who was more experienced than me in Jiu-Jitsu, competed in the same category and clinched a bronze medal. Knowing this and the challenges involved, I placed a lot of pressure on myself to make Singapore proud.
Were there any challenges faced during the competition?
CPL Noah: Yes, definitely! My opponents were all very strong. During my first match, I used a technique which I was confident would work against my opponent. However, he was the same size as me and physically stronger. I managed to wear him out later in the match and emerged victorious.
What is your training regime like for Jiu Jitsu after you enlisted to serve NS?
CPL Noah: Before I enlisted for NS, I would usually train three times a day for about two hours each session. I currently train during my days off. As an athlete, the key to doing well in your sport is consistency and self-discipline. This may sound simple, but with all the distractions around us, one can find it hard to stay focused. This is when we must fall back on the reason we got into the sport and what we want to achieve at the end of the day.
In what way does your involvement in Jiu Jitsu positively impact the work you are doing in SCDF as a NSF?
CPL Noah: Jiu-Jitsu helps me stay calm under pressure. This helps me strategise my moves to overcome my opponent. Likewise, in my work as an EMT, I have worked under immense pressure during emergencies where there is a need for physical and mental fitness, and most of what we do is closely scrutinised by the public. The ability to keep my composure during a stressful situation allows me to make good judgment calls to save a person's life.
What do you plan to do after NS?
CPL Noah: I will be enrolling myself in Medical School. This would most likely affect my training schedule. I want to use the time I have now to compete in as many matches as I can before moving on to the next chapter in my life.
OVERCOMING INJURY FOR THE PRIZE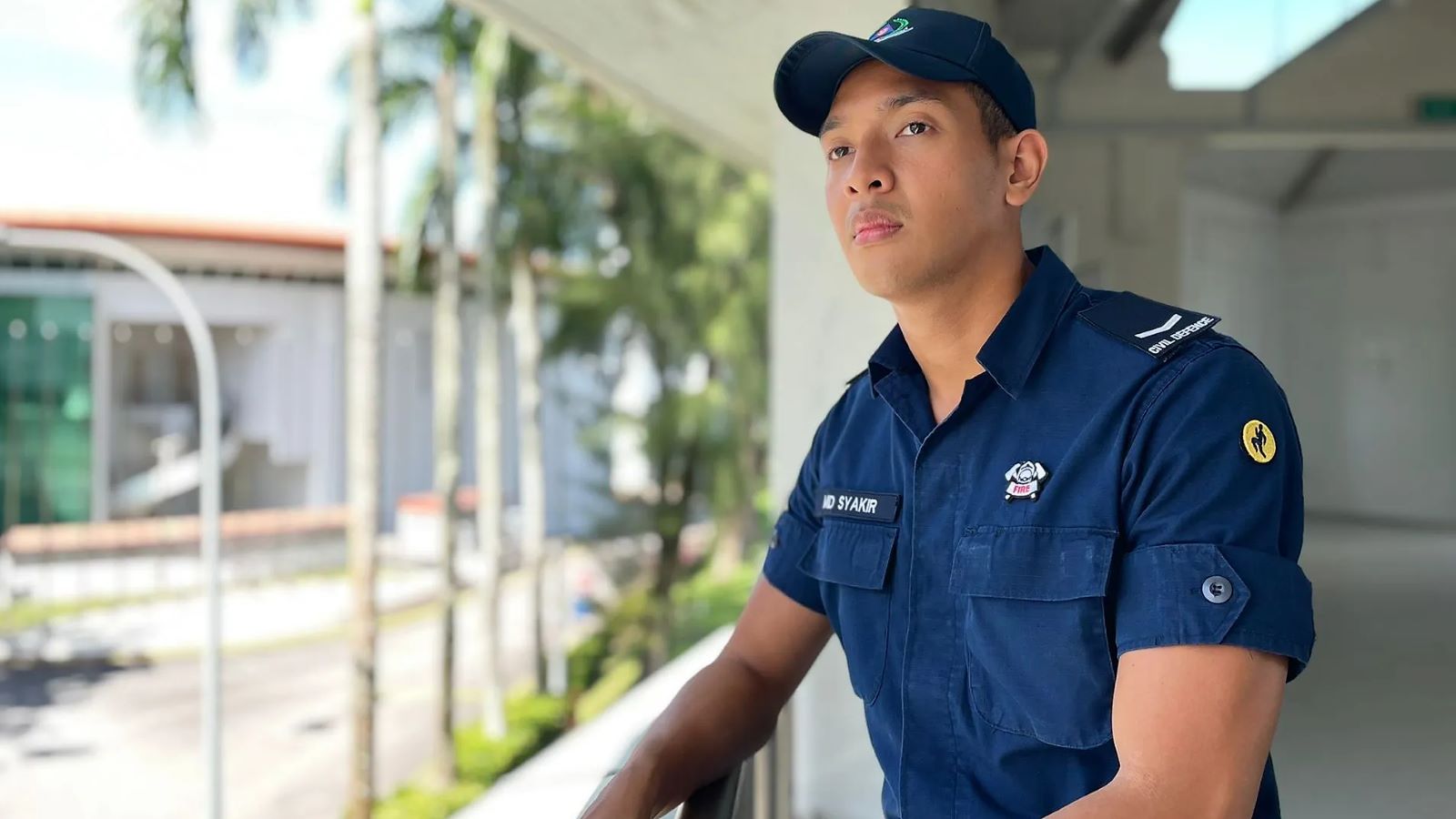 What is Pencak Silat? What is its main objective?
LCP Muhammad Syakir: Pencak Silat is a martial art that originated in Indonesia. It involves the use of strikes, throws and grappling techniques to overcome your opponent. In general, there are two types of Silat. The competitive type, which is Pencak Silat, and Seni Silat, a form of performance art.
How do you feel about your recent SEA Games medal?
LCP Muhammad Syakir: This is this first SEA Games I had participated in, and it was definitely an eventful competition. About 10 weeks before the competition, I tore my left Anterior Cruciate Ligament (ACL) and my doctor advised me to refrain from competing in the SEA Games. I insisted and till the day of competition, I focused on my physiotherapy sessions to get myself back in shape. It was not until a week before the SEA Games that I could finally execute kicks and run normally.
During the semi-finals, I was competing against a Thai exponent. The Thais are one of the strongest in the region and I could feel the pressure building up within me, especially when I knew I had not fully recovered. I said to myself: "I have come this far, there is no turning back. I just have to give 100 per cent in this competition".
I managed to overcome my opponents until the match against Indonesia, which was a close fight. Even though I lost, my coach commended my determination even though I was not in peak physical condition. His encouragement meant a lot to me.
How do you juggle your time between training for Silat and your work as a firefighter?
LCP Muhammad Syakir: Before my enlistment, I used to train five days a week, from Monday to Friday, twice per day. During my off-duty days in NS, I would hit the gym at my fire station to build my physical strength. As I have been practising Pencak Silat for 10 years, firefighting to me, is not physically demanding but a form of daily exercise to maintain my physical condition to compete in Pencak Silat.
What are your future plans?
LCP Muhammad Syakir: I have just gone for my surgery, and henceforth, will focus on my recovery. Once I have fully recovered, I aim to compete in next year's SEA Games in Cambodia.