With three entertainment facilities officially opening in late 2020, members now have thrice the fun when they visit HomeTeamNS Khatib Clubhouse.
TEXT: MARCUS ONG | PHOTOS: HOMETEAMNS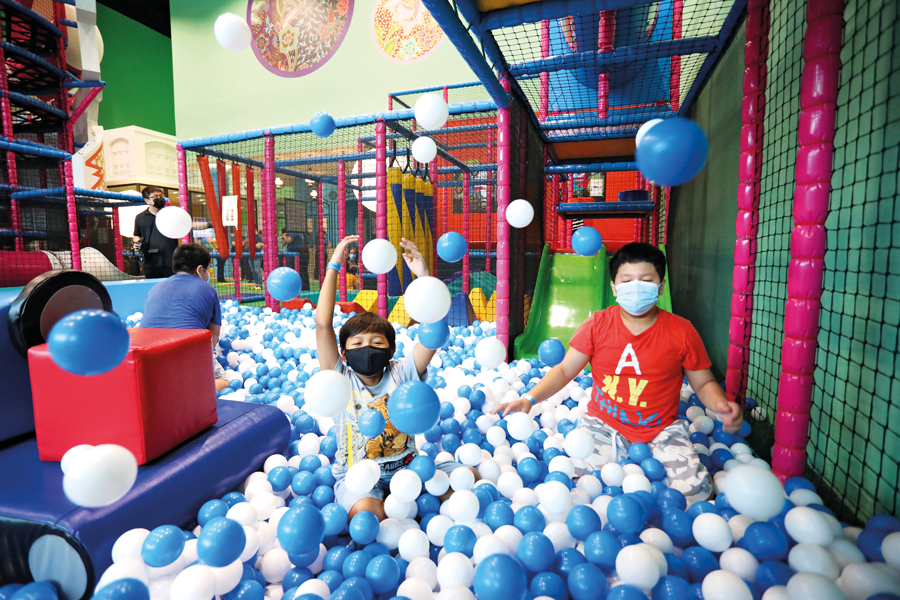 T-Play Khatib
Learning through play
Singapore's first Peranakan-themed indoor children's playground was officially launched last December by Guest-of-Honour HomeTeamNS President, Associate Professor Muhammad Faishal Ibrahim. Since its soft opening in August 2020, T-Play Khatib has welcomed many families to its premises.
At 650 square metres, the vibrant and unique space encourages parent-child bonding through interactive structures and play elements designed to allow children to express their creativity freely. Some of the key highlights include a climbing slide tower and a foam ball shooting arena, with play elements conceptualised to engage a child's brain development, motor coordination and sense of direction.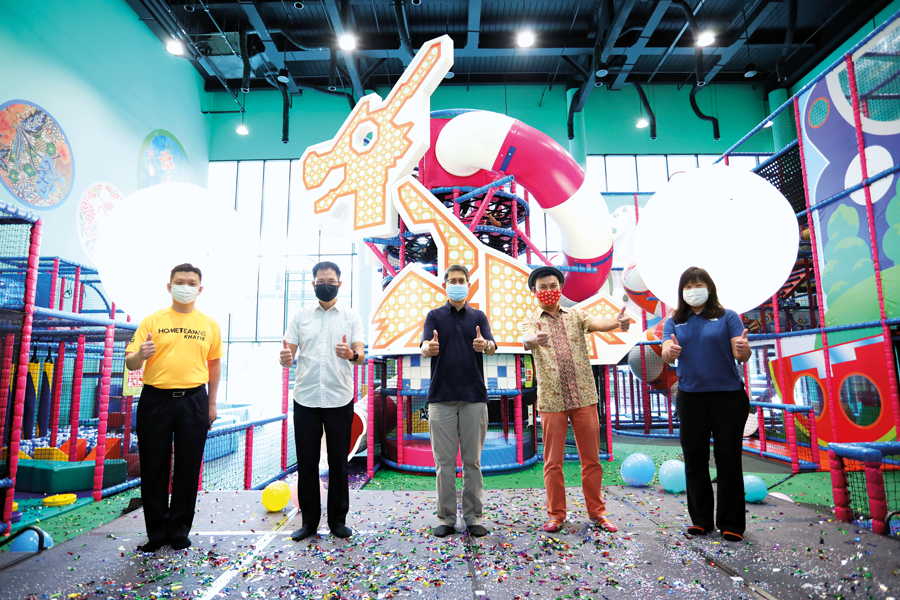 Captivating hearts

Inspired by the pioneering spirit of the early Peranakans, as well as the vibrant colours and imagery of their fashion and artistic forms, the indoor playground conducts monthly themed programmes and activities for children to enjoy and learn about this unique legacy. "The theme and experience of T-Play Khatib were birthed out of HomeTeamNS' aspiration to create an indoor playground that boasts a rich, diverse and multicultural heritage," shared Assoc Prof Faishal. In collaboration with The Intan — a member of the National Heritage Board's Museum Roundtable Association — T-Play Khatib offers a unique and enjoyable visual and sensory experience for parents and their children to appreciate the Peranakan culture.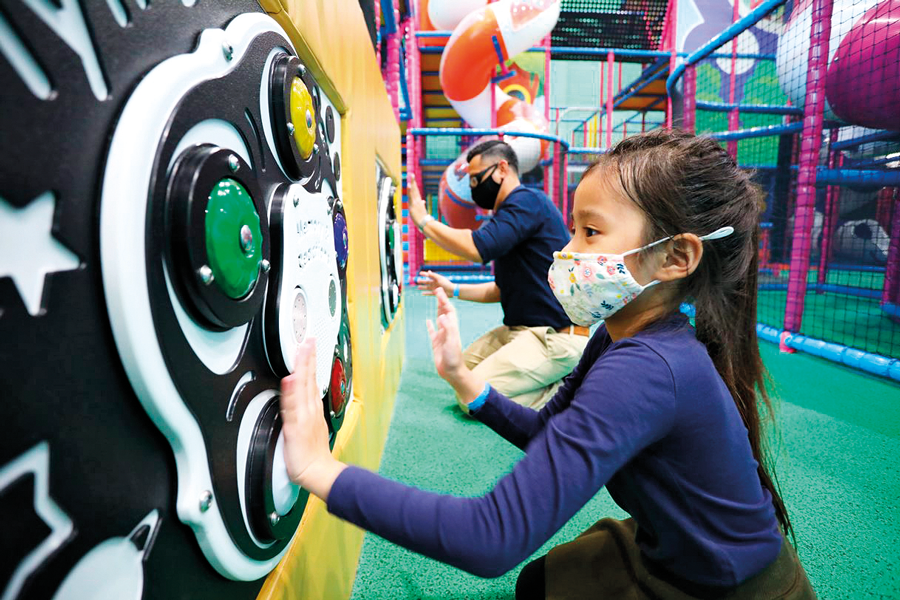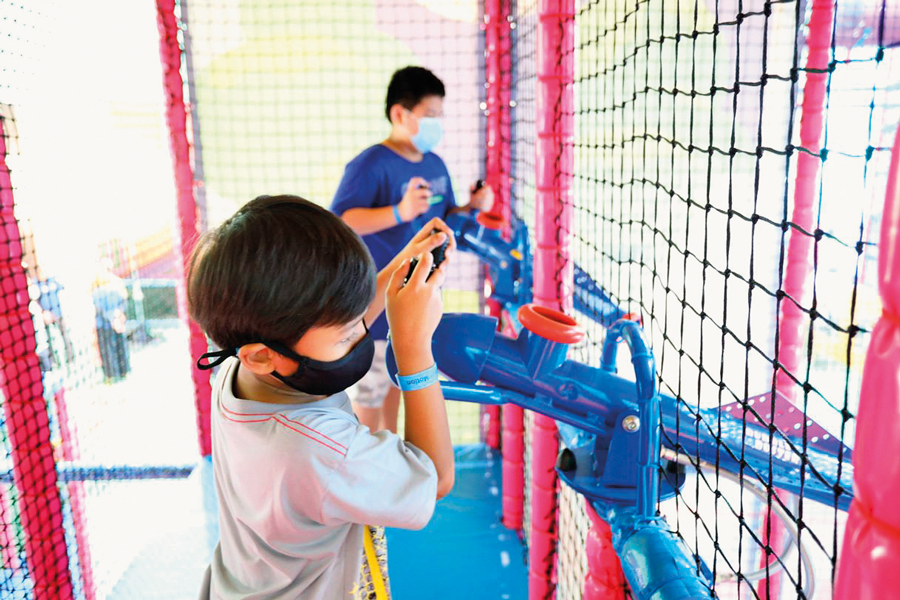 Celebrating Good Work

The official launch of T-Play Khatib was held in conjunction with the 17th HomeTeamNS Children's Education Awards Ceremony, with the playground serving as host to the award recipients and their families. As part of the official launch programme, award recipients were also treated to a free play session.

Scan QR Code to find out more about T-Play Khatib.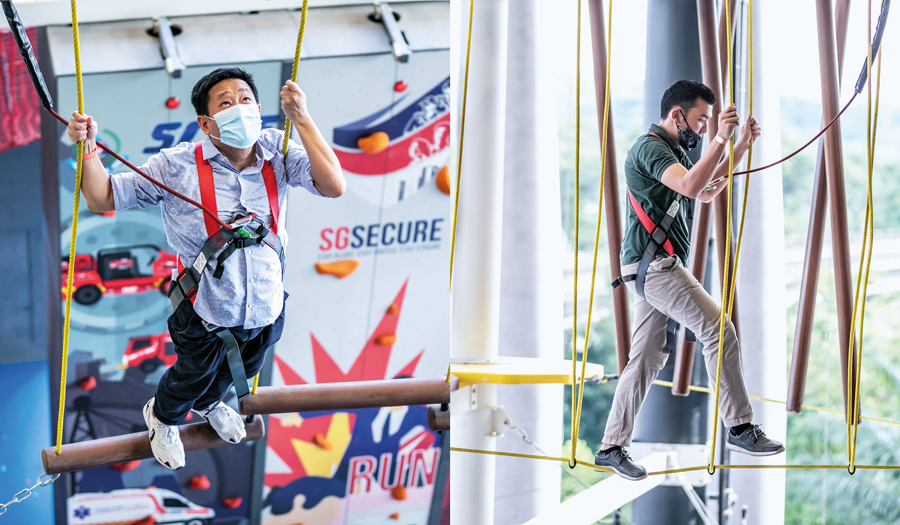 Adventure HQ
Choose your own adventure

Launched by Guest-of-Honour HomeTeamNS President, Assoc Prof Faishal, Adventure HQ was officially opened to the public last October. The event brought together members from the HomeTeamNS Development Committee led by SAC Manimaran Pushpanatan and COL (NS) Jorge Lau, who were instrumental in the development of the facility.
Spanning 2,800 square metres across four storeys, Singapore's largest indoor adventure hub features 10 challenging installations that cater to all levels of adrenaline thrills. These include:
• The first indoor roll glider at 233m in length
• The biggest two-tiered 16-obstacle indoor challenge rope course
• The longest indoor slide at 14m in length
• The first 165m-long indoor artificial caving
The multi-installation indoor adventure centre also comes with a variety of high and low obstacles such as a ninja course, sensory adventure trails and various rock and boulder climbing walls, making it a perfect venue for recreational, bonding and teambuilding activities.
Given that Adventure HQ has been specifically conceived as a space for Home Team NSmen to train and create memories with their buddies, families and friends, Assoc Prof Faishal encouraged NSmen to make full use of the new facility.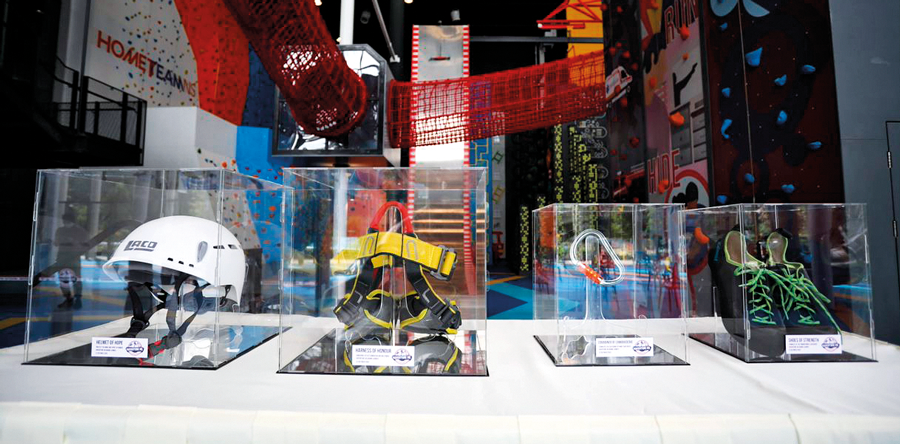 A united Home Team

The Adventure HQ opening also marked HomeTeamNS' unwavering commitment to the Home Team community, and symbolic gifts were presented to NSmen from the Singapore Police Force (SPF) and Singapore Civil Defence Force (SCDF) by Assoc Prof Faishal during the event. "Clubhouses are probably the most tangible expressions of how we say 'thank you'. And here we are, gathered in one of the most outstanding facilities in Singapore," noted the HomeTeamNS President in his opening speech. "This will be a place where new memories will be built."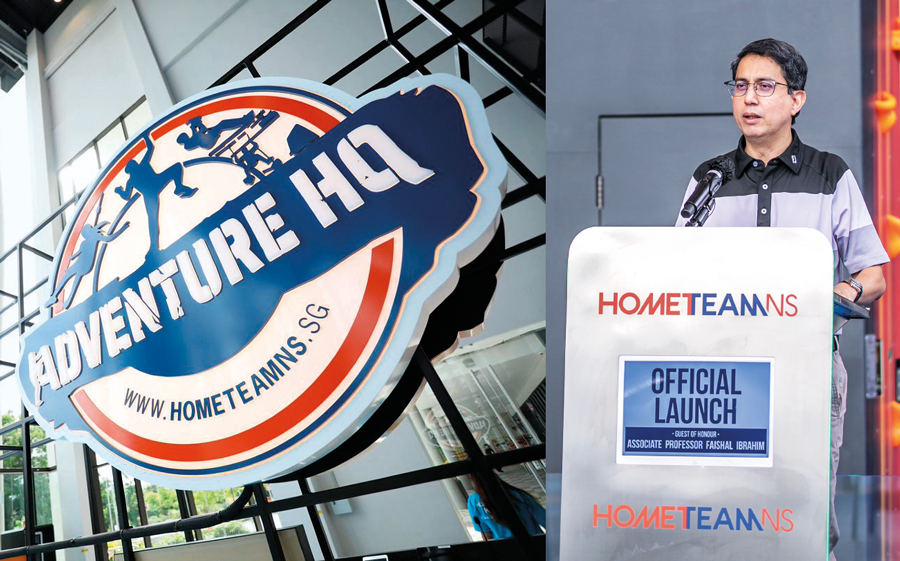 "Clubhouses are probably the most tangible expressions of how we say 'thank you'. And here we are, gathered in one of the most outstanding facilities in Singapore."
Assoc Prof Muhammad Faishal Ibrahim (above),
HomeTeamNS President, and Minister of State, Ministry of Home Affairs & Ministry of National Development

Scan QR Code to find out more about Adventure HQ.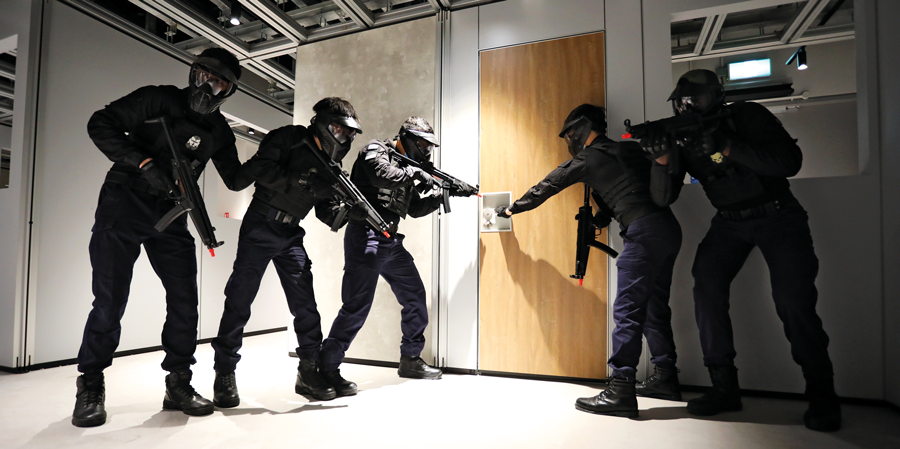 Tactsim
Zeroing in on airsoft

Singapore's first indoor Player versus Player (PvP) airsoft facility officially opened its doors in November 2020, with Guest-of-Honour, HomeTeamNS President Assoc Prof Faishal, and HomeTeamNS Committee Members taking part in an exciting gameplay.
The 765-square-metre TactSim features a target shooting range and two airsoft arenas that are customisable to simulate residential and industrial environments. Designed as a recreational facility that closely resembles training venues in Singapore and overseas, the space offers Home Team NSmen an opportunity to enjoy a combat experience outside their training hours together with their families and friends. Additionally, they can train and improve their shooting accuracy by using airsoft technology in a safe and highly realistic training environment.
The launch of TactSim also marked the fruition of Home Team NSmen's tireless exploratory efforts into the safe competitive team shooting sport of airsoft, in which participants eliminate opposing players using plastic projectiles shot from replica air weapons.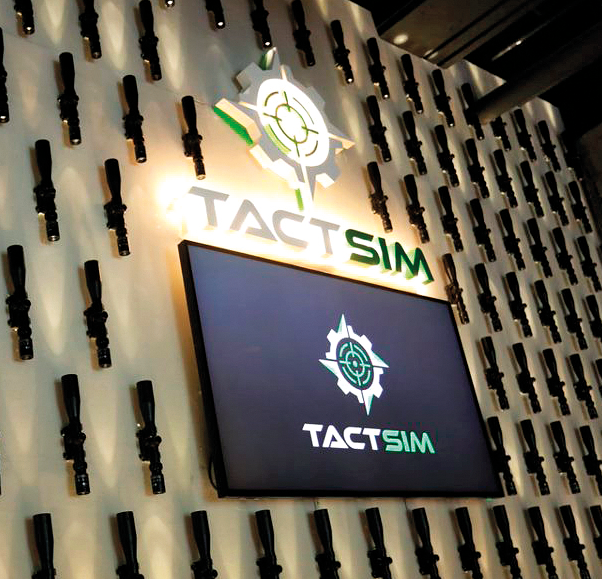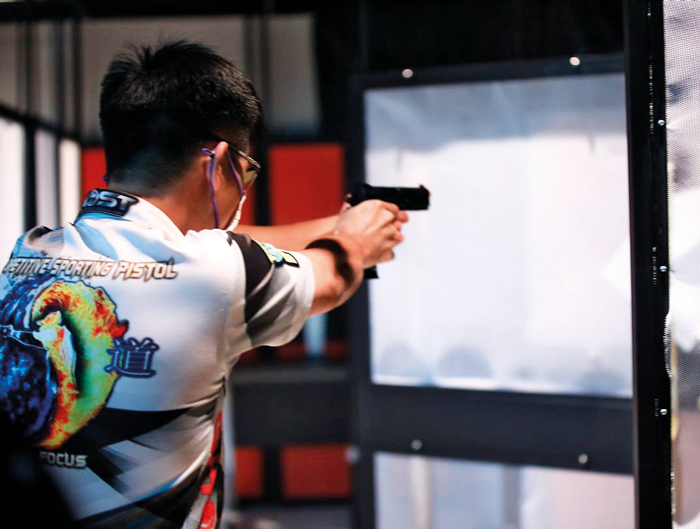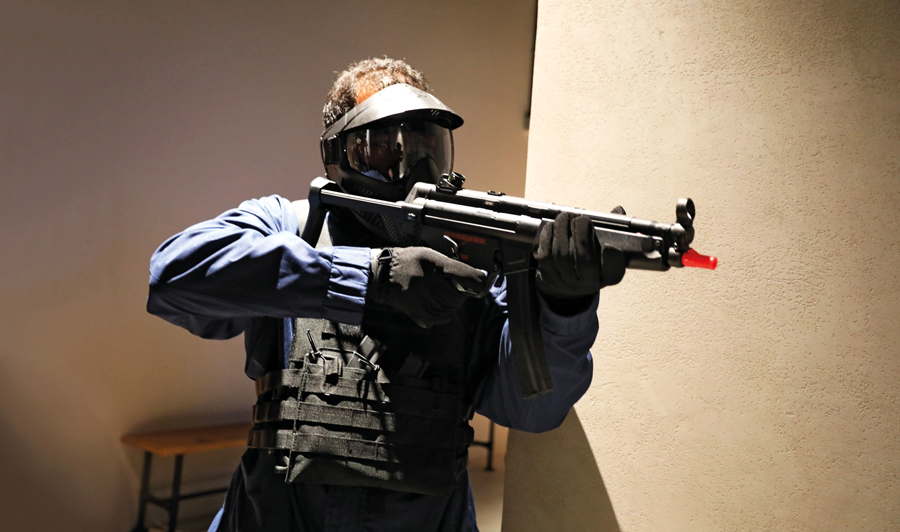 Pick your setting

The two arenas are equipped with operable walls and doors suspended from a grid system, allowing for easy configuration of the layout to accommodate various game modes. These include:
• Competitive target shooting
• Competitive player vs player
• Scenario games
The target shooting range is designed to accommodate a wide range of shooting-related activities. Beginners and experienced shooters can expect to be immersed in a challenging experience with setups such as steel plates and reactive falling targets.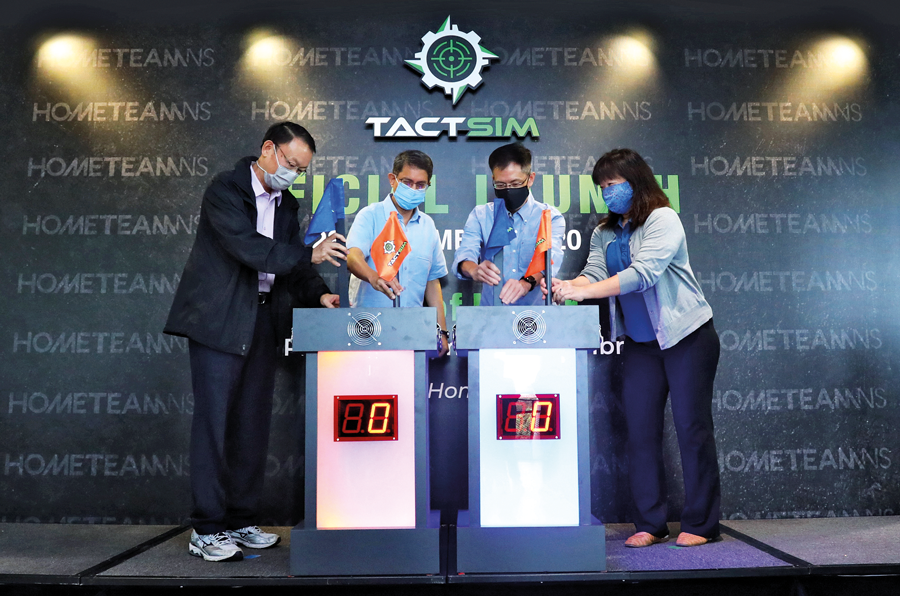 Meeting place

Coinciding with TactSim's official launch, HomeTeamNS also hosted the first hybrid Annual General Meeting 2020, which had some members attending via Zoom, and others taking up the limited number of seats at the Ballroom of HomeTeamNS Khatib. Visitors to the clubhouse got to take part in a number of engagement activities on that day. Some 250 members enjoyed various online games, from thematic trivia to personality tests to speed-and-accuracy games, at the Heritage Gallery of HomeTeamNS Khatib. A Toast Box van was also brought in for HomeTeamNS members to enjoy local breakfast delights. They were treated to complimentary drinks with their digital membership card as well.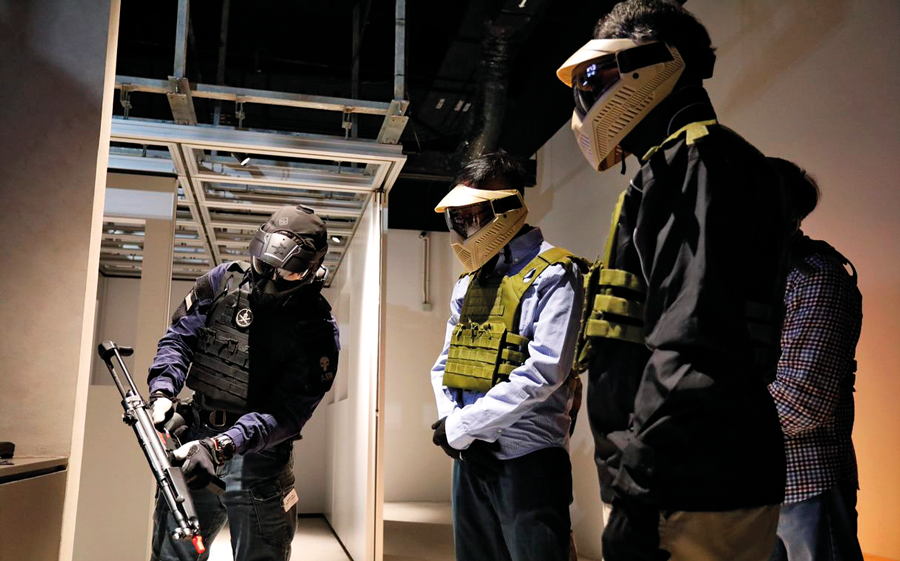 "Purpose-built, TactSim is an impressive facility that will not only allow our members to enjoy airsoft as a form of recreation, our Home Team units can also organise regular training and teambuilding activities here."
Assoc Prof Muhammad Faishal Ibrahim
HomeTeamNS President, and Minister of State, Ministry of Home Affairs & Ministry of National Development

Scan QR Code to find out more about TactSim.
Other posts you might like: