Think Green – The new clubhouse in Khatib for HomeTeamNS members is designed to be a family-friendly space with an eco-conscience.
Early next year, the new Khatib HomeTeamNS Clubhouse will open its doors to members. Designed with a sustainable and community-oriented mandate in mind, it aims to create a shared environment for NSmen from both the Singapore Police Force and Singapore Civil Defence Force as well as their family members to bond through social, recreational and sporting activities.
DP Architects, the award-winning Singapore global practice, has designed it with two clear objectives: to present an environment-friendly space, and to provide a reference to historic milestones and future aspirations.
"One of the architectural strategies for the Khatib Clubhouse was to design the walkways and corridors as circulation and educational routes for the development," explains Ng San Son, director, DP Architects, who worked on the project.
"By embedding narratives, emotions and purpose, we crafted an experience for the visitors. In fact, the two main thoroughfares are curated as extroverted heritage galleries."
[box_2 query_per_page="1″ query_manual_ids="6487″ meta_category="1″ meta_date="" meta_views="" meta_author="" meta_comment="" load_more_btn=""]
Since its inception in 2005, the concept of a family-friendly clubhouse has been emphasised to cater to the multi-generational family structure in Singapore.
Landscape and open-air sheltered verandahs are integrated to naturally cool down the building while providing visual relief. Shades of greenery contrasts and complements the grey concrete architecture to create a lush oasis within the development. Nestled at the corner of the recreational centre is the pool, which utilises an eco-filtration system as part of a sustainable approach in building maintenance.
Architectural engineering firm WSP collaborated with DP Architects to come up with solutions that are not just functional but also cut down on energy consumption, underscoring the building's sustainable goals. For instance, the multiple volume indoor arena utilises passive cooling and open air breeze.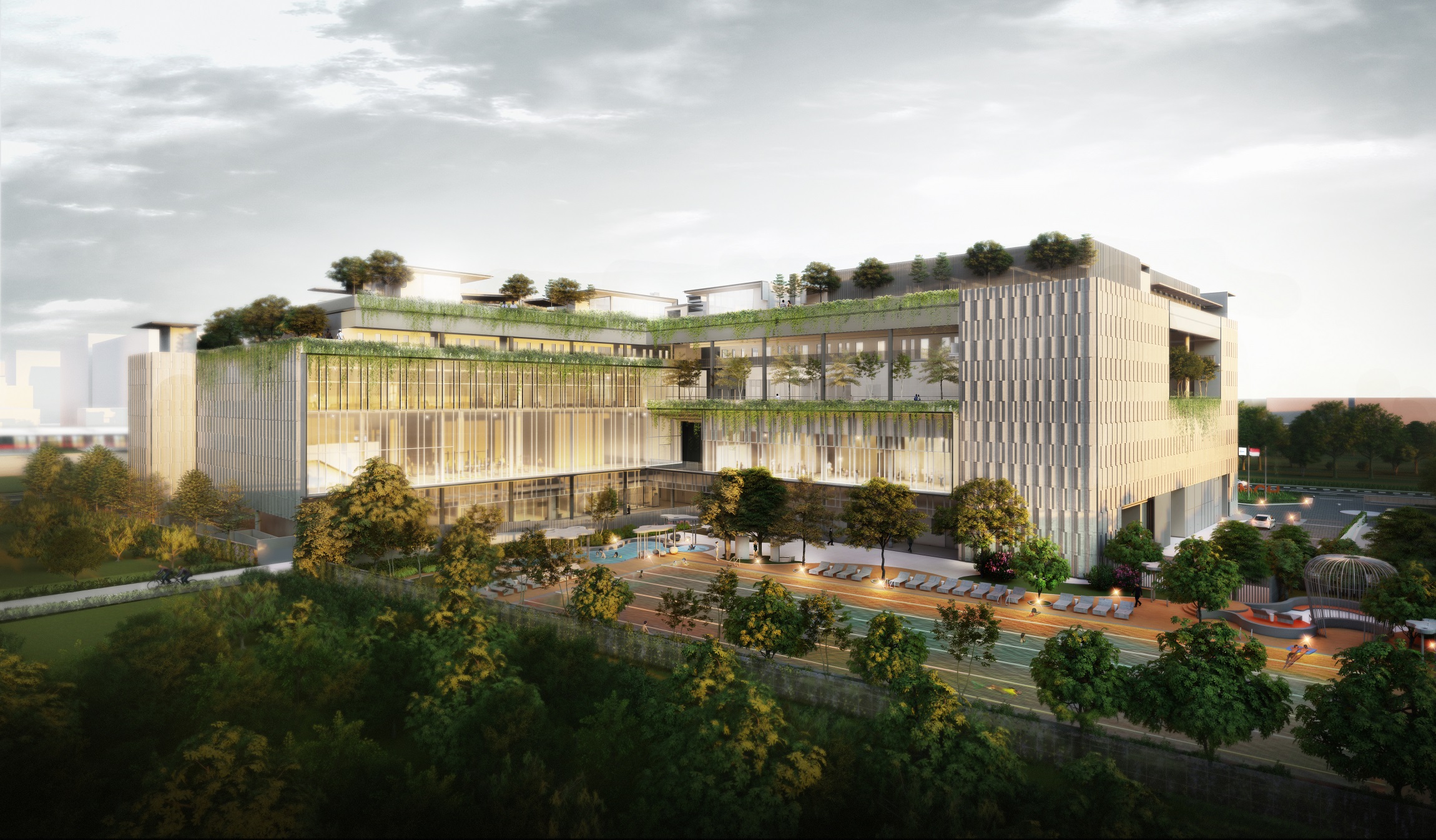 While traditionally the swimming pool filtration systems use sand for removing contaminates and keeping the water clear, the new system at the clubhouse has an ECO filtration system that requires less water to backwash it for cleaning, saving up to 30 per cent of the water, shares Jasmine Ho, director, WSP.
"This ECO filtration system has twice the lifetime usage of conventional sand media. It is a relatively new technology for swimming pools, which sanitises the water without harsh chemicals like chlorine," she says, adding that only pure drinking-quality water is released into the pool. This technique, inspired by nature's own way of sterilising the earth's atmosphere, has no strong, lingering chlorine smell, unlike other cleaning processes.
"Incorporating such systems and landscape strategies will go a long way in shaping an energy-efficient built environment," says Ng. "It is through such subtle gestures that our design is able to contribute both actively and passively in creating a more enriching experience for our users."
The rooftop houses approximately 14,746sqft of solar photovoltaic panels designed with a minimum capacity of 165 kWp. It is expected to generate 198,000 kWh of electricity per year, offsetting annual building consumption.
The natural cooling system runs for 14,000 hours or 583 days before maintenance, and it consumes no more electricity than one of the light bulbs in your home.
[box_1 query_per_page="2″ query_manual_ids="9127, 6589″ meta_category="" meta_date="" meta_views="" meta_author="" meta_comment="" load_more_btn=""]