DSP (NS) Mohamad Syaifudin bin Ahmad Ismail takes his health seriously, having witnessed first-hand the effects of a sedentary lifestyle. 
TEXT: KEENAN PEREIRA
PHOTOS: DSP (NS) MOHAMAD SYAIFUDIN BIN AHMAD ISMAIL
Even at 36 years of age, DSP (NS) Mohamad Syaifudin bin Ahmad Ismail is an example of a highly disciplined individual.
"Early in my life, I had seen the effects of a poor diet and sedentary lifestyle," he tells Frontline.
At the age of 11, he saw his father suffer a heart attack. Ten years later, he watched his mother battle cancer. Fortunately, both DSP (NS) Syaifudin's parents beat their ailments and continue to lead healthy lives today. "As a kid, I didn't automatically link these to poor diet and lack of exercise. But at university where I studied Physical Education and Sports Science, I decided to make a change," he reflects.
Well-built and toned, the NS Commanding Officer (CO) of Training, Training Command (TRACOM), clocks at least five sessions a week at the gym and complements his physical regimen with a strict diet: Five half-boiled eggs and a cup of oatmeal every morning, followed by grilled chicken breast or salmon with a large serving of roasted vegetables for lunch and dinner. "I do indulge on weekends," says DSP (NS) Syaifudin, who is the recipient of the SPF NSman (PNSman) of the Year award in 2021.
ADAPTING TO A NEW WAY OF STAYING FIT
Since then, DSP (NS) Syaifudin has been leading a healthy lifestyle but has adjusted certain routines to fit his changing life situation. One of the most significant changes is something we all go through –   ageing. "I love to play football. In my 20s, I could play with teenagers, but these days, it would place a great strain on my body," says the Physical Education (PE) teacher who teaches at a local educational institution.
In fact, DSP (NS) Syaifudin has sustained three knee surgeries in recent years, all while playing football. "After the latest incident, I decided to call it quits. It was difficult at first because I was obsessed with the game growing up. But it's something I had to do if I wanted to stay active in other ways."
This included working out at the gym and going on walks with his family. "Both my wife and I are PE teachers, so we are eager to instil a love for physical activity in our children," says the father of three, aged six years, five years and four months old. Despite being together for nearly two decades, the couple is passionate about keeping their romance alive. "We do this by going for bike rides and trail walks together, as well as enjoying a quiet meal in each other's company whenever we can."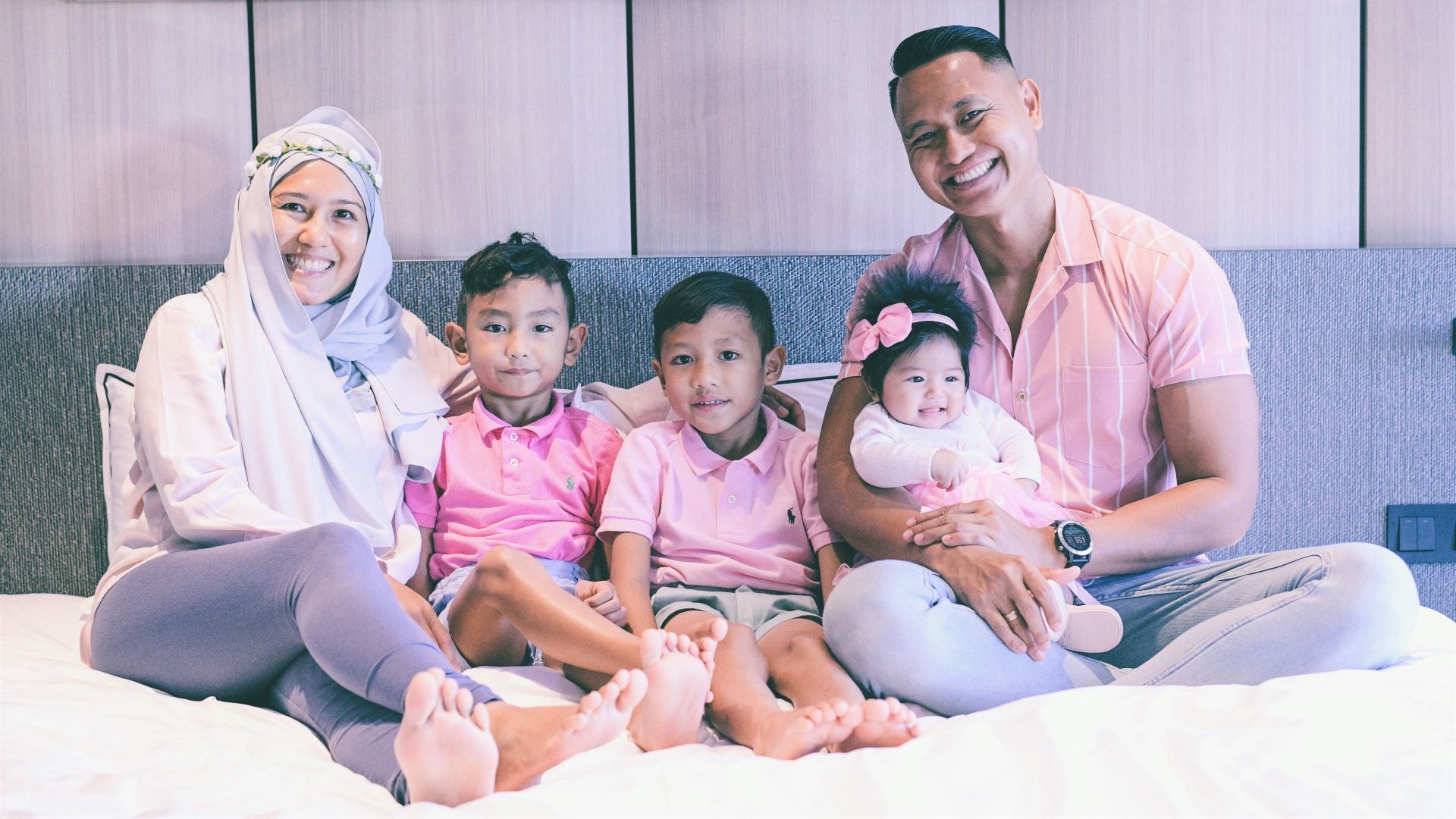 Such moments of respite are welcome after long days in school, where DSP (NS) Syaifudin is also the Head of Discipline. He reveals that the past two years have been challenging for educators like himself. "PE lessons and co-curricular activities have been adapted so that students can participate safely in small groups, depending on the prevailing safe management measures," he shares. "Before the pandemic, I would also speak at morning assembly at least once a week, reminding my students of the importance of self-discipline and inculcating good values and habits. But since we can't gather in large groups anymore, this is now done virtually. More work has to go into continually engaging the students at this time."
Still, DSP (NS) Syaifudin remains passionate about his work because he enjoys mentoring and interacting with people, both young and old. It's something that his NS role also allows for. "Most of my batchmates have already completed their NS obligations, but I'm still at it, 13 ICT cycles later," he says. "I am grateful for this chance to serve and groom the next generation of NSmen and I'll continue giving it my all while I still can."
Over the years, DSP (NS) Syaifudin has Received numerous awards and accolades, including:
Seven consecutive gold awards for his IPPT (from 2015 to 2021)
Director PNS Commendation Award in 2017 for his work organising the HomeTeamNS REAL® Run in conjunction with NS50
PNSman of the Year 2021
"I'm very grateful for the positive affirmation from my NS Commander, PNSmen PO, fellow PNSmen and regular officers from the TRACOM, where I serve," he says. "I could not have done it without the strong support of my wife and family and my school leaders and colleagues."