Well-wishers came out in full force to celebrate HomeTeamNS Khatib clubhouse's first anniversary.
TEXT: ADLINA ADAM
PHOTOS: HOMETEAMNS
Singapore has come a long way since the COVID-19 pandemic struck two years ago. With safe management measures relaxed, it marks the beginning of a new norm, as HomeTeamNS Khatib celebrated its first-year anniversary on 5 May 2022 with over 300 guests.
Members of the HomeTeamNS Board of Governors, Home Team NSmen volunteers and business partners were invited to commemorate the occasion. Gracing the anniversary launch dinner was Guest-of-Honour, Mr K Shanmugam, Minister for Home Affairs and Minister for Law, and Chairman of HomeTeamNS Board of Governors. Mr K Shanmugam officiated the event alongside Assoc Prof Muhammad Faishal Ibrahim, Minister of State, Ministry of Home Affairs & Ministry of National Development, and President of HomeTeamNS; Commissioner Eric Yap Wee Teck of the Singapore Civil Defence Force (SCDF) and Vice President of HomeTeamNS; and Commissioner Hoong Wee Teck of the Singapore Police Force (SPF) and Vice President of HomeTeamNS.
MARKING A DIGITAL MILESTONE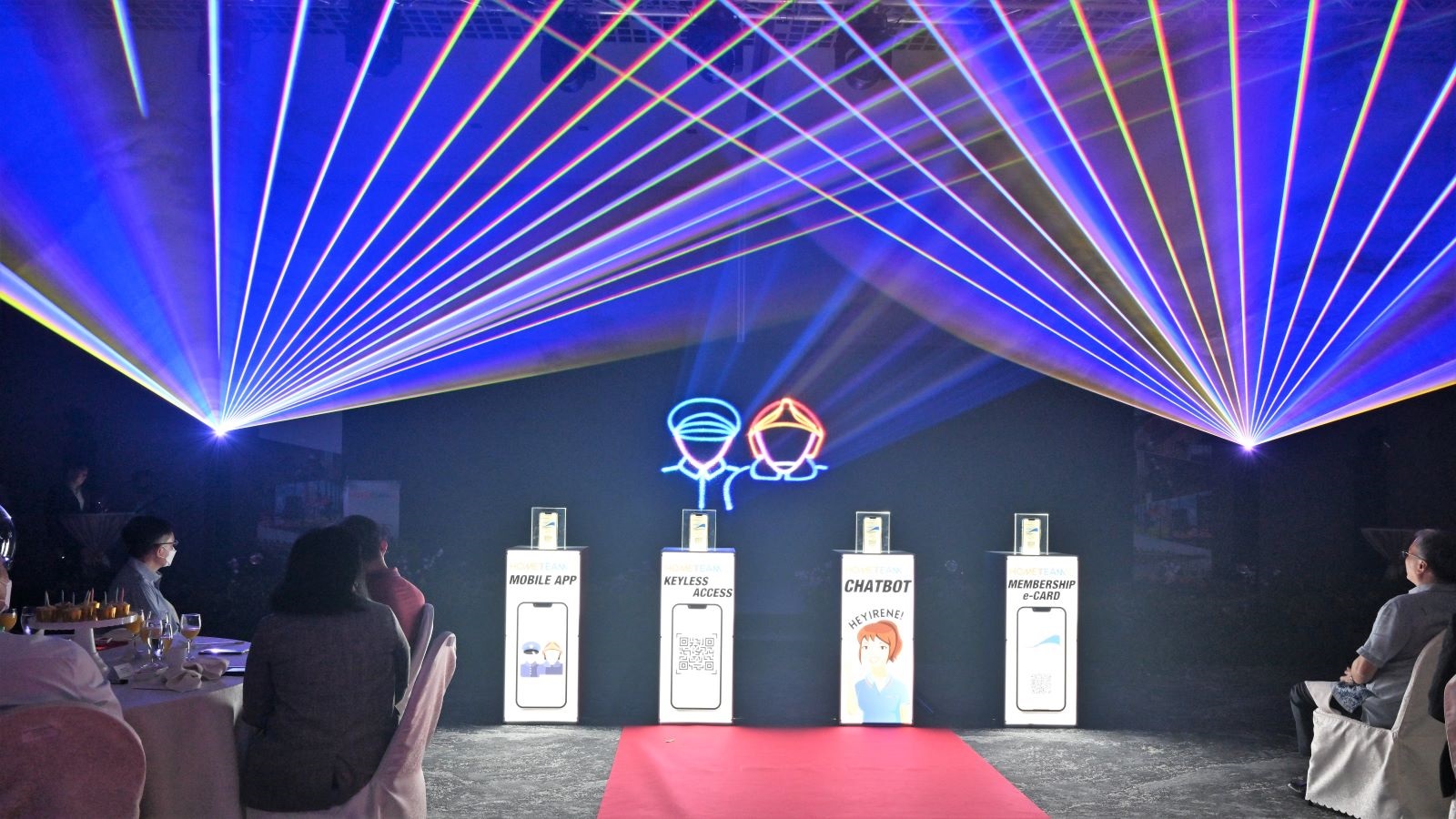 While the COVID-19 pandemic presented many challenges, HomeTeamNS viewed this as an opportunity to implement efficient and sustainable solutions at its clubhouses. During the event, the efficient technologies and infrastructure that have enhanced members' experiences, as well as better accommodated their safety and wellbeing at the clubhouses, were recognised. These included the new and improved HomeTeamNS Mobile App and the "Hey Irene" A.I. Chatbot.
VALUING OUR HOME TEAM NSMEN THROUGH A NEW GENERATION OF CLUBHOUSES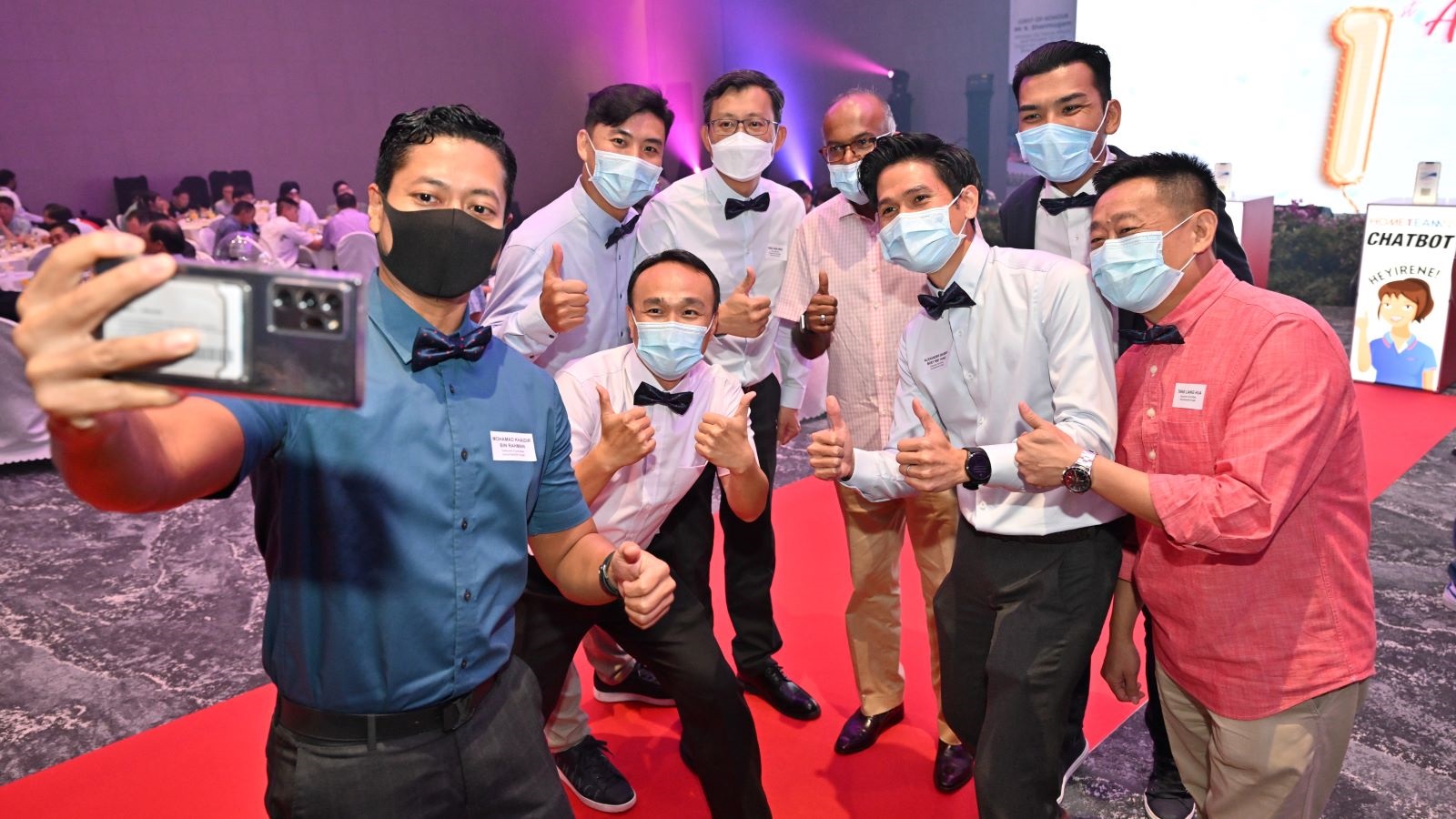 To show his appreciation for the valuable contributions of Home Team NSmen, Mr K Shanmugam highlighted the need for future clubhouses to be state-of-the-art, best in class and of the highest quality — like the HomeTeamNS Khatib clubhouse. This would enhance a keen sense of pride among Home Team NSmen, given their valuable contributions. "Since 1967, generations of NSmen have kept Singapore safe and secure. More than 290,000 NSmen have served in the Home Team to date and more than 52,000 NSmen remain active today, in SPF and SCDF," he shared.
With the HomeTeamNS Khatib clubhouse being the first property under the Home Team Clubhouse Masterplan, it has indeed lived up to the expectations of many, despite opening during the pandemic. Since its soft launch in August 2020, Khatib clubhouse has welcomed about 1.4 million visitors.
A recent member satisfaction survey found that 85 per cent of respondents were highly satisfied with HomeTeamNS, of which 90 per cent of those staying in the North ranked their overall satisfaction at Level 5 or 6 out of a 6-point rating scale.
"Looking back today, everything is now history," said COL (NS) Sim Meng San, Chairman, Executive Committee, HomeTeamNS Khatib. "I applaud the tenacity of HomeTeamNS to keep on pushing its boundaries against all odds, to seize every opportunity to shout out to our Home Team NSmen about their new Clubhouse, and to present best-in-class facilities despite challenging circumstances."
"To all NSmen across the generations, thank you for your service, for your dedication, your commitment, and sacrifices. You have helped to make Singapore a safe and secure home for all who live here."
Mr K Shanmugam
Minister for Home Affairs and Minister for Law
Chairman of the HomeTeamNS Board of Governors
HomeTeamNS invites you to be part of our celebration! Till 30 June 2022, head to the HomeTeamNS Khatib's ManCaves to enjoy an immersive story of Khatib Clubhouse — from a projection wall to an Augmented Reality (AR) sliding display that captures the clubhouse's defining moments in transforming its architectural vision to reality. Entry to the showcase is free and is open to HomeTeamNS members and the public.