Yellow Ribbon Project (YRP) youth volunteer Cheong Yen Ee shares her motivation for volunteering and how she uses her crocheting skills to show her support for ex-offenders.
TEXT: MINISTRY OF HOME AFFAIRS
IMAGES: CHEONG YEN EE
Crocheting has been a hobby of Ms Cheong Yen Ee, 22, since 2018 — and she's so good at it that many of her friends have actually suggested that she start a small business selling her handicrafts. "Yet something always stopped me from pursuing this thought further," she says. "Deep down, I knew I was doing this for a different purpose."
When Yen Ee first started her needlework, she remembered looking at her piece of poorly-crocheted fabric and thinking that it looked to be a wasted effort. But she was able to unravel her mistake and slowly, lovingly and meticulously re-stitch the yarn. To her, that moment symbolised a new opportunity, a clean slate, a time to start over. She felt liberated knowing that everyone has a second chance.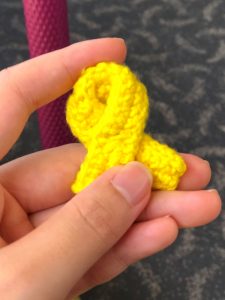 Yen Ee may not fully understand how hard it can be to make a fresh start in life, but she was eager to help inmates and ex-offenders.
"I'm only 22 and I'm sure they are facing situations that are a lot harder than anything I can imagine. But I believe that the act of letting go and trying again is a collective effort. It is a laborious and tedious journey, but I hope that it will be one that gives hope to inmates and ex-offenders for their future," she says.
Yen Ee contacted YRP to propose a collaboration with them and was connected to a team of dedicated YRP staff. She has been volunteering with YRP since February 2021.
Through a series of online lessons over the past months, Yen Ee worked with 36 volunteers from Singapore Management University and more than 50 inmates and ex-offenders from the Singapore Prison Service, halfway houses and shelters to teach them how to crochet yellow ribbons. She also created a tutorial video and conducted two Zoom sessions to train an additional 20 YRP volunteers for Project Crochet.
An ex-offender's rehabilitation journey often involves unravelling what has been done and making a fresh start, just like in crocheting. In a joint effort with inmates, ex-offenders and YRP volunteers, YRP is aiming to create 5,000 Yellow Ribbon Pins for the Yellow Ribbon Crochet Project. These pins will be included in the DIY Yellow Ribbon Packs that will be distributed to partners and the public through various platforms. "We hope to motivate every Singaporean to join the Yellow Ribbon Crochet Project and to show your acceptance and commitment to support second chances with every stitch," says Yen Ee.
Find out how Yellow Ribbon Singapore can help others gain a second chance.
Visit mha.gov.sg/volunteers and volunteer.gov.sg/mha for more information about their volunteer schemes or connect with the Home Team Volunteer Network on Instagram, Facebook or TikTok.