Your options for gatherings and celebrations may be limited to just you and your innermost circle for now — but that doesn't mean you can't pay tribute to all things Singapore with these bottled cocktails, DIY kits and bar offerings that make the most of local flavours and ingredients.
This Australia company offers possibly the most complete range of no-alcohol "spirits" on the market. Fancy a gin, white or dark rum, vermouth, whisky, Campari or even absinthe in zero-alcohol form?
Each of these have been translated through the use of essences, extracts and distillates from fruits, botanicals, spices, nuts and seeds to create a tasty copy of the original. This means you can be a mixologist at home making gin and tonics, negronis and more – without fear of any hangovers.
For coffee lovers, check out the Lyre's Coffee Originale and White Cane Spirit set (S$112.10, usual price S$188). The latter has flavours of marzipan, orange and coconut with a peppery finish – close to rum, to give your cocktail a dose of seriousness. We suggest a kopi twist to make it even more Singaporean during our nation's birthday month.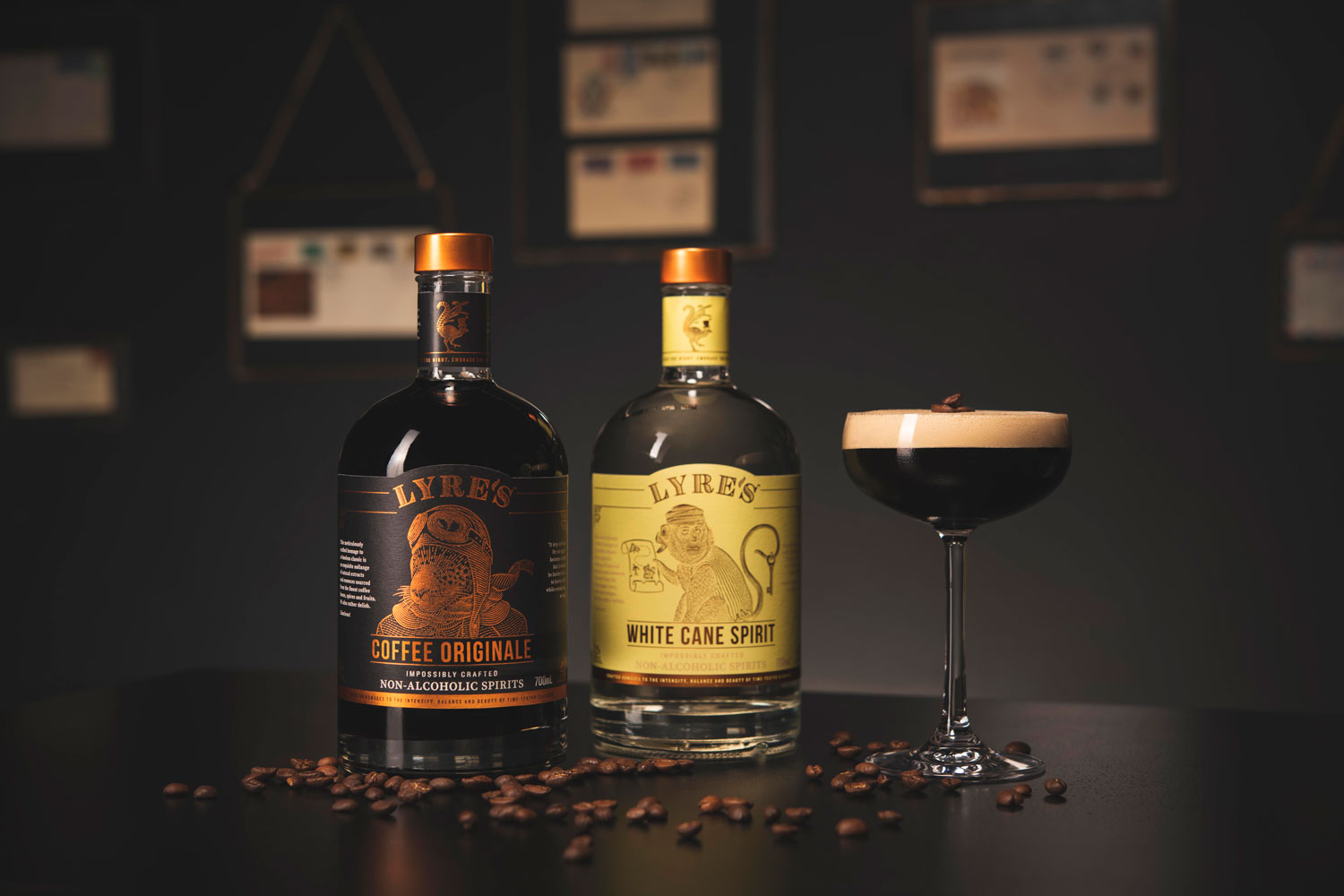 Lyre's Espresso Martini
45ml Lyre's Coffee Originale
15ml Lyre's White Cane Spirit
45ml premium cold drip or fresh espresso, or replace with kopi for a local kick
10ml vanilla syrup
Combine all ingredients in a shaker and shake without ice to combine.
Add ice till the shaker is half filled and give it a good hard shake to create a froth.
Serve immediately in a cocktail coupette glass with a few coffee beans for garnish.
You may have heard of Melati (S$68, 500ml), Asia's first non-alcoholic spirit inspired by the traditional tonics of Bali. The full-bodied drink is fruity and floral from a blend of hibiscus, choke berries, goji and more, while ginger, cacao and myriad spices add complexity and restorative health benefits.
For home drinkers, it is versatile enough to sip on the rocks, but where's the fun in that? Mix this version of the Singapore Sling which everyone can try.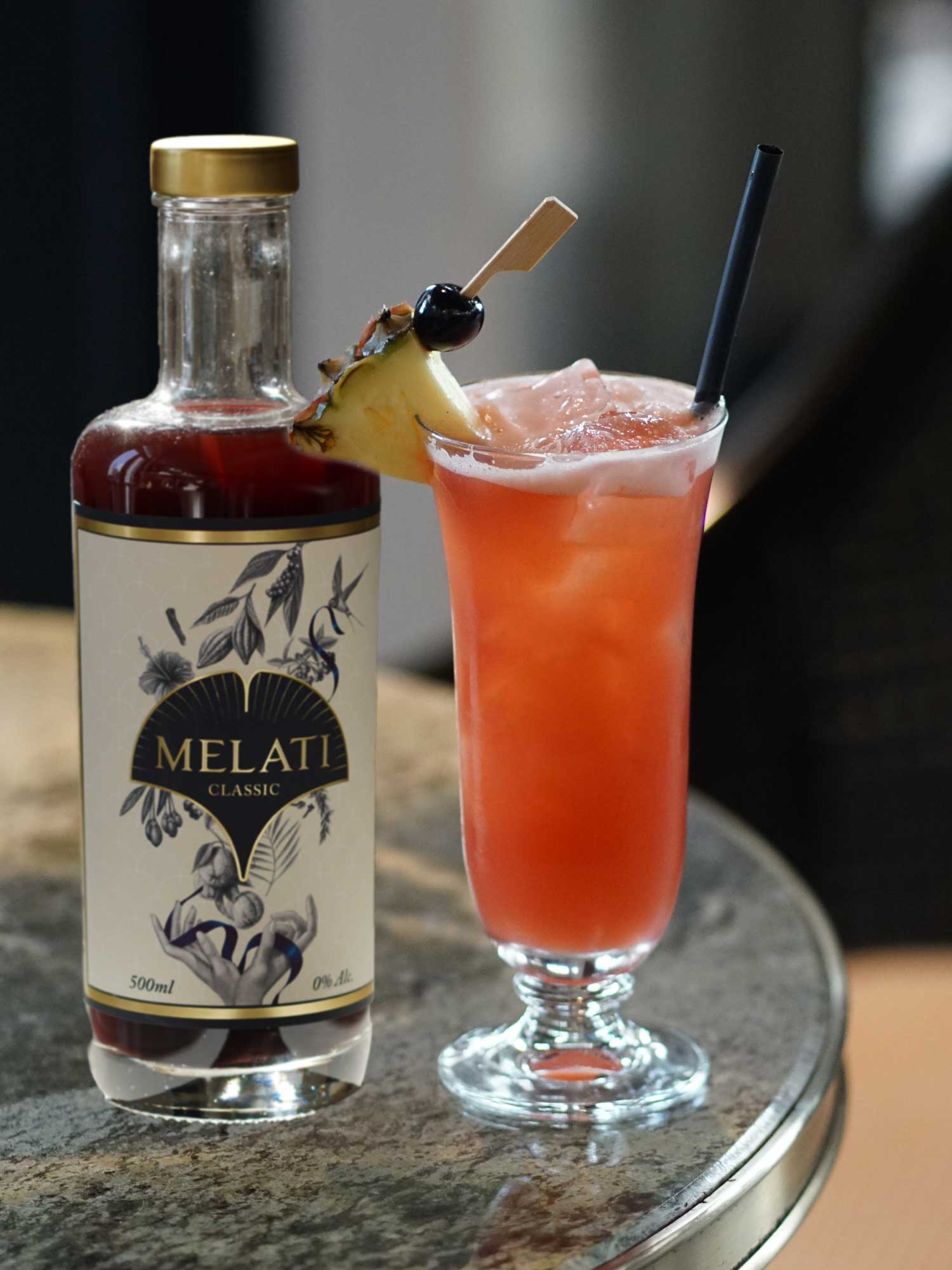 Melati Sling
45ml Melati
30ml pineapple puree
20ml lime juice
15ml blood orange juice
Shake ingredients, except the ginger beer, to combine well.
Serve in a wine glass filled with ice and garnish with a slice of orange or blood orange.
Top up with ginger beer.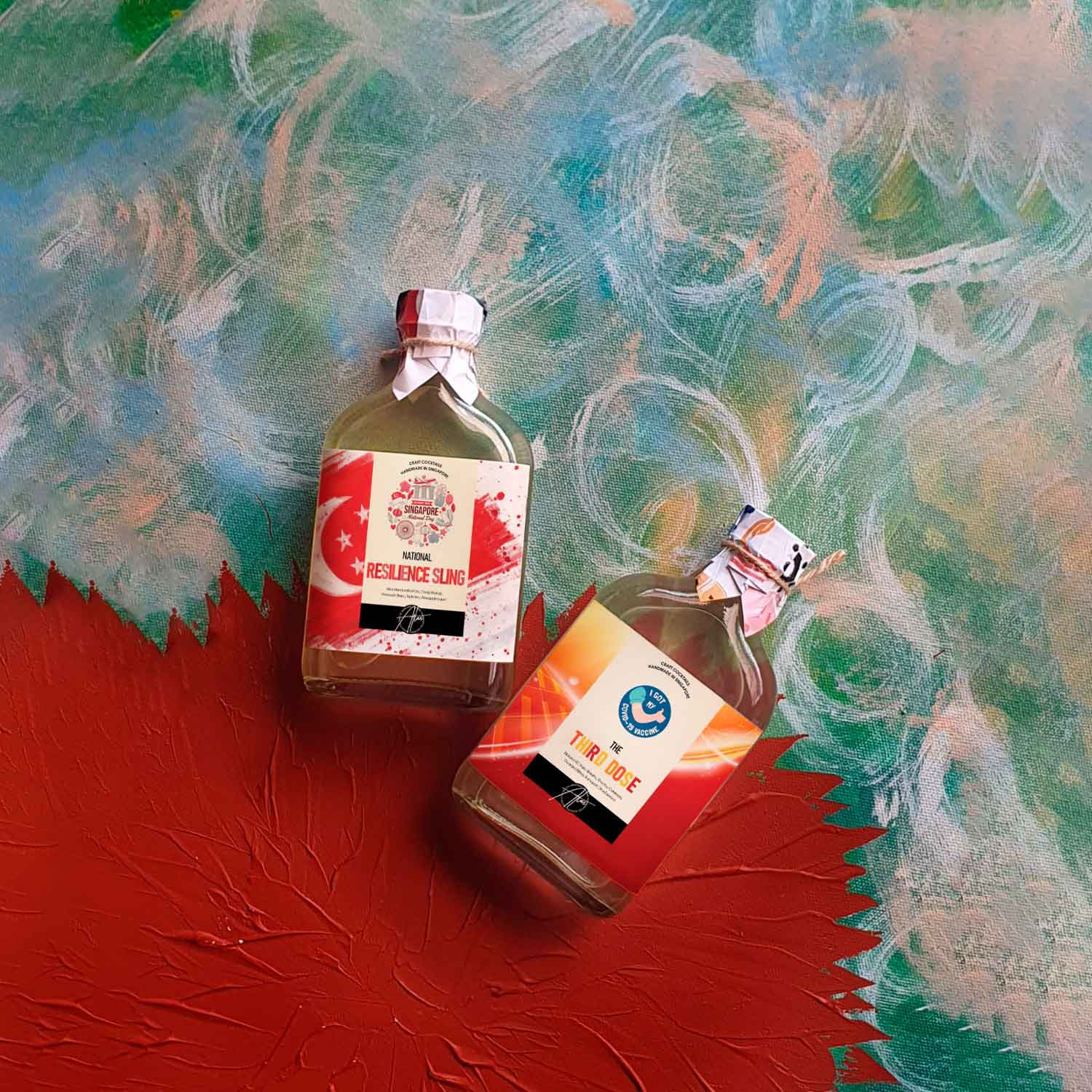 This luxury gifting marketplace that works directly with local artisans and small businesses to promote their craft. Established during Singapore's circuit breaker period, Atlas Handcrafted offers a variety of gifting experiences including hampers, home décor items and the cocktail gifting options featured here.
The Third Dose is a cheeky "post-vaccine cocktail" with a big dose of vitamin C in the form of yuzu umeshu, kumquat essence and guarana bitters, together with Cointreau orange liqueur. The Resilience Sling meanwhile is a refreshed Singapore Sling with Atlas' own handcrafted gin, vermouth blanc and pineapple liquor — best served over plenty of ice.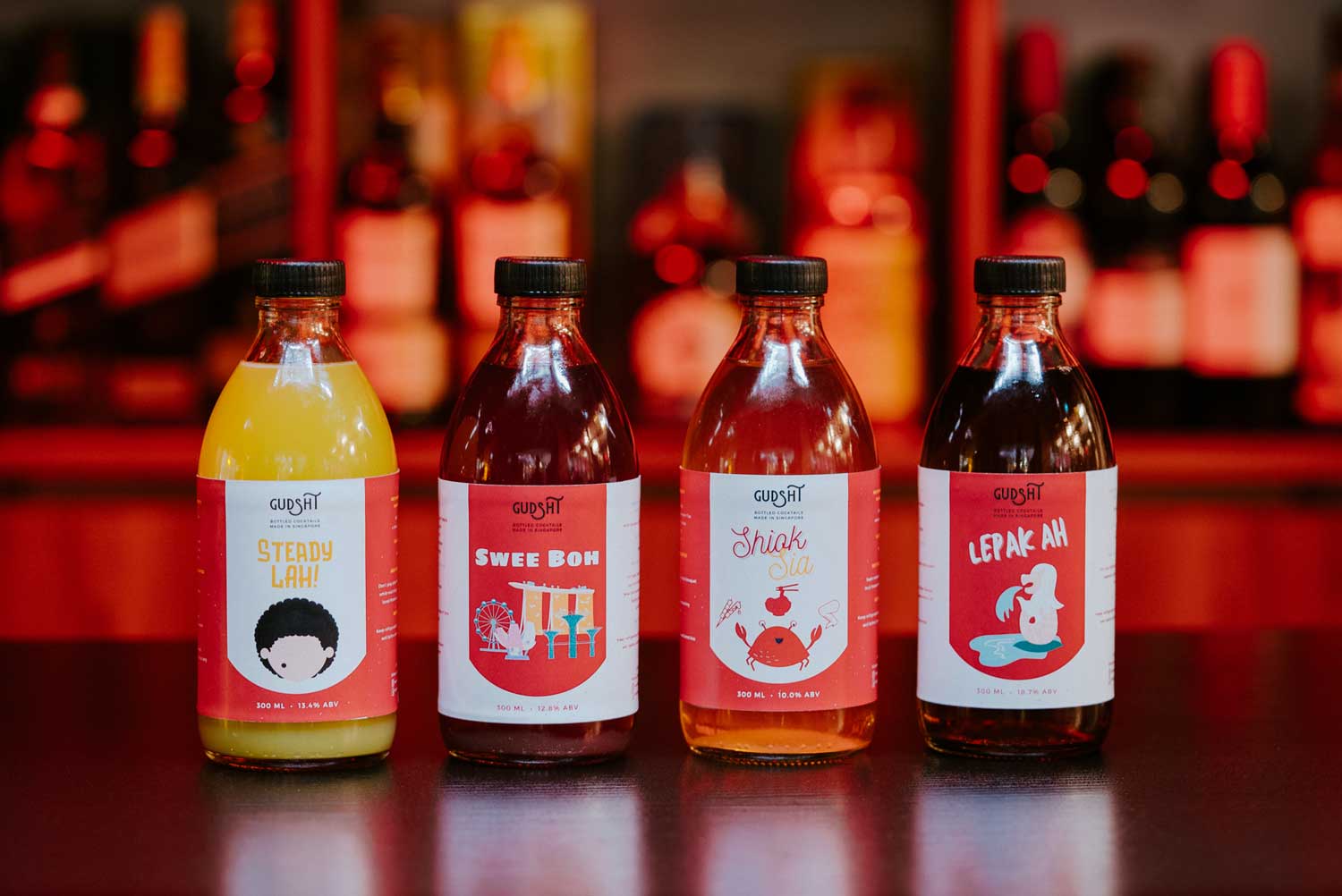 With a name as irreverent as theirs, you can trust this bottled cocktail company – which has since opened two bars – to come up with pretty cheeky options. There are four in fact: Lepak Ah, Shiok Sia, Steady Lah and Swee Boh (S$46 for all four, 120ml; S$96 for all 4, 300ml).

It's a tough job but if we had to pick two favourites, it would be the low-alcohol content Shiok Sia, with Haku Japanese vodka, chrysanthemum tea, wolfberry and rose syrups and lime juice, for its stellar ability to pair with hawker food; and Lepak Ah, which brings together Midori, amaretto and cranberry juice with Jim Beam White, to picnic with the Merlion.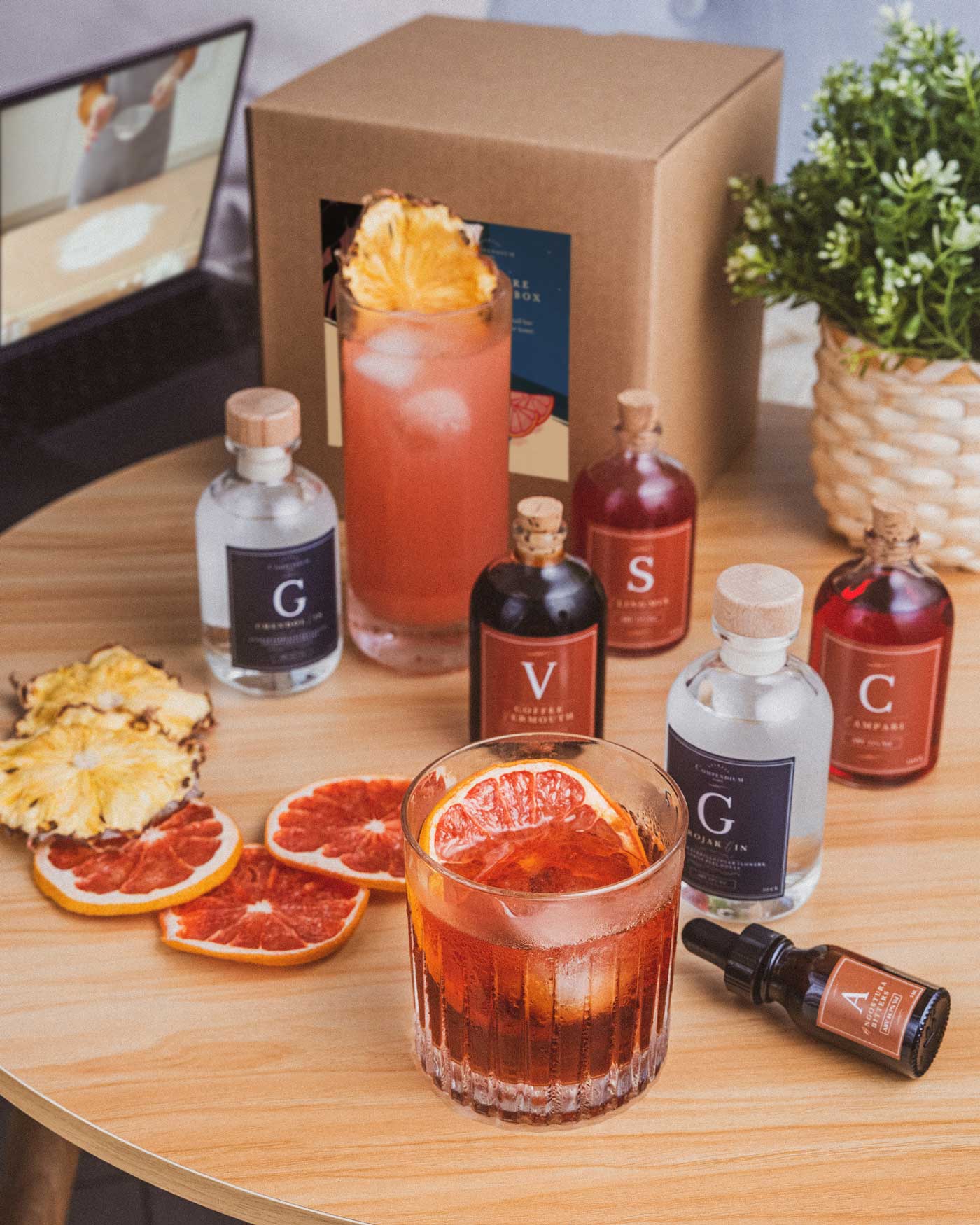 If you are looking to shake up your home bar, this is the kit for you. Local brewery Compendium gives you everything you need to conjure up the ultimate made-in-Singapore cocktails in its Signature Cocktail Box (S$98 for kit, S$118 inclusive of kit and shaker tin, jigger and stirrer). The Breakfast Negroni comprises Rojak gin with coffee vermouth, while the Chendol Sling is a tropical recreation of the Sling, but with soft and aromatic Chendol Gin, pineapple juice and a secret Sling Mix to get you going. Garnishes, bitters and recipe are all included.
Hopscotch Bar
Hopscotch was founded in 2014 in homage to Singapore's local culture. Reopened in two new venues just before April, it has quickly pivoted to bring selected drinks from its current menu to your home. Milo Medley (S$20 bottled, S$23 dine in) is our pick because who doesn't crave an ice-cold Milo? With an alcoholic base of brandy, butterscotch schnapps, creme de cacao and hazelnut liqueur, the cocktail gives a desserty, nutty flavour which is rounded off by vanilla and ice cream.
MO Bar

Here's your chance to get hold of MO Bar's signature cocktails, past and present, that bring to life the flavours of Singapore in each drink. Since its launch, the Mandarin Oriental Singapore bar has won awards and landed on the Asia 50 Best Bars list. The National Day Cocktail Package (S$48 for three, 140ml each) comprises of Oriental, a harmoniously smooth pandan whisky, mango and coconut creation; Thunder, an ode to thunder tea rice with gin, glutinous rice foam and herbs; and Roaring City, which sparks joy through vermouth and lightly fizzy pineapple tepache. Available till Aug 21 only.
Brass Lion Distillery
And for some news to look forward to when bars re-open, proudly Singaporean gin Brass Lion Distillery is partnering with 18 bars across Singapore for their National Day initiative this year to give out 1,000 complimentary cocktails.
From mid-August to the end of September, you can play a mini game at
qrd.by/drinks_on_us
to claim a free cocktail at bars including Employees Only, Manhattan Bar, Ah Sam Cold Drinks Stall, and more.
Creative cocktails such as the Ice Kacang from Cin Cin Bar combines the Singapore Dry Gin with red bean, rose syrup, pandan and gula melaka. To enjoy it in the comfort of your own home, Brass Lion Distillery makes six gin styles, with the flagship Singapore Dry Gin (S$88, 500ml) and Butterfly Pea Gin (S$98, 500ml) stealing the show.
Other Posts You Might Like