Two of the Home Team volunteers have chosen to play a bigger role in the Home Team after completing their NS stints. Here's why.
TEXT AND PHOTOS: Home Team Volunteer Network (HTVN)
Serving National Service (NS) under the Singapore Police Force (SPF) is a valuable opportunity for many, but would one consider serving outside of NS? Mr Muhammad Azim Bin Hamdan found his National Service (NS) stint with SPF to be so fulfilling, he signed up to be a Volunteer Special Constabulary (VSC) officer after completing his NS.
As a Full-time National Servicemen (NSF), Mr Azim served at SPF's Protective Security Command (ProCom) as an In-Situ Reaction Team (IRT) officer. IRTs serve as quick reaction forces on the ground to neutralise armed threats. He worked closely with regular officers to patrol sensitive locations and interacted with members of the public daily.
Mr Azim says, "During NS, I learned that knowing 'why' is essential before performing any duties. Working alongside dedicated regulars made me realise that Police officers are humans too, with families to return home to. They shared that they have a strong sense of duty to protect their loved ones and society."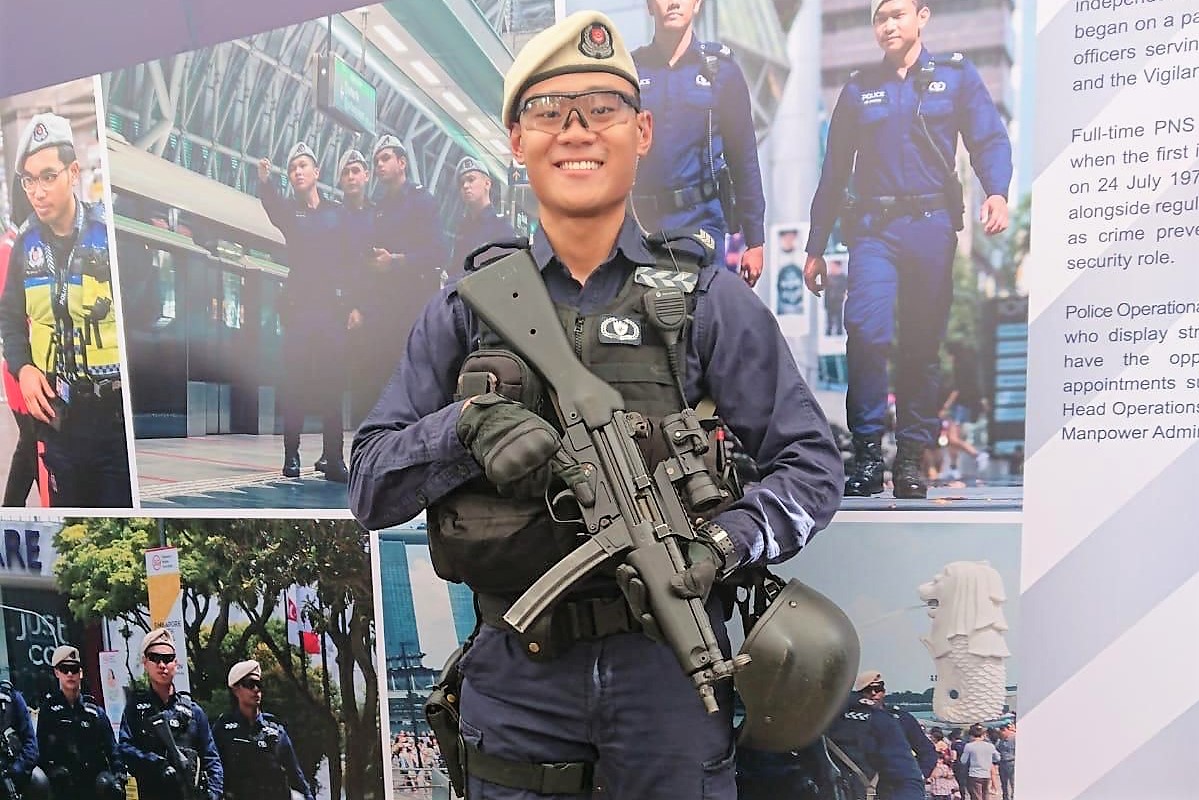 After his Operationally Ready Date (ORD), Mr Azim joined as a VSC officer so he could continue contributing to the nation's security while studying. Now an undergraduate at the Singapore Institute of Technology (SIT), the 25-year-old is deployed as a Ground Response Force (GRF) officer. He finds his stint with the VSC challenging but fulfilling and believes volunteering helped him develop his decision-making and communication skills.
"I constantly make an effort to remind myself of 'why' – to help keep my loved ones and others safe before carrying out my duties as a volunteer, alongside the regular officers," notes Mr Azim. "This mindset has helped to motivate and carry me through challenging times over my course of volunteering."
Mr Azim encourages fellow NSFs to consider volunteering with HTVN. He believes that the basic training, skills and knowledge that NSFs received in their respective fields are transferrable and add value to their volunteer schemes.
"Go for it! If you aspire to give back to society, having a full-time job and fighting crime on the side, volunteering with the VSC or any schemes under HTVN is the perfect opportunity for you," says Mr Azim.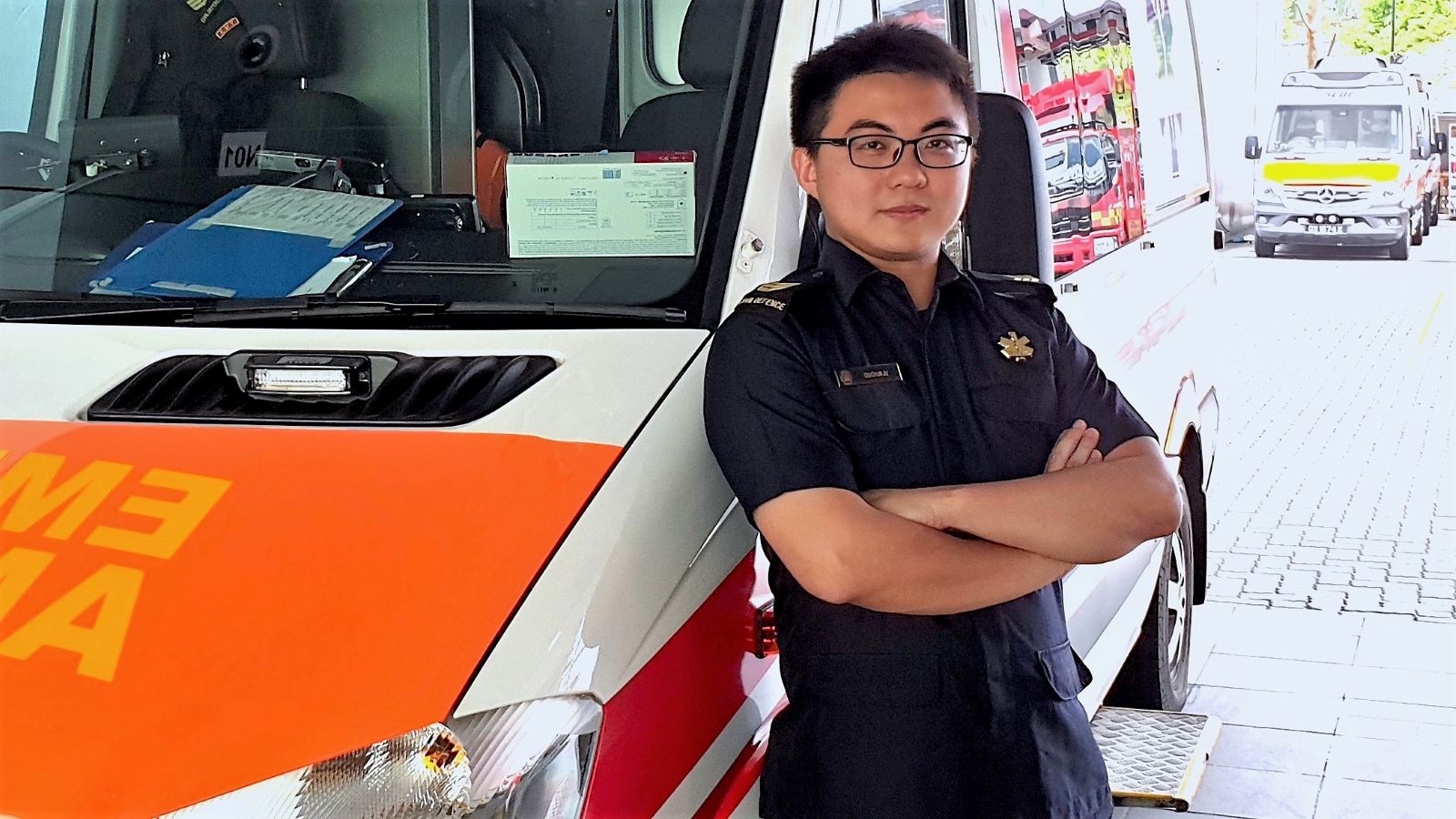 Through serving NS as a medic for the Singapore Civil Defence Force (SCDF) holding the rank of SGT1, Ou Chun Ju SGT3 (V), a 32-year-old front-end web developer had learnt to save lives and work under pressure.
Mr Ou had multiple opportunities to assist ambulance crews and save patients from potentially dangerous situations during NS. This piqued his interest in emergency medical services and inspired him to sign up with the HTVN where he volunteers with the Civil Defence Auxiliary Unit (CDAU) to further develop his skills after his NS stint.
"During NS, my team and I had attended a cardiac arrest case and succeeded in saving the patient's life," said Mr Ou. "The patient's family members were happy and grateful to us which made me realise how important and valuable my job and knowledge is."
In addition to life-saving skills, which includes cardiac life support and trauma management, the 32-year-old also picked up valuable life-skills such as situation management and leadership during NS.
While volunteering as a medic on standby at SCDF's Singapore-Global-Firefighters and Paramedics Challenge (SGFPC), Mr Ou was able to apply his skills when he was put in-charge of a first-aid station.
"I used my leadership and situation managements skills to arrange my manpower needs in the event of an influx of cases at one go," said Mr Ou. "When I attended to the patients, I applied my trauma management skills as part of the competition."
As a medic and firefighter volunteer for the CDAU, Mr Ou encourages new paramedic volunteers to seek help from regular staff when in doubt and to maintain a positive attitude towards learning as medical knowledge is constantly evolving.
"Any decision we make will affect the patient's life. Not everyone gets the chance to really put their hand up and save people," he said.
In 2020, Mr Ou also became a CDAU firefighter to gain exposure to a different field and to challenge himself. To Mr Ou, being a firefighter meant that he could step forward and save casualties head-on, in dangerous and high-pressure circumstances with high stakes.
"When there is a fire or road accident, firefighters are the ones who put in their lives, patience and skills to save the casualties," explained Mr Ou. "As medics, we usually wait for the patient to be rescued before taking over."
"I wanted to experience enduring high temperatures to fight fires while carrying heavy equipment to save my casualties. To me, this is a very precious opportunity as not everyone has the chance and motivation to do this," he added. 
Find out more on how you can make a difference in your community. Volunteer with Home Team Volunteer Network today!